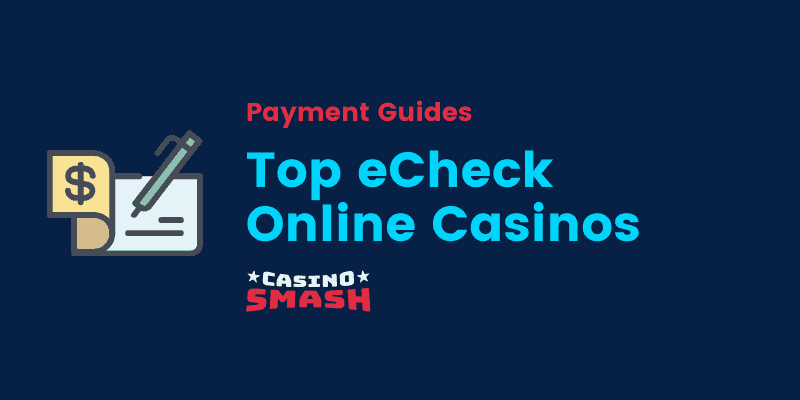 In the era of crypto, a check gets perceived as an archaic payment method. Most players would barely consider checks a serious payment option at an online casino. But you may be surprised to learn that the old-school 'cheque' has been keeping pace with technological development. The paper document that instructs a bank to pay a specific amount to the check's recipient evolved into a digital version labeled eCheck.
Although it's not the most recognizable cashier option, the security and low fees make eChecks a preferred choice at some online casinos for US players. Gamers use the eCheck to make deposits, activate casino bonuses, and claim winnings.
The modern yet familiar method is gaining prominence as a reputable banking option for igaming activities. You can now weigh the ups and downs of using eCheck, look at the limits, and discover whether online casinos that take eCheck are right for you.
Top Real Money Online Casinos That Accept eCheck
Oops. No rooms were found..
Online Casinos That Offer Bonuses for eCheck Users
Back in the day, most of the shopping for the holiday season got performed with checks, and interestingly, the modern reincarnation can also bring gifts. Yet this time, it's more frequently in the form of promotions from eCheck online casinos. Interactive gaming platforms reward players' loyalty with reload bonuses and free spins, while new members get enticed to join the eCheck casinos with a welcome bonus.
Promotion packages vary between eCheck online casinos. Some conceptualize the program as multiple tiers initiated by separate eCheck deposits, bringing in a match percentage on the invested sum. You may even be able to claim a no deposit bonus without any down payments. However, once you play through the promo, making an eCheck deposit will be a prerequisite for cashing out.
Players with an eCheck account can sign up at PartyCasino and get the welcome bonus that will provide a 100% match, plus a small batch of free spins dedicated to the popular slot machine Starburst. There's a multitude of promos that await players at eCheck online casinos. We researched the available platforms and identified a few prospects that check all the boxes in the promo department, such as match percentage, wagering requirements, and availability.
| Rank | Casino | Bonus |
| --- | --- | --- |
| 1. | PartyCasino | 100% up to $1,000 |
| 2. | DraftKings | 100% up to $2,000 |
| 3. | 888casino | 120% up to $500 |
| 5. | Sugar House | 100% up to $250 |
What is eCheck?
The eChecks facilitate the electronic transfer of money from the gamer's checking account to the online casino's account or a retailer in case of a commercial purchase. This gets performed through the ACH network. The process can work in the other direction, making eChecks a viable option for withdrawals.
Electronic checks are not a new payment method. They have been in circulation for two decades and are still popular among consumers because of the reduced fees compared to other providers and high-tech security measures. Frequently, eCheck gets referred to as direct debit or ACH transfer.
eCheck Casino Games and Operators
The game lobby of eCheck casinos is a sight to behold. Operators strive to incorporate hundreds of games, which will keep players preoccupied and constantly challenged with new slots releases. And video slots are a mainstay in online casinos that accept eCheck payments. The spinning reels get decorated with various themes, and the ambient gets improved with appropriate tunes.
However, gamers can enjoy card games, such as blackjack and baccarat. You can even play against real live dealers in games like live dealer poker or live blackjack, where they can test their bluffing skills.
Make a detour from your typical gaming route and visit eCheck casinos, such as PartyCasino and DraftKings, where you can find the following game types:
Slots
Table Games
Jackpot Titles
Live Dealer Table Games
Video Poker
Lottery
Scratches
The inventory of games is diverse because the developers that partner with eCheck online casinos represent different segments of the igaming industry. Players can discover slots with the signature of trendsetting developers. From big-time providers to niche software providers, they are all leaving their mark in an eCheck casino.
Brand recognition is a crucial feature for US players. That's why we filtered out some of the most recognizable developers whose games you can enjoy.
Register at an eCheck casino and play games created by developers, such as:
Evolution Gaming
NetEnt
Big Time Gaming
Playtech
IGT
Yggdrasil Gaming
NextGen
Play 'N Go
Our Suggested Online Slot Games
Novice players are under the false impression that slots are an easy concept to grasp. This may be because they know what they've seen in the movies. But once players enter the slot section, they can get overwhelmed by strange formats like Megaways.
Our review of the best eCheck online casinos revealed that the repertoire of games is anything but dull. From classic 3-reel slots to progressive jackpots, with a constantly growing prize pot.
Registering at PartyCasino exposes players to a slot lobby with thousands of titles, and what better way to start a gaming journey than with Cleopatra. The former queen of Egypt is the inspiration for this IGT slot that has 5 reels with 20 paylines and an RTP of 95%. The hieroglyphs can be mesmerizing, and a perfect combination can unlock the riches of the Nile.
Across the Mediterranean, from Egypt, we find Greece, whose mythology is the theme of Divine Fortune, which is one of many Netent slots. With the same 5-reels and 20 payline set up, but symbols that incorporate creatures from legends, such as the Minotaur, Medusa, and Phoenix. It's a favorite for players with a simple design and RTP of 96%.
Lobstermania is a popular game, not because it sounds tasty, but because of the huge jackpot worth 10,000x per payline. The RTP is 94.99% making the underwater-themed slot even more exciting when the 5-reels with 25 paylines get to spin.
There are numerous other games in eCheck online casinos. Listing all of them is impossible, but we can point out a few more, such as Blood Suckers, Mega Moolah, Bonanza, Book of Ra, Slingo, Da Vinci Diamonds, and Gonzo's Quest.
How to Use eCheck to Deposit and Withdraw Funds
Players can use eCheck to boost an account balance or withdraw winnings. However, not every platform allows deposits and payouts with the same payment provider. In the case of eCheck, most online casinos prefer it as a withdrawal method.
Making payments is not very different from what is necessary with a paper check. What's important is that the recipient of the funds has an ACH merchant account, which will enable them to receive funds through an electronic transfer.
For a deposit to get processed via eCheck, the payee sends a payment form to the player. The gamer provides a checking account number and routing number, plus the payment amount. Once the document gets filed, the gamer clicks the submit button and authorizes the payee to withdraw the specified amount from their checking account. The payment automatically gets withdrawn from the player's bank account, and a receipt gets generated.
When a gamer wants to claim winnings via eChack, the process is done in reverse, with the casino filing its bank details and authorizing the transfer. The eCheck processing companies will charge a fee for the transaction, but typically it's in a low range. The best course of action is to read the agreement with your provider and find the rates. You should also check the T&Cs of the eCheck casinos.
How to Deposit Money Using eCheck
Making a deposit is not different from any other online purchase. Usually, there is a form that requires the necessary banking detail and payment authorization. The process is nearly identical in casinos that deposit using eCheck, and gamers are only a few clicks away from topping up an account balance. Practice makes perfection, so let's go over the process. After a few attempts, it will get intuitive.
Perform the following steps to deposit at online casinos that take eCheck:
Pop open the official eCheck casino URL
Login with your credentials
Open the Cashier/Banking section
Click on Deposits
Select the eCheck option
Choose the deposit amount
Authorize the transaction
Most eCheck online casinos have a minimum deposit amount of $10. Yet it's possible to find a $5 sticker in the cashier section. The bad news is that fees get charged on every transaction but are typically low, and many consider them a price with paying for the secure payment option.
How to Withdraw Money Using eCheck
Withdraws can be a sensitive topic for online casinos. Yet online casinos that accept eCheck payments respect their obligation and deliver player winning to the specified account. However, delays happen because the request must get approved. And the platform performs a verification to see if everything is on the up and up. Plus, the transaction speed of the payment providers influences the final arrival date for the funds.
Let's inspect the withdrawal steps for eCheck casinos:
Open the eCheck casino website
Sign in with your username and password
Open the banking section
Choose eCheck as a payment method
Enter the amount you desire to withdraw
Confirm the transaction
You will get a notification of an approved request
It may take up to 5 working days for the eCheck to clear. Plus, there is a standard transaction fee that gets charged.
Minimum Deposit and Withdrawal Amounts for eCheck Online Casinos
When talking about deposit and withdrawal limits, it's important to distinguish between the limits of the online casino and the ones set by the payment provider. For deposits, the picture is straightforward, and the minimum limit usually is $10 or $20.
On the other hand, the payout policies between eCheck online casinos vary greatly. But in most cases, the eChecks limit of $10,000 per transaction can easily absorb most maximum withdrawals. We recommend players check the T&C on the casino website and learn the specific limits in their case.
Withdrawal Times for eCheck Casino Sites
Claiming winnings is not instant, and it's not only the casino's fault. Most payment providers don't expedite the process either. In most cases, a transfer will get delayed up to 48 hours, but even this is fast when compared with eCheck online casinos, which usually have some of the slower payout times.
Requesting withdrawals via eCheck is secure, but not for impatient players. The standard period for funds to get cleared is 5 business days, although this can occur faster in some circumstances.
We chose several representative examples that offer a better understanding of withdrawal times at eCheck online casinos.
| Casino | Minimum Deposit | Minimum Withdrawal | Withdrawal Time |
| --- | --- | --- | --- |
| Party Casino | $10 | $10 | 3-5 days |
| DraftKings Casino | $5 | $15 | 3-5 days |
| 888casino | $10 | $10 | 3-5 days |
| SugarHouse Casino | $10 | $10 | 3-5 days |
Why eCheck Is a Trusted Payment Method
Players benefit from two security systems when transferring funds in or out of an online casino. One is set up by the gaming platform, and the other by the payment provider. The benefit of using eChecks is that the provider leverages data encryption technology. Transactions get processed through the ACH (Automated Clearing House) and the user's bank. Both institutions rely on sophisticated security measures. In a nutshell, it's the best firewall money can buy.
In case of a mishap, the user can reverse the transaction with an eCheck. This can happen only because of human error. The ACH system performs its task by the bank details and allows the transfer if everything is in order, but stops it if something is not adding up. There is a good reason it's used globally and stays relevant despite more modern payment methods. And that is the security it provides.
Some of the advantages include:
Lower transaction costs
Ease of use
Bank-grade security encryption
Automated payments
Fewer limits on the transaction amount
eCheck Mobile Casinos
Mobile betting is the impulse for the growth of the online gambling industry. The convenience provided by the almighty smartphone, which has enabled players to spin the reels from the comfort of their couch, has motivated platforms to incorporate the mobile version. Typically this gets accomplished with a responsive design or a mobile app. The latter option is fancier, with a better visual layout. But functionality-wise, gamers get a nearly identical experience when playing via a mobile browser or the dedicated app.
Most mobile eCheck casinos implement a responsive design for the website, eliminating the need for downloads. And the sites are compatible with Android and iOS mobile devices. Making deposits and withdrawals follows the previously outlined steps without the need for a separate app from the payment provider.
Pros and Cons of eCheck
| ✅ Pros | ❌ Cons |
| --- | --- |
| Faster than regular checks | Long withdrawals times |
| Uses a bank account | Not accepted by most online casinos |
| Ease of use | Transaction Fees |
| Sophisticated encryption system | No validation of the account numbers |
Other Trusted Payment Methods Accepted by Online Casinos
The check has managed to stay relevant in the digital age, courtesy of its electronic form. Yet some players are hesitant to incorporate eCheck into the gaming strategy, preferring to use PayPal casino or Skrill casinos. This is understandable, considering the slow transaction speeds and the fact is most US online casinos only offer eChecks as a withdrawal method.
Several other options are taking the spotlight, although debit and credit cards are still factors in the cashier section. Prepaid cards have also been on the rise because of the anonymity and safety provided. And cryptocurrencies, especially Bitcoin, the flagship digital coin for the blockchain industry, are gaining attraction. Some casinos harvest Bitcoin via a dedicated bonus, which can get activated only with a Bitcoin deposit.
Google Pay casinos, Apple Pay casinos and Neteller casinos are all other places to play at for those who like using their smartphones for transactions, and they typically allow you to attach the likes of Visa, Mastercard, American Express and Discover to those selected payment method apps.
Mazooma is also an option for casino transactions. Considering the lengthy withdrawal process with eCheck, Mazooma offers you an instant withdrawals to your bank account, which will always be preferable for casino and gambling players alike.
eCheck Casino FAQs
Why use eCheck?

The security offered by eCheck is of the highest standards, preventing any unauthorized access to the user's funds. With some of the lowest fees per transaction and automated payments, eChecks are a solid deposit and withdrawal option in online casinos.
Do online casinos take eCheck?

Yes, online casinos that accept eCheck payments are available for US players. However, generally, it's utilized in one role, either as a deposit option or for payouts. Inspect the cashier section to see if the method is supported.
Is there a minimum eCheck deposit amount at online casinos?

Yes, the minimum deposit sum in an eCheck casino is usually $10. But this should be taken with a grain of salt because new platforms get launched daily, and what is the norm today can change in a few days, with a platform lowering the bar to $1.
Is eCheck safe to use?

Online casinos that take eCheck as a payment method offer the best encryption possible. The chances for a user's bank account to get hacked are minimal. Plus, in case of a mishap, eChecks can get reversed. For over two decades, eChecks have been used for paying bills and depositing in online casinos without any security breaches.
What is the processing time for eCheck withdrawals?

The withdrawal times are not eCheck's strongest feature, with most transactions processed within 5 working days. In some cases, the payment can get cleared sooner.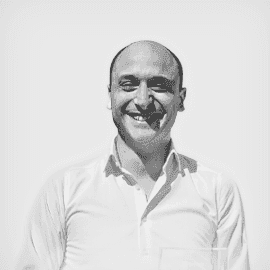 Bio
Political scientist, and gambling expert, I have spent the most part of the last ten years writing about the casino and poker industry. As a professional journalist, I work with FOX News, La Repubblica, the Economist, Politico, and PokerNews. As a gambler, I won money pretty much anywhere in Europe. As a gambling editor, I'll help you do the same.