A few years back, playing craps didn't seem like something you would do at an online casino. But as soon as online craps casinos showed up - things changed.
Today, you can choose to play live dealer craps at the best online casinos and you won't miss out on anything you'd otherwise get at land-based casinos.
So now, we are one land-based casino trip shorter and richer for bonus promotions! Check out the top-rated US live dealer casinos, explore their live casino bonus sections, and learn how to play craps. Below, you'll also find information on US state laws regarding live dealer craps.
Best Online Casinos to Play Craps Online
Instead of searching for casino sites on your own, or going to brick and mortar casinos, we want you to pick up your phone or laptop and start playing live craps online. Thus, we've compiled a list of the best real money online casinos for players from the US:
Oops. No rooms were found..
How to Get Started with Live Dealer Craps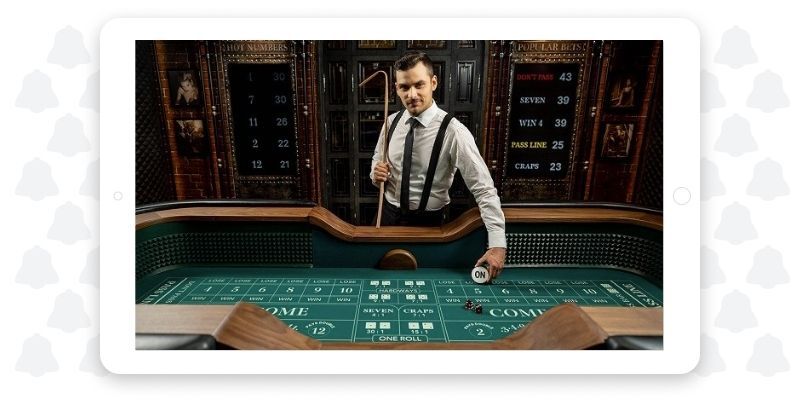 If you've ever played live dealer craps before, chances are, you probably know the drill. The first thing to do is find a trustworthy and reliable casino.
Once you skim through the live craps casinos and their bonus promotions, make sure to check out the list of casino games to find out if there's a crap game available. Then, make a deposit to begin the game.
After you join the live dealer craps game, you'll be able to see the table with the green felt, as well as a software version of the bets. On the left side, you can choose to chat, while in the top right corner you can read the game rules and regulations, and twitch the settings.
On one side of the table, you will find an area to place One Roll and Hardway bets, whereas, on the other side you can place Come, Field, Pass Line and Don't Pass Line bets.
At the bottom of the screen, you can check your current balance as well as your current bet. You get to place a bet before the dice shooter comes into action.
Where Can You Play Real Money Craps Online in the United States?
Normally, you wouldn't have trouble finding a good online casino site. However, there aren't many states in the US that allow live games. With that said, you can play the live dealer version of craps only if you are currently located in:
On the other hand, you can play regular craps online for real money in the states of Connecticut and West Virginia.
Players from other US states may soon be able to play live dealer craps too, as the online gambling laws in the country are starting to loosen up.
What are Online Live Dealer Craps Games?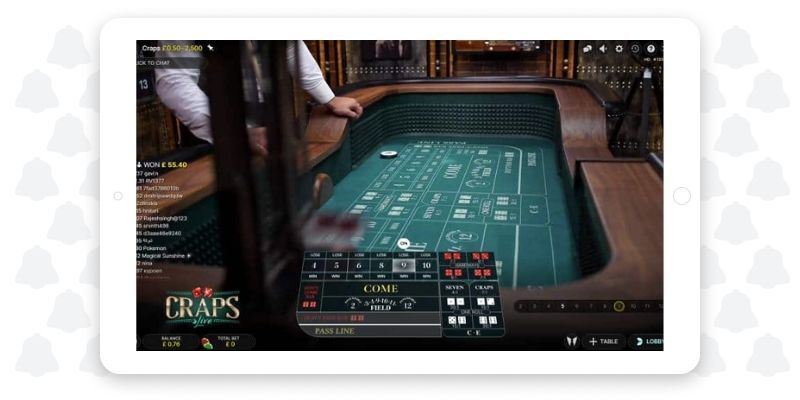 Before we get to the game itself, let's see how live dealer games work. Unlike the standard casino games that work with a random generating number software, a live game involves professional dealers that are leading the game in a real casino studio.
Like we explain on our Craps for dummies guide, this is what makes the online craps format as entertaining as land-based craps games.
The live craps title allows you to place the same basic bets, make debit card deposits, and use the cash funds to place some more bets.
The game takes place at a large table and on it are plenty of wagers that craps players can place. The main thing you need to know is that there are 2 parts of the game:
The come-out roll
The point
The first roll on the dice after the previous betting round, is known as come-out roll. If the come-out roll lands a 7 or 11, also known as natural roll, bets placed on the Pass Line will win. On the other side, if you land on 2,3 or 12 during the come-out roll, any bets placed on the Don't Pass Line will win. Whenever a natural roll comes, the players get another chance to shoot the dice and increase their chance to win.
When a dice lands on numbers that combine to give 4,5,6,8,9, or 10, also known as point number, the dealer marks it on the table by placing a black marker on top of the number in online craps.
Even though some people see casino craps as an alternative to Sic Bo games, there is an important difference between the two. The house edge of craps is lower than the house edge of other games like live Sic Bo.
Live Dealer Craps Casino Software Providers
There are plenty of software providers that are developing top-notch live dealer craps. One of the most famous casino software developers in the US is Evolution Gaming - which we discuss extensively on our page about the best live dealer blackjack games. They are the first and only provider to launch a craps game with a live dealer.
Other than this gaming studio, there are other popular developers filling the live casinos, including:
Pragmatic Play
Ezugi
VivoGaming
RealTime Gaming
Rival
Betsoft
Microgaming
However, it is important to note that all of these gaming developers still don't have their own version of the live craps game.
Live Dealer Craps Sites on Mobile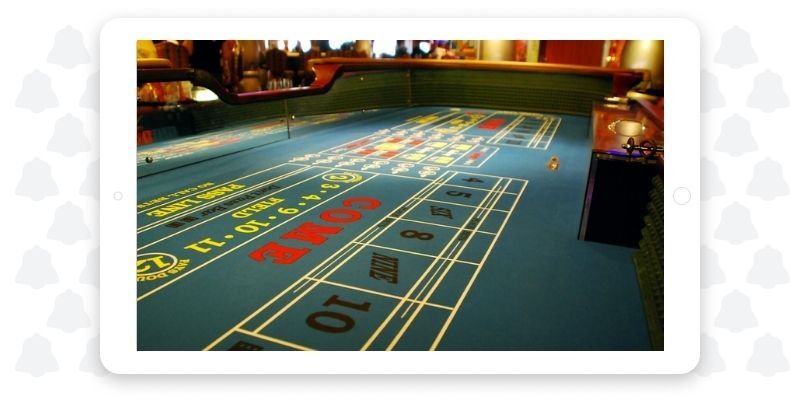 Playing real dealer games on mobile phones is possible. However, not all game studios have made the game perfectly optimized for the small screens.
This is due to the craps table being wide and the HD stream taking a large part of the screen. Therefore, it is recommended to play on a tablet or laptop device that has a bit wider screen than your mobile phone.
Regardless, if you don't mind the small buttons, you can play live dealer craps from your portable device as well. To do so, you need to pick an online casino, head to the live dealer section, and join the table from your device.
How to Play Live Craps Online
To start playing and placing best craps bets, you need to understand the basic bets. These include the pass line bet and the don't pass line bet. Players should know that there are plenty of other bets as well, and we will get to them later.
The game begins by making a pass line bet and with the shooter rolling the come-out roll. Now, if you placed a pass bet, a 7 or 11, known as the natural roll, will get you a win. On the other hand, 2, 3, or 12 are the losing bets.
Now, any other number becomes the point, and then the shooter rolls once again. This is the time when plenty of other types of bets become available.
Following are some of the other craps bets that US players can make besides the basic bet, also known as the multi-roll bets:
Pass Bet / Don't Pass Bet
Come Bet / Don't Come Bet
Hardways
Free Odds
Lay Odds
Place Bets
Buy Bets
There also are propositions bets, including:
Ace Deuce
World / Whirl
Horn
Horn High
Any Craps
Craps and 11
Hop Bets
Boxcars
The Field
2 or 12
Any 7
Of course, you don't need to know all of them to start with your craps adventure. If you're a beginner, you need to keep in mind the following bets and develop your own basic strategy:
Pass / Don't Pass - This is a bet that comes with low risks and good odds.
Come / Don't Come - Come bet can be placed after a player has established a point. This bet isn't mandatory like Pass/Don't Pass.
Lay Odds - This is a wager that is a bit more complex, however, it still has good winning odds.
Field Bet - This bet comes with a variety of winning outcomes which means that it comes with low risks.
Additional Readings:
To find even more details about the game, read our page dedicated to how to play Craps and how to shoot dice.
Then, don't miss this guide to Craps odds to finally understand what are the best bets to pick when you want to win at the table.
Finally, we have also an interesting article that explains how to win at Craps and shares interesting insights on the most discussed strategies on socials and gambling forums.
Advantages of Playing Live Online Craps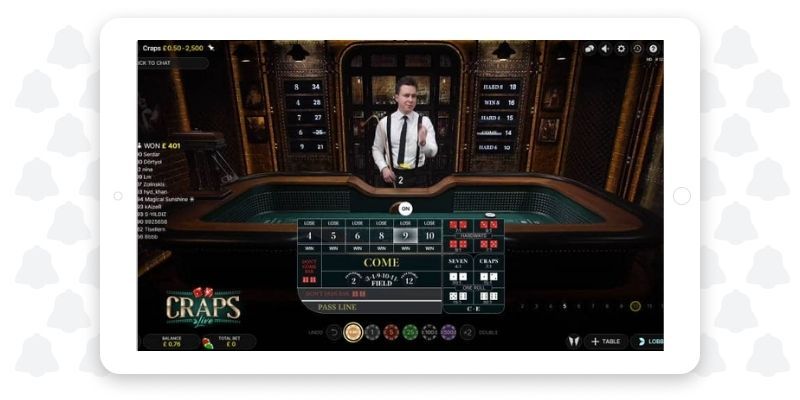 There are plenty of advantages to playing live dealer crap games when compared to the regular game. For starters, instead of watching the dice rolls with the help of RNG software, there will be a real dealer handling the game.
Moreover, while the regular craps game is not a social game, playing a game with a real dealer will let you talk to the dealer and the rest of the players. This is what makes the real dealer games authentic.
Now, if you were to compare the live dealer craps with land-based casino craps, you can see advantages in:
Bonus promotions
Anonymity
A wide range of payment methods
Accessibility
Lower house edge
Welcome Bonus Offers to Play Live Craps
Playing live dealer craps means playing with real money. However, you don't need to spend your bankroll every time. You can use the welcome bonus offers to place a craps bet found at most online casinos.
Before you claim a bonus, regardless of whether it's free spins or extra chips, it's a good practice to check the terms and conditions that are attached to the promotion.
Players should pay attention to the wagering requirements, the validity date, the eligible games, the max winnings, as well as the min and max bet limits.
Live Dealer Craps FAQs
Is live craps real?

Live dealer craps is as real as it can get. The action is happening in real-time in a physical location. You're watching a live stream of the game handled by real dealers.
Is live craps online legal in the United States?

Yes. Playing live craps at online casinos is legal in the states of MI, NJ, and PA. Players can enjoy regular craps in the states of WV and CT as well.
How do you play craps online with a real dealer at an online casino?

To start playing craps online you need to sign up at an online casino. The next step is to deposit, then head to the live dealer games, join the room, and start with your best bet.
Is live dealer craps rigged?

No. Live dealer online craps are not rigged as they are happening in real-time and you can see the dice shooter and the dealer yourself.
Can I play live craps online for free?

Real dealer casino games such as live Craps online are real money games. This means that you cannot play the game for free. You can, however, follow the tips of our Editorial Team to find what websites offer Craps online practice without a live dealer.
Other Popular Live Dealer Games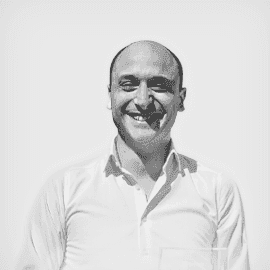 Bio
Political scientist, and gambling expert, I have spent the most part of the last ten years writing about the casino and poker industry. As a professional journalist, I work with FOX News, La Repubblica, the Economist, Politico, and PokerNews. As a gambler, I won money pretty much anywhere in Europe. As a gambling editor, I'll help you do the same.