Live Blackjack Party is a live dealer blackjack version that provides a whole new experience and twist to the basic game of blackjack online. Created by Evolution Gaming, this low stakes table game comes with not one but two dealers, upbeat music, two optional side bets and the potential for a premium payout.
In this guide, you will find all the best online casinos to play live Blackjack Party and more. Since we know not many of our readers are familiar with the game, you find also a basic breakdown of how the game is played and what are some of the optimal strategies to make the most out of Blackjack Party online.
Best Online Casinos to Play Live Blackjack Party
Looking for the best online casinos to play this entertaining live casino game? Select from the list what you believe to be the best live casinos that offer Blackjack Party without questioning licensing, casino bonuses or brand reliability.

Oops. No rooms were found..
Where is Live Blackjack Party legal in the United States?
As we all know, regulatory frameworks are not homogenous across all USA states regarding live casino games. Hence, it's required to consider where real money live blackjack is even available. To fully grasp the possibilities of the availability and legal status of live dealer blackjack, let's refer to the states presented below.
Pennsylvania: PA has provided a regulated online environment for avid gamblers since early 2020. The PA Gaming Control Board requires online casinos in Pennsylvania to offer fair rules for live blackjack tables. As a result, players face a low house edge and engage in multiple side bets.
Michigan: The Michigan Gaming Control Board (MGCB) authorized live dealers at Michigan's online casinos in July 2021. The first live dealer casinos launched soon after. Evolution Gaming even set up a new live dealer studio in Southfield, Michigan, to conveniently provide its hit live games to the USA audience.
New Jersey: Live dealer blackjack games have been legal at New Jersey casinos online since August 2018. Blackjack is widely available as a popular choice among live casino gamers, usually dealt from a traditional eight-deck shoe.
What is Blackjack Party?
Live dealer Blackjack Party is a live casino game developed by Evolution Gaming whose main attributes are side bets and a fun and relaxed atmosphere. Very few live dealer games can offer the same.
As a unique party style variant of blackjack, the Evolution-powered release includes fun music and friendly hosts. Other notable aspects the game includes are favourable play features such as low stakes and Bet Behind.
Structurally, live dealer Blackjack Party is a traditional blackjack game with seven seats. It has two hosts, one that deals the cards and the other co-presenting as the gameplay unfolds. In essence, the party variant of blackjack has barely any differences from the standard blackjack offering by the Maltese developer. It is the presentation of the game that makes it distinctive.
How to Play Blackjack Party Online
Live Blackjack Party online is not a challenging game to learn since it is based on classic games of blackjack, well known at all types of casinos worldwide. It uses eight decks of playing cards, and the dealer stands on soft 17. What stands out as different about this game is that it has a less serious approach. It is designed as a fun option for live casino players on a tight budget.
Follow our basic step-by-step process of the game actions and rules to learn how to play Blackjack Party online:
Take a seat at any given table once you have launched the game and place an ante bet. Keep in mind that if all seats are taken, you will only be able to use the Bet Behind option. Ante bets are when you select the chips and place them onto the table betting area, minding the minimum bet limits.
Consider the side bets offered. In this case, there are two optional side bets, perfect pairs and 21+3. There is a counter on the screen indicating the remaining betting time. After all the bets are made, the dealer will start dealing cards.
The dealer takes cards from the shoe and deals them to players at the table. They're given two cards dealt face-up, while the dealer gets one card facing up and one face-down for the house.
Once the dealing of the cards is complete, each player gets to act on their hand by choosing to split, double, hit or stand. Splitting is allowed only once. Additionally, if a player doubles their bet and requests additional cards, that action is only possible with the two initial cards in hand, not more.
Live Blackjack Party allows the insurance option like the main game, too. This functionality becomes active when the dealer's up card is an Ace and you believe they have a possible blackjack. Should one decide to take it, they need to place an additional Insurance wager, one half the size of the original bet. If once the dealer shows his hand it turns out to be a blackjack, the player then wins the Insurance bet, losing only the ante.
After the selected actions are carried out, each hand is evaluated and for any players who have been able to beat the dealer's hand, a payout is issued. Any Ace combined with a 10 is a blackjack, therefore it pays 3 to 2. All hands going over 21 are bust and receive no payout.
If you need more context or help in understanding the basic rules of the game, how to play blackjack has you covered.
Card Values
The card values in Blackjack Party are in no way altered compared to the main game. You don't have to remember convoluted formulas to calculate individual card values, as blackjack gameplay makes it significantly easy to master. You only need to keep in mind these three principles:
The numerical ranks for cards from 2 to 9 are the same; they retain their natural value.
Face cards are valued at 10 (Jacks, Queens and Kings), as well as regular 10s.
Aces have a value of 1 or 11, depending on the card combination.
Bet Behind
Thanks to the bet behind feature, an unlimited number of players can access Blackjack Party and place real money bets. Even though the game does not have unlimited seats – it only has seven - the developers made sure everyone could take part in the action.
Bet Behind allows observers to wager on the hands of seated players. Interestingly enough, the game assigns "medals" to players on a winning streak. It serves as an indicative functionality for those on the verge of placing their bet from outside the main game.
Blackjack Party Side Bets
While regular blackjack rounds bring their charming dose of excitement, the entertainment level in Blackjack Party is boosted by the addition of two optional side bets. Perfect Pairs and 21+3 are given as extra betting options, something creative to elevate the game. Let's take a closer look at how they work.
21+3 Side Bet
The 21+3 side bet requires that the player forms a three-card poker hand. The hand shall consist of the player's two cards and the dealer's face-up card. The strength of the poker hand determines the payout for the side bet. A Flush pays 5 to 1, and a
Straight pays 10 to 1. Three of a Kind is worth 30 to 1 and a Straight Flush will bring a payout of 40 to 1. The most valuable is the Suited Trips combination, paying 100 to 1. Due to the nature of this optional bet, it is settled before taking actions, after receiving the first two cards.
Perfect Pairs
The Perfect Pairs side bet wins if the player has a paired holding. There are payouts for a Suited Pair (25 to 1), a Colored Pair (12 to 1) and a Mixed Pair (6 to 1). Similar to the 21+3 option, this one is also settled after the two initial cards are distributed. If they form a pair and the holder of that hand has opted for a Perfect Pair side bet, they win.
Live Dealer Blackjack Party Basic Strategy
Blackjack Party comes with a favorable house edge, boasting an RTP of 99.29%. However, this percentage is owed to playing without taking any side bets and using basic blackjack strategy.
It is recommended that you use strategy charts when playing Blackjack Party, since that reduces the house edge and improves your winning potential. Basic strategy sheets can help you decide what action to take regarding the dealer's up card and your hand total. In addition, while it may sound tempting to take insurance, players are usually advised against it.
About Evolution Gaming
Evolution Gaming is an award-winning company that specializes in live dealer games. Their name is a staple in the igaming industry and their efforts to revolutionize live casino gambling have been prosperous multiple times.
Games coming from Evolution are versatile and feature a clean, stylish interface. The company was established in 2006 and now has studios in Latvia, Malta, Romania and the USA. Thanks to stable, high-quality production of live streamed games, Evolution Gaming secured partnerships with major online casino operators worldwide.
Other Blackjack Games Available at Live Casinos
As one of the most trending gambling games, blackjack adopted various forms within the live casino world. Those who want to experience blackjack online with live dealers can seek options such as Infinite Blackjack or any of the traditional tables.
You will find that available titles offer varying features in terms of speed, minimum bet limits, functionalities and side bets. If you want to bet high stakes, look for VIP live blackjack tables. If you don't appreciate that you need to wait your turn to make the initial betting decision, there are live blackjack options with a pre-decision feature as an added enhancement. Live Blackjack Party is just part of a big blackjack family living happily in live casinos across the web.
Alternative Live Blackjack Variants to Blackjack Party
Live dealer games are now some of the most sought out games to play by users at online casinos, which has inevitably seen multiple different variants created. Blackjack now has now had quite a few variants developed to adapt and cater for the fans of live dealer options, such as:
Frequently Asked Questions about Live Dealer Blackjack Party
How do you play blackjack as a group?

If you want to create your own blackjack party, make sure that the dealer shuffles the cards and deals left to right.
Is live Blackjack Party real?

Yes, the gameplay is real and takes place in real-time. Participating players follow the video feed through a stream and interact with the dealers through advanced igaming software.
Are blackjack party tables better than the regular online blackjack games?

The Blackjack Party table provides a chatty experience with a fun vibe, unlike most online blackjack games, which can appear static despite including a real dealer.
Is live dealer Blackjack Party rigged?

No. Live Blackjack Party is a live casino game that unravels as the players observe the action across the table, just like in a physical casino. In the case of a technical or human error, the software provider has adequate systems in place. Furthermore, third-party audits confirm the game's fairness and random results.
Can I play blackjack party online for free?

Unfortunately, no. The game is not available in a free bet mode. The reason for this is that production of live casino games is costly, including wages for professional dealers and the expenses of occupying studio premises.
Other Popular Live Dealer Games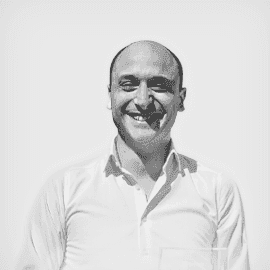 Bio
Political scientist, and gambling expert, I have spent the most part of the last ten years writing about the casino and poker industry. As a professional journalist, I work with FOX News, La Repubblica, the Economist, Politico, and PokerNews. As a gambler, I won money pretty much anywhere in Europe. As a gambling editor, I'll help you do the same.