Looking for the best options to play casino games and bring the excitement of land based casinos to your screen? This list of the best California online casinos has got you covered!
Browse through all the and California gambling apps and websites that offer online slots, table games, video poker, online poker and more — and get ready for some good and legal gambling fun.
All the online gambling sites on this list accept Golden State residents and offer legal casino games in California. Just pick the one that offers the type of games you are looking for, claim your welcome bonus and play your first games with free coins, free credits, or free spins.
While real money gambling continues to be illegal in the Golden State, a number of California casino apps offer you an equally exciting gaming experience with play money. Whether you pick sweepstakes casinos or social casino apps, get ready: playing casino games online has never been this fun!
Important Notice about Responsible Gambling
Before we go into detail and we examine all the best online casinos in California, let's spend a few important words about responsible gambling.
While online gambling and casino games can be a lot of fun, it's extremely important everyone access California gambling sites with the right mindset and being wary of the risks connected to playing games where real money is involved.
Playing casino games on a California gambling app or poker games on a CA poker site should be a fun experience, not a way to seek financial gains of any kind or size. When you play slot games, table games, live dealer games, bingo games, and any other type games offered at California casinos, you should keep in mind that the odds are never in your favour and the casino has always an advantage over the players.
Like the old saying goes, 'the house always wins' and there is nothing you, as a player can do to secure wins when you gamble online at California casinos.
Not only you should never spend on your games more than you can afford to lose, but you should always be aware of how you feel about playing at online casinos and whether your desire to win money ever replaces the much simpler (and healthier) will to have some fun online.
If you find yourself gambling online to chase your losses or you have the impression that the desire to gamble online is beginning to be a little too strong, stop playing. These simple signs should be enough to push you to reconsider the time (and money) you spend gambling online - and push you to look for help.
Even if California's gambling laws do not allow Golden State residents to play real money casino games online, the State of California Department of Justice set up a series of useful resources to inform players about the dangers of gambling and offer help to those who might need it.
If you are afraid your gambling habits are not too healthy, if you know someone who needs help, or you are just curious about learning more about the most responsible ways to approach online gambling, please visit this page on the Attorney General website.
Best California Casinos in 2022
California Online Gambling
California is the Golden State of sunshine and beaches, and it's also one of the most populated states in the US. It also has the third-largest number of land-based casinos in the country, but while the land-based gaming scene is thriving, California online casinos are not.
Online casinos in California are not currently legal, but not all is lost; you still have options for playing slot machines, table games, and poker in this state. The only difference between the sites that are currently allowed to operate in the California online gambling market and the real money gambling sites you might be used to is that you can't win cash prizes if you are in California.
If you've landed on this page, then you're most likely looking for a gambling site to play games and have fun online.
The list on this page shows you a number of recommended online casinos that accept California residents and offer great games (and bonuses). While you can't play at online casinos for real money in California, you can still have fun with amazing gambling sites like social casinos and sweepstakes casinos!
Continue reading our guide to online gambling in California to discover:
Are you ready? Let's dive in!
Are Online Casinos Legal in California?
At this time, California online casinos for real money are not legal. However, land-based tribal casinos have been legal and present in the Golden State since 1988, when the Indian Gaming Regulatory Act passed.
This means that you can pop down to your nearest land-based casino or racino and play real money slot machines and table games, but you cannot lay real money bets online.
Currently, there is a gambling reform bill being considered by the state that seeks to introduce online sports betting, but it looks unlikely to go ahead in the next months.
Experts have said things are effectively on hold until at least 2025 (it's a complex situation with multiple stakeholders and competing interests). We'll save you the details, suffice to say, California online real money casinos are unlikely to offer games to Golden State residents in 2022 and 2022.
With little legal movement expected over the next few years, players looking to slots, table games, and all the other exciting options available at Las Vegas casinos can turn to social and sweepstakes casinos.
Social Casinos in California
Social casinos are the most popular California casino sites in 2022. These casinos online are gaming platforms that offer the same type of experience real online casinos bring to the screen, but with greater social integration and no cash prizes.
The games offered to California residents are free to play - there are no real money bets or prizes, you win or lose virtual currency that has no cash value.
As a player, you'll log in daily and receive virtual coin bonuses, which you can use to play. The social element comes in because social casinos are closely linked with social media. Plus, you can play together with your friends, give them coins, or compete against them, while sharing news of big wins or achievements.
Social casinos are 100% legal in the United States and are the top California casino sites by popularity.
Some of the most popular names with CA players include Slotomania, House of Fun, Scatter Slots, Billionaire Casino, Huuuuge Casino, Chumba Casino, Hard Rock Social Casino, Global Poker, and WSOP Play.
Each option provides the best online casino games in CA like slot games, table games, online bingo, and poker.
How to Pick the Best Social Casino in California
When picking a new online social casino to play with, there are a few important things to take into account. If you're looking for the best California online casino sites, you want to be looking at:
Games and Software
All the social California casino apps reviewed by our team and recommended on our list of the best casino websites for California residents offer something a little different in the game department.
While Global Poker and the WSOP app are the right choices for online poker players, names like Slotomania and Chumba Casino represent a much better option if your online gaming experience revolves around slots and casino games.
Before you sign up to any of the California casinos online on this page, find out which site offers the games that best suit your playing preferences. Basing your decision on the type and number of games offered is always a good idea.
Bonuses and Free Coin Allowance
Social casinos are free-to-play sites that dish out virtual currency through bonuses and game achievements. Therefore, comparing which online casinos are more generous, how they distribute coins, and how often you can replenish your coin stock is key for the best gaming experience, so shop around.
Playing casino games online on this site can be free forever if you pick online casinos that offer the right amount of daily bonuses and free spins to California residents.
Desktop Platform and App
You want to pick an online casino site the gives you the chance to play from your computer and download online gambling apps that let you access their entire collection of games.
All the online casino gambling sites listed on this page offer apps for iOS and Android, but also run desktop web versions that let you play online poker, slot games, and more from your internet browser.
To pick the best online platform to play with, read our casino reviews or test the apps and casino sites. Choose the one that's most attractive to you and works without a glitch on desktop and mobile devices.
On our end, we guarantee that all the California casino sites you find here are fast and reliable as you'd expect casino sites to be in 2022.
Community, Safety, and Security
Lastly, check the community features (can you play with friends, are there tournaments and leaderboards, etc.) and make sure to pick one of the California casino sites that offers exactly what you are looking for.
Once you have a good candidate in mind, move on to the safety and security of the site. Make sure the site/app uses SSL encryption, has a data protection protocol, and uses fair games that generate random results. All this info should be available within the sites about us or terms and conditions pages.
Rather take the easy route? Then keep to the California casino sites recommend on this page.
These apps and websites represent the top social casinos for players in California, have generous bonuses, and have plenty of games for you to work your way through!
Best Online Social Casino Games to Play in California
You'll find online slots, jackpots, blackjack, roulette, and poker available at CA online social casinos. Slots make up the larger part of most game lobbies as they are the most popular type of casino game, but you'll also discover top-of-the-line Poker at WSOP and the best table game options at Hard Rock.
Social casino games are some of the best titles, especially the slots with cutting-edge, sharp graphics, bonus features, and loads of ways to win. In fact, players are often surprised by the high quality of these free-to-play games.
Still, once the real money gambling element is removed, there's a greater emphasis on making knock-out titles providing greater entertainment and thrill value.
Some of the best California online casino games include:
| Online Slots | Table Games | Online Poker |
| --- | --- | --- |
| Wild Chili | Craps (various formats) | Texas Hold'em |
| Fu Xiang | Roulette (various formats) | Omaha Poker |
| Mermaid Money | Blackjack (various formats) | Pai Gow Poker |
| Buffalo Dream | Baccarat (various formats) | Ultimate Texas Hold'em |
| Cleopatra's Quest | Casino War | Mississippi Stud |
| Wild Spinbad | Bingo(various formats) | Four Card Poker |
Frequently Asked Questions (FAQs) about Online Gambling in California
How many legal online casinos are there in California that offer real money games?

There are currently no legal real money CA online casinos, only social casinos that offer free games are legal in the Golden State.
Will online casinos ever be legal in California?

While CA is a huge potential gambling market, the legalization of online casinos doesn't look likely in the near distant future. This doesn't discount them altogether, but for now, there's no timeline for the legalization of CA online casinos.
Which online casinos can you expect to come to California when it becomes legal?

CasinoSmash will update this page with the latest news and available live sites when the best California online casinos become legal. However, all we can say for now is that the most likely operators will be those already established in U.S. gambling states, like BetMGM, Caesars, Golden Nugget, FanDuel, and DraftKings.
Are social casinos safe for California residents?

Given the free coin model of social casinos, the only concern with this type of site is compulsive playing, especially as you are encouraged to log in several times a day to gain more coins and level up. If you build up this habit and then visit an online real money casino in California, it could lead to overspending or compulsive gambling, so be aware.
What are sweepstakes casinos, and are they legal?

Sweepstakes casinos exploit a legislative loophole that allows for pooled competitions (sweepstakes, i.e., winning the pot). We don't recommend this type of casino as an alternative to real money online casinos at CasinoSmash. Social casinos offer a more fun and legit way to play online casino games for free!
What types of risks come with offshore sites?

Offshore casinos are not legal in the USA, but neither are they expressly illegal as they operate outside of the country, which is why some accept U.S. players. However, as these sites are not regulated to operate in the USA, they are often licensed by stamp jurisdictions (generally classed as offering low-no player protections).

In addition, they are not safe and secure places to play as there's no guarantee that games are tested, your deposit is not financially regulated, and there's no formal complaints procedure if things go wrong. While offshore casinos can be attractive, for these reasons, you should avoid them at all costs.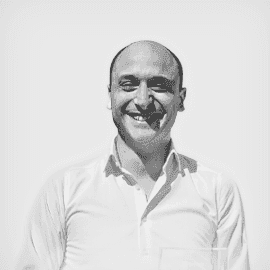 Bio
Political scientist, and gambling expert, I have spent the most part of the last ten years writing about the casino and poker industry. As a professional journalist, I work with FOX News, La Repubblica, the Economist, Politico, and PokerNews. As a gambler, I won money pretty much anywhere in Europe. As a gambling editor, I'll help you do the same.