If you like playing live craps and live roulette, you'll probably like the live Sic Bo games. The reasoning behind this is simple: you can see the Sic Bo game as a mix of roulette and craps. It is a dice game that involves a chest, a dealer, bets, combinations, and of course, three dice.
To start playing live Sic Bo you need to find an online casino that features live dealer games. And there's no better place to start than at the top casino operators for US players.
So check out the best live dealer casinos, learn how to start playing Sic Bo, take a look at the Sic Bo strategies, and give the casino bonuses a go.
Top Online Casinos to Play Live Dealer Sic Bo
You don't have to go to a brick-and-mortar casino to get the feeling of playing in "a real casino". Live dealer games at modern online casinos are a true refreshment in the online gambling world, and we have picked the best US online gambling sites for you
Oops. No rooms were found..
How to Get Started with Live Sic Bo Games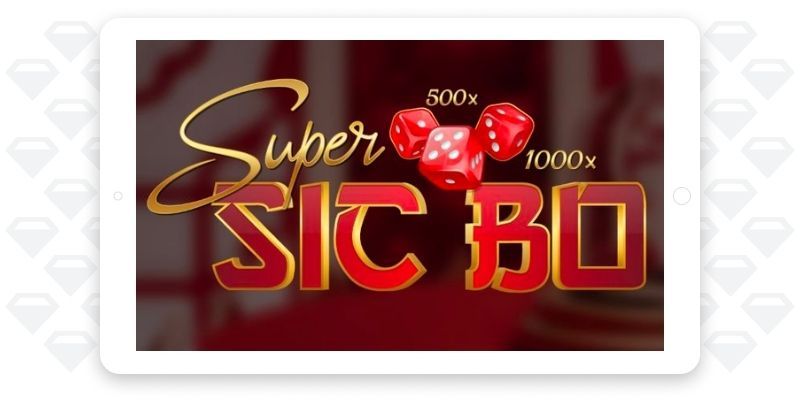 As you can expect, to start with online Sic Bo with a live dealer you'd need to know how to play Sic Bo and what kind of bets you can make. However, this isn't the first step one needs to make to start playing live. In fact, the proper way to get started is to pick an online casino that is in compliance with your state laws for gambling online.
Even though there are many online casinos offering Sic Bo titles, not many accept US players or offer their live dealer Sic Bo section. To stay on the safe side of things and to be able to start placing bets as soon as possible, pick one of the casinos above and create your casino account.
Once you have that going for you, you should head to the live dealer games and locate the live Sic Bo table. Joining Sic Bo live dealer means joining a casino table with live dealers from your small screen. This is made possible by the special software that allows a live game to be streamed in real-time.
Once you click to play Sic Bo Live, you'll be placed in the lobby. There you can check out Sic Bo rules, and chat with the rest of the players. Once the table with the live dealer goes live, you'll be up to some real-time action, where you'll need to decide your Sic Bo strategy. The central box is where the live dealer is placed, along with the dice and the small chest.
The screen in front of you shows all the betting options, the betting limits, and the dice combinations. At the bottom of the screen, you can see your chips and your bets. In the right corner, players are able to see the statistics, as well as the hot and cold numbers.
Finally, on the left side of the screen, you'll see your current balance, and get the chance to head to the lobby.
House Edge
Simply put, a house edge is the casino's advantage over you. Naturally, if you decide to play live Sic Bo, you stand a chance to win. However, in the long run, the casinos always have the advantage.
Now, when it comes to Sic Bo bets, every type of bet comes with its own house edge. This is no different from any other live dealer game. You can take a look at a few examples:
Small and Big bets - 2.78%
Single Dice Bet - 7.87%
Specific Triple Bet - 16.20%
Two Dice Combo - 16.67%
Double Bet - 18.25%
Sum of 9 or 12 - 18.99%
Where Can You Play Online Sic Bo in the United States?
Playing free Sic Bo games is available all over the United States. Playing regular Sic Bo titles, on the other hand, is only legal in the US states where online wagering is allowed. This includes the state of Michigan, Pennsylvania, New Jersey, Connecticut, and West Virginia. To put it simpler, you can join Sic Bo casinos if you reside in any of these states.
However, when it comes to live Sic Bo dealers, things get a bit more complicated. As of now, there are only 3 states that allow live dealer games. Therefore, joining live dealer Sic Bo is only legal in:
Nevertheless, the Internet gambling culture in the United States is changing, and so do the laws. We expect other states to allow live Sic Bo casinos in the near future as well.
How to Play Live Sic Bo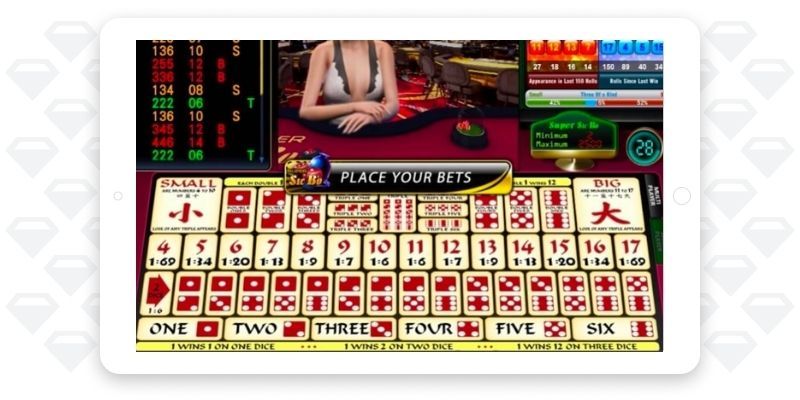 Live dealer Sic Bo casinos offer a betting table which may be the hardest thing to tackle down. That is why it is recommended that you try the betting board one by one. Normally, a beginner starts with placing a big/small bet and then works their way up.
If you know what Hi/Lo bets mean, you already got the first type of bet. For those that are complete newbies, the small or big bet is just placing a wager on whether the Sic Bo dice will land on a high or low number.
There are other types of bets that you can make as the game progresses, and you can find detailed explanations in our in-depth review of live dealer Sic Bo.
These are the types of bets available at a live casino Sic Bo stream:
7 and 14
5 and 16
6 and 15
7 and 14
8 and 13
9 and 12
10 and 11
Any/Triple/Double Bet
Game Features
Speaking of live Sic Bo, there are plenty of features that the game comes with. One of the characteristics that stand out the most from the regular game is the fact that the game is taking place in real-time and there's a real dealer responsible for the dice.
Another important feature is that you can claim the live casino welcome bonus and play with bonus funds too. Other game features include live chat with the dealer and the rest of the people playing, max bet, and max cash-out limits.
Basic Sic Bo Strategy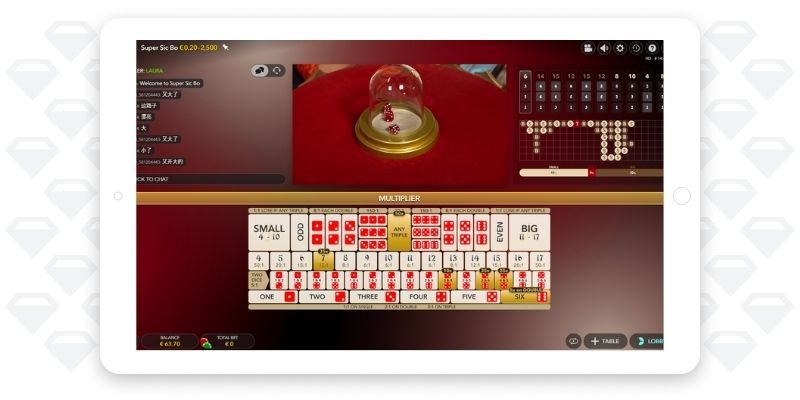 One of the most important things about Sic Bo is that it is a game of chance. And as such, there is no Sic Bo strategy that will get you a win surely. Even so, some players try different kinds of tactics when tackling the game, which we have discussed in-depth in our previous article.
For now, there is one thing that is worth mentioning. If you like to develop a winning strategy, the Hi/Lo should be your go-to bet. These bets have the best payout odds which makes them the safest wager.
About Evolution Gaming
Evolution is a game studio that has been developing casino games for a long time now. They have achieved incredible success with the live dealer games, including live dealer Sic Bo.
Apart from this game, they have other famous releases including Cash or No Cash, Lightning Roulette, Craps, Live Poker, and many others.
Other Live Dealer Casino Games to Consider
If you are a live dealer fan, or if you've liked playing live Sic Bo, there are other live casino gems to try out. You can try your luck at:
Welcome Bonus Offers to Play Online Live Sic Bo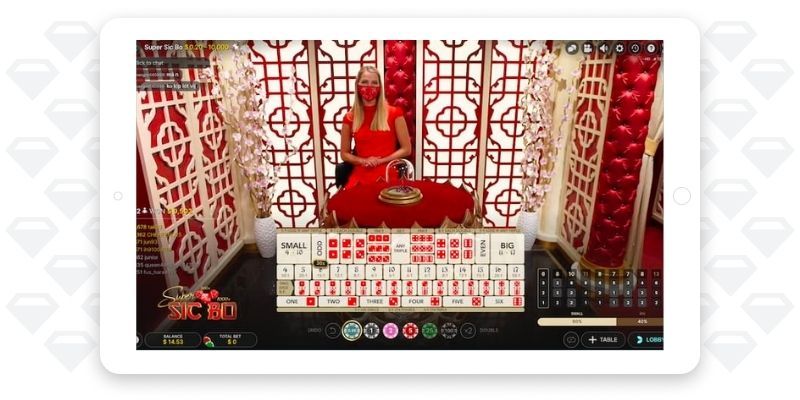 If you're just signing up at a new gambling site, you can take a look at the welcome bonus and make the most of it. All newly registered players are eligible for the welcome bonus offers and you can usually claim them upon making your first deposit.
However, before you claim cash funds or any bonus spins, you need to take a look at the bonus terms and conditions. Here, it's important to note that the wagering requirements can differ for free spins and for bonus cash.
Moreover, you should take a look at the bonus valid date, the bet limits, which games are excluded from the bonus, and the game weighting towards the wagering requirements.
Live Sic Bo Tables FAQs
Is live Sic Bo real?

Live casino Sic Bo is as real as it gets! US players get to play with actual money, a real dealer, and with other peers.
Is live Sic Bo online legal in the United States?

Live Sic Bo with a real dealer is legal only in the states of NJ, PA, and MI. The states of CT and WV allow only regular Sic Bo wagering.
How do you play Sic Bo online with a real dealer?

To begin playing Sic Bo with a real dealer, you need to join a casino, make your first deposit, and join a live table. You'll then be able to see the real dealer and you'd be asked to place a bet before the dice roll.
Is live Sic Bo rigged?

Absolutely not! The key to never joining real money dice games that are rigged is to always be part of legitimate casinos. The bottom line is, live casino games are played in real-time, so you can see the action unfold in front of your own eyes.
Can I play online live Sic Bo for free?

No. You cannot play any Live Sic Bo game for free, as there is a real dealer involved in the process. Unlike live Sic Bo casinos, you can play regular Sic Bo titles in demo mode.
Other Popular Live Dealer Games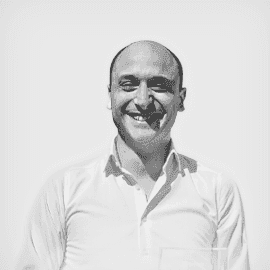 Bio
Political scientist, and gambling expert, I have spent the most part of the last ten years writing about the casino and poker industry. As a professional journalist, I work with FOX News, La Repubblica, the Economist, Politico, and PokerNews. As a gambler, I won money pretty much anywhere in Europe. As a gambling editor, I'll help you do the same.