The Lightning Dice live casino game brings the electrifying gaming experience of Evolution's Lightning series to a whole new level with its massive multipliers worth up to 1,000x the bet. Simple rules, fast gameplay, HD live stream, and plenty of betting choices — this is what Lightning Dice has in store for you.
To learn the rules of the game, Lightning Dice tips, which top US casinos offer it, and more, give this CasinoSmash post your full attention.
Best US Casinos to Play Lightning Dice
The following list contains the leading licensed and regulated US online casinos where you can not only play Lightning Dice but enjoy many other Evolution releases. Don't forget to watch out for generous bonuses, no deposit bonuses and promotions that can improve your starting bankroll.
Oops. No rooms were found..
What Is Lightning Dice?
Lightning Dice is a live casino game featuring three dice with values ranging from 1 to 6. Your job is to try and predict the outcome of the roll of the dice and bet accordingly.
The host of the game initiates the roll by placing the dice atop the Lighting Tower, a specially designed construction with a labyrinth of sections created to help the dice tumble down. Then, the dealer pulls a lever, off the dice go. Once they stop, the camera will zoom in to show the results, after which a new round ensues.
The entire action takes place in an Art Deco studio and under the watchful eye of a professional female dealer. Players can interact with the dealer and each other via the live chat option. Multiple HD cameras cover every aspect of the game from several angles so that players can watch the action and never miss a moment of it.
How to Play Lightning Dice
You need no prior gaming experience to play Lightning Dice; it's simple. Let's take you through the entire gameplay of Evolution Lighting Dice and the essential information about the game.
First, choose one of the US online casinos from our list. These are all licensed and regulated, so you don't have to worry about fairness and security. Fill in the registration form with your personal information and agree to the terms and conditions of use. Make a deposit, and you'll be ready to place your first bets.
Remember, the goal is to predict the outcome of the dice roll. You'll have 14 seconds to choose your bet before the dealer places the dice at the top of the Lightning Tower.
Now, for the most exciting part of this entire "How to Play Lightning Dice" section — the Lightning multipliers. Before each round, a lightning strike will flare up across the screen and select between two and four spots on the grid. These spots will receive a special multiplier which ranges from 50x to 1,000x.
The host then pulls down the lever to set the dice tumbling. The moment they come to rest, the results will become visible. If you correctly predicted the sum of the three dice, you'll win big, especially if your number was also among the chosen Lightning Numbers. In that case, a corresponding multiplier will also apply.
Lightning Dice Rules and Features
The rules of the game are pretty straightforward. You start by selecting the amount of your wager and choosing from four types of bets:
Numerical Bet - You can bet on the total value of the dice ranging from 3 to 18. Wins pay from 4x to 150x, excluding the potential multipliers.
Low/High - With a Low bet, you think that the dice total will be between 3 and 9, while with a High bet, you expect the numbers to amount to anywhere between 12 and 18. This wager pays 1:1.
Any Triple - With Any Triple wager, you bet that all dice will show the same number. If you win, the payout is 24 to 1.
Any Double - To win this wager, two out of three dice have to show the same number. The payouts are set at 1 to 1.
The Lightning multiplier can apply to all of these wagers, although to a different extent. If your winning bet is chosen, your regular payout will increase by the pertaining multiplier. An unlimited number of players can play the game simultaneously, considerably improving its social aspect.
You can explore various settings and options, such as the two camera views. Also, the stats show you how often each of the numbers has been drawn, which interests many players.
Lightning Dice Strategy
Note that there isn't a Lightning Dice strategy that can help you win every time. However, you need to be aware of some simple choices that can improve your chances of winning more often.
Bet small on totals 3 or 18 - These two totals are the only ones that can receive the maximum 1,000x multiplier, so you should bet on those two more often if you want to win big with a smaller stake.
Focus on the totals from 8 to 13 - Mathematically speaking, wagers on totals from 8 to 13 are most likely to win, considering the overall Lightning Dice odds and probability. Around 20 combinations result in these totals.
Note that no amount of tricks we offer will get around it being a luck-based game. The average return-to-player percentage is set at 96.57%.
Other Popular Live Dealer Games
If Lightning Dice is not your cup of tea, you can always try out other exciting live dice games, such as Dice Duel, Sic Bo Live or Live Craps. Hi-Lo can be particularly appealing due to its similar simple rules.
There also other games in Evolution's Lightning series, like Lightning Roulette, Lightning Blackjack and Lightning Baccarat which are well worth a try if you enjoy Lightning Dice and it's unique features.
Lightning Dice FAQ
Where can I play Lightning Dice?

Visit any US live casino sites from our list, and you can find Lightning Dice and other interesting live dealer games.
Is Lightning Dice rigged?

No, it isn't. It comes from a renowned casino software development company, Evolution, whose games are regularly tested for fairness. All dice outcomes are entirely random and unaffected by previous rounds.
How does Lightning Dice work?

The goal of Lightning Dice is to predict the sum of three dice and place a corresponding bet.
Other Popular Live Dealer Games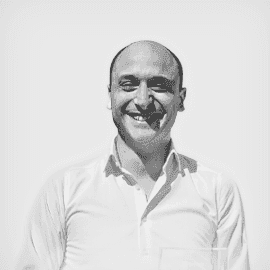 Bio
Political scientist, and gambling expert, I have spent the most part of the last ten years writing about the casino and poker industry. As a professional journalist, I work with FOX News, La Repubblica, the Economist, Politico, and PokerNews. As a gambler, I won money pretty much anywhere in Europe. As a gambling editor, I'll help you do the same.