If you're looking forward to playing live baccarat squeeze, this is where you should start. In this guide, you'll be able to find the best online casinos for US players that offer online Baccarat Squeeze games with a live dealer.
Players will also have the opportunity to find out more about the welcome deposit bonus promos, the strategy to get started with the Baccarat games, and the Baccarat table and bonus bets.
Top-Rated Online Casinos to Play Baccarat Squeeze Live
To play live baccarat squeeze, you have to look for the availability of this game while signing up at a new online casino - and that means you need a gaming site with Evolution Gaming titles.
If you don't know where to start, pick any one of the names in the list below and get ready to enjoy some top-quality Live baccarat squeeze games:
Oops. No rooms were found..
How to Get Started with Live Baccarat Squeeze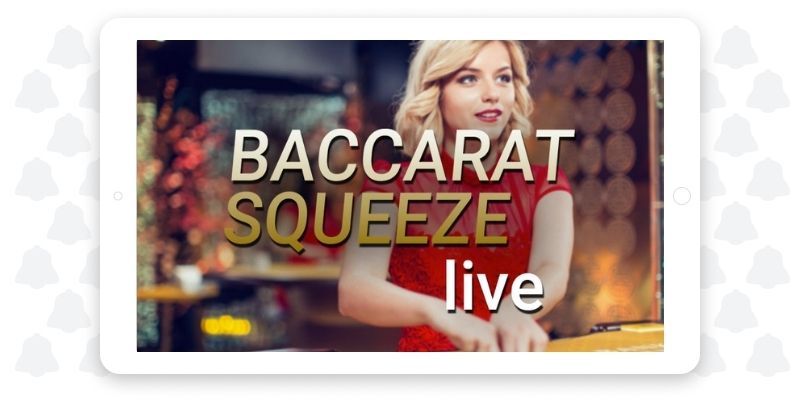 Once you've picked an online casino, you should head to the live dealer section and open a table of live dealer baccarat squeeze.
A live game is played with a real dealer, which means the game is played in real-time and at an actual place. When you join these baccarat tables, you'll be able to see the live dealer through an HD live stream.
On the top left side of the screen, you can see the chat feature, while in the bottom left corner you can see your available balance, as well as your total bet.
The bottom central part is the place where you get to place your bets, and see the player's best, the tie, and the banker pair.
You can also read the game rules, change the settings, or head back to the game lobby.
Where Can You Play Live Baccarat Squeeze Games in the United States?
Regardless of whether you want to play live baccarat, live baccarat squeeze, live commission baccarat, or any other live dealer games, you'll need to make sure you reside in a state where live dealer gambling is allowed.
As of now, only three states in the US have legalized live dealer games, including:
The list of US states that allow real dealer games is rather short, but we expect this to change soon.
On the other hand, if you're looking forward to playing regular baccarat games, you can do so in the states of Connecticut and West Virginia too.
How to Play Online Live Baccarat Squeeze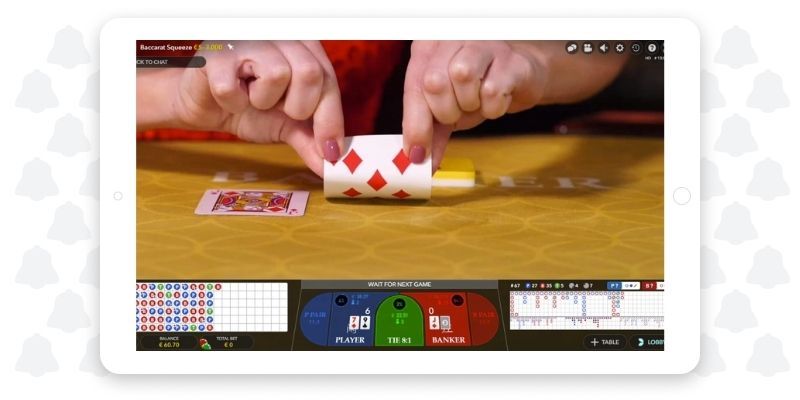 Playing live baccarat squeeze is similar to playing live baccarat. The standard 52 cards are dealt, and there are eight decks to be used by the dealer.
The cards have the same values as in any other Baccarat game. So, Aces are valued at 1, 10s and Face cards (J,K,Q) are valued at 0, and 2s through 9 at their numerical rank.
Cards are summed up to form a hand's total value, but the sum should not reach double-digits. For instance, if the total value of cards is 10 or more, you need to remove the leftmost digit to reveal the actual total.
The minimum wager begins at $5 and goes up to $35,000.
Place a bet on either the Banker's hand, on the Player's hand, or go for the Tie bet. The live dealer will produce two cards for the player hand before getting two more cards for the Banker's hand.
Now, there's a chance that the involved players will be dealt a third hand. The hand that has attracted the highest bets will have its third card squeezed in front of the HD cameras. The anticipation of one last card turns this game into a thrill version.
The winning bet is the one that has a closer sum to 9. After the round completion, the dealer will take back all the cards on the table and shuffle them. In the meantime, the players can start placing their next bets.
Basic Baccarat Squeeze Live Strategy
When considering a game strategy, you should know that the player's bet comes with a house edge of 1.06%, while the banker's bet comes with a house edge of 1.24%. So sticking with the banker's side is usually preferable.
Moreover, if you're looking for a safe strategy, even though there's no such thing when it comes to gambling, you should not engage with side bets unless you have a live casino bonus offer.
There are two side bets in live baccarat squeeze, the pair bets, and the perfect pairs side bets. These come with rather high house edge percentages, which makes them extremely unfavorable for online players.
Baccarat Squeeze and Classic Baccarat: Differences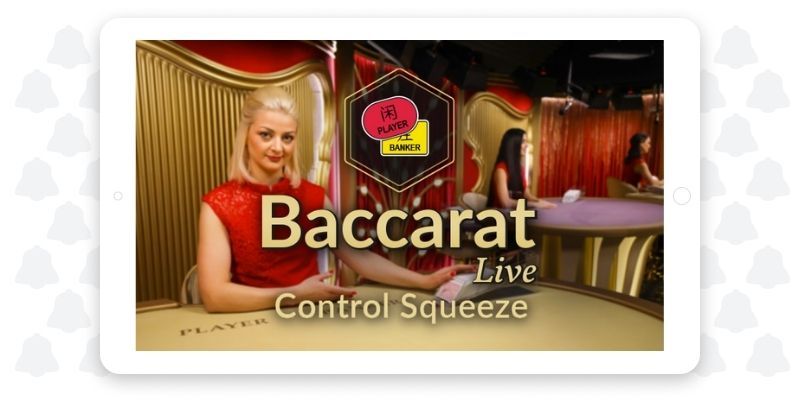 As we have already mentioned, the baccarat squeeze version doesn't differ much in gameplay from the classic baccarat game. All the rules are the same, except in baccarat squeeze the dealer gets to slowly reveal the card, which adds more excitement to the game.
In baccarat squeeze, the cards are dealt faced down by the live dealer, which are then slowly folded on each side.
About Evolution Gaming
Evolution Gaming's baccarat squeeze is one of the best variants of live baccarat online. Whether you are looking forward to playing a player bet, a banker bet, or a tie bet, the excitement is endless. And when it comes to Evolution Gaming as a brand, they are one of the best live dealer software providers on a global level, also offering a Lightning series which includes Lightning Baccarat, Lightning Blackjack, Lightning Roulette and Lightning Dice.
Apart from Evolution Gaming, there are other software providers that have their own version of real dealer baccarat squeeze, such as Vivo Gaming and SA Gaming. However, Evolution Gaming is definitely the easiest to spot at the top online casinos for US players.
Welcome Bonus Offers to Play Live Baccarat Squeeze Games
Placing banker bets or perfect pairs side bets is way better when you are using bonus funds, instead of your real money. This allows you to have more fun as you get to make bets without worrying about the outcome.
So, check out the welcome deposit bonus of the casino you're joining, and if you like what you see - claim it.
If you have already claimed and played through this bonus deal, you can look at the reload offers and grab some free chips instead.
Live Baccarat Squeeze FAQs
Is live online baccarat squeeze real?

Baccarat squeeze with a live dealer is as real as it gets. You are seeing the action unfold with the help of 15 high-definition cameras, and you have to place real money bets to be able to join a game round.
Is live baccarat squeeze online legal in the United States?

Live baccarat squeeze or any other live baccarat game is legal in the states of Michigan, New Jersey, and Pennsylvania only. The rest of the US states haven't legalized real dealer gambling, yet.
How do you play online baccarat squeeze with a real dealer?

Playing live baccarat squeeze requires an online casino account. All the rules are the same as in regular Baccarat, except in baccarat squeeze the dealer gets to slowly reveal the card. You pick the player pair, the banker pair, or go for the tie bet, and wait to see the outcome.
Is live baccarat squeeze rigged?

No. Live baccarat squeeze is not rigged, if you're playing at a properly licensed and registered online casino. This is why we suggest you pick a casino from our list and remember to play responsibly.
Can I play live baccarat squeeze online for free?

You cannot play any live baccarat variant for free. This is a real dealer game, and just like with any other live dealer title, you will have to make your first deposit to start playing.
Other Popular Live Dealer Games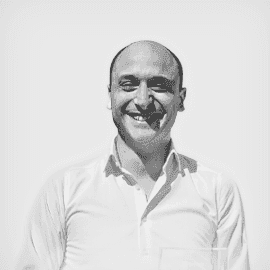 Bio
Political scientist, and gambling expert, I have spent the most part of the last ten years writing about the casino and poker industry. As a professional journalist, I work with FOX News, La Repubblica, the Economist, Politico, and PokerNews. As a gambler, I won money pretty much anywhere in Europe. As a gambling editor, I'll help you do the same.