Waiting for the New York online casinos to start offering real money games? Though it is allowed to gamble at land-based casinos in New York, internet casino gaming is not yet regulated in the state. Because internet sports betting is now permitted in New York, there is a chance that online casino games may soon be lawful as well.



In this guide to the best online casinos in New York, we look at what you can expect as a player and try to guess what will be the first gaming sites to launch.

Gambling in New York is nothing new; it's been going on since the first tribal casinos opened their doors in 1988, but it's never been legal online. So, while you can pop down to a brick-and-mortar casino and satisfy all your gambling needs, there are no legal online casinos in NY.

If you live in this state, you've still got gaming options in the form of social casinos or by joining a real money NJ/PA site and taking a short trip across the border when you want to place a bet!
Is Online Gambling Legal in New York?
Casino games for real money are not legal in New York. While online sportsbooks are legal, the gambling sites that offer their services to NY players are currently illegal.
The state of New York legalized online sports betting at the beginning of 2022, opening the market to established US legal operators already active in other states. BetMGM New York and DraftKings New York have been amongst the first gambling sites to become legal in New York.
We believe the state of New York will consider legalising casino sites in the near future. Depending on the tax income generated by the NY online sports betting market, New York lawmakers may try to introduce a bill to legalise online gambling and online poker as well. This would pave the way for the launch of the best online casinos in the world in the state of New York.
When this happens, we expect New York to introduce legislation similar to that adopted by the neighbouring states of Pennsylvania and New Jersey, where gambling online is legal already.
In the mean time, NY players have two options:
Visit a neighbouring state like New Jersey or Pennsylvania where online gambling is legal and playing from there.
Join and play at a social NY online casino.
Both of these options have their pros and cons, and for many taking a trip to another state to spin their favorite slot game isn't a practical solution. Although, if you can, you'll find some of the best real money online gambling options in the U.S. and can grab yourself a generous welcome offer - like a free spins no deposit deal or cash match bonus - at the same time.
To understand what your options are, these lists of casinos that are legal in Pennsylvania and licensed casinos in New Jersey will help you figure out the bonuses you can start with and the games you can expect to find on each website.
If traversing state lines isn't an option, then you'll want to know more about social casinos. Thankfully for you, we're going to spend the rest of this article introducing you to some of the best New York online social casinos to play at.
Where Can You Play Online Casino Games in New York?
New York state's gambling laws make it illegal for its citizens to play online casino games for real money. The regulations state that only casinos with an on-site physical gambling establishment can offer games of skill like table games and slot machines.
The closest alternative to real money casino games is represented by 'social casinos'. These are mobile apps that allow users to play casino-related games without having to deposit real money. Once the game is started, it can be played for free and, in some cases, players can win prizes.
Social Casinos in NY
As real money online casinos remain illegal in New York in 2022, players looking for the thrill of slots, blackjack, and roulette games are forced to look for alternatives.
Social casinos represent the best option for players in the Empire State. These gaming operators let users play free online casino games that look and feel exactly like the real money ones.
The main difference between real money casinos and social casinos is that the free option comes without the risk of losing money (and the option to win cash prizes).
Pioneered by popular social gaming brands like Zynga and Playtika, this branch of the industry attracted some top names from the gaming world and is now a multi-billion business with millions of aficionados.
The popularity of social casinos among NY players has convinced many online casinos to launch their own free-to-play product for iOS and Android devices.
The best NY social casinos feature exclusive and modern 3D video slots, many variants of classics like roulette and blackjack, and even live dealer games. All of these games are accessible using play credits rather than real money.
As a player, you can play for free using daily free credits and free spins bonuses or you can grow your bankroll by purchasing one of the many 'play chips' packs that are offered on the websites.
Websites like Chumba Casino and Global Poker have also introduced a 'sweepstakes' twist that allows players to redeem prizes for cash rewards.
The 10 most popular online casinos in NY in 2022 are:
Slotomania
Billionaire Casino
WSOP Poker
Chumba Casino
Hard Rock Social Casino
Konami Slots
House of Fun
RiversCasino4Fun
iPlaySeneca
Real Money Casinos vs Social Casinos: What's the Difference?
Real money casinos give online players the opportunity to win cash prizes on all the games available on their platforms. Social casinos are free-to-play websites where players do not need to deposit anything and can't win cash prizes. Unfortunately, real money casinos are not legal in New York.
If you don't consider the financial element, social casinos and real money casinos are almost identical. Both offer the same type of games with identical rules and Return to Player (RTP) rates. Social casinos are legal in the state of New York.
Land-Based Casinos in New York
While online gambling is not allowed in the Empire State, NY casino players can enjoy a large number of brick-and-mortar casinos that offer a similar experience to those of Las Vegas and Atlantic City.
None of the NY casinos is located in New York City.
While some commercial casinos have started to appear and offer their services in the state of NY, the vast majority of the establishments open in 2022 is run by NY tribes. If you are looking for a good place to gamble in New York, these are the top casinos in the state:
| Casino | Location |
| --- | --- |
| Tioga Downs Casino Resort | Nichols |
| del Lago Resort & Casino | Waterloo |
| Rivers Casino & Resort Schenectady | Schenectady |
| Resorts World Catskills | Monticello |
| Seneca Allegany Casino & Hotel | Salamanca |
| Seneca Buffalo Creek Casino | Buffalo |
| Seneca Niagara Casino & Hotel | Niagara Falls |
| Akwesasne Mohawk Casino Resort | Hogansburg |
| Point Place Casino | Bridgeport |
| Turning Stone Resort Casino | Verona |
| Yellow Brick Road Casino | Chittenango |
NY Tribal Casinos
When it comes to casinos run by the NY tribes, you can choose between Class II and Class III gaming.
Class II casinos offer Lotto, punch boards, and bingo games. Class III casinos are the best option for a Vegas-like experience as they also offer slots and table games like craps, blackjack, baccarat, and roulette.
The NY tribes that run brick-and-mortar casinos are:
| NY Tribe | Casino |
| --- | --- |
| Seneca Nation of Indians | Seneca Allegany Casino & Hotel |
| Seneca Nation of Indians | Seneca Buffalo Creek Casino |
| Seneca Nation of Indians | Seneca Niagara Casino & Hotel |
| St. Regis Mohawk Tribe | Akwesasne Mohawk Casino Resort |
| Oneida Indian Nation | Point Place Casino |
| Oneida Indian Nation | Turning Stone Casino Resort |
| Oneida Indian Nation | Yellow Brick Road Casino |
NY Commercial Casinos
After a long-lasting prohibition, casino gambling is now legal in the state of New York, and a number of commercial casinos decided to enter the Empire State market to reap the benefits. To bring their game to NY players, they need to obtain a license to operate as a gambling establishment. The process includes submitting an application, which is subjected to review by the executive agency responsible for licensing casinos.
Once all requirements are met and the license is obtained, the casino opens for business. There are various types of licenses available, but the casino typically has to follow set rules, which could include restrictions on the maximum and minimum bet sizes, security measures, and the establishment's hours of operation. Some casinos also offer slots and table games like poker and blackjack, but other games are less prevalent in casinos. The most popular games at commercial casinos in New York are probably slots and table games.
The introduction of casinos has triggered some concerns across the state. According to the New York Times, opponents of gambling are against the expansion of casinos in New York. Instead, they argue for the expansion of non-casino gambling.
In 2013, the gaming laws in New York were amended to allow the introduction of video gaming terminals that allowed players to play blackjack and other casino games.
Some venues, like Tioga Downs, expanded to offer a variety of entertainment options like horse racing and gaming machines. The expansion of casinos in New York has proved that gamblers are willing to spend a lot on their favorite games.
There are now four commercial casinos that operate in the state of New York. These offer hundreds of slots and table games.
The four official commercial casinos authorized to operate in NY are:
Tioga Downs Casino Resort
del Lago Resort & Casino
Rivers Casino & Resort Schenectady
Resorts World Catskills
What Online Casinos Will Be Legal in New York?
Looking at the number of gaming operators that have rushed to put together an offer for New York residents as soon as the sports betting market opened, one could speculate that a number of top online casinos and online casino gaming operators are warming up their engines as they get ready to launch their NY online casino apps.
The first brand we expect to offer slot machines, online blackjack, and more online casino games to New York casino players is FanDuel NY. This company has already launched a number of very successful online casino gambling products in other US states and we believe they will go live with one of the best NY online casinos from day 1.
To confirm FanDuel's interest in entering the NY online gambling market as soon as legal online casinos will be allowed in the Empire State, there's the partnership signed with Tioga Downs. While this agreement has been inked to help FanDuel bring its sports betting to New York, we have reasons to believe it will be used also to push the launch of table games and give NY players the opportunity to play casino games online.
DFS, sports betting, and casino giant DraftKings has also signed an important partnership with the del Lago Resort & Casino to bring its mobile sports betting offer to NY players. DraftKings already runs numerous casino sites in the United States and we expect it to become one of the first legal online casinos in New York.
Another name we think will join the NY legal online gaming marked from its inception is Rivers Casino. This online casino gaming company already runs other websites in the online casino niche in Pennsylvania and New Jersey - and we believe they won't ignore the opportunity to join the pool of New York online casinos as soon as the legislation changes.
Rumours also have it that the Resorts World Catskills may be interested in the world of New York online casinos if the online casinos legal market opens soon. In theory, their partnership with global brands like bet365, IGT and BetGenius could see them putting together a product for playing casino games online in NY very quickly.
What Casino Games Will Be Legal at New York Online Casinos?
When online gambling becomes legalized in USA casinos, it will certainly usher in a new wave of online gaming. Pre-positioning the mobile gaming software to meet the new market criteria, as it were, is the best way for online casinos to capitalize on that opportunity. Using the very latest technology, online casinos use what was until recently the securest standard for encryption, encryption that is patented and unable to be hacked.
One of the main advantages of online casinos versus traditional brick-and-mortar establishments is that you will be able to play online from the privacy of your own home. This kind of convenience saves time and money, and since online casinos allow players from all over the world to participate, it helps accessibility expand even more. By playing games from different parts of the world, you will be able to immerse yourself in a new culture, and never have to worry about a language barrier, travel inconveniences, or anything of the sort.
This, of course, would assume the launch of an open market - which is highly unlikely when it comes to the state of New York.
As soon as the market opens, you may expect to play the following games:
Table Games: When we think about the launch of New York gambling sites, we think of table games like roulette, blackjack, baccarat, and pai gow poker. Given the house edge of these games and the fact they are what everyone expects to find on online casinos sites, we expect table games to be available at all NY online casinos from the launch.
Online Slots: without a doubt, online slot games are going to be the main attraction at all NY casinos online. Even when you look at today's offshore online casinos, penny slots and online slots, in general, account for the majority of games on offer. We believe online slots will be available at every New York online casino.
Live Dealer Games: Looking at how online casinos work in other US legal states, online live dealer games may not be available at the launch, and you will most probably have to wait a bit longer for them. Live dealer games tend to be approached separately by the legislator, so may not be on offer at NY casinos as soon as the market becomes legal. That said, we expect live dealer table games to become available in New York within one or two years of the launch of the first online casino sites.
Online Poker Games: Online poker in New York could be massive. According to industry experts, allowing online poker rooms to accept NY players would change the entire online poker industry - as it would bring game-changing liquidity into the ecosystem. In this case, however, we expect different names to bring their products to the state of New York. PokerStars and 888poker have had their eyes on the market for a long time and are reportedly ready to roll out a poker room for New York residents as soon as the state allows.
Why Should I Trust CasinoSmash about New York Casinos Online?
CasinoSmash.com is one of the longest-standing online casino guides in the world. We have many years of experience in the world of online casinos, especially when it comes to helping players find the best online casinos, games, and bonuses to play for real money.
As laws change and gaming sites launch in New York, we'll continue to update our site with the latest details and recommendations. While the site is primarily focused on the U.S., readers from across the world will benefit from the information provided, as CasinoSmash.com is completely free and has a high-quality, informative staff that is quite approachable. The team is always available to answer any questions that you might have about online casinos. Whether you are looking to play at a casino in New York or a little closer to home, CasinoSmash.com is a great way to find where you should be playing.
We'll even show you where you should be playing and what games you should take advantage of. This way, every time you want to spend your money on some gambling games, you will know exactly what it is you're going for.
NY online casinos could launch as early as next year, and instead of wasting hours and researching every site, you can simply rely on CasinoSmash.com to provide you with the information you need to gamble online. Be there when it happens, because CasinoSmash.com will be your first stop!
A Note about Responsible Gambling Online
One of the most important things that all New York online casinos will need to have in place is a Responsible Gambling policy. This is an area where more sites should actually go harm reduction rather than harm dealing. If you're playing for real money then this responsibility must go all the way to the commercial side of the company.
Just as importantly, the casinos themselves should actually monitor the amount of money that their players spend on their sites. Another way that Responsible Gambling policies can be implemented is through player blacklisting. Blacklisting is a form of self-exclusion that is widely being used in responsible gambling and has proven to be very effective.
We also think it is very important that players keep their gambling habits under control, so online New York casinos should have a self-exclusion program in place.
Slot machines and casino games are supposed to be fun and players should not play to seek financial gains because there are many risks associated with this type of behavior. Wrong gambling habits can lead to problems like addiction, emotional stress and possibly severe financial losses.
The best way to deal with a gambling problem is to give it up completely and seek help from a professional gambling counsellor or gambling support group.
Frequently Asked Questions about Online Gambling in New York
Are NY online casinos legal?

At present, online casinos in NY are not legal. While the state's legislation is expected to undergo some changes as NY eye a new igaming bill for 2022 or 2023, NY players cannot gamble online for real money.
How many legal online casinos are there in New York?

There are currently no online casinos for real money in New York; only social sites that include only free games are legal - you can find our top recommendations on the page above. Although these sites do not offer real money gambling, they have great game options and plenty of fun.
Will online casinos ever be legal in New York?

The rules are changing in New York. While there's currently no plan to legalize online casinos, we hope soon after sportsbooks, legislators will consider expanding reforms to casino gaming.
Do all casinos need to obtain games permits?

Once online casinos in NY will become legal, yes - all of them will need a gambling license in order to offer real money games to NY players.
Who is legally allowed to operate casinos and betting places in New York?

Since the beginning of 2022, a number of online sportsbook can offer sports betting online products to NY players. Since real money online casinos in NY remain illegal, the only online gambling options for players in the Empire State are free-to-play social casinos like Chumba Casino and Slotomania.
What are the best online casinos in New York?

The most popular social casinos in New York are Slotomania, Billionaire Casino, and the WSOP Poker app. These mobile casino apps offer slot machines and table games for virtual money and no access to cash rewards.
Will tribal casinos launch their own casino sites?

Tribal casinos are expected to join the New York online casino market as soon as it will become legal. According to industry experts, Seneca Nation of Indians and Oneida Indian Nation have shown interest in launching their own online casino sites.
How many land-based casinos are in the state of New York?

There are 11 land-based casinos in New York. Four of these are commercial casinos, while the others are Class II and Class III gambling establishments operated by NY tribes.
Are there land-based casinos in New York City?

No. The current legislation does not allow the opening of brick-and-mortar casinos in New York City.
What is the best online poker room in New York?

Considering that real money online poker is not available in the state of New York, the best poker room for NY players is the WSOP Poker app. Global Poker is also a very popular free alternative.
Can I play slot machines online in New York?

NY players can enjoy slot machines on social casinos like Slotomania and Billionaire Casino. All the slot machines on these sites are free and do not lead to any cash prize. They, however, play and feel exactly like the real money ones.
Can I play table games online in New York?

Online casino table games are permitted only on free-to-play NY casinos sites. NY players are not allowed to play real money gable games like blackjack or roulette online.
What are the most popular social online casinos in NY?

According to Apple and Google data, the most popular NY online casinos are Slotomania, Billionaire casino, and the WSOP Poker app. Since NY casinos cannot offer real money games, these are all free-to-play apps.
Which online casinos can you expect to come to New York when it becomes legal?

As of right now, there are no legal online casinos in NY. Predicting when it will happen and which casinos will launch is a bit like looking into a crystal ball. While we don't have an answer for you yet, as soon as this changes, CasinoSmash will be the first place to hear about, and we'll also tell you the best New York online casinos that will launch.
What are sweepstakes casinos, and are they legal in New York?

Sweepstake casinos take advantage of a legislative loophole that allows US sweepstakes competitions (essentially winning the pot). Initially, the law is not intended to be used for online gaming. While Sweepstakes Casinos use virtual coins, like social casinos, they offer cash-out options under certain conditions. At CasinoSmash, we don't recommend these sites as an alternative to real money online casinos because social casinos provide a better playing experience without traversing legal loopholes or mudding the water with cash-out options.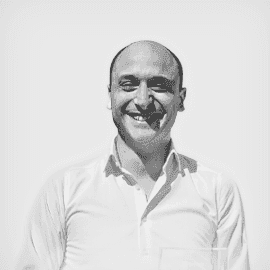 Bio
Political scientist, and gambling expert, I have spent the most part of the last ten years writing about the casino and poker industry. As a professional journalist, I work with FOX News, La Repubblica, the Economist, Politico, and PokerNews. As a gambler, I won money pretty much anywhere in Europe. As a gambling editor, I'll help you do the same.