US players can now enjoy the best of live casino poker games, including Holdem games! These live dealer casino games are among the favorites worldwide, and you can now play them from the comfort of your home. CasinoSmash has selected the best live dealer poker casinos, so you can now pick your favorite online casino, choose a live dealer casino Hold'em poker table, join, and play to win!
How to Get Started with Live Dealer Casino Hold'em
If you want to play casino Hold'em poker, you first need to find the right online casinos and join to place your initial, ante bet. That's right, a trip to brick-and-mortar casinos is no longer required.
You can now choose an online casino from the top US live dealer casinos, check out the live dealer games, and decide whether you want to play Caribbean Stud poker, live Texas Hold'em poker, or any other live poker games.
We have also put together the basic rules of the game, the basic bets and side bets, including where you can find the live dealer casino Hold'em by Evolution Gaming.
Check out all live dealer Hold'em games available, take a look at the house edge, and claim the bonus promos to help you play your optimal strategy.
Best Sites to Play Live Dealer Poker Online
US players now get to play the best live casino Holdem with professional dealers, pay using an abundance of deposit methods, enjoy fast payout speed, and the best software quality.
Check out the list of the best sites to play casino Hold'em with live dealers, and find your way to the exclusive tables:

Oops. No rooms were found..
Ever been curious about casinos and wondered are live casinos rigged?
Fortunately for you we have an article all about that, which explains all to do with live casinos and why it's important gaming sites are regulated and have an RNG to make games fair for players.
Where are Live Dealer Online Poker Games Legal?
The US online gambling laws are not at their best yet, as most of the country doesn't allow live casino games or online gambling at all. As of now, there are five states where Internet wagering is lawful: Michigan, New Jersey, Pennsylvania, Connecticut, and West Virginia.
While Pennsylvania and Connecticut have only regulated online casino games so far, the following states have live dealer casino poker games available:
Pennsylvania: Online casinos went live in the state of PA in December 2020. Alongside live casino Holdem, players from Pennsylvania can enjoy live blackjack, live European roulette, and other live games at these legal PA casinos online. Players do need to be residents of Pennsylvania and to be at least 21 years old.
New Jersey: New Jersey is one of the US states with the best online wagering laws. The state of New Jersey first legalized online live casinos in 2016 for all players of legal age. Unlike in other states, the Garden State allows everyone to join NJ online casinos, regardless of whether they are residents or simply visitors.
Michigan: To join an online live casino in the state of Michigan, you need to be 21 years or more. Live dealer games were legalized at the beginning of 2021, at the same time when MI online casinos went live. Online casinos operating in the state have to have a MI license.
What is Live Texas Hold'em?
Playing live casino Texas Holdem is no different than the experience you'd be getting at the land-based casinos. Professional croupiers are managing the cards in both situations, with the difference being when you're playing poker online, you're seeing the croupiers on your screen.
This is made possible with today's modern technology and the use of HD streams. Alongside the live HD stream, once you join a poker table, you'll see all the other options brought to you by the software providers. You'll be able to see all types of bets available, depending on the game version.
Players also have the option to see the house edge or the game rules, their bets history, and their current bet. The live chat feature is also present at all games, allowing you to communicate with the rest of the players and the dealer.
Live Casino Hold'em Games Software Providers
While searching for the best online live gambling sites that have live Hold'em games, besides the payout speed, licenses, and game options, we also search for the best software quality. And the best software quality is only provided by the top-notch software providers available in the industry.
US players have the chance to play at casinos with lightning payout speed and high-quality providers, such as:
Evolution Gaming
Ezugi
Playtech
Bally
NetEnt
Draftkings
Playing Casino Hold'em Games on Mobile
Mobile devices are a crucial part of our everyday life and being able to play casino Hold'em games wherever we are is surely a per. This is why we have chosen only the casinos that feature Instant Play. In other words, you can now play your favorite poker real dealer games from your mobile phone or tablet.
The only thing you need is a stable Internet connection and an up-to-date mobile browser. Additionally, you will often find even find it at most Android casinos and iOS casinos.
How to Play Casino Poker Online
The first step to playing casino poker online is to find the best live dealer casino Hold'em poker games.
Once you find your favorite live casino, you can create an account to start playing. As the saying goes, this is a game that takes a moment to learn, but a lifetime to master.
This is how you start playing online casino Hold'em poker games:
Log in with your casino Hold'em poker account, and you can make a deposit.
Choose your favorable table with blinds and bets, or minimum and maximum betting limits that suit your bankroll.
The game begins with 2-10 players on the table and a real dealer.
Place the ante bet. You could also be allowed to place one more bonus bet.
Then, everyone gets two hole cards turned face down.
Three cards will be shown on the table, face up.
You can now pick to Call, Check, or Fold.
Now, if you choose Call, you place another bet, that is equal to your ante bet.
If you Fold, you lose your bet. However, if you've claimed a bonus bet, you have to call to get your winnings.
Given that you picked Call and made your bet equal, the dealer will deal with 2 more cards face up. These are the Turn and River cards.
Now, you and the other players reveal your cards, including the dealer's hand.
If you beat their cards - you win!
Basic Rules
If you've ever played Texas Hold'em before, the same rules and community cards apply here too.
If you haven't played Texas Hold'em yet, this is how the game goes. A Texas Hold'em poker game has three main parts: setup, betting rounds, and a showdown.
The play starts with the setup of the forced bets: small blind and big blind. The player next to the left of the dealer pays the small blind and the big blind and this moves clockwise through the game. Then, two cards are dealt for every player on the table by the real dealer, which are known as the hole cards.
As the game progresses, five cards are dealt face-up and are placed at the middle of the poker table. Now, these are the community cards. Players can use these cards to make their winning five-card poker hand. These five community cards are dealt in 3 rounds: the Flop, the Turn, and the River.
Your winning poker hand can be made from your 2 hole cards and 3 community, 1 of yours and 4 community, or you can go with only the community cards.
The bottom line is, the purpose of a Texas Hold'em game is to use your hole cards in conjunction with the community cards to form the best five-card poker hand achievable.
If the other players didn't qualify, your ante bet is paid out to you. However, if their hand is stronger than yours, you lose.
You then lose both your ante and call bets. If your hand is stronger, you win! You will get back your ante bet and your call bet.
Poker Hands
Winning in poker is dependent on the poker hands. Let's take a look at the poker hands from strongest to weakest:
Royal flush stands atop of the poker-hand rankings as the best hand feasible. It features five serial cards of the suit in order from 10 through ace.
A straight flush is any 5 cards of straight values in the same suit, that's not a royal flush (it's not from 10 through A). It can only be beaten by a royal flush or another straight flush including higher-ranked cards.
Four of a kind known as quads is a hand that contains the same four cards of one rank completed by the highest card of another rank, also known as the kicker.
Full house, also known as full hand, is made up of the same three cards of one rank and two cards of another rank.
Flush is made of five cards, all of them in the same suit in any order.
Straight is five cards made in sequenced order, but not of the same suit.
Three of a kind is a poker hand containing three cards of the same rank in three different suits.
Two pairs are simply two pairs of equally ranked cards.
Pair is a poker hand where one has two cards of identical rank.
High card, the lowest-ranked combination of all poker hands, is when players haven't made any plays from the above-mentioned card plays.
Poker Bets
Let's take a look at the basic poker bets:
Ante bet - This is the initial bet you make at the start of the Casino Hold'em game.
Blind - Blinds are forced bets that players make, left of the dealer, and they're moving clockwise. There's usually a big blind and a small blind, worth half the value of the big blind.
Call bet - Each time you keep playing, you make an additional bet which has a value of 2x your ante bet.
Side Bets
When it comes to Texas hold'em Bonus poker, there are 2 optional side bet options. While the bonus bet applies for AA for both the player and the dealer, with a 1000 to 1 house edge, the remaining payouts are as follows:
AA - 30 to 1
AK suited- 25 to 1
AQ or AJ suited - 20 to 1
KK, QQ, or JJ - 15 to 1
AQ or AJ offsuit - 5 to 1
Pocket pair below Jacks - 3 to 1
Along with the side bet option, there's a first five progressive jackpot, with the following pays:
Royal Flush - $60,000 or over
Straight Flush - $2,500
Four of a Kind - $250
Full House - $50
Flush - $25
Straight Flush - $10
Three of a Kind - $3
Live Casino Poker Bonuses
Playing live dealer Casino Hold'em with community cards and placing ante bets, the main bet, trips bet, side bet, or anything else is far more interesting when playing with a deposit bonus. In fact, this is one of the main advantages when you're playing against computer dealers or live dealers through your screen - the poker bonuses!
You can now check out the best US casinos that offer a live casino bonus.
| Casino | Types of Live Poker Games | Software Providers | Casino Bonus | Available States |
| --- | --- | --- | --- | --- |
| BetMGM | Ultimate Texas HoldEm, Three Card Poker, Casino Holdem | Ezugi, Evolution Gaming | 100% up to $1,000 + $25 | NJ, MI, PA |
| Borgata Casino | Three Card Poker, Casino Holdem, Ultimate Texas Holdem | Ezugi, Evolution | 100% up to $1,000 + $29 | NJ, PA |
| PartyCasino | 3 Card Poker | Evolution Gaming | 100% up to $1,000 + 25 FS | NJ |
| DraftKings Casino | Live Poker, Texas Hold'em, Three Card Poker | DraftKings | $100 from Referral | NJ |
| Hard Rock Casino | Ultimate Texas HoldEm, Three Card Poker | Evolution Gaming | 100% up to $1,000 + 50 FS | NJ |
| Unibet Casino | Three Card Poker | Evolution, Bally, NetEnt | $10 No Deposit | NJ, PA |
Besides the bonus value, you should check which game weighting applies and what is considered irregular gameplay. And if you like what you see, you should go for it!
Regular Texas Hold'em Poker vs Casino Poker
Regular Texas Hold'em and casino poker differ only in your opponent. Playing casino poker means that you're playing against everyone sitting at the table. On the other hand, playing live casino Hold'em means essentially playing against the dealer.
This is why the games have a house edge and betting limits as other games in the live dealer section. Regardless, there are still many players at the table that you can socialize with through the live chat feature, just you won't be competing against them.
Frequently Asked Questions
Is live casino holdem real?

Live casino hold'em is streamed from a real casino, hence it is as real as it can get. Professional dealers are dealing cards in real-time, and you're playing against the dealer for real money prizes.
Are live poker tables better than the regular online Texas Hold'em games?

The difference between live casino Hold'em and regular online Texas Hold'em poker is that in the first one, you're playing against a professional live dealer. The regular version of the game means that you will be playing against a random number generator software.
How do you play online poker with a real dealer?

Playing casino Hold'em poker with a live dealer is played the same as you would in a land-based casino. The only difference is you're playing from your home, and you need a good Internet connection.
Is live dealer poker rigged?

A live casino Hold'em game is definitely not rigged if you're playing at a properly licensed and regulated online casino. Instead of reading through countless casino reviews, or checking them yourself, you can simply see the CasinoSmash recommendations for the best Las Vegas-styled live casinos for US players.
Is playing online casino Hold'em games legal in the United States?

US players that are over 21 years old can legally play online live Texas Hold'em in the states of Michigan, New Jersey, and Pennsylvania. You can play other games at online casinos in CT and WV, however, live dealer casino Hold'em is not yet available.
Can I play live dealer poker for free?

No. You cannot play live casino Hold'em without a real money ante bet, just as you cannot play casino Hold'em poker at land-based casinos. This is because there is a real person on the other side of the screen.
Other Popular Live Dealer Games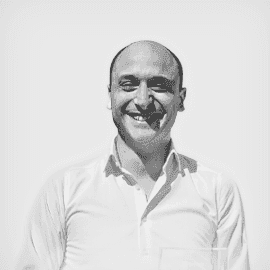 Bio
Political scientist, and gambling expert, I have spent the most part of the last ten years writing about the casino and poker industry. As a professional journalist, I work with FOX News, La Repubblica, the Economist, Politico, and PokerNews. As a gambler, I won money pretty much anywhere in Europe. As a gambling editor, I'll help you do the same.