Live double ball roulette is a live roulette game that features a second ball - which translates to additional bets and payouts.
The game was first released in 2016 and although this is not the easiest roulette version to come across, it's definitely worth a shot.
If you're looking forward to placing your first double ball roulette bet, you'll be happy to know that there's also a double ball jackpot. Here, you'll find all you need to know about the live double ball roulette odds, the best online casinos for US players, as well as the bonuses available for this live dealer casino game.
Top-Rated Online Casinos to Play Double Ball Roulette Live
Picking casino operators while already having in mind a live casino game adds a new dimension to the search. Players should be on the lookout for trustworthy and reliable live casinos, and we have narrowed down the choice.
These are the top-rated online live casinos where US players can play double ball roulette live:

Oops. No rooms were found..
How to Get Started with Live Double Ball Roulette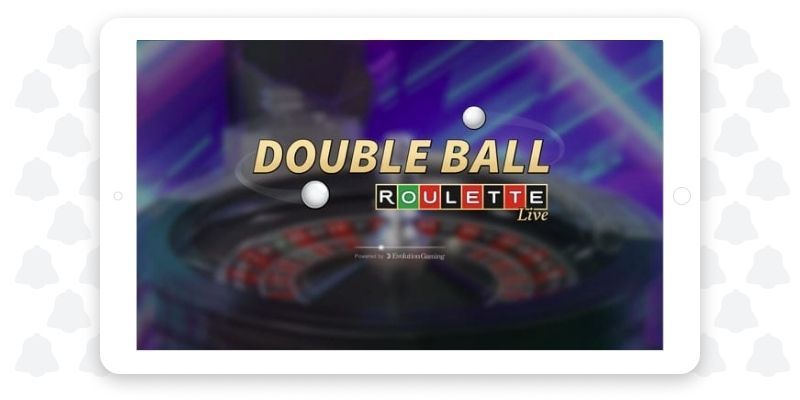 Instead of going to a brick-and-mortar casino, you can now find a suitable online betting area and make it feel like home. Pick the live dealer casino you like most, go to the live dealer section, and open a live double ball roulette game.
No matter if you're using a desktop computer screen or a mobile device, the live dealers will be available. On your screen, you'll see the roulette wheel, as well as the betting table, and the live dealer.
You'll also have access to your previous bets and outcomes, your current balance, the current bet, and the betting options.
The live dealer version additionally allows you to communicate with the live dealer as well as the rest of the players. Once the dealer announces that the game is starting, you can get ready to place your inside and outside bets.
Where Can You Play Live Double Ball Roulette Games in the United States?
Playing double ball roulette with a live dealer doesn't just depend on the casino you choose. The state of your residence also has a role in whether you are allowed to join this game or not.
With that said, the only three states that will legally allow you to play live double ball roulette as of yet are:
However, if you're looking forward to playing double ball roulette with a RNG (Random Number Generator) software, you can do so in the states of West Virginia and Connecticut too.
We expect this list to expand in the recent feature and hope to see more US states in our new live double ball roulette reviews.
How to Start Playing Double Ball Roulette Live
If you know how to play European roulette, French roulette, or American roulette, you'll grasp the rules behind live double ball roulette as well.
The main difference is that here you'll find plenty of new inside bets and outside bets, as well as different house edge percentages - and two roulette balls.
This live double ball roulette is based on the European roulette version, which means that it comes with a single zero wheel. Apart from the standard payout table, there are wagers for the two balls combined together.
In case, you bet that both balls land at a certain position, you can place outside bets on:
A selected number
Any number twice
Any single Dozen
Any single Column
Even numbers
Odd numbers
Red numbers
Black numbers
Hi numbers
Lo numbers
Here it's important to know that the selected number bet comes with a 1,300 to 1 payout and it's also called the double ball jackpot bet.
The inside bets have 2 payouts, depending on whether your bet is based on one ball or two balls. The inside bets are the same as in the standard roulette game:
Six Line Bet
Top Bet
Corner Bet
Street Bet
Split Bet
Straight Bet
Basic Double Ball Roulette Strategy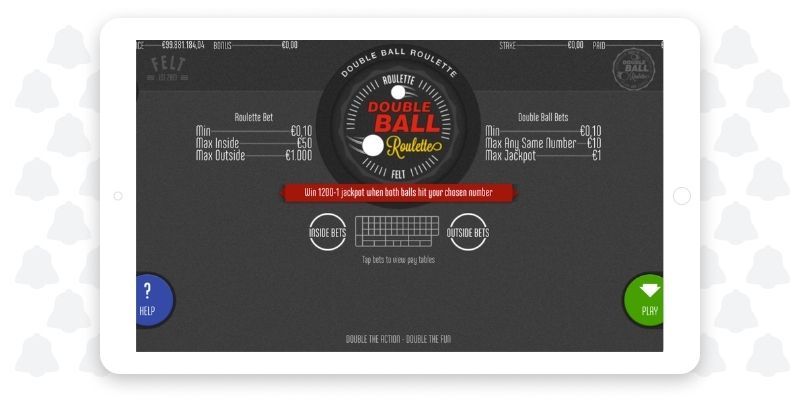 Unlike single ball roulette, there are some roulette strategies that you can try in the live double ball roulette game session. Evolution Gaming has included a better house edge for the inside bets when compared to the outside bets.
Therefore, if you're looking forward to playing for a short time and winning big, you should go for the double ball jackpot bet.
On the other hand, if you're looking for a longer live double ball roulette gaming session, you should stick to the inside bets. Placing these bets will bring you more frequent wins and a chance to play some more.
Double Ball Roulette and Live Dealer European Roulette: Differences
There are a few differences between double ball roulette and European roulette.
The first one allows players to make bets for a 1,300 to 1 payout which brings huge payouts, especially when compared to the single ball roulette games.
Moreover, Evolution Gaming has added more bets and it has enhanced the existing ones in the live double ball roulette version. This allows players to place a variety of different bets, some with better odds than others.
Moreover, the live double ball roulette odds are different for every bet, which allows players to try out different strategies and find out which betting strategy is the most profitable one.
Even though players should first learn the slightly different rules of the games, it shouldn't discourage them to try a spin or two, as the winning outcomes are way more exciting.
If you are fan of roulette games, you may also want to consider the following to play:
Evolution Gaming: The Double Ball Roulette Game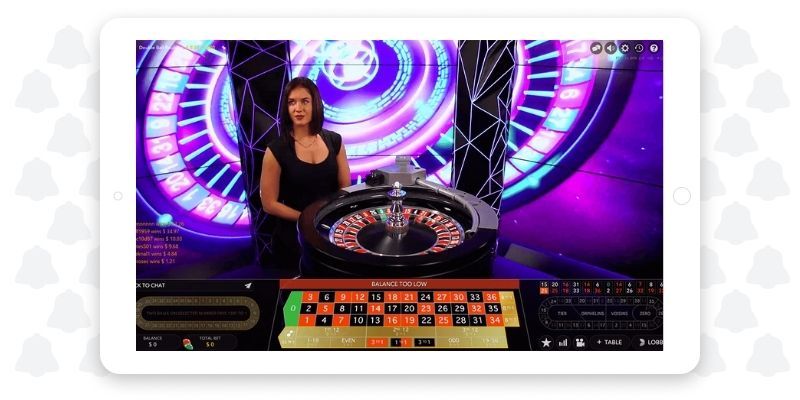 Evolution Gaming has been developing games for players worldwide for almost two decades. They are one of the few software developers that have specialized in live dealer games. If you see a unique version of a live casino game, chances are, the game is developed by Evolution Gaming.
The online gambling world has seen a lot of Evolution Gaming's gems, one of which is double ball roulette with a live dealer. This game has 2 balls which double the fun and let you place way more bets than the traditional roulette game.
Welcome Bonus Offers to Play Double Ball Roulette Games Live
Playing live roulette, regardless of the version of the game, requires real money deposits. But instead of placing the inside bets or the outside bets with your own money - you can take a look at the welcome bonus packages of the online casinos and make the most of the offers.
Make a deposit, opt-in to claim the welcome bonus, and don't forget to play responsibly. Before redeeming the promotion, you should always check the T&C of the bonus to find out whether the bonus is eligible for live roulette.
Frequently Asked Questions about Live Double Ball Roulette
Is live double ball roulette real?

Absolutely, double ball roulette with a live dealer is a real game that involves a real dealer and real money deposits.
Is live double ball roulette online legal in the United States?

Yes. However, to join a double ball roulette room, you need to be a resident or currently be on the territory of the states of New Jersey, Michigan, or Pennsylvania.
How do you play live double ball roulette online with a real dealer?

To play the live double ball roulette game, you need an online casino account. You then simply have to make a deposit, claim the bonus if you find it valuable, and join the table.
Is live double ball roulette rigged?

No, live double ball roulette game is rigged if you're playing a game at a registered and licensed online gambling operator.
Can I play live double ball roulette online for free?

No, you can't. Live dealer games cannot be played for free, as they involve a real dealer. You need to make a real money deposit before you can join live casinos.
Other Popular Live Dealer Games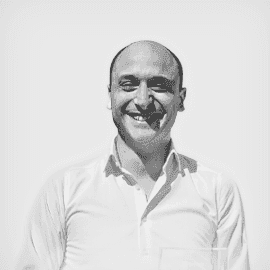 Bio
Political scientist, and gambling expert, I have spent the most part of the last ten years writing about the casino and poker industry. As a professional journalist, I work with FOX News, La Repubblica, the Economist, Politico, and PokerNews. As a gambler, I won money pretty much anywhere in Europe. As a gambling editor, I'll help you do the same.