Crazy Time is a live dealer game from Evolution Gaming that follows the same style and gameplay of the Dream Catcher casino game. It is a money wheel game that comes with four main bonus rounds and a variety of real money awards.
Take a peek to get a better sense of the big money wheel game, find the best casinos to play Crazy Time, and develop your own strategy. You can also find a few tips on how to win while playing one of the most fun casino games!
Crazy Time Casino Game
Playing Crazy Time is not any different than playing any other live dealer casino game. To be able to play this amazing game, you'll need to find a legitimate online casino. And there is no better place to start than to join one of the brands listed on this page.
Once you decide on the right live casino for you, you can take a look at the promo section to find what bonus spins or live casino bonuses. Once you are in, just open the Crazy Time Wheel game, join the stream, and place your first bet!
Best Crazy Time Casinos Online
US players don't get the luxury to play Crazy Time at many live casinos online. This is why it is important to pick a good casino where you'll be able to go on a cash hunt and play this amazing live casino game.
Check out the top list of US casinos that accept players from MI, PA, and NJ, and offer titles developed by Evolution Gaming:
Oops. No rooms were found..
How to Play Crazy Time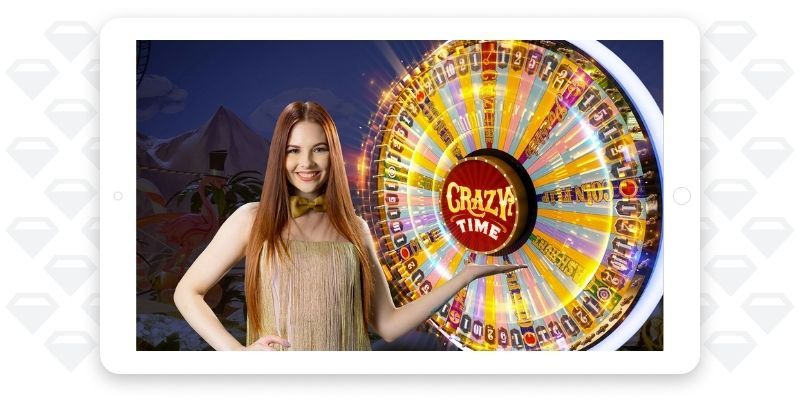 US players can now get more in-depth knowledge about this Crazy Time Bonus Wheel game, including a good long-term winning strategy and some beginner tips.
The Crazy Time wheel has a total of 54 segments, filled with awards from 1x to 10x, and four bonus rounds.
The first step to playing Crazy Time is to join an online casino that has this game available. Once you get that going for you, you can join the live stream, place your initial bet, and wait for the live dealer to start spinning the wheel. Once the wheel stops, magic happens!
The possible outcomes are a 1, 2, 5, 10, or one of the four bonus features that we'll explain below. Let's start with the numbers. If the Crazy Time casino wheel stops on a number segment, the winnings are equal to the number multiplied by the bet you placed.
On the other hand, while all bonus rounds multiply your winnings, they come with different bonus game rules. And before we get to the Crazy Time 4 bonus game features, you should get familiar with the Top Slot.
Top Slot allows you to increase your wins with an extra multiplier that you can pick before the wheel starts spinning. The maximum Top Slot multiplier is set at 50x.
Now, let's take a look at the most fun casino game ever made and its bonus rounds:
Coin Flip Bonus Round
If the wheel stops at the bonus segment, and you have an active bet - you're in for a treat. There are four Coin Flip sections on the money wheel, so this bonus round is more likely to occur than the rest.
No matter which one of the bonus rounds is triggered, including the Coin Flip bonus - you are definitely going to win.
Each red and blue side of the coin gets its multipliers assigned. Then, the dealer flips the coin, and the side facing upwards is the winner.
Now, the maximum payout from this bonus round can go as high as 5,000x. However, to reach this, the 50x multiplier of the Top Slot must be activated in the main game.
Crazy Time Bonus Round: Pachinko
The Pachinko bonus round is one of the two bonus games that don't require player interaction. The Pachinko game has 16 drop zones and 16 prize multiple zones. Here's how it works:
At the beginning of the bonus round, an RNG adds multiple doubles or multipliers to the prize zones.
Then, the dealer goes up the stairs and drops the puck into the Pachinko wall.
The Puck then falls down until it reaches the zone with the awards.
If it stops on Double, all multipliers at the rest of the zones get doubled.
After that, the Puck is dropped again.
This is repeated until a maximum multiplier of 10,000x is activated, or the Puck lands at a prize zone with a multiplier.
Cash Hunt Bonus Round
The Cash Hunt is present with 2 segments of the money wheel. It counts up to 108 symbols that are covering an abundance of random multipliers.
It is called a 'cash hunt' because you are quite literally hunting the cash down. With the help of your cursor, you click on the symbol you want to open, and you take your chances at the shooting gallery.
If you don't manage to successfully hit a symbol, the game will do it for you. Once that's done, all of the symbols get taken aside and you get to see your price.
What makes this game extravagant is that, unlike other live casino game titles, every player gets their own outcome.
Crazy Time Bonus Round
Now, a few rounds of bonus features aren't enough to strike the maximum win at this Crazy Time game. What drives players to this game is the Crazy Time Bonus Game Round.
Once you land on the crazy time bonus spot, you'll be taken to another screen with a Crazy Time Wheel. This wheel contains 64 segments that are filled with multipliers, Double, and Triple symbols.
Before the bonus round begins, you should pick one of the three flappers. Once the wheel takes its final position, your win is shown based on the flapper you picked.
If the flapper stopped at a random multiplier being the word Double or Triple, all of the multipliers are increased, and you get to spin again. Here, the maximum potential can reach up to 20,000x your stake!
Crazy Time Return to Player (RTP)
The return to player of this game differs depending on whether you are playing one of the four bonus rounds, or you land on numbers.
Moreover, given all the multipliers present in the game, the maximum win could go rather high. However, the winnings from the Crazy Time bonuses are limited to $500,000.
Here's a detailed RTP overview based on your initial stake:
| | |
| --- | --- |
| Slot | RTP |
| Number 1 | 96.08% |
| Number 2 | 95.95% |
| Number 5 | 95.78% |
| Number 10 | 95.73% |
| Pachinko | 94.33% |
| Cash Hunt | 95.27% |
| Coin Flip | 95.70% |
| Crazy Time | 94.41 |
Crazy Time Strategy
First things first, there is no optimal Crazy Time strategy that works 100% of the time. All game strategies that involve RTP percentages work to improve your odds over time and show you how to reach optimal play.
With that said, let's take a look at what you can do to maximize your winnings at Crazy Time.
One of the main rules to winning at this game is to always participate in the bonus rounds. This means that you have to have an active bet for all extra game rounds at all times.
To participate in a bonus round, you need to have an active bet for all extra game rounds.
Other than that, the betting on the main round should mainly consist of the Number 1 or 10. When it comes to the bet amount, your overall bet shouldn't exceed $100, at least not until you get the grip of the game.
Finally, even though you are expected to trigger a bonus feature every sixth spin, you should not get disappointed even if it doesn't happen in the first 15 spins.
The bottom line is, whichever Crazy Time strategy you choose, give it time to work.
Crazy Time Tips
(Aka. 'How a beginner should approach the Crazy Time casino game and other selected games like Monopoly Live, Dream Catcher, Mega Wheel Casino and Cash or Crash')
We have put together a few tips for you, regardless of whether it is time for the 4 bonus rounds, or you're looking forward to making the most of your unused bonus in the casino:
Make sure you're using Crazy Time Best Bonuses: The higher the wagering contribution the better.
Go for a betting strategy that suits your bankroll: low volatility strategy, martingale strategy, or any other playing strategy that you want to try out!
It is a Crazy Time indeed! You only get 13 seconds to make a bet - so be fast while making bets on this live game.
The bonus segments are present, but not likely to occur frequently. Be patient while waiting for luck to strike.
And finally, never chase your losses!
About Evolution Gaming
Evolution Gaming may currently be the best game provider, especially when it comes to real-dealer casino games.
They have created hundreds of live casino games, featuring unique and random symbols, total bonuses counting up to thousands of dollars, bonus spins activators, and many more interesting features!
Crazy Time, or Evolution Crazy Time Dream Catcher Edition, is one of their many live casino hits featuring the money wheel that was released in 2020.
Other Live Casino Games to Consider
If you like playing this Crazy Time bonus game, there are other similar titles that you might like as well.
For instance, live Dream Catcher, Monopoly and Mega Wheel Casino for real money are some of your options for similar games.
You could also try out other live dealer games, such as:
Frequently Asked Questions about Crazy Time
Is playing live Crazy Time legal in the US?

Playing live Crazy Time is legal in the states of Michigan, New Jersey, and Pennsylvania. Other states still don't have live casino game sections available to their residents.
Can I play only with bonus funds credited from a Welcome Bonus?

If you have claimed bonus funds or bonus spins that are eligible for this game, you can use them. However, real money cash funds are required to play all live games. The only way you can play with only bonus funds is if you have bonus spins credited from a no deposit offer.
Can I play Crazy Time without making any card payments?

In general, cash funds are required to play this live dealer Crazy Time game. In fact, all selected games from the live casino section require a real money deposit. Therefore, you can play the game only if you have sufficient funds in your casino account.
Other Popular Live Dealer Games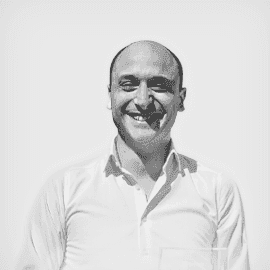 Bio
Political scientist, and gambling expert, I have spent the most part of the last ten years writing about the casino and poker industry. As a professional journalist, I work with FOX News, La Repubblica, the Economist, Politico, and PokerNews. As a gambler, I won money pretty much anywhere in Europe. As a gambling editor, I'll help you do the same.