Deal or No Deal Live is a live dealer casino game from Evolution inspired by the same-named television show. If you want to know how this provider turned the global pop culture sensation into a gambling game, you're on the right page. We'll explain the game's rules and features and provide a list of the best Deal or No Deal Live casino sites. Enjoy!
Best US Casinos to Play Deal or No Deal Live Online
If you are wondering where to play Deal or No Deal Live, all the online casinos listed below have this title in their libraries. What's more, they are all regulated, accept US players, and offer competitive bonuses, no deposit bonuses and promotions. Feel free to check them out!
Oops. No rooms were found..
What Is Deal or No Deal Live?
Deal or No Deal Live game is yet another successful product of Evolution Gaming, one of the leading live dealer software providers, which launched the game in May 2019. This release draws inspiration from the famous Deal or No Deal game show. In fact, Evolution has even purchased the rights to use the game's name and logo.
The game takes some of the elements from the show (minus the live audience and audience interaction) and combines them with various gambling options to create a thrilling live casino experience and give you a chance to win real money prizes.
How to Play Deal or No Deal Live
To play Deal or No Deal Live online, you first must visit one of the live casino sites from the list above. Choose an operator best suited for your preferences, create an account, and complete a deposit. From there, browse the casino's live dealer library until you find Deal or No Deal. Load the game, wait for the qualification round to begin, and start playing.
Deal or No Deal Live Rules and Features
Deal or No Deal Live rules are not rocket science, and you don't need any prior knowledge of the show to understand how the game works. Namely, it's is split into three parts, starting with a couple of mini-games:
Qualification Round - This mini-game features a three-reel bank vault. You need to match the golden bands on the "Locked" position for the vault to open. You can set the difficulty level to Normal (1x the bet), Easy (3x), or Very Easy (9x). The round lasts two minutes, and if you don't qualify, you need to start over again.
Top Up - Once you match the golden bands on the three-reel bank vault, you'll have the option to top up any of the 16 briefcases. Simply choose your stake, select the briefcase you wish to top up, and start spinning the wheel. The wheel will stop at one of the cash values, and that cash amount will be added to the selected briefcase.
Main Round - During the main round, the lively host guides one of the girls to start opening the randomly distributed briefcases. Each number shown eliminates that briefcase and its appointed value. Eliminations occur in sets, first three, then four, followed by another four, and finally three more until just two briefcases are left standing, one in front of the host and one in the row behind. After each round, you will get a deal you can either take or refuse and proceed with opening the briefcases. When the final two cases are left, you'll get another deal — to switch the briefcases and take the one behind the host.
Deal or No Deal Live Strategy
Winning the prize money in Deal or No Deal Live is never a guarantee, as the game is almost entirely luck-based. Players spin the wheel during the qualification round and can only hope to be lucky and enter the game. However, from that point, there are a few tips and tricks on how to minimize your risks during the main round.
Deal or No Deal Live Tips and Tricks
During the first two stages, you'll only pump money into the game without getting anything in return, especially during the qualification round. This is where you'll need to be really lucky if you don't want to lose a lot. Keep track of your investments during these rounds to see if the final deals pay off.
The only guaranteed payout you can hope for is from the banker's offer, so try not to be greedy and wait for the final two briefcases. If the banker offers a value higher than what you've invested, take it.
Still, if plenty of briefcases on the right side remain close to the end of the main round, you might have a shot at taking home a bigger win, so it wouldn't be completely out of line to risk it and not take further deals.
How to Win at Deal or No Deal Live
The biggest Deal or No Deal payouts equal 500x your bet. However, to get that win, you need to be extremely lucky. The banker's offer will never reach that amount, so you must hope that your high-valued case has a great value from the beginning and stays in the game until the very end.
Other Popular Live Dealer Games
If you're into live dealer game shows, you must want to check other popular titles from this category, including Monopoly Live, Dream Catcher, Mega Wheel Casino, Crazy Time, and Cash or Crash to mention a few. You can find all these and many more live games on casino sites listed above.
If you fancy giving something completely different to gameshows a go, you can always play the two games that anyone will know about when it comes to casinos, live roulette or live blackjack. There are also many variations of each game, such as Lightning Roulette, Double Ball Roulette, High-Stakes Roulette, Blackjack Party and Infinite Blackjack, which all provide something different to the original.
Finally, you could try Dice Duel, live craps, live baccarat, Hi-Lo or Lightning Dice if you'd like to try a couple of more obscure options on the live dealer section of your chosen online casino.
Deal or No Deal Live FAQs
Where can I play Deal or No Deal Live?

You can play this game in dozens of US-friendly casinos. Some of the best ones are on our top list above.
Is Deal or No Deal Live rigged?

No, it isn't. Deal or No Deal Live is a fair game produced by Evolution, one of the most trustworthy software providers in the industry.
How does Deal or No Deal Live work?

Deal or No Deal Live has three stages, including the qualification round where you try to enter the game, the top-up round where the goal is to increase the value of briefcases, and the main deal round where you can win cash prizes.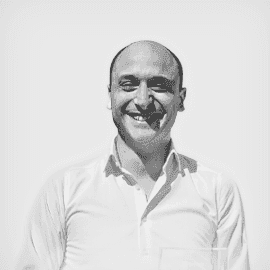 Bio
Political scientist, and gambling expert, I have spent the most part of the last ten years writing about the casino and poker industry. As a professional journalist, I work with FOX News, La Repubblica, the Economist, Politico, and PokerNews. As a gambler, I won money pretty much anywhere in Europe. As a gambling editor, I'll help you do the same.