High-stakes live roulette is a form of roulette with live dealers aimed at high rollers. Many online casinos feature this type of roulette, which requires high wagers and promises high prizes.
High-stakes roulette is not much different from standard live roulette, meaning most of the roulette basics will be able to be applied in this game too. Nevertheless, such games usually require a slightly different approach to your roulette strategy.
This article will show you some of the best casinos featuring high-stakes roulette games. Moreover, we'll explain what high-stakes roulette is and how to play it. We'll go over the essential rules and features and give valuable tips and tricks for playing this type of game. Finally, we'll cover some alternatives and answer the frequently asked questions about the game.
By the end of this article, you will have learned how to play high-stakes roulette live.
Best US Casinos to Play High-Stakes Live Roulette Online
Our team narrowed down the list of the best high stakes roulette live games. Feel free to check it out and pick a platform that meets your needs.
Oops. No rooms were found..
What Is High-Stakes Roulette?
High-stakes roulette online is pretty self-explanatory. It's a roulette game you can find in online casinos and play with a live dealer. Sometimes live roulette games don't feature live dealers, but the roulette wheel is streamed live so that the outcome is not decided by an algorithm (random number generator) but by gravity, like in traditional roulette.
Finally, the only thing that makes the high-stakes roulette games different from their standard counterparts is that the betting limits are somewhat higher. Therefore, the game is more suitable for players who have a higher bankroll. If you're a casual player with a standard or small bankroll, high-limit roulette games aren't the best choice. But you can still seek online roulette with lower betting limits.
How to Play High-Stakes Live Roulette Online
If you already have experience playing online casino roulette, you shouldn't have trouble playing the high-stakes version. If you don't know the rules, here's a simple overview.
Find a casino and open an account - First of all, you need to select one of the featured casinos in this article and become a registered member to play roulette or any other offered casino game.
Make a deposit - Most online casinos accept a wide range of payment methods, so pick the one you enjoy the most and make a deposit.
Select one of the available high-stakes roulette tables - There's at least one high-stakes table available on featured casinos on this page.
Select a type of bet and make it - The betting options are identical to any other roulette game.
Wait for the ball to land on a number - Once the betting round is over, the dealer will insert a ball into the wheel, and you have to wait to see the outcome.
Start all over again - If you make a winning bet, you'll receive a prize according to the payout for the type of bet.
High-Stakes Live Roulette Rules and Features
High-stakes roulette live rules aren't different from any other roulette rules. The rule is to make a bet and collect a prize if you are lucky. We'll still show you the high-stakes roulette odds, available bets and payouts to help newcomers understand how the game works.
Straight-up bet - This is a bet on a single number, and it pays 35 to 1.
Split bet - This bet is made on two adjacent numbers, paying 17 to 1.
Street bet - This bet is made on three subsequent numbers, and it pays 11 to 1.
Corner bet - When a player places a chip between four adjacent numbers, they bet on all four. The payout is 8 to 1.
Five-number bet - This is only possible in American roulette and includes 0, 00, 1, 2, and 3. It pays 6 to 1.
Line bet - This bet is made on six subsequent numbers when a player places a chip between two streets. It pays 5 to 1.
Dozens bet - This bet covers the first, second, or third dozen of numbers and pays 2 to 1.
Column bet - This bet is made on one of the three available columns of numbers and pays 2 to 1.
Eighteen numbers - This is an even-money bet where you wager on whether the ball will land on the first 18 (1 – 18) or second eighteen (19 – 36) numbers.
Red or black - Will the ball land on a red or black number? This is an even-money bet.
Odd or even - Will the ball land on an odd or even number? This is an even-money bet.
High-Stakes Live Roulette Strategy
Roulette is a game of chance, so there isn't a high-stakes roulette strategy that can help you increase your chances of winning. Many players still use bankroll management systems, such as the Martingale strategy, reverse Martingale, d'Alembert, Fibonacci, James Bond, and more.
Since the maximum bet is much higher in high-stakes games compared to standard ones, you'll probably lose much more money if you get carried away. Therefore, sticking to one of the strategies will help you have better control over your bets. Please understand that they cannot increase your chances of winning.
High-Stakes Live Roulette Tips and Tricks
Most high-stakes roulette tips can apply to other types of roulette, so let's briefly overview the most popular ones:
Stick to European roulette games as they have a lower house edge due to having a single zero pocket, as opposed to the two zeroes you'll find in American roulette
Always use the en prison and la partage rules if available when making even bets
Don't forget to check out available bonuses and promotions offered by online casinos
Always check the minimum and maximum betting limits before playing the game
Don't bet the money you cannot afford to lose, and always have a betting budget prepared before your roulette session
Don't get carried away, and stay in control of your actions and emotions
When playing online roulette, make sure you have a stable internet connection, as any malfunctions void all payments
How to Win at High-Stakes Live Roulette
Your luck is the only factor determining whether you win or lose when playing high-stakes roulette tables. Of course, you should check out the betting strategies and keep the tips and tricks mentioned above in mind. This will help you control your game, but you must accept that the element of chance always decides the outcome, whether you're playing live or RNG roulette games.
High-Roller French Roulette
French roulette is no different from European roulette, except it comes with the la partage and en prison rules, which we already mentioned. These rules apply to even bets. If you opt to use the en prison (imprison) rule, you can lock in your lost bet and win it back in the next round. La partage is a similar rule that lets you take half of your stake back if you lose an even bet because the ball landed on zero.
Roulette Tables With Highest Limits
Here's an overview of the three most popular options with high table limits:
Auto VIP Roulette – This Evolution's game is a fast-paced high-stakes roulette game without the live dealer, meaning the ball is inserted automatically into the wheel. The maximum straight-up bet limit is $1,000, and the even-money limit is $20,000.
Casino Malta Roulette – This game by Evolution is streamed live from a land-based casino in Malta, meaning you'll play with other people currently in the casino. It also comes with $1,000 and $20,000 maximum table limits.
Salon Prive – To enter Salon Prive live dealer games, you'll need at least $10,000 in your online casino balance. Once you sit, choose roulette, and you'll play at a table with a maximum betting limit of $1,000 for straight-up bets and $20,000 for even-money bets.
Other Popular Live Roulette Games
Playing roulette online isn't reserved only for players searching for high table limits. Instead, there are many other budget-friendly versions. In fact, the "ordinary" type of live roulette is much more diverse than its counterpart reserved for high rollers. Therefore, if you're searching for a table that doesn't have high limits, check out our dedicated page to live roulette to learn more.
Other Popular Live Dealer Games
Live blackjack is perhaps the most popular live game choice, and you'll find that online casinos usually have plenty of options to choose from. There are also some blackjack variants that have high betting limits, like VIP Blackjack and High Stakes Blackjack.
Live baccarat might not be as popular as live blackjack or live roulette, but it's still one of the most popular card games in casinos and has multiple variants like Lightning Baccarat, baccarat squeeze and Dragon Tiger Live. Learn more about playing baccarat for real money with live dealers on our dedicated page.
Many online gambling sites also feature live online poker games. In most cases, these are casino poker titles with a live dealer, such as Casino Hold'em. You'll even find live poker with a high maximum bet on rare occasions.
Finally, there's live craps, which is not nearly as diverse as roulette or blackjack in live dealer sections in online casinos. Still, there are plenty of great gambling platforms offering at least one top-notch craps game, and some even have a high maximum bet.
High-Stakes Roulette FAQ
Where can I play high-stakes live roulette?

Live roulette tables with high limits are common in online casinos. However, that doesn't mean you should settle for just any casino out there, as some are simply not worth it. The good news is that our team made a list of the best high-stakes roulette sites, so feel free to pick the one that meets your needs.
Is high-stakes live roulette rigged?

There's no way for live dealer roulette games to be rigged because you can watch the live stream of a roulette wheel and a dealer. Therefore, no algorithms affect the game's outcome, meaning everything is just pure physics.
How does high-stakes live roulette work?

High-stake live roulette games take place in special studios and are streamed live on an online gambling platform. Players use software to place bets in the game and wait for the outcome of each round. The only difference between the standard and high-stake versions is that the latter has much higher table limits.
Other Popular Live Dealer Games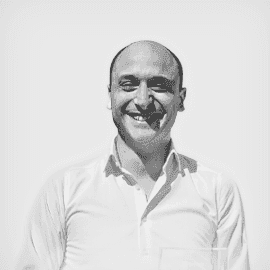 Bio
Political scientist, and gambling expert, I have spent the most part of the last ten years writing about the casino and poker industry. As a professional journalist, I work with FOX News, La Repubblica, the Economist, Politico, and PokerNews. As a gambler, I won money pretty much anywhere in Europe. As a gambling editor, I'll help you do the same.