Ready for some fast-paced and thrilling poker action? The live 3-card poker game by Evolution Gaming lets you square off against the dealer and see whose 3-card poker hand is better. It's a winner-takes-all situation, so you better up your poker game. Live 3-card poker is also packed with exciting side bets that add something extra to the gameplay and potential payouts.
If you are ready to channel your inner Phil Hellmuth and put your game to the test, this article will tell you where to play 3-card poker and how the game works, share some helpful strategies, and more.
Best US Casinos to Play Live 3-Card Poker Online
The following list contains the top US online casinos personally vetted by our expert 3-card poker players at CasinoSmash. These casinos are the best venues to try your luck and skills at poker, so take your pick, deposit, and play a hand or two.
Oops. No rooms were found..
What Is Live 3-Card Poker?
Live 3-card poker is a version of poker where your goal is to beat the dealer with a better 3-card hand. Players place an Ante bet before each game round.
Like any other 3-card poker online game, this live dealer version is played with a single 52-card deck. After each round, the dealer shuffles the cards, and each player receives three cards facing up. The dealer's cards are dealt face down.
For the dealer to even qualify for the game, their hand must contain at least a Queen. If not, the player's hand wins.
The qualifying hands are then ranked to determine the winner. If you win, the payout is 1:1.
How to Play Live 3-Card Poker
This is the place to learn how to play 3-card poker. Here's the deal. First, you need to register an account with one of the casinos on our list. Then, make a deposit and explore the welcome bonuses and no deposit bonuses.
All that remains is for you to go to the live casino games lobby and find live 3-card poker. You'll have to set up a bet amount when you start the game. Also, as we mentioned earlier, there are the Ante bets you need to place before you get the cards. If you like what you see, you can then place a play bet equal to your Ante bet. You can also find a Pair Plus side bet and a 6-Card Bonus bet among the play bets. We'll talk more about them in a bit.
After the cards have been dealt, the hands are compared, and the winner is determined. As simple as that. That simplicity and thrill make poker players love live 3-card poker.
Live 3-Card Poker Rules and Features
Live 3-card poker rules are easy to master. The outcomes of 3-card poker games are determined by comparing the player's and the dealer's hands. The dealer's hand needs to contain a Queen high or better to even qualify for the game. Now, for the hand comparison.
Individual hands are ranked from high to low, where the Ace can be the highest in a straight of this order: Ace, K, Q, and the lowest in this: Ace, 2, 3.
In case yours and the dealer's hands are of the same rank, the hand with the highest card wins, so two Kings beat two Queens. The third card, known as the Kicker, determines the outcome if the hands are identical.
The three-card straight is a higher-value combination than the three-card flush since it is much less likely to get the former than the latter.
Live 3-Card Poker Strategy
A universally accepted 3-card poker strategy says that if your hand is at least a Q-6-4, play that hand. If the hand is not that high, fold it. Also, you should place play bets whenever you get a pair or better since 25.6% of hands win with a pair or better combo.
Make a play bet whenever your high card is either an Ace or a King, and fold if the high card is a Jack or lower.
Live 3-Card Poker Tips and Tricks
All 3-card poker tips are based on the house edge, payout odds, and win frequency of specific hands. These aspects tell us that we should fold any hand that is lower than the Q-6-4 combination. The strategy implies that in 100 hands where your Ante is $5 and you make play bets two-thirds of the time, your average losses will be about $17, and the wagering total $840. Casinos expect to get 2.01% of that wagering total back, so the house edge plays a huge deal. The 3-card poker Ante-play has a lower house edge than Caribbean Stud, double zero roulette games, and many others.
Among those 3-card poker tricks, it is also worth reiterating that you should play any hand consisting of a pair, as you should a hand containing an Ace or a King, no matter if it is a pair.
How to Win at Live 3-Card Poker
No recipe or strategy can tell you how to win in 3-card poker every time. However, as you can see, the Q-6-4 system is very effective if played right.
Also, make sure to learn how to control your bankroll so that you don't put yourself in harm's way and bet more than you can afford.
Hand Rankings and Payout Table
Let's look at the hand combination rankings in 3-card poker. Here are the rankings from highest to lowest:
Mini royal - A hand consisting of a suited Ace, King, and Queen
Straight flush - A hand that contains three cards in a sequence and of the same suit
Three of a kind - A hand with three cards of the same rank, such as three 2s
Straight - A hand with three cards of a rank in sequence and at least two different suits
Flush - A hand with all three cards of the same suit but not in sequence
Pair - A hand with two cards of the same rank, such as two Queens
High card - A hand where no combinations have been made, so the cards' rank determines the winning hand
The payouts for live 3-card poker depend on the situation and the live casino in which you're playing the game, of course. But, most online casinos pay even money (1:1) for Ante and play bets. If the dealer doesn't qualify, you will receive a 1:1 hand payout for your Ante. If the dealer wins, you lose everything.
A tie between you and the dealer is a push, so you get your money back.
If you get three of a kind, a straight, and even a straight flush, an Ante bonus is paid even if you lose. Here's the payout table:
Straight flush - 5:1
Three of a kind - 3:1
Straight - 1:1
The Pair Plus bet is an optional pair bet where you win with a hand consisting of a pair or better even if you fold. You need to place this bet alongside the Ante. Another side bet you can explore is the 6-Card Bonus bet. Your three cards and the dealer's cards are put together to form the best 5-card hand. The payouts for both of these are determined according to a paytable.
According to the average 3-card poker odds and payouts, we can place a theoretical RTP for Ante bets at 96.63%.
Online Poker vs. 3-Card Poker
Live 3-card poker is an online version of poker where you need to make the best poker hand out of three cards, unlike a Casino Hold'em strategy you would adapt, which is different and where you also have community cards. Also, live 3-card poker payouts can be different, especially with the 6-Card Bonus bet where the royal flush pays 1000:1.
Other Popular Live Dealer Games
3-card poker is a thrilling game, but it's far from being the only exciting casino table game you can try in any live casino. There are games such as live blackjack or other versions of live poker like Side Bet City that can give you the Las Vegas gambling experience you are after.
Live 3-Card Poker FAQ
Where can I play live 3-card poker?

You can play live 3-card poker in any online casino found on our list and claim great deposit bonus deals for new users.
Is live 3-card poker rigged?

Live 3-card poker made by renowned providers such as Evolution Gaming and played in licensed casinos is not rigged.
How does live 3-card poker work?

The goal in live 3-card poker is to make the best possible poker hand based on three cards to beat the dealer's hand. There are also several bonus bets you can explore to improve the payouts.
What is the RTP?

The RTP represents the percentage of bets players can expect to win back over a period. The RTP in 3-card poker is 96.63%.
Other Popular Live Dealer Games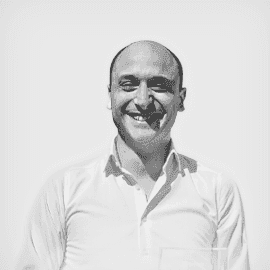 Bio
Political scientist, and gambling expert, I have spent the most part of the last ten years writing about the casino and poker industry. As a professional journalist, I work with FOX News, La Repubblica, the Economist, Politico, and PokerNews. As a gambler, I won money pretty much anywhere in Europe. As a gambling editor, I'll help you do the same.