Three-card poker is a casino table game based on poker and is often one of the most profitable table games for casinos due to a lack of strategic players.
This is exactly what makes it great:
The game is popular with players regardless of their skill level since the gameplay is pretty basic, the rules are simple, and you can use bonuses to help your chances to win something.
While the house edge is quite high, with the right strategy tips you can win some decently sized wins.
In this article, you learn the best strategy for 3 Card Poker. Read it, learn it, and practice Three Card Poker free online to make sure you know how to play.
Three Card Poker Basic Strategy

To start the Three-Card Poker game play, you must make an Ante Bet or a Pair Plus Bet.
Once this is done, the dealer gives each player (including you) three cards and deals another three for his or herself.
You can then examine your cards - but you can't know what the dealer's cards are because those remain face down.
At this point, you can either raise your Ante Bet and continue to play the hand or fold to forfeit your initial bet and quit the game.
If you decide to raise, you make an additional Play Bet equal to your Ante bet. Once this round is complete, the dealer turns over their cards and the hands are compared.
How to Play a Three Card Poker Hand the Right Way

The Dealer Needs to Qualify. For a three-card poker game play to continue, the dealer must have queen-high or better.
Should the dealer not qualify, you even money on your Ante Bet and the Play Bet pushes.
When the dealer qualifies, however, the holder of the highest hand wins.
You lose both bets if the dealer has the better hand.
If your hand is the best one in the game, your Ante and Play Bets are paid at even money.
On the occasions that your hand and the dealer's have the same value, both the Ante Bet and Play Bet push.
The Ante Bonus
While you usually need to beat the dealer's hand to win, there is an exception to the rule.
The Ante Bonus. If you receive a straight or better as your hand after your Ante Bet is on the table, you qualify for the Ante Bonus.
However:
Being dealt a straight is rare and will happen only around 3.25% of the time.
Speaking of hands that you won't get t-h-a-t often in a game of 3-Card Poker - no matter what your winning strategy is - there is also the three-of-a-kind (0.235%) and the straight flush (0.217%).
The house edge for Three Card Poker is typically around 3.4% if you play optimally.
Not applying the best 3 Card Poker strategy can cost you a lot, since it results in a significant increase in the game's house edge.
Side bets such as the Pair Plus Bet increase the house's edge, with the most common pay table for Pair Plus Bets giving the house a 7.28% advantage on top of what it already has.

3 Card Poker Strategy Tips
Working out the optimal Three-Card Poker strategy is quite difficult because there are so many different variations of the rules.
That being said, there are a few pointers to take on board if you want to adopt a winning Three Card Poker strategy.

The first 3 Card Poker strategy tip is to call on any queen/six/four you are dealt.
This is classic Three-Card Poker strategy and does not change simply because you are playing in a tournament scenario.
On the other hand, you should fold all hands that are lower than queen/six/four.
Also:
Make sure you place equal bets on the Ante and Pair Plus option lines.
If you bet too heavily on the Pair Plus, you're going to lose more than 70% of the time, while betting too much on the Ante won't reward you enough to balance out the risk.
How to Bet
Now that you've gotten to a good start, your next step in building the right strategy to win at Three Card Poker is to know how to bet.
Adopting the right betting strategy is key to progress (and win) in 3 Card Poker tournaments - so, make sure you remember it the next time you hit the Poker tables at the Casino.
As a general rule, here's what you should do: always bet enough to see out the entire round.
Here's an example:
If you play a tournament with a $5,000 bankroll and you get involved in a 30-hand round, you should divide your bankroll by the number of hands, and then divide by three.
$5,000 divided by 30 hands and then divided by 3 would get you a $55 Ante and a $55 Pair Plus Bet.
It can be tempting to increase your bet sizes, but you should bet consistently so that you always have enough bankroll left to place the maximum safe bet ($55 in our example) without having to reduce your bets at any point.
Betting in 3 Card Poker Tournaments

Being observant of your opponents is another key aspect of foolproof Three Card Poker strategy.
Keep an eye on your opponents' stack sizes because you may find that some are playing a high-risk strategy (betting large) and only have a few chips remaining.
Sometimes merely surviving to the end of the round will see you progress if your opponents are playing risky.
Moreover, some tournaments offer players the chance to buy bonus rounds.
These should be avoided because buying a bonus round doubles your entry fee.
Free Online Three Card Poker Games
As usual, the best way to learn how to win in 3 Card Poker by using the best strategy is to play free games online.
This way you can try to apply my 3 Poker Strategy to different hand combinations and see for yourself how the strength of your hand is connected to the way you are supposed to bet.
Also, freerolls and free Three Card Poker tournaments online are your best chance to apply my winning formula ([bankroll/hands]/3) and not risk anything while you try.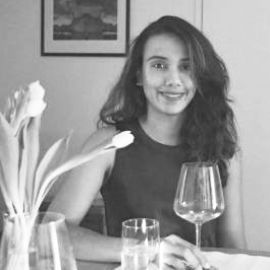 Bio
Curiosity is what fuels my drive to learn more about the world around me, and a passion for words is what motivates me to write about it. With a background in tourism, leisure and strategic marketing, understanding how things work and helping others decipher the world around them are my passions. Having worked in the nightlife and entertainment business for several years, I am a night owl who has always been attracted to the glitz and glamour of casinos.