With the correct Slot machine strategy you can increase your chances of winning
This page lists a collection of tips to be a smarter slots player
You'll also learn how to choose the right Slot games to increase your winning odds
Today's online Casinos are built around Slots. Visit any of the best Casino sites on the internet and you will be overwhelmed by the sheer size of their Slots offering.
Video Slots and classic Slots are the most popular games in the world of online gambling, but that's only one of the reasons why Casinos want you to play them.
Created to entertain the wives of the men who played at the Roulette and Blackjack tables, Slots are today's largest revenue generator for brick-and-mortar and online Casino.
Don't take my word for it: this study published by the Nevada Gaming Control Board in February 2016 shows exactly how much profitable Slots are compared to the other games you find on the Casino floor.
And I suppose that's also why nearly 60 percent of the Casino floor is usually dedicated to Slots and not to the more 'intellectually stimulating' table games.
How to read this Slots Strategy Guide
The reason you didn't hit a big win yet is not that the Slots you play are rigged, it's because it's not easy to win at Slots.
The whole concept of Slot machine playing is based on the assumption that you, like most Slot players, will play with the wrong strategy and for the wrong reasons. Every time you do that, you are guaranteed to end a session with less money than you had on your first spin.
In this guide, you find a good Slot strategy that works to help you get better chances. It's something I put together during the 10+ years that I spent in the gambling industry. To me, this looks like the best way to limit your losses and enjoy the time you spend playing Slot machine games.
Everything here is about online Slots. The games I am going to suggest, the example I am going to use to help you, and the free spins I give you to play are for online use only.
Why Do You Play Slots?
Before we jump on ways to improve your chances to win on Slot machine and what strategies help you do that, we need to understand why you want to play Slots.
As a player who knows the online gaming world, you know that the list of the Casino games with the best odds does not include Slots. So, ask yourself: "Why do you want to play Slots?"
The answer to this question is the key to finding the right Slot strategy for you. If the end justifies the means, you need to know what your goal is to identify what strategy can bring you there.
I'll help you find the answer.
Entertainment vs. Big Wins: the Gambler's Dilemma
Gamblers play Slots for two reasons: they either want to be entertained or they want to win large sums of money.
Personally, I favour the first approach. Modern video Slots became so advanced and exciting that I find the money I don't win a rightful fee to pay to Casinos and developers for the fun I get.
Why is a $50 price tag justifiable for the latest Fifa 2019 video game but isn't for equally amazing Slots like The Goonies Slot and Halloween Jack?
But I know this isn't for everyone. Lots of players look for the big jackpot and play progressive Slots hoping to turn their life around with one spin.
I think that's a mistake.
While this isn't technically impossible, you need to know that the odds are not in your favour and that you are more likely to lose your money than to take down a progressive jackpot.
The Best Strategy to Play Slots for Fun
When the financial side of things is not your primary concern, you can use a relaxed approach to Slots strategy to enjoy all the games you play a lot more. In this case, the correct strategy involves elements like the Slot's limits, the theme, and the bonuses.
How Many Spins Can You Afford?
Playing Slots for fun is great, as long as you know how to use your money to last long enough to actually enjoy the whole experience.
It's crucial you understand how much money you are willing to spend on Slots and how much time you want to spend at the reels. Once you know this, you can plan what games to play and let the 'Spin and Chill' time begin.
Let me help you understand this key concept with an example.
Imagine you play at a game where the minimum bet is of 0.50 credits. Since you are not going to play for the big prizes you don't need to spend more than this - you just want to play, and 0.50 will give you what you want.
On average, a 'slow' online Slot machine player spins the reels 18 times every minute. At a 0.50 a spin, this means you need 9.00 credits to play for just one minute.
An hour of play at that game will cost you 540 credits.
So, ask yourself: "do you have enough money to play for as long as you want to?"
Here you can choose between two different Slot strategy approaches:
Reduce the Bet: you can choose a game with smaller bets and automatically increase the amount of game time your bankroll can buy, or
Reduce the Time: you can simply decide to play for a shorter time-span and invest your bankroll on an expensive game
These strategies are both correct - just make sure you factor in the min bet size and the time you want to play before you begin and not when your bankroll is already thinner than a slice of salami.
Choose the Right Slot Theme
Picking the right Slot can be a burden these days.
When sites like VideoSlots.com welcome you with 3,300 different games you have to be a true expert or extremely lucky to find the right games for you.
That's where both the Casino and CasinoSmash can help.
Despite the insane number of Slots they offer, VideoSlots is super easy to navigate and you are always one click away from the hottest games to play.
Check out this screenshot of their main page: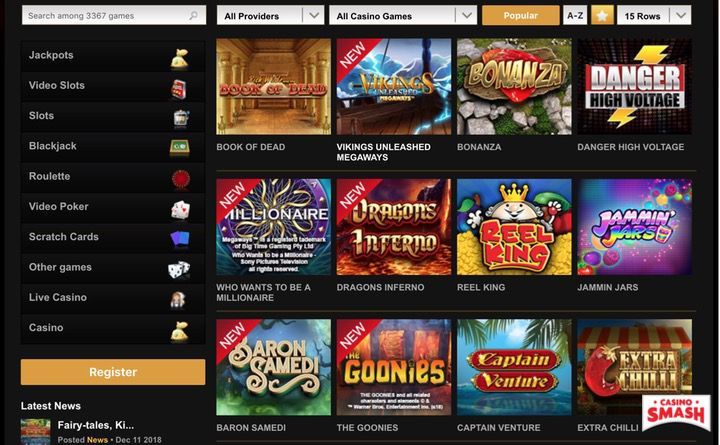 Everything is there. Evergreen classics like Book of Dead stay shoulder-to-shoulder with other spectacular new titles like Baron Samedi, The Goonies, and Vikings Unleashed Megaways.
Also, the menu on the top gives you access to 28 curated Slots lists where you can find all the games with Random Wilds, those with Doubled Reels and a lot more.
If this isn't enough, use our own manually curated lists!
Here at CasinoSmash we are crazy about Slots and we publish new lists of games all the time. We have something for every player and, if you don't believe me, just take a quick peek at these articles:
Pick the Bonus n' Play
The best part of playing Slots for fun? You don't need to care about the wagering requirements of Casino bonuses.
You just need as many free spins as possible as the size of a bonus is all that matters. The more free spins (or free money that you can use on Slots) the merrier.
An entire section of our site is dedicated to Casino bonuses. Visit it to know what are the best deals available to you right now.
If this isn't a great Slots bonus, I don't know what is.
The Best Strategy to Play Slots
1. Read the Paytable
Did you know that identical Slot machine games can pay differently at different Casinos?
While this isn't the right article to go too deep into how Slot machines work, you should know this: every time you play Slots, you play against a micro-computer that decides if, when, and how much the game will pay.
This computer is different on every Slot and Casinos can request the games developers to customize it according to their wishes, hence making some games looser than others.
That's why the correct Slots strategy begins from the paytables.
There you find everything you need to know to play smart. You see the different winning combinations (the least useful part) and which symbols pay off how much for a given number of coins bet.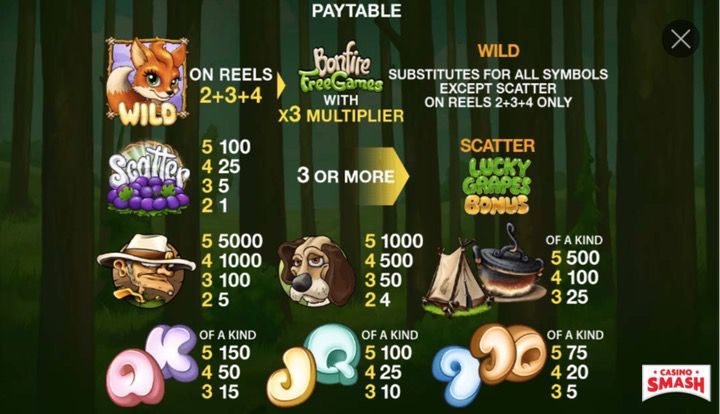 When you play online Slots, the 'info' section of each game is also where you find more on exclusive features and bonus rounds. While this can spoil the surprise, it also helps you to understand how much you could possibly hope to win.
In the Fortune of the Fox example, the last page of the info section tells you that the Bonfire Free Games feature earns you 15 free games with all wins tripled and more.
2. Check the Return to Player (RTP)
Every Slots strategy is based on the assumption that you need to play only the Slots with the highest Return to Player.
What is the Return to Player (RTP)? The RTP is the percentage of wagered money a Slot machine game is set to pay back to the players in the long term.
This is the most important number you need to know about the Slots you play, as the RTP tells you the house edge, the advantage the Casino has on you as a player.
Now that you know this is "the percentage a Slot machine game is set to pay back," it's a no-brainer to add that you want to play games where this percentage is the closest to 100%.
That's why you should not play games like the always popular Mega Moolah (RTP: 88.12%), Galactica (RTP: 92.97%), and Age of the Gods - Fate Sister (RTP: 92.95%) but opt for more favourable Slots.
Need any help to find Slots with a higher RTP?
| Game | RTP |
| --- | --- |
| Kamtchatka | 96% |
| Bob: the Epic Viking Quest | |
| Jack Hammer 2 | 97.1% |
| Fabulanimals HD | 98% |
| Medusa II HQ | 97.07% |
3. Get a GOOD Casino Bonus and Play
Like those who play Slots for fun, you also need to know how to recognize a good bonus to play Slots online.
High or complex wagering requirements can be a nightmare. Imagine how it would feel to win £1,000 on Slots and then discover you need to wager that 60x before you can withdraw the money?
That's why you need wager-free bonuses.
You can claim 11 wager-free spins to play on Starburst (RTP: 96.1%). The free spins come with a really good match bonus on your first deposit so make sure you don't miss the opportunity to get all of it.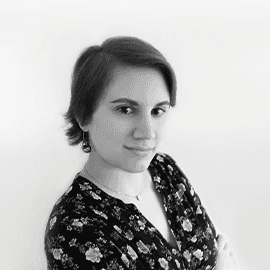 Bio
Editor, linguist, translator...and a Slot enthusiast. I am passionate about everything I do, and right now, I'm in love with all things Casino.