Have you ever wanted to play Monopoly slots online at a real money casino site?
Today, I present to you a list of the best Monopoly slots you can play online for free and for real money. As usual, the choice is yours.
A Monopoly slot machine is not the same board game you grew up with. It's a fun, Monopoly-inspired, slot machine with cheerful graphics and features that remind of the board game.
If that sounds up your alley, pick a Monopoly slot game of your liking from this list of slot machine games and spin the reels!
Monopoly: Big Event Slot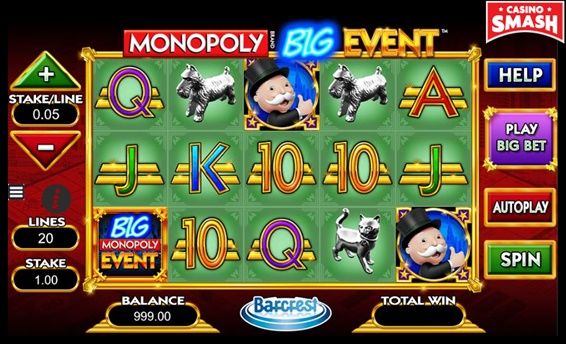 This is probably my favorite Monopoly slot thanks to how simple it is.
You play Monopoly: Big Event by Scientific Games on five reels and 20 paylines, so this slot is perfect for those who adore classic slot machine games.
Let's check out the betting possibilities.
The game offers a broad range of bets. You can bet as little as $00.2 or as much as $500 per spin.
In other words, both casual players and high rollers can enjoy this slot machine.
Speaking of which -
The typical RTP of Monopoly: Big Event is 96 percent. However, you get a 99 percent return if you play as a high roller.
The game has lots of bonuses even for low-rollers. For example, the "In Jail" symbol will remove the lowest paying symbol on the reels.
However - the most important feature of all in this Monopoly online slot game is the Big Event.
Collect three Big Event symbols on the first, third, and fifth reels, and you will get a bonus game with the chance to win free spins and extra cash.
Monopoly: Big Event also includes a progressive multiplier that will multiply all wins achieved, and a bonus wheel that will make your gaming session much more exciting!
Monopoly: Bring the House Down Slot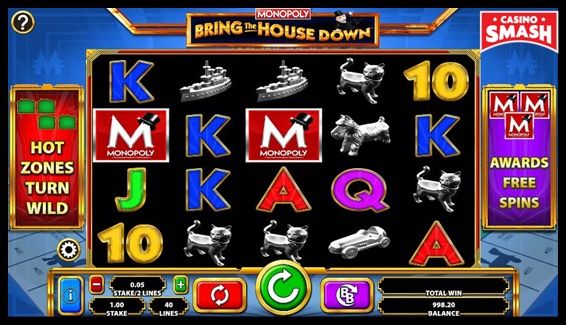 Monopoly: Bring the House Down by Barcrest is an online slot machine tightly packed with bonus features. I bet you'll like this one!
We'll start with the technical details.
The game features five reels and 40 paylines, which is a lot more than your regular run-of-the-mill slot machine. Just think of all the possibilities to win!
The stakes vary from £0.1 to £25 per line. As the starting stake is so low, you can simply enjoy this game for fun as it has nice graphics and groovy music.
I love that Monopoly: Bring the House Down features the cat token on the reels.
The other symbols include the dog, the ship, the car, and some colorful letters and symbols.
The best feature of the Monopoly: Bring the House Down slot machine, of course, is the Hot Zones where you can win up to five times your original bet.
Another neat addition to the game is the Big Bet feature. Make a bet from £20 to £50 and receive up to four picks from the pile of community chest cards where everyone's a winner.
Monopoly: Mega Movers Slot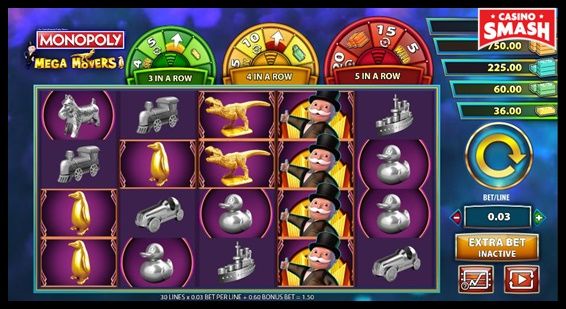 The most relaxing of all the Monopoly slots, Monopoly: Mega Movers by WMS Software is a multi-jackpot game with five jackpots up for grabs.
Monopoly: Mega Movers slot features five reels and 30 paylines, which is a bit unusual in the world of slot machines.
The symbols on the reels are also surprising - here you can see some rare tokens like a penguin, a T-rex, and, my favorite, a rubber duck.
Symbols aside, the bonus features will also leave you in awe. Did you know that this slot is among the rare ones that give you up to 100 free spins?
You should also look for Monopoly Man on the reels. Collect five of those on a single payline and enjoy your wins being multiplied.
Then, you have the bonus called Wheel Features. Collect the background symbols that you see flashing once in a while and get rewarded with a spin on one of the prize wheels.
When this happens, yuou can win free spins, Wild spins, or even the jackpot.
Monopoly: On the Money Slot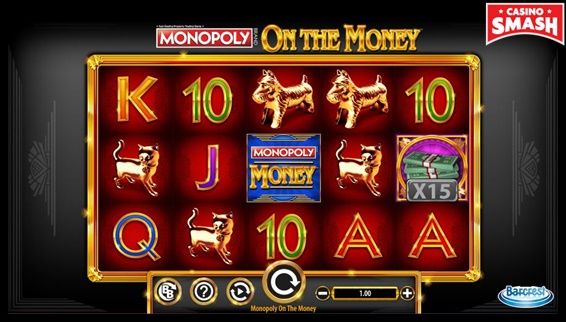 You'll like this slot even if you're not a Monopoly fan.
Monopoly: On the Money by Barcrest is an online slot machine that you can play either for free or for real money. The developers made their best with the concept of our favorite board game, and it shows.
The game greets you with jazzy music as soon as you open it, and that's a good start. The imagery is pleasant to the eye - the reels are the shiniest out of all online Monopoly games I've seen.
After a few spins, you'll notice one thing - a "Go" Scatter symbol that's originally the first square on the game's board. Collect three of them to receive up to 20 free spins.
The best thing is that these spins are packed with surprises. Expect the Monopoly Man to show up and reward you with bonuses.
If you're not sure about which Monopoly game to play, I'd recommend this one because its return rate is almost 98 percent - a true rarity in the world of gambling.
That's why I advise you to try the Big Bet feature. Not only it triggers sticky scatters and sticky wilds, but also an abundance of free spins.
In all honesty, I think that Monopoly slots can't get any better than that.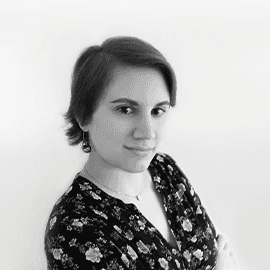 Bio
Editor, linguist, translator...and a Slot enthusiast. I am passionate about everything I do, and right now, I'm in love with all things Casino.