You play in the casino to win. Poor strategy, greed, and carelessness will cost you. Be keen to avoid these common blackjack mistakes and you will start to get better results when you play your games.
1. Failing to confirm the rules
Each casino game has its rules. Before you settle down for a game, take the time to establish the rules and see if they are favorable.
When can you double after a split? Will the dealer hit till 17 or higher? Do you have a surrender option?
The casino manager will not reveal such rules easily so look around the various tables and analyze each game's rules to find the one with the most agreeable.
If you are not sure you know everything there is about this game, check out our blackjack rules page.
2. Playing tables with a Continuous Shuffling Machine (CSM)
A CSM typically holds four or five decks and each round requires a fresh deck of shuffled cards.
Unlike other traditional shufflers, the CSM gathers discarded cards from one or more rounds and randomly mixes them without pausing. This keeps the houses edge constant throughout the rounds.
With increased hands dealt per hour, the CSM reduce your concentration on observing the cards on the table. Eventually, it increases your chances of losing.
A good blackjack strategy is to play at tables with traditional automatic shufflers, which deal fewer hands hourly, and in a single or double deck game.
3. Playing without knowing the Basic Playing Strategy
Failing to win a game for lack of knowing the basic playing strategy - or knowing it partially - is the most grievous of blackjack mistakes.
You only need to read gambling books, magazines to find this strategy.
Avoid playing by emotion or guessing. You must play the same hand regardless of previous losses unless you use the surrender option, if you have any.
Learn and stringently follow the correct strategy since blackjack is not all luck.
4. Not thinking clearly
Blackjack is largely a mathematical game dependent on luck and strategy.
The game needs a sober mind.
You should study the pattern of discards and concentrate on card counting. If you imbibe too many of the free drinks in the casino or are fatigued, you fail to concentrate and to keep track of the game's progression.
Such style of play has only one outcome; losing hefty sums.
5. Playing on when you should quit
When you start to turn in profit even after an hour, walk away.
Most players keep on playing especially when they start losing. They believe that with betting more, they increase their chances of winning. Do not fall for greed.
Previous results do not determine future hands.
The more you bet, the greater the likelihood of losing your money, including previous winnings. When you make a win, just grab your money and run.
6. Assuming a Betting Progression must win
A house edge hardly changes in the course of a game. If you use a betting progression, you only put yourself in a position where you have to keep raising your bets.
You can imagine the outcome if this is a losing sequence with no surrender option. The house you try to beat with a betting progression will clean you out.
Although the tactic is fun, often the house has an edge and your chances of losing rise with every hand.
7. Avoiding rating
Rating is free and recommended. When you sign up to get rated after playing blackjack at a brick-and-mortar casino, you receive freebies such as free meals, shows, free rooms and much more from the casino.
In most casinos, gamblers get a player's card, which they present to the dealer at each game.
The comps or free things you qualify for depend on your betting level and how much time you spend on games. Comps, therefore, lower your blackjack playing related expenses.
Sometimes they can be the game changer for you by helping you overcome the house edge and getting a monetary edge.
In other words, sign up for a rating to get a chunk of the billions given away by casinos to players just for being in a game.
8. Not keeping track of the cards layout
Often, players who came to the table just to pass time and have some fun fail to pay attention to the number and types of cards on the layout.
Obviously, most blackjack mistakes arise from apathy. Failing, for instance, to note the proportion of the big cards to the small cards after every shuffle leaves you without an intelligent way of placing bets.
The odds are set in the initial rounds therefore if you see many faces and aces at this stage, you should not place bigger bets forthwith.
9. Getting into side bets
Side bets come in different varieties and cost just a buck. This is an attractive prospect, especially for amateur players.
Although you may win on a few of the side bets, you lose more since the edge on the game is high for the house. Since they do not cost much as compared to normal odds, you get tempted to keep placing them in spite of losing.
Eventually, you end up losing more money on this clever trick by the casino to increase their profits.
10. Blaming others for your bad luck
When you find yourself taking hits for several bad hands, control your angry outbursts and avoid harassing the dealer and other players.
Instead, focus more on the game. This may be a great time to increase your accuracy by being keen on the cards on the layout. The dealer has little impact on the outcome of the bets you place.
Make wise choices from the onset, and, pick the table with favorable rules for the sake of your bank balance.
Most of these mistakes are avoidable if only you are keen to learn basic strategy and concentrate on the game.
If you decide to perfect your skills, you will soon realize that blackjack mistakes need not arise in your game.
When they do, carefully find out what is the cause of your loss and work on improving your hand. Overall, remember that at times, it is all right just to walk away no matter how juicy the deal is.
Where to Play Online Blackjack?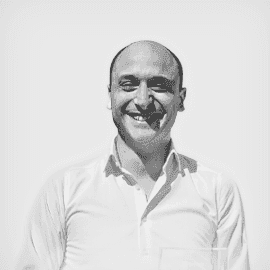 Bio
Political scientist, and gambling expert, I have spent the most part of the last ten years writing about the casino and poker industry. As a professional journalist, I work with FOX News, La Repubblica, the Economist, Politico, and PokerNews. As a gambler, I won money pretty much anywhere in Europe. As a gambling editor, I'll help you do the same.