Show me a person who claims not to like Asian Slots and I'll prove them wrong.
The themes of ancient China and Japan have been my favourite for as long as I've played slots online. Today, I want to share the best Asian-themed slot games with all of you. These Asian slots set in the East are fun, colourful, and full of culture and many bonus features - precisely what online casino players need.
The Asian slot games featured on this list are available at this online casino. There, you can play all these Asian Slots both for free and for real money - whichever you prefer.
And now, it's time to discover a whole new world full of dragons, magic, sushi, with a bonus feature or two thrown in, in the best Asian slots around!
Top Japanese Slot Games Online
Here, you'll find the top Asian Slots that feature the Land of the Rising Sun. Have fun with our list of the best Asian slots around!
Asia Wins
Here, I have something for those who love Vegas-style experience shining with neon lights and filled with partying people.
Asia Wins by Booming Games is a Japanese Slot like no other. With five reels, 20 paylines, and an RTP of 96 percent, this Asian-themed slot manages to be fun and innovative while staying true to a layout of traditional Slots.
The Asian-themed slot features the Gamble, Free Spins, and Stacked symbols, which will help you a lot.
The popular online casino games also give you the possibility to double your win. Guess the symbol and get set to claim your reward if you guess right!
Emperor's Garden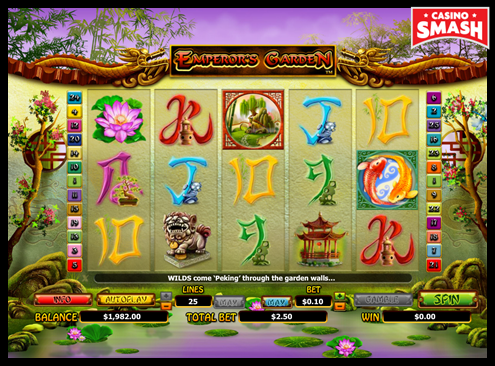 Welcome to Emperor's Garden, one of the most zen Asian Slot machines you'll find on this list.
Spin the reels on this Asian-themed slot while you listen to bird songs and the beautiful traditional music that plays while the reels are in motion.
This online casino slot game is developed by NextGen and it will teleport you to ancient Japan, where you'll be able to contemplate life and enjoy gaming in peace.
Now, about the symbols. I bet that you'll love the Stretching wild here. Once launched, it stretches across the whole reel and substitutes for all the symbols except the scatter.
Collect at least three Koi scatters for 10 free spins.
Play Emperor's Garden for real money or for free - whichever helps you relax more.
Karate Pig
Karate Pig by Microgaming is an Asian-themed slot machine that looks like it could have been based on a cartoon series.
This online casino slot game is as fun as you can guess from its title. On the reels, we have various animals like pigs, boars, cats, and raccoon dogs. To win, you have to collect at least three matching images.
Karate Pig Slot has 40 paylines and the possibility to win a 10,000 coin jackpot when you collect five game logos.
Kawaii Kitty
Have you ever played a slot with the expanding wilds of... yarn? Well, you're going to!
Kawaii Kitty is a Japanese Slot machine by Betsoft that celebrates the Kawaii culture of Japan. Here, all the symbols are cute as h*ll. We have cat food, tuna, ribbons, cat toys, mice, brushes, and cartons of milk. All the smiles will definitely brighten up your day!
Now, let's explore the bonuses. Kawaii Kitty is generous and lets you double up your wins. Each time you hit a lucky combination, you can double it by guessing whether the coin will fall on heads or tails.
Finally, the wild yarn balls will grant you free spins every time you get one.
Lucky Koi
This is a slot machine that just screams aesthetics. Designed in line with traditional Japanese art, this online casino game will evoke your love for Asian culture.
Lucky Koi by Microgaming is a slot game that will make you feel as if you're hovering over a clear pond. Here, you'll see dragonflies, turtles, frogs, flowers, hand fans, and pierced coins. Collect the scatters for 30 free spins with generous multipliers.
Sushi
Sushi by Endorphina is a fun little classic Slot for those who can't live without sushi. It is the tastiest Asian Slot on this list, that's for sure!
It has three lines and five reels filled with only the best of sushi rolls. The whole Asian-themed slot game looks like something you'd get at a fancy Japanese restaurant. Just like in real life, the sushi is stacked in sets of six. As the food is so tasty, you'll need quite a few stacks to satisfy your appetite!
Serenity
Serenity is one of the most calming Asian Slots by Microgaming. Just look at the background that features a beautiful painting of rural Japan. Let the soothing music lead you to the land of peace and bonuses!
The online casino slot game has five reels and 15 paylines. Collect two wild symbols for a payment of 75 times your bet. When it comes to scatters, you can get three to five of them for the reward of free spins.
Tasty Street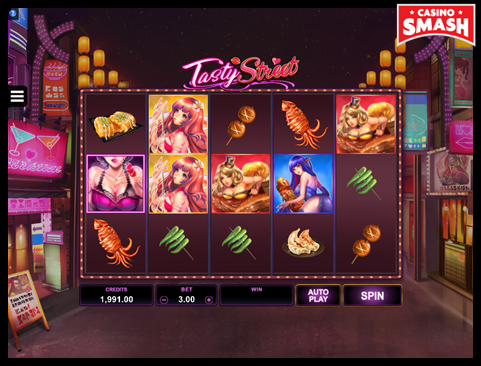 Have you ever wanted to experience the nightlife of Japan?
Tasty Street Slot machine by Microgaming is as tasty as it is risqué. You won't be wandering the empty city streets alone - beautiful women are going to keep you company.
This anime-inspired online slot game has five reels, 30 paylines, and the maximum win of 4,000 times your bet. Three or more scatters of the purple girl trigger 10 free spins and the game's logo substitutes for all the other symbols except wild.
Even though this is one of those Asian-themed casino slot games that have fewer bonus features, the art is the reason you must play it at least once.
Sushi Bar
Sushi Bar, hands down, has the best graphics and animation out of all the Asian-themed slot games featured on this page.
Developed by Betsoft, the slot features a fun Japanese chef who makes the best sushi around. Played with five reels and 25 paylines, this is no ordinary Asian-themed casino game in terms of bonus features. Hand fan scatter will bring you up to 20 free spins, and the soy sauce is the wild that will add some nice taste to your payouts.
The Most Popular Chinese Slots
As one of the richest ancient civilizations, the Chinese culture gives lots of ideas to Slot developers to make Asian-themed casino games more engaging and exciting.
Below, you can see a list of the top Chinese Slot machines on the internet. They will leave you in awe in terms of graphics and music. Play them for free or bet real money right away - the choice is yours!
5 Lions
From the moment you open 5 Lions Slot by Pragmatic Play, you'll fall in love with it for its peaceful and catchy music.
This is a Chinese slot machine with five reels and up to 576 ways to win.
Sounds fun? Wait till you hear about the bonus features. Collect three or more yin and yang symbols for a round of free spins. The Chinese dragon symbol serves as a wild and only appears on the second, third, and fourth reels. It can multiply your wins up to 40 times.
The other symbols include golden turtles, frogs, birds, and fish.
Asian Beauty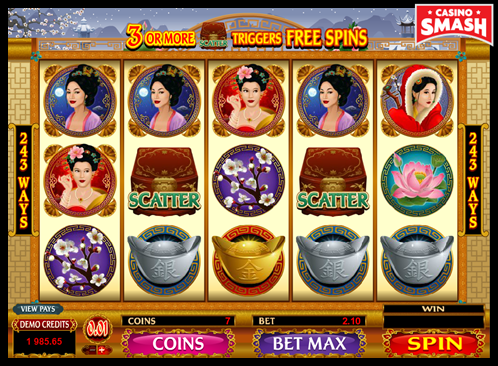 Asian Beauty by Microgaming offers a fun tour to ancient China.
Here, you'll be accompanied by four beauties who will do everything in their power to make your journey fun.
The decorative chest symbol serves as the scatter. Collect at least three of them to win up to 25 free spins.
Line five Asian Beauty symbols in a row to win the jackpot, as this is the game's wild.
Play this Asian Slot for free or for real money. Either way, you'll be surprised by how beautiful an online casino slot game can be; especially if you play for real money and win the jackpot.
Lucky Money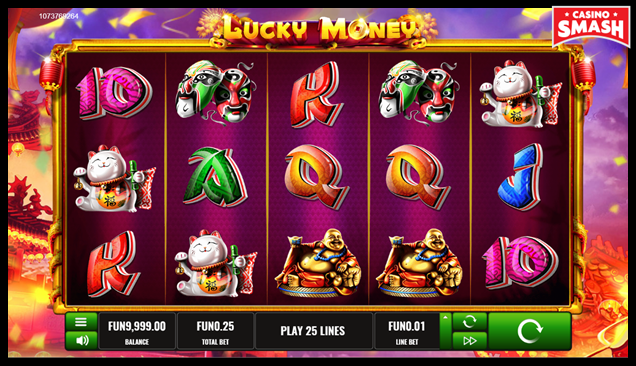 Play Lucky Money online if you're ready to spin the reels with the Laughing Buddha and the lucky cat!
The Asian-themed casino slot game has five reels and 25 paylines, which give you lots of possibilities to win. There are 11 symbols in total. The best ones, of course, are the wilds and scatters. The latter can earn you up to 75 free spins!
Play this Asian Slot online casino game by Platipus and enjoy the exciting gameplay.
Magic Dragon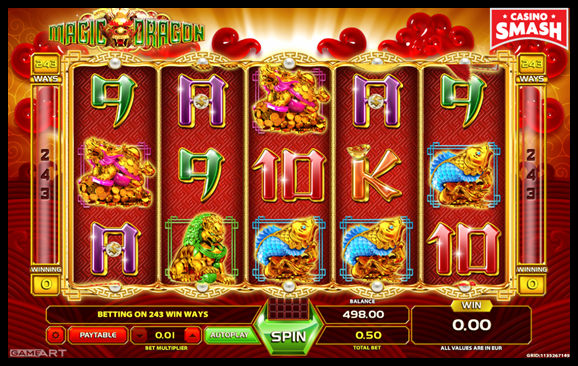 Magic Dragon by GameArt is an Asian-themed online casino Slot that every Chinese culture lover should play. At least for free!
This classic real money casino slot is filled with gold and dragons that are likely to bring you good fortune. Every spin has the possibility to bring you victory in no less than 243 ways. The maximum win from the game is 40 times your bet.
The dragon serves as the wild symbol and it can replace other images for more chances to win. The scatter symbol is the golden coin, and you have to collect them for a chance of 25 free spins with 30x multiplier.
The only downside of this Asian Slot is the lack of music. I hope the developers will add it soon! Still, the dragon symbol certainly than makes up for it. A dragon or two always helps to make an Asian-themed online casino slot appear authentic.
4 Symbols
Even though the title of the Asian slot machine 4 Symbols sounds simplistic, the game is far from being just a classic slot game.
For starters, the Asian-themed graphics - the imagery is beautiful, as the symbols look like they've been taken from a fantasy storybook.
Here, the wild symbol is the image of the sun and the moon. It substitutes for all the other symbols except the scatter. The latter is depicted as a yin and yang image and it grants you free spins.
However, the most impressive symbols are the two dragons, a tiger, and a phoenix. The Asian-themed symbols will bring you wins that are worth up to 20 times your original bet. Also, they are real eye candy; especially the dragon symbols.
Fafa Twins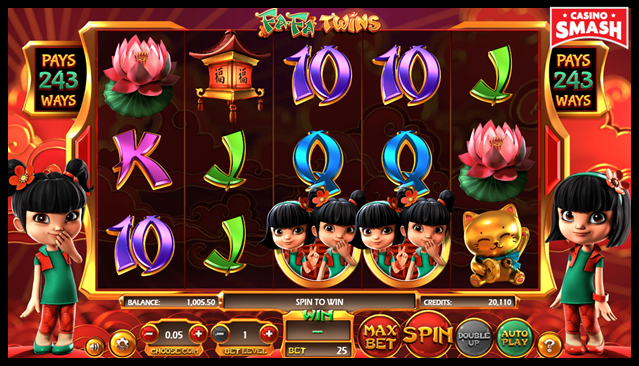 With Fafa Twins, you can win up to 810,000 credits in a single spin!
This real money slots game by Betsoft is one of the most interesting Chinese slots on this page. It starts with a short clip that shows the Fafa twin girls running to meet you. They will be there for you throughout all of your gaming session.
The popular slot is set around some great music and inventive imagery. The reels feature colourful letters, lotus flowers, golden cats, and Chinese lanterns.
My favourite feature of Fafa Twins is the Dual Reels Boost. With every spin, you get two matching reels with the same symbols. This creates lots of possibilities to collect more matching symbols than in other real money slot games.
After all, there are 243 ways to (t)win!
3 Kingdoms - Battle of Red Cliffs
3 Kingdoms - Battle of Red Cliffs by Pragmatic Play is a slot machine about war. It will appeal to those who like ancient history and military games. Even though you don't have to think a lot while playing it, you can at least apply a real money slot games betting strategy while fighting at the Red Cliffs!
Battle of Red Cliff has one great feature that made me play it for far longer than the other Asian Slots on this page. This Chinese game lets you collect points while you spin. When the number hits 40, you receive a mysterious prize!
Play 3 Kingdoms right here, right now - the Battle of Red Cliff can't be fought without you.
4 Seasons
4 Seasons is a slot game by Betsoft based on the 12 Chinese zodiac signs. It has 30 paylines and lots of extra features to make everything more interesting.
Let's take a look at the bonus symbols first. The yin and yang image serves as the scatter. It grants you up to 20 free spins.
The golden cat is your wild and substitutes for all the other symbols. Spin the reels and collect five of them for a generous payout.
Now, here's the fun part. Every 30 spins in the popular game, the round calendar rotates and a new animal has the highest payout of 10 times your bet.
And every 90 spins, the season changes, bringing new payouts and possibilities.
Which zodiac animal is your favourite?
8 Dragons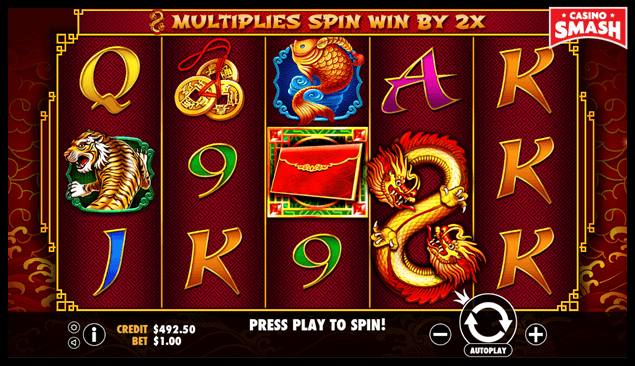 8 Dragons by Pragmatic Play is a traditional Chinese slot that every art fan will enjoy. Also, it's one of the Asian slot machines that are worth playing for the music alone.
It features the wild symbol - the golden dragon - that will appear on the reels two, three, and four. Spin and collect a full stack of wilds and your win will be doubled!
8 Dragons also features Mystery Stacked Symbols and scatters that win you free spins.
Dragon Dance
Microgaming has created yet another Asian Slot machine - Dragon Dance.
This game is one of the simpler ones when it comes to its design. It looks and feels like a classic game you would find at a land-based casino.
The theme of the slot is the New Year, so the design is nice and festive. There are 243 paylines in total and the usual symbols like wilds and scatters. You also have the respin feature that lets you spin each reel as many times as you want.
However, each respin costs extra!
Ming Dynasty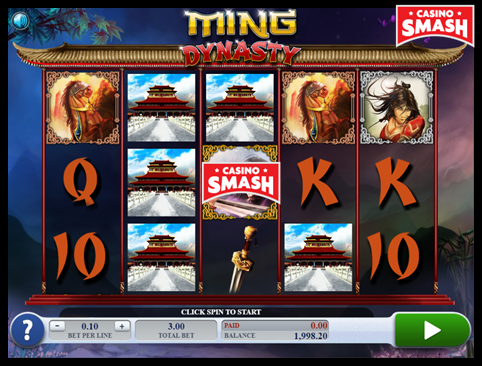 Ming Dynasty is a beautifully-animated Chinese Slot machine by 2by2 Gaming.
Once again, this is a Slot for history fans who also love good art and music. The Slots game is played with five reels and 30 paylines and it offers many interesting ways to win.
The wild here is the game's logo. It appears on all the reels except for the first one. The scatter is the symbol with the word "Bonus" written on it. Collect at least three and multiply your win up to 75 times your original bet.
Empress of the Jade Sword
Now here's a slot that knows how to use its Asian theme correctly.
Play Empress of the Jade Sword by Microgaming and discover a new world full of beauty and wonder. Here, as you spin the reels, the game tells the story of a beautiful empress who has to defeat her enemies, rule her kingdom, and, of course… fall in love.
Emperor of the Sea
Developed by Microgaming, Emperor of the Sea is a traditional Slot game with five reels and 55 paylines.
The Slot machine is full of beautiful images like sea dragons, turtles, ancient boats, and fish that appear when you spin the reels. The music helps to create a relaxing atmosphere. However, we're here for the wins rather than the dragons, so let's look at what bonuses Emperor of the Sea has to offer.
The scatter symbol is the most important one. Collect at least three for a round of eight free spins. The logo symbol is the wild and it substitutes for any other image in the game except the scatter.
Fortune Girl
Fortune Girl is a fairly simple Asian-themed Slot by Microgaming. Even though the Slots game has only five reels and 15 paylines, it will grab your attention with its cute visuals and fun soundtrack.
Here, the golden door symbol is a super-stacked wild. Expect to see lots of them during every spin. Then, the scatter symbol is depicted as a cute little dragon. Three of them will bring you good luck and 14 free spins.
Play Fortune Girl for free money and see how fun a Chinese-themed slot game can get!
Golden Money Frog
Tired of all the flashy video wlot games and crave for something simple? Then, it's time to play the popular Golden Money Frog game by Sigma Gaming.
This nice little slots game features traditional Asia-theme imagery like pierced coins, turtles, lotus flowers, and, of course, the titular golden frog. This last symbol pays the most, as it is the game's wild. It also triggers the Money Pond bonus - an entirely new minigame where you have to move the frog across the pond and collect multipliers.
Great88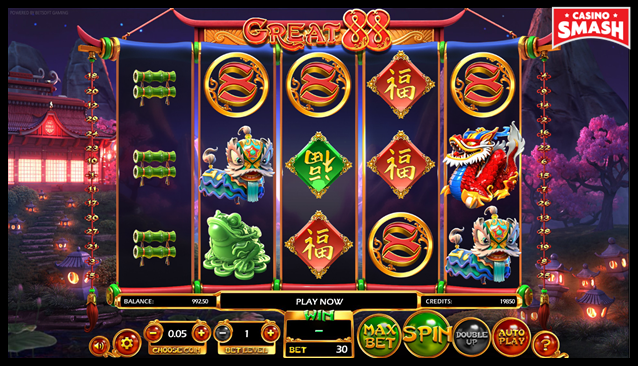 Great88 is a Slot machine game by Betsoft with an Asia theme and 25 paylines. You'll definitely like it if you're fond of both slot games and traditional Chinese celebrations.
The most important bonus feature in the game is the Lucky Boxes. Collect three of them and let your prize be revealed. You can win lots of interesting things including high-paying symbols, free spins, and the possibility to play the Bonus Wheel game.
I got nine free spins on my first try at the game - not bad! This way, you can win up to 25 extra spins.
Also, you should look for the firecracker wilds - a line of them pays x8888.
Chinese New Year
The Chinese New Year celebration will never cease to be one of the most popular slot themes. That's why EvoPlay has come up with a game named after this grandiose holiday.
This is one of the most exquisitely-drawn and popular slot machines on this list, as the art is detailed and eye-catching.
Here, the wild symbol is depicted as the traditional calendar. Collect three of them for a 20x, four for a x150, and five for a 1,000x payment.
House of Dragons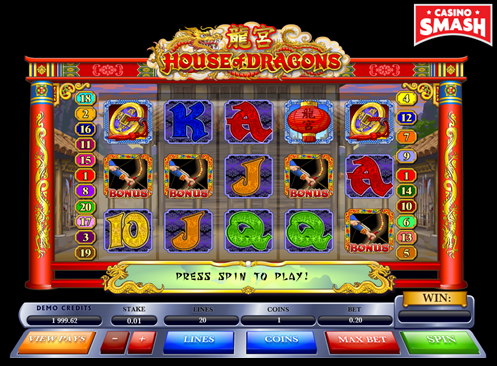 Another Asian slots game by Microgaming, House of Dragons is a five-reel, 20-payline game that you can play either for free or for real money.
The online casino game with the dragon theme is a bit different from other video slot games. The developers took a more classic approach and therefore we have a game depicted as a literal slot machine. As you play, you'll encounter symbols like pierced coins, red lanterns, bows with arrows, and hand fans.
Lucky Firecracker
Lucky Firecracker by Microgaming is a popular Asia-themed slot game that has five reels, three rows, and 243 ways to win. On the reels, you're about to see sparklers, lanterns, gongs, and the titular firecrackers.
The best symbol of Lucky Firecracker is the pierced coin. Collect at least three of them for a bundle of 15 free spins. By the way, all wins from free spins are tripled, so you'll get yourself a bargain if you collect the right symbols!
Lucky Twins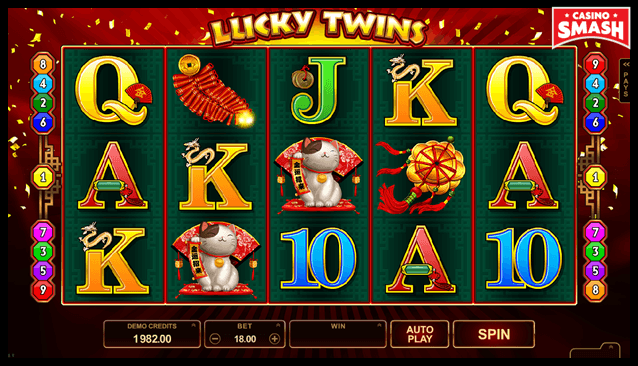 Microgaming has launched an Asia-themed slot called Lucky Twins: an online casino game where you can win up to 25,000 coins.
The theme of this Asian slot machine is, once again, the New Year. You will encounter all the festive symbols like lucky cats, golden coins, and firecrackers.
The best symbol of Lucky Twins slot game is the golden sycee multiplier.
Phoenix and the Dragon
Phoenix and the Dragon by Merkur depicts the classic Chinese theme of mythological beings. Design-wise, this is one of the simpler Asian slot machines, but there are a lot of interesting bonus features to unpack.
The phoenix and dragon symbols in the game serve as wilds that let you select the bonus feature you want to activate. As for the regulars, the woman symbol is the most lucrative one. Lastly, this Asian-themed slot lets you double your every win in two ways as it offers two different minigames.
Shanghai Beauty
The last but not least of our Asia-themed slot games.
As the name suggests, Shanghai Beauty is an Asian slot game about China and its beautiful women. It was created by Microgaming and features five reels, nine paylines, and a jackpot.
Here, the beautiful girl symbols are among the most lucrative as they pay you up to 750 times your bet. However, the best one is the wild as it gives you a 10,000x payout when you have the good fortune to collect five of them. Beautiful!
Cherry Blossoms
In this first Asian-themed slot, you can experience the blooming of sakura blossoms even after the season is over.
Cherry Blossoms by Microgaming is a Japanese Slot machine for those who appreciate the beauty of nature.
It is an online casino game with five reels and 20 paylines - you can even call it a classic Slot.
The symbol that you want to look for is the Geisha wild. It doubles all your wins!
Collect at least three scatters with the image of a pink cherry blossom to win up to 25 free spins where all your prizes will be tripled.
Sakura Wind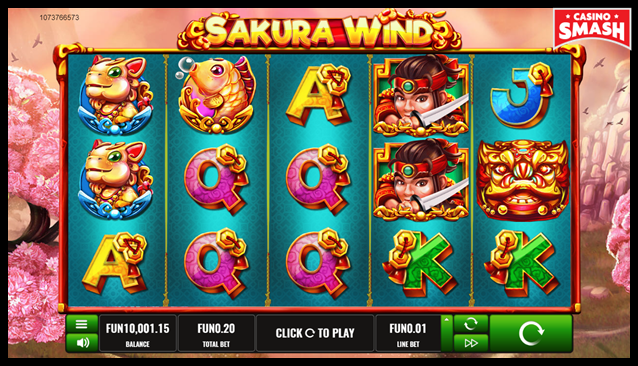 Sakura Wind by Platipus Gaming is one of the lesser-known Asian Slot machines.
On the surface, it is a simple five-reel, 20-payline online casino game. However, there are some features that make it worth including into this list.
First of all, the art and music are top-notch. Sakura Wind looks and feels like a quality Slot and I believe that it definitely has a cult following.
Then, we have the scatter led bonus features leading you to good fortune. Collect three scatters to win 10 free spins, four scatters to receive 20 free spins, and five to play with 30 free spins. Additionally, you'll be able to win even more free spins while in the bonus mode.
Also, we have the Respins that grant you up to two additional spins.
Play Sakura Wind online and experience a fresh breeze of a faraway land in Asia.
This article was first published in 2018.