Take a nostalgic trip back to the past with these retro slots!
The symbols and icons you see in the game will remind you of the good old days when the reels were fewer and the jackpot were richer.
This guide to the top retro slot machines games online helps you to:

Play online retro reel slots from wherever you are
Enjoy retro slot games based on comic books, movies, and cartoons
Discover vintage slots with exciting graphics
Specifically, you can use this page to play four amazing "vintage Slot machines" with bonuses and free spins.
We selected for you three iconic episodes part of the Retro Reels franchise and added to the mix an impressive retro game like Retromania.
All the games have a certified RTP and are available at the best licensed online Casino websites.
Retro Slots
If these great vintage Slot machine games sound foreign to you, continue reading.
You are about to discover what makes them truly special and what type of bonuses you can add to your arsenal to play with lots of free spins!
Retro Reels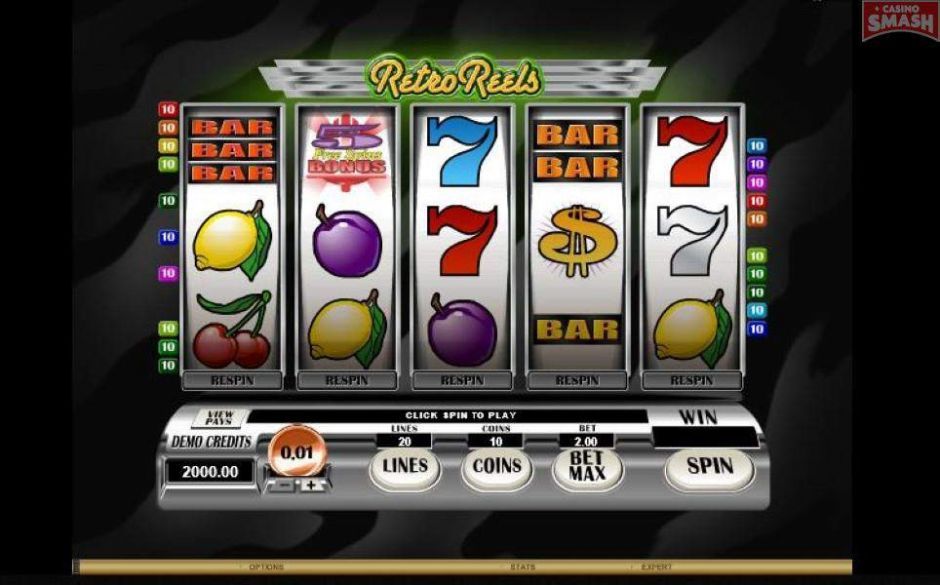 In this vintage slot from Microgaming you feel as if you spin the reels of a real-life Slot machine game
The slot game, with five reels and 20 pay-lines, is designed to look like a classic slot machine. It also has added features like 3D function buttons that will enhance your play experience.
You will find the standard symbols, like Lucky 7's, fruits, and single and double bars in this slot.
These classic symbols combine with modern slot features such as re-spin, a scatter symbol, and a Free Spin bonus game.
Scatter symbols need not line up for you to win. They unlock bonus features when they appear anywhere on the reels.
For instance, you will get five free spins when each symbol initiates the bonus game. This doubles the value of your wins during this feature.
You can spin one reel at the end of any spin while keeping the others fixed, using the re-spin feature.
It will cost you a little extra to pay for the new winning combinations.
To play, adjust your bet by pressing the "+/-" button. The coin denominations usually range from 0.01cents to 0.25 cents. You may also set the pay-lines and your maximum bet.
Then all you have to do is press "Spin", and the reels will turn until you press "Stop".
There is an expert mode autoplay feature, which allows you to spin a preset number of turns without interruption.
An attractive benefit for playing Retro Reels is the high Return To Player (RTP) of 96.02%.
This means that for every $100 you wager, you can expect to win $96.02. Retro Reels also offers you the opportunity to win up to 440,000 coins.
Overall, it's a fun game with a vintage feel.
Retro Reels: Extreme Heat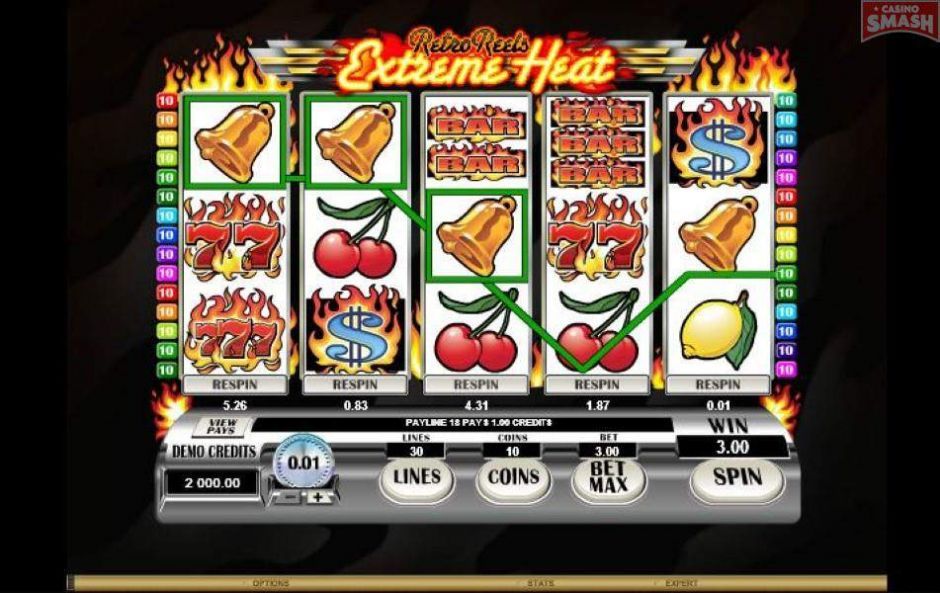 If you're looking for a fast-moving online slot, check out Retro Reels: Extreme Heat, also from Microgaming.
While conventional slots have three reels, this game has five! It also has three rows and 30 pay-lines.
Retro Reels: Extreme Heat mixes the traditional symbols, such as cherries, lemons, bells, and single, double and triple bars and sevens, with extra features to make it unique.
It also has the re-spin feature, 'free spin' scatter symbol, and a burning dollar sign to increase your winning odds.
The burning dollar symbol is the most profitable one. You could win up to 10,000 times the line bet when you have a winning combination of five symbols.
Note that the burning dollar is also the wild symbol, which means it can replace other symbols to form a winning line.
With the Flaming Free Spin Bonus, you double the prizes you win. However, the re-spin feature is disabled when the Flaming Free Spin Bonus is activated.
Coin sizes range from 0.01 cents to 0.25 cents, and you can play up to 30 pay-lines and bet a maximum of 15 coins per line. The highest possible wager is $112.50.
Serious players will love the slot's very impressive RTP of 97.5%!
Retro Reels: Extreme Heat's excellent game design, refreshing music, and attractive features make it a very entertaining online casino slot game.
Retro Reels: Diamond Glitz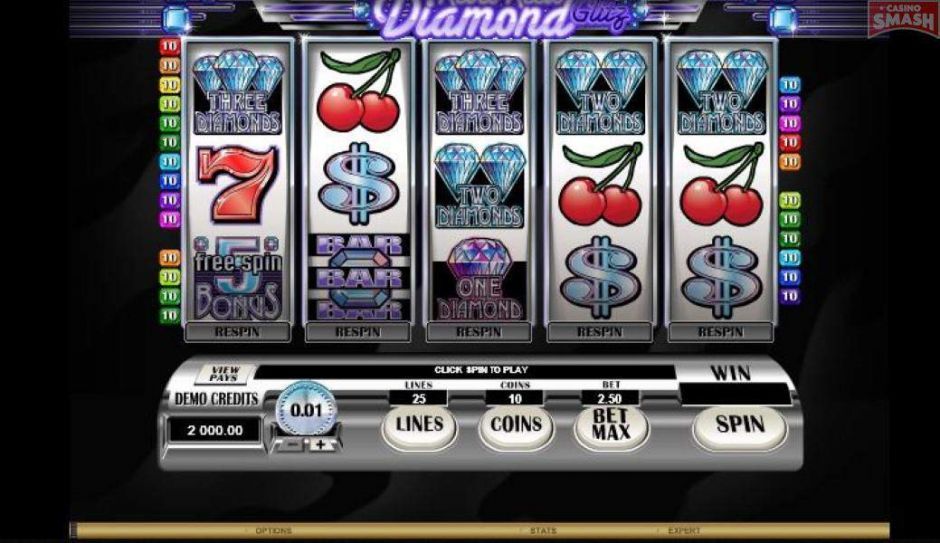 Another retro slot offering from Microgaming is Retro Reels: Diamond Glitz.
This game, which combines an old casino slot game with modern features, has five reels, three rows, and 25 pay-lines. It has an impressive design that presents the classic symbols in a new look.
The additional features make this a very attractive game. You can win free spins with the Glittering Free Spin Bonus when the Free Spins Bonus symbols appear on the reels.
Getting three symbols or more means you will earn from 15 up to 25 free spins. During this feature, your payouts are doubled.
As in the other games, Retro Reels: Diamond Glitz also has the re-spin feature. Keep an eye on how much it'll cost before respinning.
The greater the potential of winning, the higher the cost of the re-spin. You could burn through your bankroll very quickly if you're not careful.
Also, note that the re-spin feature is not active when playing the Glittering Free Spin Bonus.
Retro Reels: Diamond Glitz has a 96.47% RTP.
With an amusing soundtrack, splendid design, and attractive features, this game, for sure, you will enjoy playing.
Retromania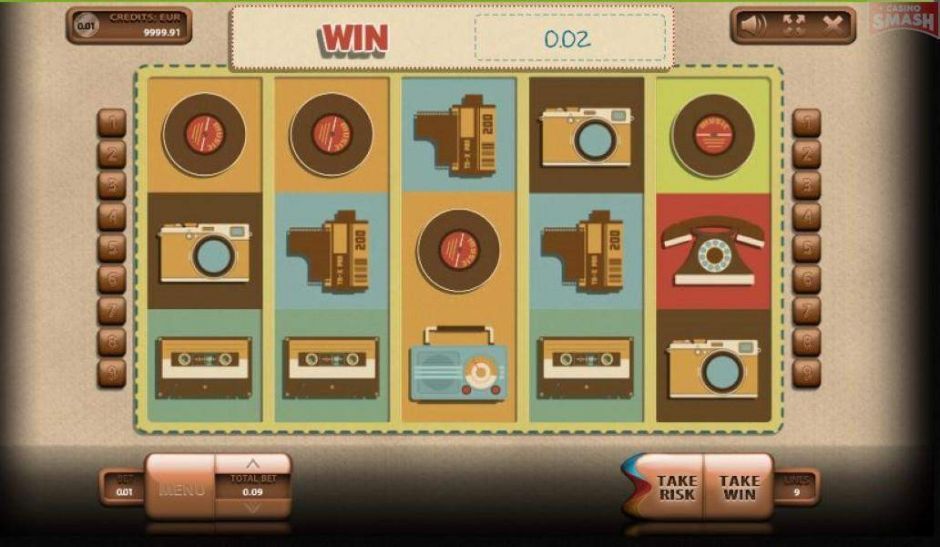 For old-school players who love classic games, Endorphina's five-reel, nine pay-line Retromania offers a classic styled slot with modern features.
Endorphina recreates a nostalgic 1960s look by using high-resolution textures and striking animation.
Retromania stands apart from the rest in terms of design. Instead of going with a 3D look, it is more toned down and basic, yet just as entertaining.
Its vintage symbols such as vinyl records, rotary dial telephones, typewriters, and cameras, remind you of the good old days.
Although a straightforward slot game, Retromania offers an above-average pay-table with a creative bonus feature in the form of a Vintage Girl wild symbol.
This symbol replaces regular symbols when it appears on the reels and pays up to 2,000 coins.
The scatter or bonus symbol is the Star symbol. If you have three stars appear in a winning combination, you will be able to participate in the Bonus game.
There is a Gamble feature that allows you a chance to double your winnings by playing a card game instead of taking your wins.
If you are lucky enough to have five typewriter symbols appear in a winning pay-line, you will win the Jackpot of 5,000 coins.
Bet values can be adjusted from a minimum coin size of 0.01 cents to a maximum of 1cent, with a maximum bet of 9 coins.
The autoplay feature is also available in the game to enable you to let the reels spin for a desired number of plays.
Retromania offers a high RTP of 96%.
Some players may not like the low bet amounts which limit their ability to win big, but the same low threshold is better for those with smaller budgets. Despite this, the game delivers enough to entertain and engage most players.
The Verdict
Although retro slots like any other slots are purely games of chance, you can practice online before you jump in and play with real money.
Most online casinos offer a free play mode. These plays do not have many of the features the actual games do, but it does allow you to learn the ropes. Take as much time as you need.
You can do this at this website and once you feel comfortable, try your luck on one of the retro slots mentioned above.