December is the best time to play Christmas Slots
You can find the very best of them in this top list
There is a generous bonus included to play these Christmas games online
It's that time of year again.
Decorated trees, poinsettia plants, mistletoe, gingerbread and mulled wine smells everywhere, shops cluttered with all kinds of presents, and the bearded guy in red smiling from every corner, window, or screen.
Slot machines don't fall into that list but you can bet your boots that there are plenty of Christmas Slots out there. To help you find them all, we prepared a list of the best Christmas slots available online!
Book of Christmas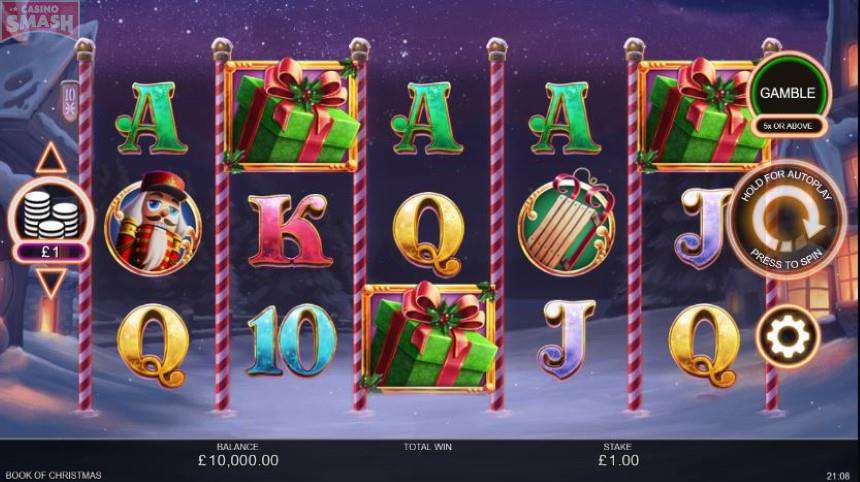 Developed by Inspired Gaming
5x3 structure, 10 paylines
RTP: 96.23 percent
If you dream of a white Christmas, with chestnuts roasting on an open fire, you'll love this classic approach.
The location could be anywhere from a remote village to Santa's North Pole workshop, but who cares? With falling snowflakes and snow-covered trees, it's the perfect winter scene.
While the game might be geared towards a Christmas vibe, don't worry: all the usual slot features are here. There are even scatter prizes that award up to 200x for picking up five books. I don't think I've ever picked up five books in my life, but I'll make an exception in this case.
Ghosts of Christmas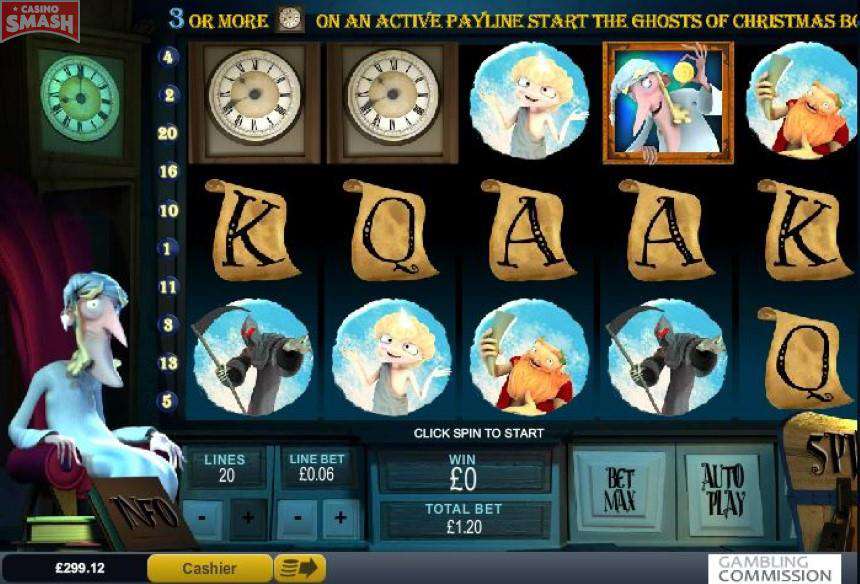 Developed by Playtech
5x3 structure, 20 paylines
RTP: 92.33 percent
If you're a fan of classic Christmas stories, you'll love this one, as it features the characters of the most famous festive tale of all:A Christmas Carol. In fact, the faces are the symbols; namely Scrooge, Marley the ghost, and Tiny Tim.
Scrooge is the wild card, and if you land five symbols featuring the old miser himself, you'll be rewarded with a 10,000 coin jackpot. Ironic, I know.
The game really ties into the story with its three bonus rounds. The first game is the Ghost of Christmas Past, where you choose from a set of gifts that real bonus coins added to your overall total. The other two bonus rounds are the Ghost of Christmas Present and Yet to Come. Having seen the film, that scares me a little.
Very Merry Christmas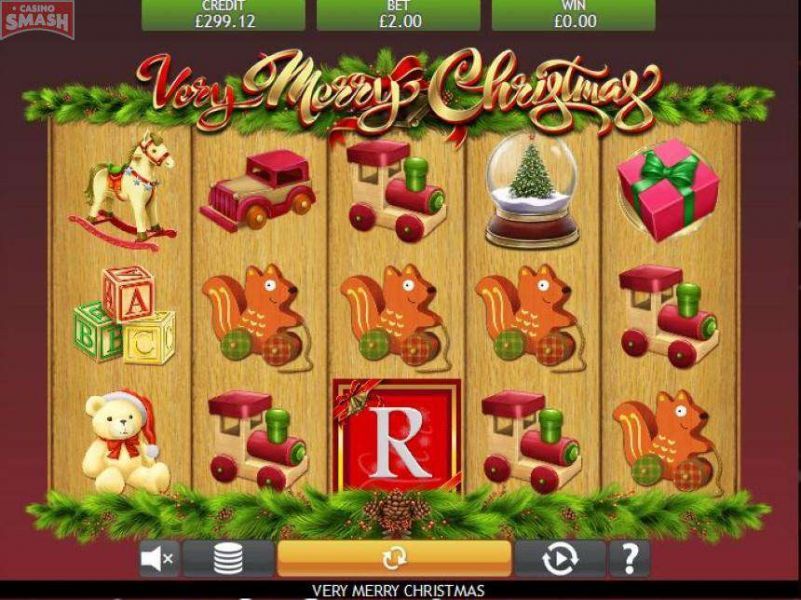 Developed by Eyecon
5x3 structure, 25 paylines
RTP: 95 percent
You'll definitely find yourself reminiscing with this one, as you take a trip to a toy cupboard featuring symbols that include alphabet cubes, rattles, and teddy bears.
Amid the ribbons and bows, holly, lush green shades, and yuletide sound effects, you can look forward to a Match and Win Bonus feature, a Free Games round, and lots more besides.
The icons on the reels are all related to Christmas presents, of course. You'll find snow globes in the Match and Win bonus feature where you'll have the chance to collect a lucrative multiplier award. The best-paying snow globe provides 100x your bet. Who knew those little round things that sit so innocently on our shelves could be so profitable?
Sugar Train Xmas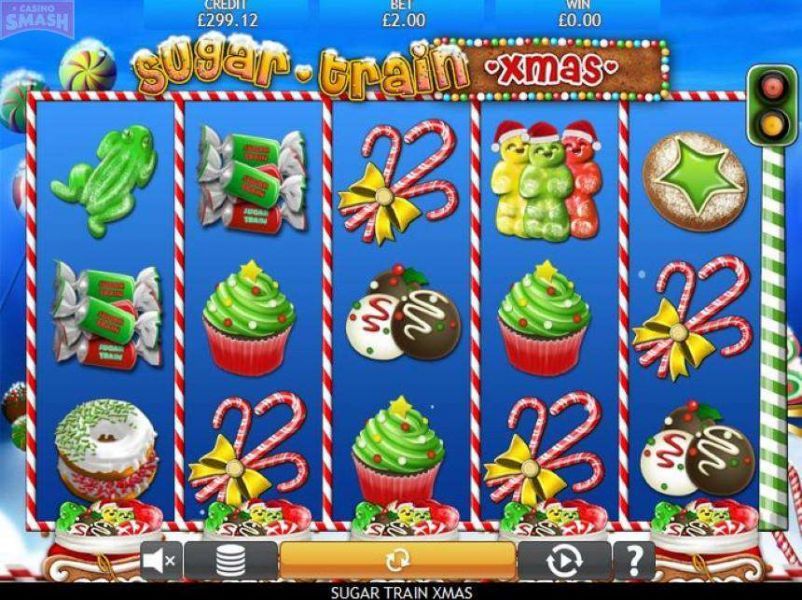 Developed by Eyecon
5x3 structure, 25 paylines
RTP: 95 percent
Here's your chance to hop on the festive sugar train. While the name gives away its festive theme, the game retains all of the sugary treats from the original Sugar Train slot, such as jelly babies, doughnuts, and hearts and frogs.
The highest-paying symbol here though are three cookies in the style of a Christmas pudding. You can land yourself up to 5,000 coins with these valuable symbols. I always felt that Christmas pudding was a bit rich, but this is on a whole other level.
If you trigger the Santa Station Bonus feature, a train will chug by and drop off five carriages under the reels. You'll have a chance to win 100x your stake here, so that's one train you won't want to miss.
Xmas Cash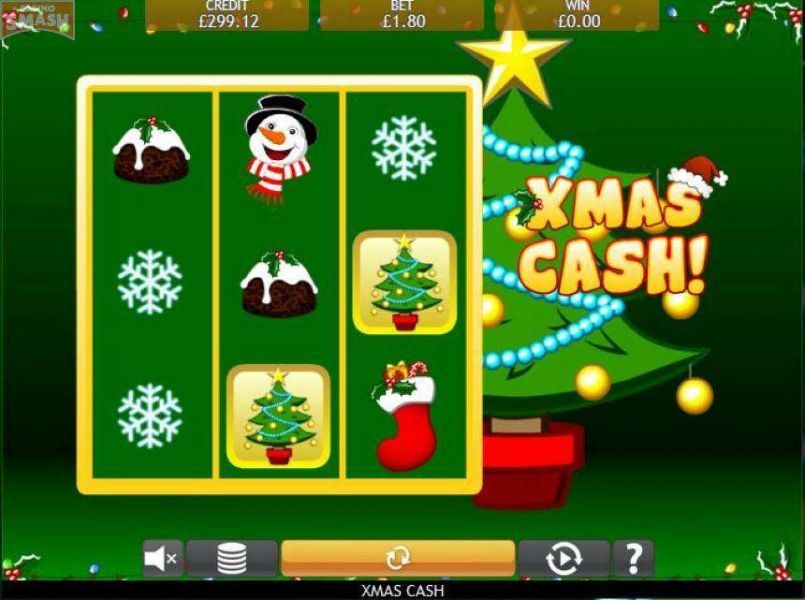 Developed by Eyecon
3x3 structure, 9 paylines
RTP: 90.7 percent
Every image of Christmas you can think of pops up in this slot from Eyecon. We're talking snowmen, Rudolph, stockings brimming with gifts, and a twinkling star, all decorating big bright trees. It can only warm the heart of anyone but the most miserable of Scrooges. And I'm sure that's not you?
Right?
Putting on your elf's costume and digging out those decorations from the basement is entirely optional. However, seeking out the 1,000 jackpot and bonuses and multipliers is compulsory as you try to claim the ultimate Christmas gift. Word of warning: If you do go for the elf costume, I'd maybe keep it to yourself.
Santa Surprise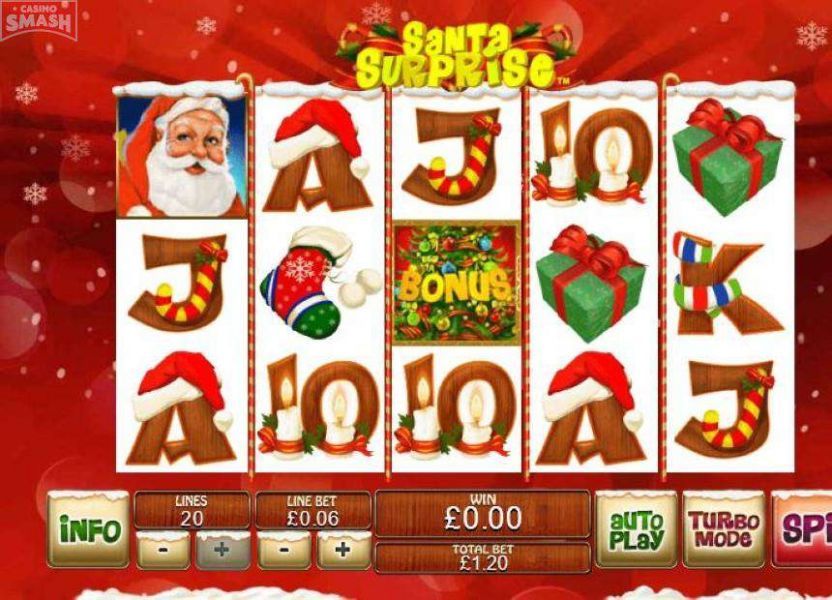 Developed by Playtech
5x3 structure, 20 paylines
RTP: 97.05 percent
If high-quality graphics and audio are important to you, Santa's Surprise will be a pleasant experience. Like the other slots in this list, the symbols are represented by symbols of the holiday season, only this time they will be all the more pleasing to the senses.
Of course, their function isn't merely to look nice. So what else do they do? Santa Claus is, of course, the Wild, while the Christmas tree is the Bonus Symbol, and Santa's Workshop is the Scatter. The Wild and the Scatter symbols are the game's best features, as they allow you to earn random bonus credits.
This one is great if you like to bet with as you can stake as little as 0.01 and increase 1.25 per payline. Nice and easy, right?
Santa vs Rudolf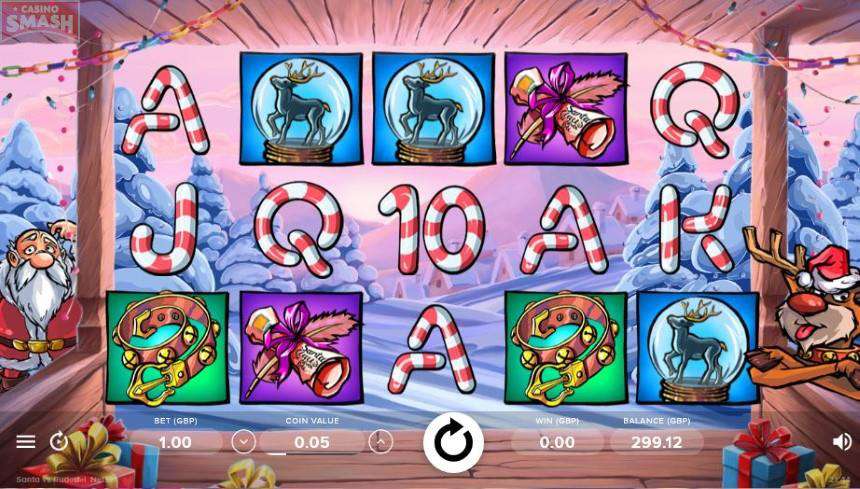 Developed by NetEnt
5x3 structure, 20 paylines
RTP: 96.35 percent
While the theme remains a festive one, there's more to Santa vs Rudolf than meets the eye. Rudolf is up to his old tricks, and he's hidden Santa's hat just before it's time for the dynamic duo to take to the sleigh and deliver Christmas presents around the globe.
With a cheery soundtrack and cartoon-style graphics, you'll be heading to the North Pole to investigate, with Santa and Rudolf positioned either side of the reels.
The two warring characters are also Wilds, and if you manage to bring them together on the reels, you might joust trigger the Free Spins feature, which means you get 10 Free Spins. And everyone gets their presents this year. No pressure!
Jingle Bells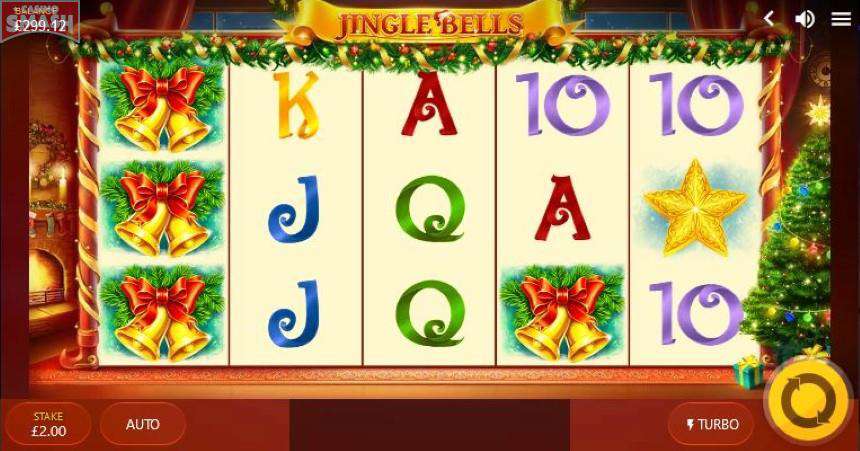 Developed by Red Tiger
5x3 structure, 20 paylines
RTP: 96.18 percent
If you haven't written up your wish list for Santa this year, you'd better get cracking. In the meantime, here's a slot capable of delivering you more presents than Saint Nicolas himself.
Before the game starts, you'll notice the sky is filled with millions of stars and the street is lined with snow-covered houses. But then Jingle Bells is more than just a holiday theme. It also multiplies your cash up to 20x. If you think there's no such thing as too many presents, everything's possible with Jingle Bells.
Jingle Spin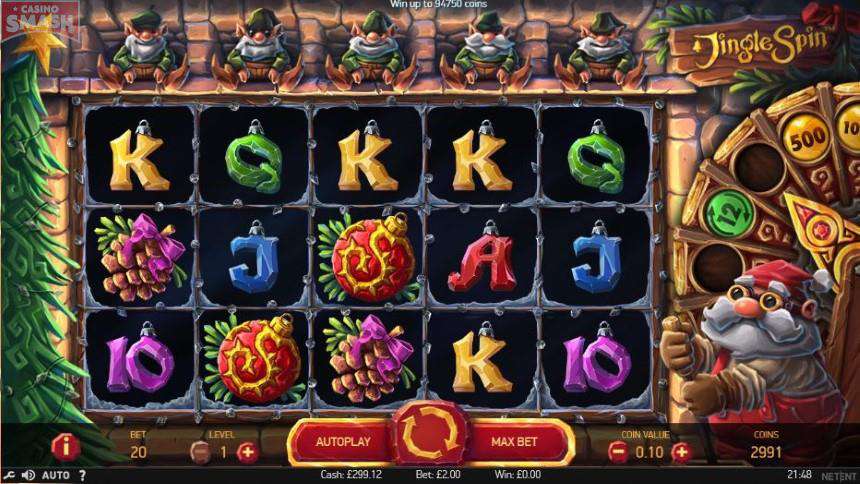 Developed by NetEt
5x3 structure, 20 paylines
RTP: 96.48 percent
Heres another slot from NetEnt to add to its lineup of festive slots. The scene is set in Santa's workshop where you can see the man in ref himself, along with five of his gift-making sidekicks.
While she may argue that it's a dressed-up version of Eggomatic, that wouldn't be a bad way to go, seeing as Eggomatic is a pretty awesome slot.
If the Wild lands in the right place, you can grab yourself between seven and 50 free spins, using which you can win even more free spins when green baubles show up. In fact, there's an unlimited number of Free Spins that can be won in this one.
Secrets of Christmas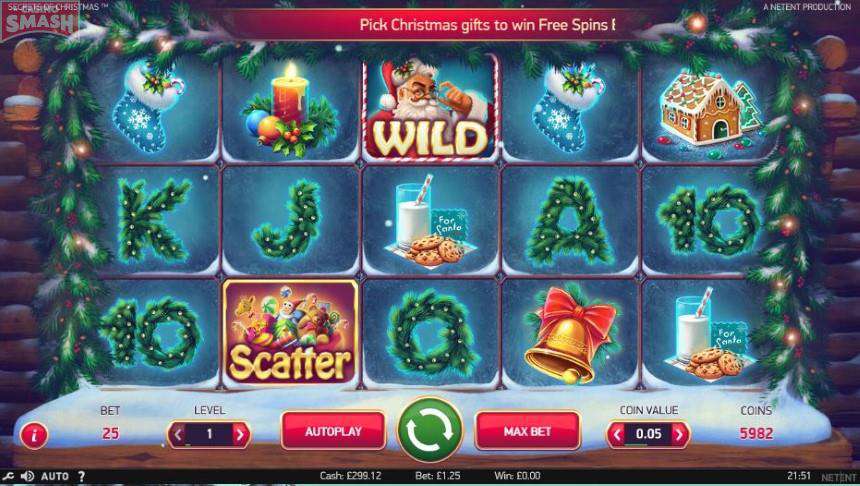 Developed by NetEnt
5x3 structure, 25 paylines
RTP: 96.72 percent
There are many secrets I could tell you about Slots and other Casino games. But not that many about Christmas.
Luckily, NetEnt Slot covers it for me. Gingerbread houses, milk and cookies for Santa, Christmas stocking, and scattered toys all over the place - there are many mysteries at Secrets of Christmas Slot.
You can spin the reels, trigger 10 free spins, and pick up to five Christmas gifts from the pick-an-object game. All the goodies (and secrets) hide behind the scatters, so try to land as many those as you can.
Flowers Christmas Edition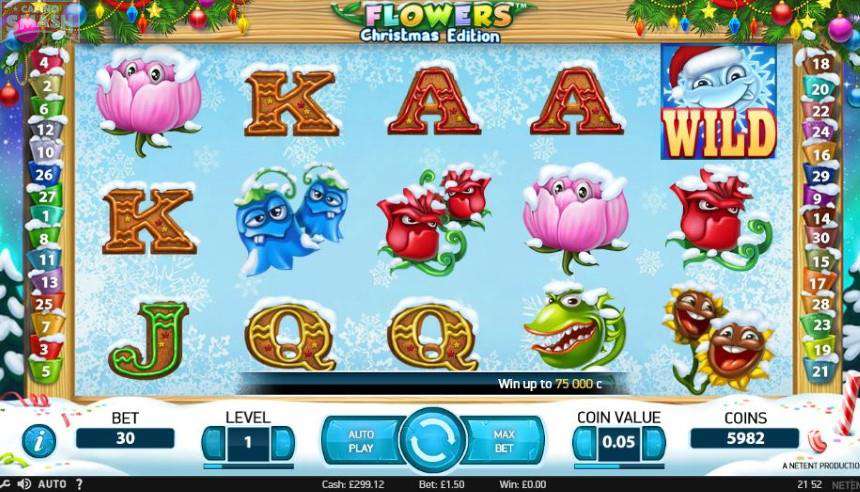 Developed by NetEnt
5x3 structure, 30 paylines
RTP: 96.30 percent
Flowers is a popular Slot by NetEnt featuring, well, flowers. In this Christmas edition of the game, the crazy flowers are covered by snow and the frosty snowflake is celebrating Christmas.
And no, I'm not high. But maybe the symbols are supposed to be. That's how they look like.
And if you think the Slot is slightly weird or creepy, I won't argue with you there. But you can trigger up to 10x multiplier and 30 free spins, so I won't stop playing it any time soon.
Christmas Jackpot Bells
Developed by Playtech
5x3 structure, 5 paylines
RTP: 96.03 percent
Amid all new innovations that come with modern slots, sometimes a "going back to basics" approach is welcome. Well, Playtech listened and took out all the bells and whistles for this one, returning to what made us fall in love with slots in the first place.
Jackpot Bells is one super simple slot with a familiar and comfortable theme. The simple red backdrop offers a relaxed festive feel as you try to match identical symbols across the pay lines.
While you typically need to match three symbols in a row to win a prize, cherries offer a small reward for hitting two.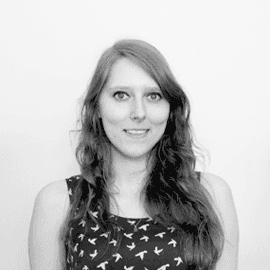 Bio
Marketer, linguist, writer - I enjoy a lot of different things. Writing for CasinoSmash includes two of them - writing and playing games online.