Since the early 19th-century, craps players have been devising strategies that maximize value on true and free odds. Being a game of logic involving both physics and mathematical calculations, players claim that different bets work for them.
Our guide is a compilation of proven strategies to win at craps to help you make an informed decision.
The Basics of Playing Craps
Someone who has never played craps before would need a guide on how to play craps for dummies to understand the game thoroughly. However, our article considers that you have tried the game before, and you are looking to advance with a craps strategy with the best true and free odds. For those ready to use the strategies on our guide, the rules of craps as a refresher.
You can play live craps online or on a land-based Las Vegas casino floor and use these craps strategy tips.
The objective of craps games is to predict the exact number combination that can be derived from shooting a set of dice.
Though the craps table can be intimidating at first glance, it is basic knowledge that you have the best odds when you place bets on the outside than the middle. So, choose the craps game with a table minimum that fits your budget and start playing.
There are over ten bets you can place on the game and with different combinations. Practice applying your bets with a free craps simulator to get familiar with one of the many craps strategy bets that have worked for veteran players.
Top 5 Best Bets in Craps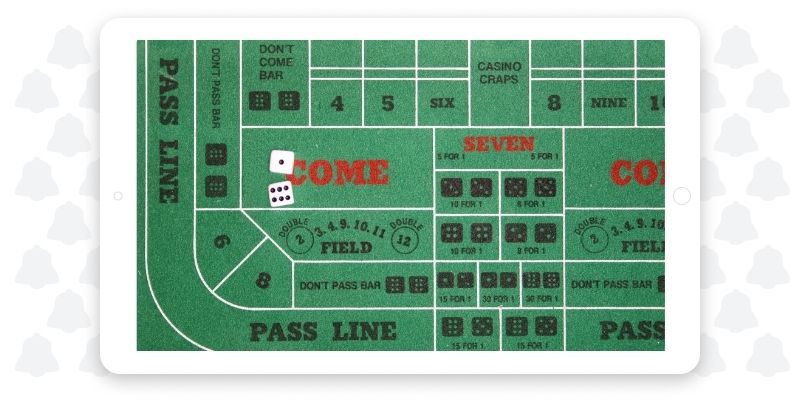 Every craps player has a pet craps strategy that has worked for them. However, there are only a handful of bets that are favored by the majority of craps players.
These are the best craps strategy types that are simple enough for beginners to understand and easy enough for every veteran player to apply on all the bets.
Pass Line Bets - A Pass Line bet is the most frequently used craps strategy where the player bets on the "Pass Line" on the come-out roll. Players get an even money payout of 1:1 with a house edge of 1.414% when they land on a 7 or 11.
Don't Pass/Don't Come Bets - The Don't Pass bet and Don't Come bet is executed by laying odds on the "Don't Pass Bar" or the "Don't Come Line" on the Craps table. An even payout of 1:1 is offered when a 2 or 3 is rolled. You lose if a 7 or 11 is rolled on the come-out roll. If a 12 is rolled, it becomes a "Push or Tie," where wagers are returned for the original pass bet.
If the dice lands on a 4,5,6,8,7, or 10, it becomes your "Point." If a seven is rolled before your point value is repeated, you win; else, you lose. The Don't Pass Bets and Don't Come strategy has a house edge of 1.402%. The main difference when you lay odds on the Don't Pass bets and Don't Come bets is that the former is placed before establishing the point, and the Don't Come bet is placed after.
Craps Odds Bet - The Craps odds bet, bets after the point has been established that the shooter rolls a 7 before a 4,5,6,8,9, or 10 to win. There is no house-edge, and payouts on these bets offer 1:2 for landing on 4 or 10, 2:3 on 5 or 9, and 5:6 on 6 or 8.
Craps Press Bets - This craps strategy involves 'pressing' the place bet four times with the winning money as wager before 'pulling' out their profits. The bet pays a 7:6 ratio with this strategy and aims to provide max odds on small bets. This strategy is a very aggressive craps strategy.
6/8 Bets - If you start calculating craps odds, you'll see these bets have a low house edge and are placed on 6 and 8 because of the true odds of landing them. Players pull profits when they win at craps and increase the wager value to try again.
The 5 Worst Bets in Craps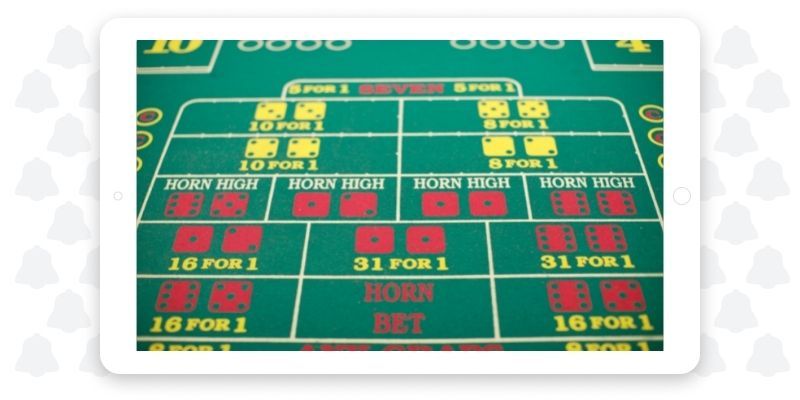 Betting on 2 - Players bet against the shooter's roll to land a 2. It has the odds of 35:1 and a house edge of 13.89%.
World Bet - Only landing on a 2,3,7,11, or 12 is considered a win. The betting system has very complex odds and a house advantage of 13.33%.
Yo-leven (11) Bet - The bet is placed on the rolling dice combination landing an 11. The probability of landing a win is 17:1, and the house edge is 11.11%.
Horn bet - When playing craps, the player bets on a 2,3,11, or 12 to win. Players smart bet using this strategy by making bets on multiple numbers. However, the landing probability is 1 in 6, and the house edge is 12.5%.
Hi-Lo (2 or 12) Bet - You receive a payout of 15:1 when you land on the 2 or 12 with this betting strategy. However, there are only 2 dice combinations to land 2 or 12. The house edge is 11.11%.
Best Bets for Advanced Players
3 Point Molly Bets - By placing maximum odds bets on several numbers, players enforce the 3 Point Molly strategy. There lower house edge is the attractive part with betting possibilities that require knowing the game of craps like the back of your hand.
Field Bet/Iron Cross Bets - This strategy involves placing a wager on any number other than 7. The Iron Cross Strategy is placed after the point establishment. The house advantage is low, and the win is great. However, considering that the house edge is bets resolved is what is calculated than the per roll house edge.
Best Low-Risk Crap Strategies
Choosing a Place bet on 6 or 8 before a 7 is rolled is a maximum odds bet strategy for low-risk players. This works because after 7 the most frequently rolled numbers are 6 and 8.
Other bets against the shooter like the Don't Come bets and Don't Pass strategies are also good craps strategy bets. These bets are for those looking to play responsibly and who like to keep an eye on money management.
Best High-Risk Craps Strategies
Play responsibly. These strategies may have the best house edges, but you can quickly lose your money by betting wrong.
There are a few aggressive strategies that can be employed in craps. The Wild Bettor's strategy is where bets are placed on the riskiest strategies like Yo-leven and Hi-Lo for a combined win.
Other high-risk craps betting strategies are the 3 Point Molly and the Iron Cross or the Field Bet. Finally, the pass bet and come bet with odds is another high-risk craps betting strategy.
Best Craps Bets For Low Budgets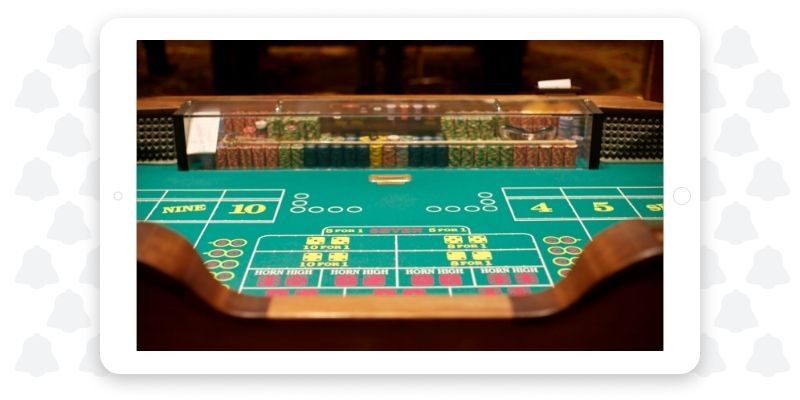 If you have a low budget, the best craps strategy is to place a single bet on your initial bet on the pass or don't pass area with an odds bet or without odds bets. Pick a 6,8, or 7 as they are the most frequently rolled numbers as a combination. Bet on 6 or 8 and a pass bet for an extra bump.
Also, consider using proposition bets on 2,3, and 12, as prop bets have a slightly higher odd. To win at craps with a low budget, avoid placing the maximum bet to win quickly.
Popular Craps Bets Worth Trying
Hard 4, 6, 8, or 10 bets - Bets are placed on 4,6,8, or 10 for a combined dice value. However, they have to appear in pairs—for example, a 2 and 2 for a 4 or 3 and 3 for a 6. Taking odds into concern, it is very rare that numbers appear in pairs. The house edge is 11.11% on this craps table strategy.
Big 6 and Big 8 Bets - You win if a 6 or an 8 lands when the dice value is combined and lose if you land a 7 before it. This strategy has slightly better odds than the Hard strategies.
Conclusion
There are only a few casino games that provide the level of entertainment that craps provides. Craps also rewards players with a house edge that is too good to pass up for a highly immersive game. Whether you want to place the same bet over again or try to increase risks with more money, the best strategy you can follow is money managing.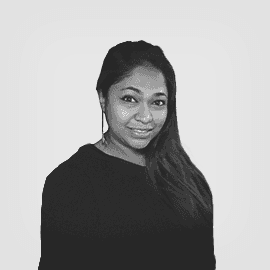 Bio
When I am not writing or designing, I'm playing at the local VIP casino lounge. I have worked with the online gambling industry as a content creator for 4 years now, and I have managed to use my insights to win the jackpot 8 times. Yes! 8 times. When I write, I do so with passion to share my knowledge with those who can benefit from it.