Also known as Twenty One, blackjack is one of the most popular casino games.
It's not all luck and chance if you want to win at blackjack. To be good at blackjack tables, you will need read up on:
Top Blackjack Casinos. Pick one of these online casinos for your next online blackjack session - only what's best is on offer.
Blackjack Essentials. This collection of articles will help you choose the most lucrative and enjoyable blackjack variation, introduce basic blackjack rules and bankroll management strategies.
Let's Play Blackjack. Here you'll be offered a list of blackjack variations to play at the best blackjack casinos out there.
More on Blackjack. This is where the pros look. Killer card counting skills, personal blackjack strategy development, and other exclusive blackjack tips await here.
Browse these blackjack articles, understand blackjack rules and odds and when you're ready, pick a blackjack variation you think you will enjoy from the list below or go to one of these casinos known for always treating players to exciting sessions of online blackjack.
---
Top 5 Blackjack Casinos
Top sites to play blackjack for free or real money.
---
Warming up to the idea of playing blackjack online but not entirely sure where to begin? These articles have you covered - from basic rules to some useful insider tips to get you going.
---
Whether you want to practice blackjack for free or hit a live table and bet some serious cash, choose a game from the list and you will be treated to the best version out there.
---
Looking to get some exclusive tips for counting cards? Or perhaps you are in need of some advanced blackjack strategy to take your game to the next level? This article collection is for you.
---
Why Play Blackjack?
✅ Blackjack is partly skill-based. In blackjack, the outcome depends a lot on how much you know the game and how good your strategy is.
✅ You can play blackjack with friends. A good casino session is even better when shared with friends.
10 blackjack terms every player should know
Bust – getting over 21. That's not what you want, because then you lose.
Breaking Hand – your cards add up to anywhere between 12 and 16. You can go over 21 with just one additional card.
Face Cards – Jack, Queen, and King. Worth 10 each.
Hit – you have two opening cards and you think one more will increase your chances of winning. That's when you request one more card, or hit.
Pat Hand – a hand worth anywhere between 17 and 21.
Soft Hand – a hand with an Ace in it (Ace can be valued at 1 or 11).
Hard Hand – a hand with no Ace in it.
Stand – your card total amounts to a high number and you decide not to take any more cards.
Split – if your first two cards are good enough, you can decide to split them and play two separate hands.
Double Down – you have a feeling that with just one card you can beat the dealer. You can then choose to double your initial bet and you will get only one card.
How to Play Blackjack 101
Buy chips and find a table (or make a deposit and choose an online blackjack variant).
Place a bet. There will probably be some kind of minimum bet and if you're new to the game, it's wise not to go over that by a lot.
Make a decision how to play your hand. You will be dealt two cards, and depending on your strategy, you have many ways to go about this: hit, stand, double down, split or surrender.
Take a look at the dealer's cards. Even if you don't go over 21, you still have to beat the dealer. He or she will deal their cards right after you have played your hand, and it will determine whether you win or not. There are two outcomes for dealer cards – they will bust or they will make a hand anywhere between 17 and 21. If they bust, you win. If they make a hand, you win only if your hand is bigger than theirs.
Time to get those payouts! If the dealer wins, obviously you lose your bet. If your hand is bigger or the dealer busts, you get paid one time your bet. If, however, your hand and the dealer's hand are of the same value, it's a push, meaning you get to keep your wager, but you don't win anything on top of that.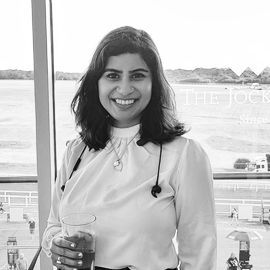 Bio
A passionate writer who likes to play games at casinos online and live. While I have worked for the last four years in FinTech, EdTech and Digital Marketing industries, I wrote many high-quality reviews for games on various websites, which also gave me the idea to work in this industry and explore more.