Baccarat, which is also known as Punto Banco, is one of the most popular games in any casino – from the floors of Macau to the online tables on CasinoSmash. This casino classic is surprisingly simple as the main objective is to predict which of two hands, Banker or Player, will come closest to nine.

Basic Baccarat Rules
The gameplay of baccarat is incredibly simple, you have a dealer whose hand is the banker's, one selected player whose hand is the player's, and up to 12 or 14 players who place bets on which of these two hands come closer to 9.
The dealer begins by drawing four cards from the shoe face down. The first and third cards goes to the Player hand, and the second and fourth cards to the Banker hand. The dealer then turns over both hands.
If either the Player hand or the Banker hand has a point count of eight or nine in the first two cards, it is called a natural and no more cards are dealt. The losing bets are collected from all players, and then the winning bets are handed out based on the hand that received a

If neither hand has a natural 8 or 9, then a third card must be drawn by the dealer, and this is done based on a very strict set of rules which we will explain after you become more familiar with the board and bets of this classic card game.
Rules for the Player, Banker and Tie Bets
There are three types of bets in Baccarat: the Player, Banker andTie which is also known as the Stand-Off bet. The Player bet assumes that the player will win with a hand closest to 9, the Banker bet predicts that the banker's hand will end up closer to 9, and the Tie bet predicts that the hand values will be equal.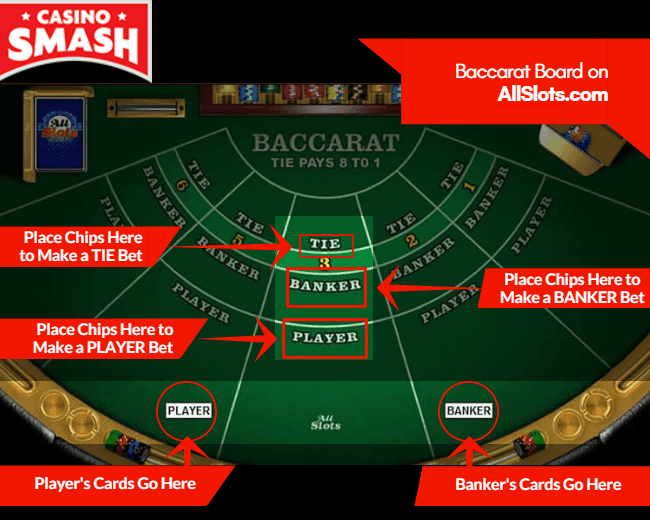 In terms of payouts, each bet pays out at a different rate. Keep in mind that the house always tries to leverage their advantage and while the Tie bet may seem like the most profitable, it also has the lowest winning odds!
Winning Player hand wagers are paid 1:1 or even money minus a 5% commission;
Winning Banker hand wagers are paid 1:1 or even money minus a 5% commission;
Winning Tie wagers (a.k.a. Standoff) are paid 8:1.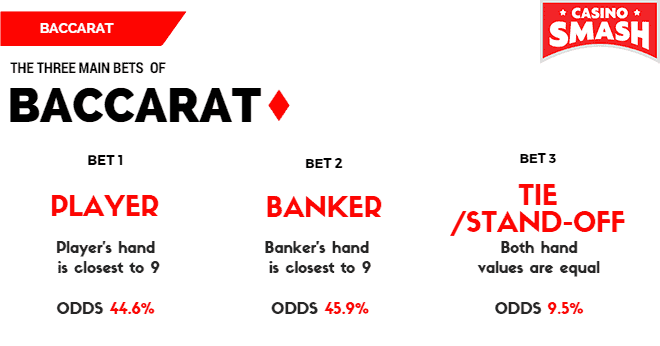 Card Values in Baccarat
Card values are calculated a little differently in baccarat. Unlike blackjack and poker where face cards and tens are valued at "10", in baccarat they are valued at 0. You can find an overview of the points each card is worth below:
2-9 retain their face values.
10, Jack, Queen, and King all have values of zero (0).
Aces have a value of one (1).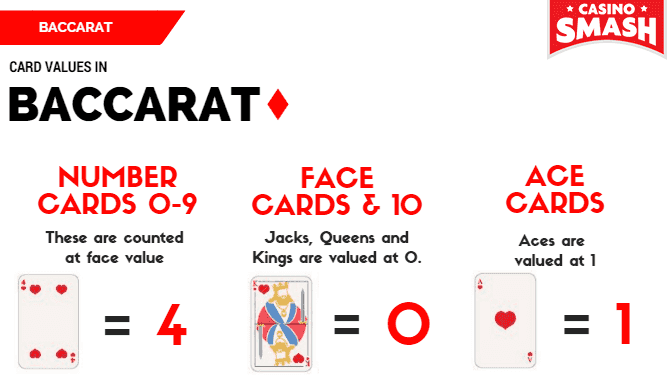 The next part gets a bit tricky:
The hands in baccarat will consist of two (and sometimes three) cards. While the card values are added together to determine the total point count, if the total is a two-digit number, then the left digit is dropped. Here are a few examples:
Example 1: A hand of "King-3-4" has a point count of seven (7).
Example 2: A hand of "Queen-5" has a point count of five (5).
Example 3: A hand of "9-5-9" equals 23, and this is where it gets tricky: because we drop the left digit the actual point count is three (3).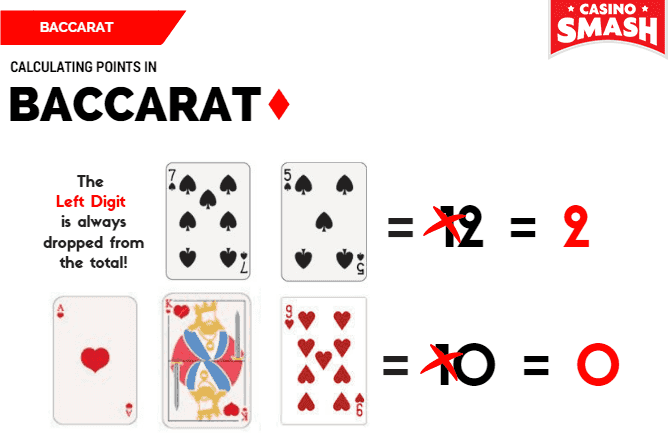 Rules for Drawing a Third Card
We mentioned earlier that, depending on the hands dealt, a third card may be drawn by the dealer. Whether this is necessary can be determined based on the player's hand point count, and the actions the dealer will take are outlined below:
| Player Hand Point Count | Third Card Decision |
| --- | --- |
| 0-5 | Draw |
| 6 or 7 | Stand |
| 8 or 9 | Natural, both Player and Banker Stand |
Baccarat does not necessarily stop after the third card. Depending on both the player and banker's hands, the dealer will continue to draw cards based on the table below (top row signifies the Player's Third Card Value):
| Banker Point Count | Player Stands | 1 | 2 | 3 | 4 | 5 | 6 | 7 | 8 | 9 |
| --- | --- | --- | --- | --- | --- | --- | --- | --- | --- | --- |
| 0 | D | D | D | D | D | D | D | D | D | D |
| 1 | D | D | D | D | D | D | D | D | D | D |
| 2 | D | D | D | D | D | D | D | D | D | D |
| 3 | D | D | D | D | D | D | D | D | D | S |
| 4 | D | S | S | D | D | D | D | D | D | S |
| 5 | D | S | S | S | S | D | D | D | D | S |
| 6 | S | S | S | S | S | S | S | D | D | S |
| 7 | S | S | S | S | S | S | S | S | S | S |
| 8 | N | N | N | N | N | N | N | N | N | N |
| 9 | N | N | N | N | N | N | N | N | N | N |
D = Draw
S = Stand
N = Natural
How to Play Baccarat Online
Thanks to the massive demand for this casino game, any half-way decent online casino offers at least a few versions of the game and, sometimes, even multiple live versions. If you are look for a legit and high recommended online casino to play in, you can find some incredible, and exclusive, deals at out top picks here.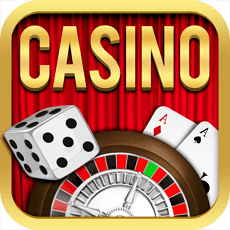 Top Rated Online Casinos of 2017
Your first online casino experience will set the tone for all others to follow. This is precisely why we are determined to provide you with the best offers on the market!
Read More
If you are interested in playing for fun first, you can also play demo versions at most online casinos if you to get some extra practice before playing for real money.
Baccarat Strategy Tips: How to Win at Baccarat
Now that you understand the rules of this casino classic, you may have concluded that baccarat is purely a game of luck thanks to the simple draw or stand game play. Fortunately, that is not true!
Winning is always a matter of probability, and there are always systems and patterns that can help you boost those odds in your favor. You can find a guaranteed winning strategy here as well as a guide to the well-know Flat Betting strategy here.
You should also take a quick look at somesimple yet effective baccarat tips here to help you become a real pro at this incredible casino game!