The Best New Online Slots of 2020

Buckle up and get ready to play the best new online Slots of 2020 - because, oh boy, we're in for a ride.
This year was extremely generous when it comes to new Slot machine games.
No wonder, when you think of it. Technology is getting better and better, allowing us to enjoy beautiful graphics, creative bonus features, and outstanding special effects that leave us speechless.
Sometimes, it's easy to forget that all you're playing is a simple video Slot - which makes everything even more amazing.
Those who know me are already familiar with my undying love for Slot machines online. For you, I may sound a little too enthusiastic - but please, bear with me.
I am going to show you the newest, trendiest, and simply the BEST Slots I've discovered in 2020.
These are the games by developers like Microgaming, NetEnt, and Betsoft. And, believe me, these guys know their stuff.
They've been doing it for years.
That might just be the reason why the games in 2020 are so… flawless.
This is not an exaggeration - and I will prove it to you.
You are going to discover the greatest new Slots of 2020. You are going to play them, and you are going to love them.
I promise.
To make everything as easy as possible, I've included an image and a short review of each Slots game. This way, you'll be able to choose the game of your liking in a few seconds.
Bear in mind that some of the Slot machines of 2020 have FULL reviews on our page to satisfy your curiosity.
Another great thing -
You can play all of these games for FREE at Video Slots Casino (a fitting name, isn't it?).
Just create a new account here and unlock thousands of different games.
Once again, this is not an exaggeration - Video Slots offer more than 2,500 real money games.
In addition, all new users here get 11 no-deposit spins and a 100 percent money boost up to €200.
But enough rambling - let's play the best Slots of 2020 right here, right now!
Play the Top New Slots of 2020
This is the list of the best new Slot Machines that I think are worthy of this title. You can play them on your computer or mobile phone - whatever floats your boat.
What's your opinion about them? Let's see if great minds think alike!
BerryBurst Max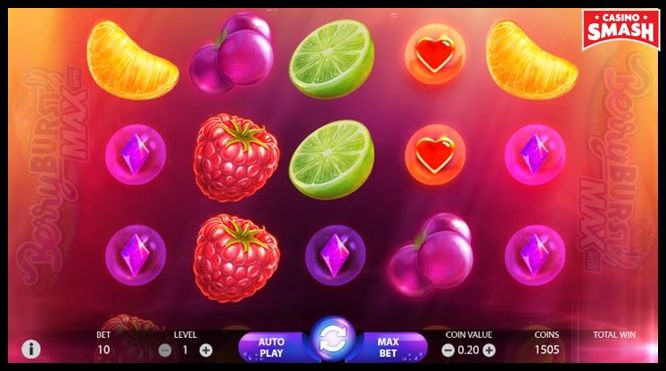 Meet our favorite new Slot by NetEnt - Berryburst Max. This is the newest Slot machine on this list, as it was launched only this August.
Also… Does the title of the game remind you of something? That's right! Berryburst is the long-awaited sequel for the most popular NetEnt Slot of all time, Starburst.
So, why should you play the Berryburst Max Slot machine?
Because of its graphics, music, and high-paying symbols. For example, a cluster of 15 beautifully-drawn raspberries pays a whopping amount of 10,000 times your bet.
To land a lucky spin, you simply have to collect a cluster of at least five juicy symbols.
Witchcraft Academy
Even though there's still no official Harry Potter Slot, this is the closest thing we have so far.
Welcome to Witchcraft Academy by NetEnt, one of the most exciting video Slots of 2020. It is filled with magic, dragons, owls, potions, wizards, and witches. The 20 active paylines offer an RTP of 96.38 percent - just the way I like it.
The maximum win from one spin is 800 times your bet. Speaking of witch - your bets can vary from €0.20 to €200. This means that it's possible to win €160,000 from a single spin!
And here are some special features you should be aware of:
The Wild symbol: appears on the reels 1, 2, 4, and 5. Substitutes for all icons except the Scatter
The Bonus Scatter: activates up to 20 free spins
The exploding Armour Guard Symbol: explodes and uncovers great rewards
Now, go play Witchcraft Academy and indulge in all the magic.
Mischief managed!
Football Star
It would be outrageous if the list of the best Slots in 2020 didn't have at least one football-themed game.
With an RTP of up to 97 percent, Football Star is ready to remind you that gambling can be mixed with literally anything. The Slot machine includes a nice jackpot of 250x, stacked Wilds, multipliers, and a free spins bonus.
Don't be surprised when the Football Star Wild suddenly covers the whole fourth reel - it's supposed to do so once in a while! This will result in lots of different combinations for an instant goal.
After all, there are 243 ways to win - just enough to satisfy your thirst for victory.
Jumanji
The original Jumanji movie from 1995 will always have a special place in my heart.
However, it was the recent 2017 remake that inspired the newest Jumanji Slot machine by NetEnt.
Even though the game doesn't feature our beloved Alan Parrish, it still manages to trigger the nostalgia… and winning combinations.
The Slot is designed as a table game board, paying homage to the original movie. The reels feature all sorts of animals like rhinos, pelicans, alligators, and lions.
The extra features include sticky Wilds, the lucky rhino stampede, symbol-switching monkeys, and the board game bonus. You can read the full review of the Jumanji Slot here.
Even though no dangerous animals will appear in your living room while you play Jumanji, you'll still experience the sense of adventure.
Archangels: Salvation
As Slot machine creators try to keep up with the latest video game trends, now we have a brand new Slot that reminds us of our favorite RPG games.
Discover Archangels: Salvation by NetEnt, a real money game with a Return to Player rate of 96,08%.
The theme here is a never-ending battle between Heaven and Hell. A beautiful angel must fight a fearsome demon - who do you think will win?
Speaking of wins, there are 100 paylines in total. The game is played on a grid of 6x12 - it's pretty unconventional when it comes to Slot machines online.
So, don't waste any more time - pick a side to root for and play Archangels: Salvation on your PC, Android, or iPhone.
Hotline
Hotline by NetEnt is one of the most visually-stunning Slots of 2020.
It will take you straight to Miami, where a pair of skilled detectives is trying to catch Kitty Weiss, one of the most wanted criminals in the city.
Yes, this Slot machine is based on the old-school TV series from the '80s, Miami Vice.
Aside from a stunning intro, detailed graphics, and catchy soundtrack, the game has an RTP of 97.4 percent, which is a bit higher than the market average.
You can read its review or dive straight into action right now - there's no one to stop you!
Sweet Alchemy
Everyone loves magic and sweets - and the developers at Play'n GO are well aware of it.
That's why the year of 2020 has given us a new video Slot called Sweet Alchemy, an unusual real money game with a cheerful theme and lovely music.
Here, you'll play the Slot on a 5x5 grid filled with colorful candies. Collect at least four matching symbols for an instant win!
The game also offers a few interesting bonus features and mini-games. For example, you may be asked to guess what kind of elixir bottle is hidden underneath a bar of chocolate!
Here's our full review of Sweet Alchemy if you want to read about all the things that make this game special.
Asgardian Stones
It's amazing how cultures from thousands of years ago can inspire Slots even in 2020.
Today, we'll explore the Norse culture a bit, grabbing some free spins along the way.
Developed in 2020 by NetEnt, the Asgardian Stones Slot machine is set in a world ruled by gods. Here, sacred stones defy the laws of gravity and giant rocks explode, causing an avalanche of consecutive wins.
There are lots of cool extra features like Colossal Crush, the Bonus Wheel, and Free Spins.
Ogre Empire
I hope you love Shrek as much as I do because here we have a Slot inspired by the franchise about the green ogre.
A few months ago, I wrote a full review of Ogre Empire by Betsoft and why I liked it so much. Read it at your own risk - it's full of bad ogre puns!
So, in short, this new Slot has everything a casino player could need: engaging graphics, nice music, and lots of bonus features. The RTP of Ogre Empire is 95.22 percent, and the maximum possible win from a single spin is €25,000. Not bad!
It even has a Double Up feature where you can guess whether a coin will land on heads or tails - in hopes to double your win, of course.
This is a real money game that truly deserves to be on the list of the best Slot machines in 2020.
Vikings Go to Hell
Yggdrasil is one of my favorite Slot developers. I am always impressed by the Slot themes they choose, which often involves magic and mythology.
This year, they have outdone themselves. And the International Gaming Award proves it.
Vikings Go to Hell is one of the most artistic online slots of 2020. The opening clip alone has earned my admiration - the game starts with an action sequence where four Vikings defeat a terrible orc… in hell.
You'll especially like the Slot if you love video games and CGI movies.
But enough about art. Here's the best bonus: when you collect 100 Rage Points for a single character, he or she goes berzerk and awards you with a set of free spins along the way.
Bollywood Story
Whether you like Bollywood movies or not, you should play Bollywood Story at least once.
Developed by NetEnt, the game lets you take a glance into a family drama that features love at first sight, angry parents, and a happy ending.
Here, all the symbols are India-themed. The floating Wilds are depicted as beautiful flower garlands, and the blue gem is your Scatter that can reward you with up to 30 free spins.
The RTP here is 96.1 percent, which means that you have a decent possibility to win.
To find out EVERYTHING you need to know about Bollywood Story, click here.
King Colossus
King Colossus by Quickspin is a Slot machine of 2020 you can play online for free and for real money.
More importantly, it's a game about a king from the far East who wants to become the richest man in the world.
The Slot has some interesting extra features:
Regular Wild - it substitutes for all the other symbols except the Scatter and +1 Bonus Symbol. Collect five Regular Wilds for a payment of €10.00
Bonus Wild - it can appear in the Free Spins mode. You'll get lots of them for an increased chance to win
Bonus Scatters - collect three of them for five free spins
And… there's a reason the game is called King Colossus. The symbol of the king can expand, covering three full reels and awarding you with extra wins.
Fortunium
Fortunium is a nice simple Slot machine by Microgaming released in 2020.
This steampunk-themed game will transport you to a world with modern technology and a historical setting.
Here we have a grid of five reels, five rows, and 40 paylines. The bonuses include Mystery Symbols, Free Spins, and Win Boosters.
The RTP of the Slot machine is 96.47 percent, which makes it one of the best ones on this list.
Lost Relics
Now here's a Slot that is both lucrative and visually impressive.
Lost Relics is one of the latest Slot Games by NetEnt released this year. It is one of those games where you have to collect clusters of symbols to win some sweet cash.
You'll like the game if you're into archeology and history, as the reels feature all kinds of ancient artifacts like daggers, helmets, and valuable jewelry.
The bonuses include Coin Wins, Extra Wilds, and Extra Scatters.
Golden Owl of Athena
Now, here's a truly beautiful Slot with outstanding music.
Even though Golden Owl of Athena by BetSoft is a classic Slot machine with five reels and 10 paylines, it managed to keep my attention for quite a while. That is thanks to its art that depicts ancient Greece in its full glory.
The titular Athena's owl acts both as a Scatter and a Wild. It will award you with wisdom and free spins.
There's also a feature of Double Up that lets you double your wins if you're lucky enough. The RTP is 95.05 percent and the game offers a jackpot that is 50 times your bet.
House of Doom
Is this the scariest video Slot of the year?
Only the bravest are invited to the House of Doom, a horror video Slot by Play'n Go. Meet your doom and go through the Hellgate to explore a world full of skulls, pentagrams, and other satanic symbols.
I'll definitely be playing House of Doom this Halloween - but not only because of its cool atmosphere.
The Slot features a jackpot of 1,000 times your bet, bonus rounds, free spins, and multipliers. With an RTP of 96.11 percent, this Slot deserves a place among the best games of 2020.
And now, it's time to explore the unknown!
Disclaimer: Gambling is a game of chance and there's no sure-fire formula that guarantee winnings. You can improve your winning chances by using the right in-game strategies but there is no way to predict when a machine or a Casino game is going to pay. Also, this page contains affiliate links. If you click through and play, we might earn a commission. That's what allow us to keep CasinoSmash free and bring you the best online Casino bonuses!
Bonus info: terms and conditions apply to the offer. If something isn't clear, have a look at our review of Videoslots for the T&Cs in full. The offer on this article might have expired by the time you read it. Please refer to the review pages for the latest bonuses and promotions available.