Three-Card Poker is the easiest Casino Poker variant
You can play 3-Card Poker at online Casinos, against the House
In this article, I'm going to show you how to play 3-Card Poker like a pro and share the best strategy to win more often at this Casino table game
Do you remember what happened in 1994?
Brazil won the FIFA World Cup for the fourth time, the US approved and sold the world's first genetically engineered tomato, and Kurt Cobain decided that it was better to burn out than to fade away.
In other words, not much.
Except for that one guy who came up with a Poker variant that, soon after, would become a true Casino classic.
Yes, 1994 marks the invention of Three-Card Poker, one of the greatest Casino thrills of all time, devised and patented by a Britain-born brave man named Derek Webb.
If it wasn't for him, this nearly uneventful year would have gone unnoticed.
And if it wasn't for Webb, the Poker community would not be playing an exciting card game nowadays.
This is the stirring tale of how 3-Card Poker came to be – and how to play it like a pro.
The History of 3-Card Poker
| | |
| --- | --- |
| Alternative Names | 3-Card Brag, Fast Poker, Poker Three |
| Type | Casino Card Game |
| Players | up to 7 |
| Difficulty Level | Easy |
| Cards | 52 |
| Suggested Casino | Betway Casino |
Webb's vision is now famous:
He wanted to create a game that combined the excitement of Poker with the speed of regular Casino games.
Three-Card Poker rules, however, were mainly a contemporary version of older games, the first one invented by Webb's fellow countrymen in the 16th century, and the other born and bred on the Mississippi and Ohio Rivers some three hundred years later.
You know them as 3-Card Brag and Poker.
Before the tipping point of 1994, Derek Webb had tried his luck in both of these games.
He described his early Las Vegas experience as "slow and boring", tempting him to reimagine the existing poker-based games and give them a much-needed revamp.
What was initially 3-Card Brag soon evolved into Brit-Brag and Casino Brag, only to be made yet simpler and more straightforward with 3-Card Poker.
It wasn't until Webb took it overseas that the game received its now recognizable name.
Rejected by the Brits, 3-Card Poker was first adopted by Vice President of the Grand Casino Gulfport in Mississippi.
There, Webb stood by the tables for hours at the time, enticing punters to play and teaching them the rules while making sure the dealers were dealing the game correctly.
Or this is how the story goes, at least.
Years later, the Brits changed their regulations on UK Casinos to allow the introduction of Webb's game.
Today, Webb's creation goes by the names of 3-Card Poker, Tri Poker, Tri Card Poker, Trey Card Poker, Triple Edge Poker, High-Speed Poker, Fast Poker, Trey Poker and Poker Three, and is played everywhere in the world and
at all the best Live Casinos online
.
How to Play 3 Card Poker Like a Pro
Don't let the different names fool you – 3 Card Poker has a set of clearly established rules that apply to all tables regardless of where they are or how they choose to call it.
Also, don't be easily confused. Just watch the video to learn what is Three-Card Poker:
Three Card Poker may seem like two games in one, but it's still a very simple casino game to understand, learn, and play.
It's why this game is so widely popular, after all.
You can play against the dealer and win.
You can have good cards and also win.
Either way, you need three of them for the best poker hand.
But let's take it slowly and try to savour every card.
Here's How to Play 3-Card Poker at a Casino
The modern Casino version of 3-Card Poker is played with a 52-card pack on a special table.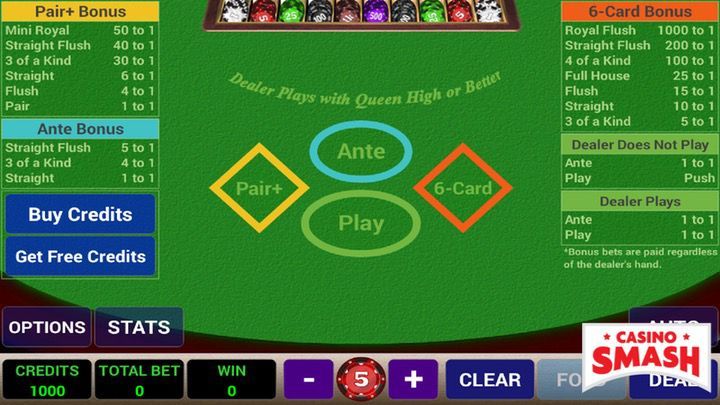 There, three cards that are dealt to each player, including the dealer.
The cards are face down, meaning they are not seen by anyone else at the table except for the person they've been dealt to.
3 Card Poker is typically described as two Casino games in one because there are two types of bets each player can place – Ante and Play, and then Pair Plus wagers.
With the Ante wager, you're betting against the dealer to see who has the highest Poker hand.
Then, you need to make a Play wager if you don't want to fold your hands after checking them out. Play wager is equal to the Ante bet.
Choosing Pair Plus wager, you'll be betting directly on your cards, circumventing the dealer's hand.
The bet choice, however, is not entirely up to you.
In most Casinos, every 3-Card Poker player must first place and Ante and Play bets; that's the only way of receiving cards.
It's only then that you're allowed to place an additional Pair Plus bet.
Whether you choose to bet on the quality of your own hand or not, your chances of winning still depend on the cards you receive.
The Ranking of Hands: Cheat Sheet
From lowest to highest, the ranking of hands for 3 Card Poker is as follows:
High Card
The High Card hand consists of – surprise, surprise– three cards of different ranks.
They must not all be the same suit, nor can they be consecutive.
Among two High Card hands, the winning one is determined by comparing the highest cards first; should they be equal, the hand with better middle cards takes the prize.
If on the off chance the middle cards are equal as well, the lowest cards outweigh.
Pair
If sets of two were to determine the quality of player's hand, the game wouldn't be called Three Card Poker.
The Pair thus includes two cards that should be of equal rank, plus another one of a different rank – the odd card called the kicker.
It's still the rank of the pair that decides the winning hand, except in a scenario where two pairs are equal. The winner is then the hand that boasts a better kicker card.
Flush
If you're dealt three cards of the same suit, you have a Flush.
Two hands with a flush are compared by the highest cards, then the middle cards if the highest ones are equal, and finally the lowest cards if the middle ones cannot decide the winner.
The rules are the same as those for the High Card hands.
Straight
The Straight hand is the one with three cards of different suits that are consecutive.
Higher ranked cards win the competition between two Straights as well, while Ace can count either high or low.
3-2-A is the lowest type of Straight, for example, and A-K-Q is the highest. 2-A-K is not a Straight at all.
Three of a Kind
You've received three cards of the same rank?
Congratulations, you now have Three of a Kind.
Dare to guess which of the two hands win?
That's right, the higher ranked cards top the lower ranked ones.
Straight Flush
While you need three cards of the same suit for a Flush, the Straight Flush requires three consecutive cards of the same suit.
Need to compare two Straight Flush hands? Follow the rules for Straight hands.
Simple, right?
The only additional rule you must be aware of is that 3 Card Poker allows no ranking among suits.
If it happens that you have the same combination and equally ranked cards (be they high or low) as the opposite player, you can call it a tie regardless of whether the cards you two have are different in the suit or not.
The Ante and Play Bets

Now that you know how 3-Card Poker hands are ranked, you're ready to receive your first cards.
One can only learn by trying, so fear not if you make a mistake. This is merely a guide for playing, after all, and all your bets are imaginary.
In the case of beginner's luck, the winnings are unfortunately unreal too.
Pick your place at the table and place your first Ante bet.
You'll see three cards coming your way and three more for each player, including the dealer.
Take a sneak peek at your cards and try not to reveal them to others.
Anything good?
3-Card Poker offers two options now, and you need to decide depending on the quality of your hand.
The first option is to follow your Ante bet with a Play bet and place an additional amount equal to the first one.
The second option is to fold and lose the Ante bet.
Take your time, but don't waste others'.
The Ante and Play game is played against the dealer, not against other players at the table, so be patient and wait for him to reveal his hand.
Here's what happens after a showdown:
If the dealer doesn't have a Queen high or better, you'll be paid even money for your Ante bet while your Play bet will be returned.
If the dealer does have a Queen high or better, you'll be paid even money for both the Ante bet and the Play bet. For this to happen, though, your hand must beat the dealer's hand.
In case the dealer has a Queen high or better, but your hands are equal, both your Ante bet and your Play bet will be returned.
And finally, if the dealer does have a Queen high or better, but your hand is worse than theirs, you'll, unfortunately, lose both the Ante bet and the Play bet.
If you hold a Straight or better, you have a chance for one extra bonus.
The Ante Bonus is paid to the Ante bet for a straight or better, regardless of whether the dealer has a Queen high or better or not and regardless of whose hand is superior during the ultimate showdown.
The payout for Ante and Play bonus game in 3 Card Poker is as follows:
| Hand | Payout |
| --- | --- |
| Straight | 1 to 1 |
| Three of a Kind | 4 to 1 |
| Straight Flush | 5 to 1 |
The Pair Plus Bet

Collecting trivia along with Poker hands?
Here's a juicy one.
Even though Pair Plus has been a part of the 3 Card Poker gameplay since its origins back in the mid-1990s, it wasn't until 2012 that it was officially registered as a trademark of SHFL Entertainment, Inc.
And now for the actual Pair Plus rules.
As mentioned before, this 3 Card Poker bet is always optional.
Players are invited to place it after the Ante and Play wager, which is in most Casinos around the world the only way to enter the game.
Unlike the Ante bet, the Pair Plus never depends on the quality of the dealer's hand.
The only requirement for winning are the cards you receive. To be precise, a player who holds a Pair or better wins the wager.
The Pair Plus payouts in 3 Card Poker are:
| Hand | Payout |
| --- | --- |
| Pair | 1 to 1 |
| Flush | 4 to 1 |
| Straight | 6 to 1 |
| Three of a Kind | 30 to 1 |
| Straight Flush | 40 to 1 |
Three-Card Poker Optimal Strategy
Every Poker-based Casino game has its optimal strategy, and 3 Card Poker is no exception.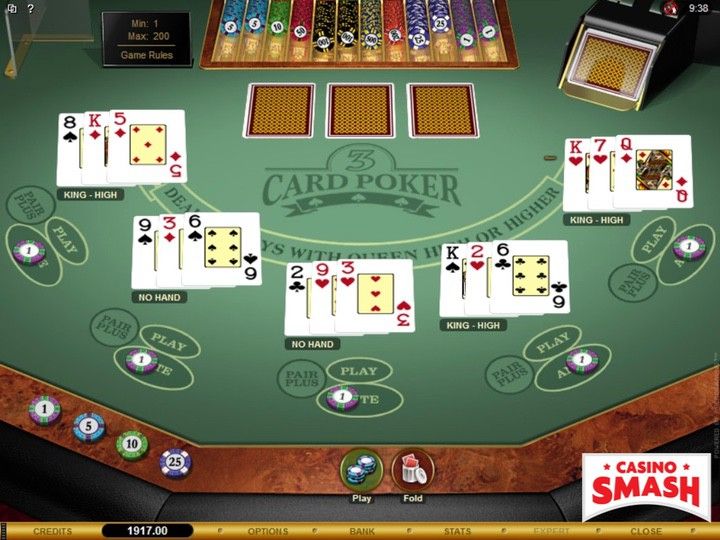 The only thing that makes it different from other similar games is the fact that for Webb's game you don't need to strategize as much.
Like the rules themselves, the optimal strategy for 3 Card Poker is no sweat.
Simply make the Play bet once you hold Queen-6-4 or better.
Alternatively, Queen high or better might do the trick, too.
Make your Ante and Pair Plus bets equal, or make one of them double the amount of the other.
In case you're a complete beginner, please beware that no strategy can ever be good enough to beat the house edge.
It's nothing personal, simply the way these games are designed.
Their thrill is the chase, so let your optimal strategy for 3 Card Poker be the one that ensures the most enjoyment.
And, that's how to play 3 Card Poker in a Casino.
The secret formula to winning at 3-Card Poker might not exist, but its rules are still among the easiest in the book.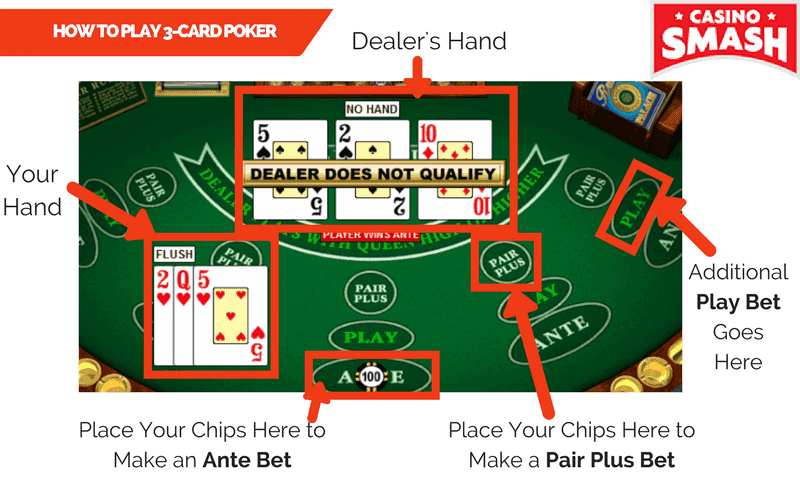 If everything's clearer now, it's time to return to the beginning and start over.
Learn those hands by heart, buy the first ticket to Las Vegas, and practice playing like a pro.
From the long-gone card games of 1994 to the still-fresh Casino thrills of today, 3-Card Poker has remained one of the simplest, fastest, and most exciting chapters in the history of Poker.
Join it today to add a line or two of your own.
Best Site to Practice 3 Card Poker Online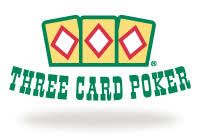 Right now, this online Casino is the best site to practice Three-Card Poker online.
This award-winning Casino platform features an excellent version of the 3-Card Poker game that is ideal to play before you head to try your luck at a brick-and-mortar Casino.
To practice 3-Card Poker online, you will need to:
head to the Table and Card Games section of the site
Select the 3-Card Poker game and start playing
The 3-Card Poker action online is beyond exciting and the great payout structure of this game can turn your real money games into really explosive wins.
Want to Read More about 3-Card Poker?
If you want to read something more about 3-Card Poker to work on your optimal strategy and increase your win-rate, have a look at these articles: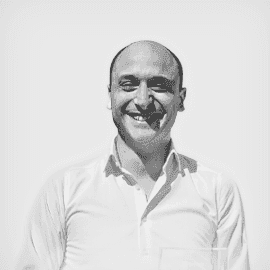 Bio
Political scientist, and gambling expert, I have spent the most part of the last ten years writing about the casino and poker industry. As a professional journalist, I work with FOX News, La Repubblica, the Economist, Politico, and PokerNews. As a gambler, I won money pretty much anywhere in Europe. As a gambling editor, I'll help you do the same.