On this article:
How to play Keno online
How to apply betting strategies to Keno
Today, I'm here to prove to you that online Keno is an exciting gambling game that not only your grandmother will enjoy.

Actually, it's among the best Casino games a beginner can choose.
In this Keno guide for dummies I will explain how to play Keno, what betting strategies you should use, and how to maximize your odds of winning.
And that is not going to be too hard, because Keno is one of the easiest Casino games to master.
Don't you believe me?
Dig into this Keno guide and learn to play this fun Casino game as efficiently as possible. I'm sure you'll find something useful, whether you're a keno beginner or you have already played your fair share of Keno games.
Learn to Play Keno: Where to Start?
First things first, let's decide whether it's better to play Keno online or at a regular Casino.
There's only one answer here.
As online Casinos have a higher payout percentage than their land-based counterparts, you should always aim for a game of Keno online. The best thing is that the majority of online Casino sites offer several Keno variations, and you can choose the one that appeals to you the most.
Editor's Advice: always play Keno for free before you bet real money. This way, you'll get a gist on which strategies are the most effective for you.
How to Play Keno: It's Not That Complicated
As Keno rules are so simple, this is a fast-paced game that offers instant results and it's the ideal choice for those who are not patient enough to play other classic (and slower) Casino games.
So, this is how things work in a game of Keno:
You get a sheet that features numbers from 1 to 80. Just like this one: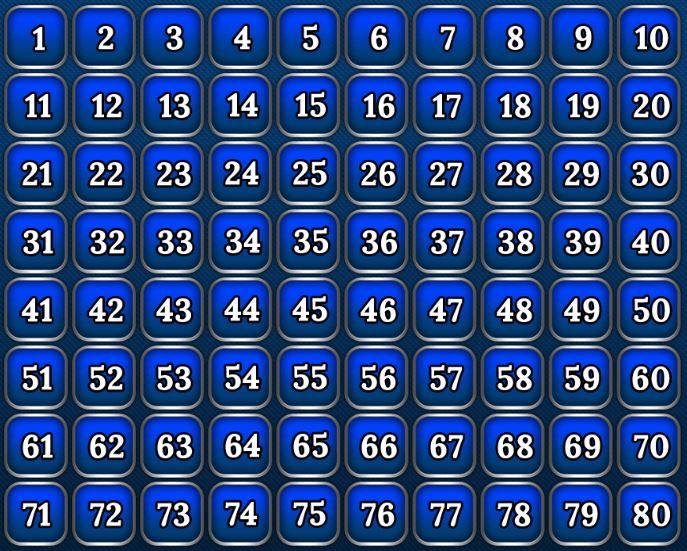 Then, you have to select the numbers you want to bet on. Usually, you can select from one to 10 numbers in one session. However, some game variations allow you to select up to 20 different numbers.
Once the choice is completed, the Keno machine (or, in the case of an online game, a Random Number Generator) will choose 20 balls with the keno winning numbers.
Some online Casinos make things nice to follow as they play a short clip of a machine that draws the lucky balls.
You win the game when you are lucky enough to guess a specific number of the winning keno numbers.
Easy!
Which Keno Numbers Should I Choose?
Naturally, this is the question that most beginners at Keno ask all the time.
However, the first thing that should come into your mind is how many numbers you should pick.
This, I can answer.
Even though you may think that the possibility to win grows with each number you pick, it may not be as simple as it looks.
Here's how to win at Keno: choose four to eight numbers to maximize the payout odds. Don't choose more than eight numbers if you want to win your game of Keno online.
That's because of two reasons:
When you choose less than four numbers, the payout and the chances to win are so low that it's not worth the hassle.
When you pick more than eight numbers at Keno, usually, at least five numbers have to match for you to get any winnings at all.
You can test this out on a free version of Keno before you play Keno for real money.
Should I Stick to the Same Numbers When I Play Keno?
Do you want to know how to maximize your winning odds in Keno?
Stick to the same numbers throughout your gameplay.
Just imagine:
You always pick the same numbers but decide to change them just this once. And - *BOOM* - your usual numbers win, leaving you with a taste of regret.
To avoid this, try to always choose the same numbers, as this can be more satisfying in the long run than randomly jumping from number to number.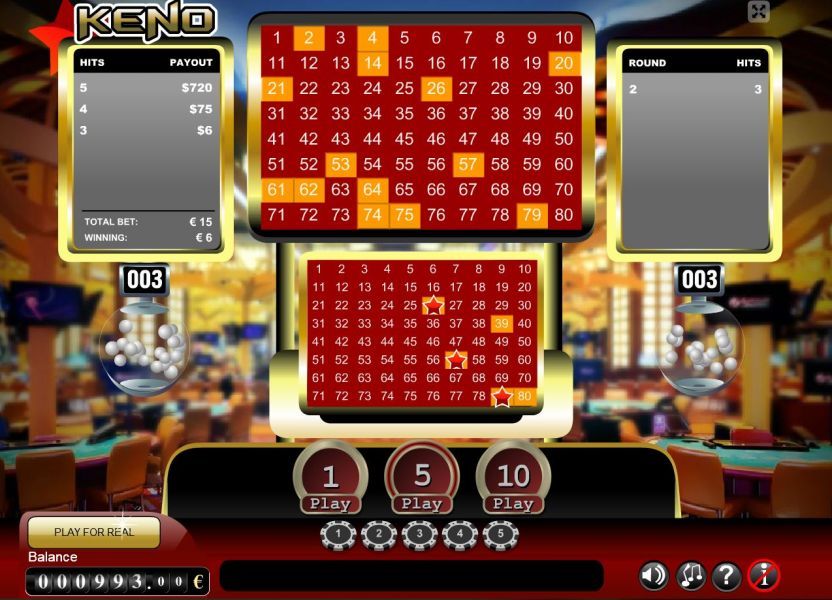 Betting Strategies for Keno: Play Smart
One of the most important parts of this Keno guide for dummies is the whole question of betting.
Of course, you can always bet the same amount of money or even make your bets randomly, but where's the fun in that?
To make the best out of each Keno session, you can apply one of the following betting strategies that also work on any other Casino game:
Keno Martingale strategy.The Martingale betting strategy is probably the riskiest of them all - but also the most rewarding one. This is how it works: you double your bet every time you lose. In this way, you'll win back all your losses the first time you win.
1-3-2-6 Keno betting strategy. If you're not a fan of big bets, you might like the 1-3-2-6 system. Here, the numbers in its title stand for the best after you win at Keno. For example, if your initial bet is $10, the sequence would go like this: $10, $30, $20, $60. However, you should return to your original bet as soon as you lose.
Sounds interesting? Try out these Keno betting strategies here.
Where to Play Keno Game Online?
Once you get the gist of how to play Keno, you'll be drawn to try out all your knowledge by betting real money.
Now, here's the most important thing when it comes to real money Keno games online:
You must play Keno at a reliable Casino.
Just imagine: you spend your precious time reading this Keno guide for dummies, you invest an hour or two practisings online for free, and then, suddenly, you lose all your money at an illegal Casino.
And that's bad.
That's why you should head to a reputable gambling page. A site that would guarantee fair play and the possibility to actually withdraw all your winnings.
So, let's play and beat Keno together - with the help of this guide for dummies, of course!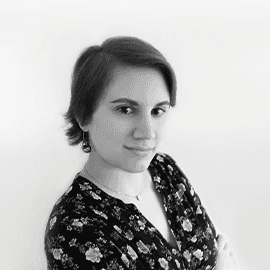 Bio
Editor, linguist, translator...and a Slot enthusiast. I am passionate about everything I do, and right now, I'm in love with all things Casino.