Online Blackjack Rules: How to Play Blackjack Online
Learn How to Play Blackjack here. Discover the official blackjack rules and start playing your online blackjack hands on the best online casinos.

Basic Blackjack Rules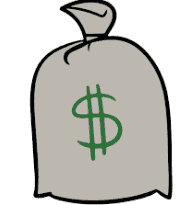 Blackjack is a card game in which you are trying to beat the dealer by scoring closer to 21. The catch is that you cannot 'bust' and your hand cannot exceed the value of 21 or you automatically lose the round.
Often played with 6-8 52-card decks, although some variations use 1 deck or 48-card Spanish decks. Needless to say, the number of variants of this game is huge.
Ignoring the multitude of tweaked versions of the game, the first step in learning how to play blackjack is to familiarize yourself with the rules of the classic version, which we will go through extensively below.
You can also practice playing blackjack for free here while you learn how to play.
Blackjack Basics
A hand of blackjack starts with a player making an initial bet before receiving their cards.
The dealer then deals you a hand by setting two cards face up for you and dealing themselves a hand where one card faces up and the other one faces down.
Once the cards are on the table, the player opts to either hit or stay depending on how close the value of their cards are to 21.
Because this is so important, we will repeat it again: the player who goes over 21 busts and automatically lose the hand and the bet.
Bets and Payouts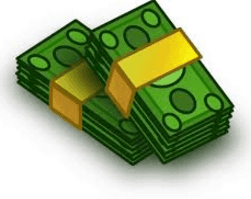 While your exact payout will depend on the amount you choose to bet, depending on how you beat the dealer you will be rewarded with higher or lower winning amounts.
If at the end of a hand your cards are closer to 21 than the dealer's your winning hand is paid 1 to 1. If the dealer busts and you do not, then regardless of your hand you will also be paid out at a rate of 1 to 1.
If you are fortunate enough to be dealt a blackjack with your first two cards (an ace plus any card valued at 10), your hand pays out 3 to 2. On most online casino versions of blackjack, you can find these standard payout rules typed on the virtual table.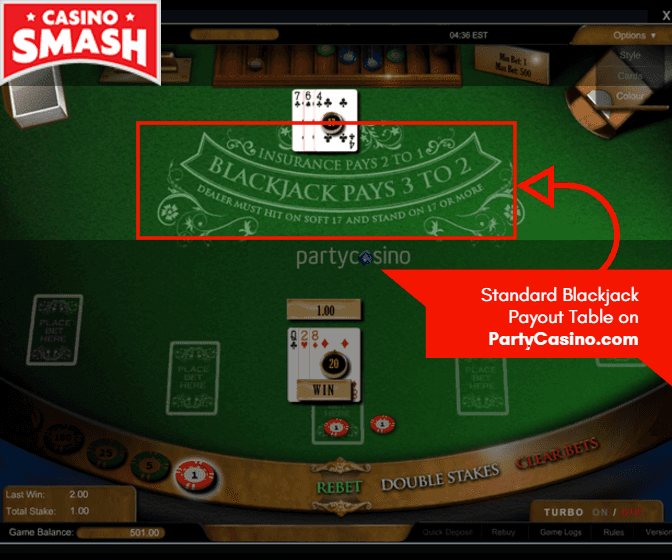 Any completed hand that has a value equal to the dealer's results in a push, where you get to take your bet back. You bet is also returned if both you and the dealer have Blackjack.
There are, of course, hundreds of variations of blackjack that have switched up the number of decks used, the number of times you can place bets, and even the payout rates listed above. Not to mention the dozens of side bet versions that add unique additional features to the classic
game.
To find out more about blackjack game variations and the best online casinos to play them in you can go through our exclusive, in-depth guide to playing blackjack for real money.
Blackjack Table Limits
When it comes to placing bets, all casinos both online and land-based have minimum and maximum betting amounts depending on the table or online version you are playing. The most common table limits range from $5-25 as minimums and up to $10,000 depending on the casino.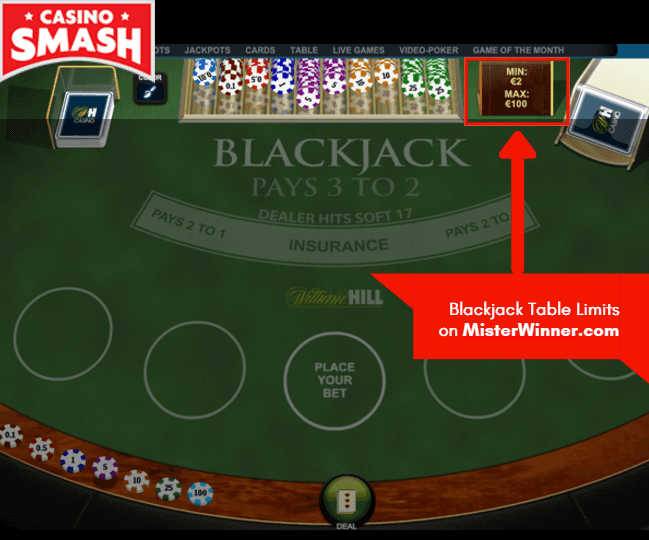 Depending on the size of your bankroll and the pace you enjoy playing at you should choose a table where losing a couple of rounds won't bankrupt you!
Blackjack Card Values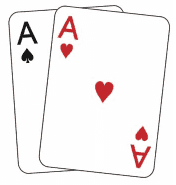 Card values in blackjack are incredibly straightforward to understand. Number cards are valued at the number they have written on them and any face card (Jack, Queen, or King) is worth 10.
Aces either have a value of 1 or 11 and depending on the rest of your cards you can choose the value. If you choose to leave your Ace at a value of 11, then your hand is soft. A soft hand in blackjack means that you can hit for another card without the possibility of busting.
It is important to note that unlike poker for instance, the suits of the cards do not have any effect on the value of card combinations in this casino game.
Blackjack Lingo: Learning the Basic Plays of Blackjack
Before sitting down, or logging into, your first blackjack table make sure you go through some of the most important terms in the game and avoid the awkward scenario of not understanding what to say or click on!
Blackjack is a game of quick decisions, and while online casino rooms give you the advantage of a little more time your moves should be swift and precise. Despite its simplicity, this game is meant to be played at a steady tempo and this is exactly what makes it so exciting to play!

Let's rewind a bit: you just sat down and have been dealt the first two cards of your hand; what is the best thing to do now? What move would best increase your chances of beating the dealer's?
When it comes to decisions in blackjack, there is a short list of options you can choose from once you've been dealt your first hand. These play options are referred to as player decisions.
What these player decisions are, how they are they are played, and when they will serve you best will be explained next in our blackjack strategy tutorial.
Hit
Hitting is the term for receiving another card in your hand after the initial deal of two. If your cards are significantly lower than 21, then you should hit. If your current combination is 17 or higher then regardless of the dealers up-cards you should stand.
When playing online you can ask the dealer to hit by clicking on a button, but on a table in a land-based casino you would need to scrape your cards against the table lightly if they are face down or tap the table with your fingers if they are face up.
Sorry to disappoint you, but yelling "Hit me" is only appropriate in Hollywood movies.
Stand
Standing occurs when you wish to stop receiving cards and believe that your hand will hold up as the best hand or, alternatively, if you hit then you are very likely to bust. Sometimes it is also called "stick", "stay" or "stand pat".
Once again, online you simply need to click a button while in a Vegas casino you would need to slide your cards under the chips if they are facing down or wave your hand horizontally if they are facing up.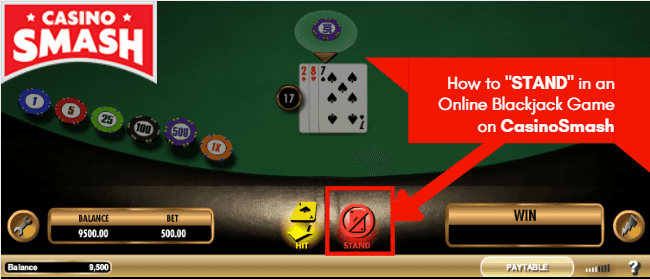 Double Down
You also have the option of doubling down after receiving your first hand of the round. This involves increasing (usually doubling) your starting bet and adding one more card to your hand. If you win the hand after you've doubled down, your money is still paid out 1 to 1.
Keep in mind that while you must take one more card, after that you need to stand. Some games will allow the player to increase the bet only by 100% and by no other amount.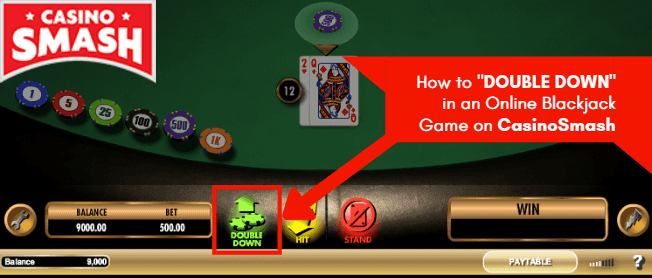 The signal for this option is to place additional chips beside your initial bet and hold up one finger. Do not touch the cards unless the cards are facing down, in which case the signal for doubling down is the same only you need to turn over your cards before lifting your finger.
Splitting Pairs
If your starting hand consists of two cards that match (for example two nines), you can split them into two separate hands and place an additional bet. This is allowed up to two times and players can play up to a maximum three hands at a time (unless they are playing a unique variation such as Blackjack Multihand).
After splitting, each hand is played in the same way as a single hand would, where you need to hit or stand. However, Aces can either only be split once or is not allowed at all depending on the game. Furthermore, the payout for split aces remain at 1 to 1 instead of 3 to 2 if one of the hands gets blackjack.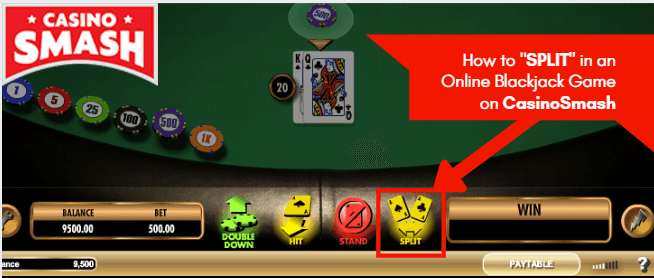 The hand signal for split is the same as the one for doubling up, except that instead of lifting one finger you would need to lift two.
Insurance
Insurance is offered if the dealer's up card is an ace. In this scenario, you move forward an additional bet that is equal to half of your original bet. If the dealer's down card is a ten, giving them a natural Blackjack, you are paid 2 to 1.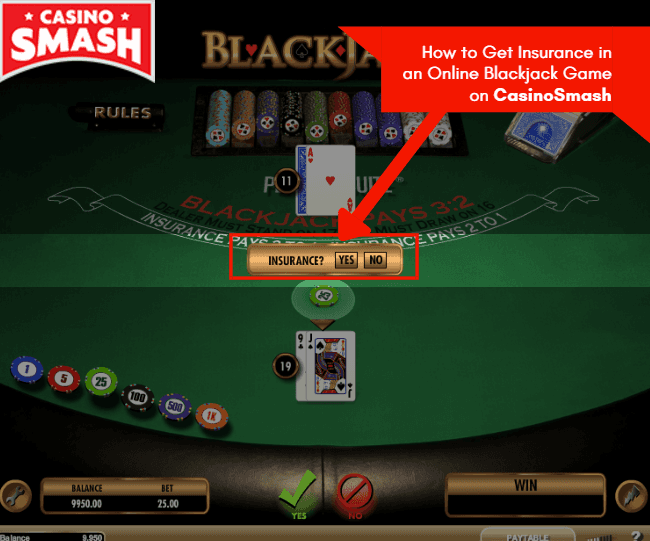 If the dealer's card is anything other than a ten, you lose the insurance bet and the hand is played out like a standard Blackjack hand. While this does sound like a good way to compensate for the loss of your initial bet, blackjack veterans understand this is a scam and you can find out why here.
Surrender
Surrendering is an available option after you view your starting hand of two cards. By choosing to surrender, you give up half of your bet and the hand is over. This is a better way to avoid losing your entire bet than getting insurance and to signal this you slowly swipe your hand behind your bet horizontally and say "surrender".
Rules for the Dealer's Play
Now that you are familiar with what you can do, it is just as, if not more, important to understand how the dealer will play out their hand. Unlike playing against a random opponent, the dealer must abide by certain play rules both online and in casinos.
Some basic rules most dealers need to play by are as follows:
Hit on Soft 17*
Stand on Hand of 17 or Higher
Hit on Hand of 17 or Lower
*This is a general rule but can differ depending on the online game or the casino you are playing blackjack in.
Knowing the rules a dealer plays by in your blackjack games can give you a huge advantage against the house compared to going in without this knowledge. You can use them to guess at the face down card the dealer and maybe not count cards, but make an educated guess on what card you could be hit with next.
How to Play Blackjack Online
If you are interested in playing blackjack from your computer, you'll be glad to hear that tons of variations can be found online. You can even play live blackjack games, where a dealer is streamed live from a casino!
Top Blackjack Strategies
Before getting into blackjack play charts you would need to understand the underlying principles of basic blackjack strategy. These include keeping track of cards and using the Oscar System.
Step 1: Pay Attention to the Cards and Number of Decks
Card counting is not allowed ad casinos, this we all know, but keeping tabs on the cards that have been dealt throughout the hands is a great way to educate yourself on the odds of receiving a certain card.
The less cards the dealer shuffles, the easier it is to keep track of what cards haven't been dealt yet. This is exactly why the fewer decks used, the better.
Unfortunately, most casinos do not offer blackjack games that are played with less than 6 decks.
Step 2: Use the Oscar System
The Oscar System is possibly the simplest and most common blackjack betting strategy. This does not involve any card counting but, quite simply, requires you to adjust your betting amounts depending on whether you win or lose a hand.
If you win your hand, add a chip to your bet.
If you lose your hand, bet the same amount you did before.
Once you earn any money on top of your wins, re-start the progression.
Never increase your bet by more than one chip per hand!
Online Blackjack Strategy Chart
The simplest way to get top chances in blackjack is to follow a basic strategy chart. These charts demonstrate three different elements: the dealer's face-up card, your hand, and the action you should take.
Depending on if you have a soft hand, where your Ace is valued at 11, a hard hand where your Ace is valued at 1, or pairs then you would need to use a different table. Keep in mind that a hand with no Ace is always considered a hard hand or hard total.
Open up a new tab, start an online blackjack game, and use these three charts as a grid to figure out the best play for any possible hand.
Hard Totals
| Dealer's card | 2 | 3 | 4 | 5 | 6 | 7 | 8 | 9 | 10 | A |
| --- | --- | --- | --- | --- | --- | --- | --- | --- | --- | --- |
| Your Cards | | | | | | | | | | |
| 17–20 | S | S | S | S | S | S | S | S | S | S |
| 16 | S | S | S | S | S | H | H | SU | SU | SU |
| 15 | S | S | S | S | S | H | H | H | SU | H |
| 13–14 | S | S | S | S | S | H | H | H | H | H |
| 12 | H | HS | S | S | H | H | H | H | H | H |
| 11 | Dh | Dh | Dh | Dh | Dh | Dh | Dh | Dh | Dh | H |
| 10 | Dh | Dh | Dh | Dh | Dh | Dh | Dh | Dh | H | H |
| 9 | H | Dh | Dh | Dh | Dh | H | H | H | H | H |
| 5–8 | H | H | H | H | H | H | H | H | H | H |
Soft Totals
| Dealer's card | 2 | 3 | 4 | 5 | 6 | 7 | 8 | 9 | 10 | A |
| --- | --- | --- | --- | --- | --- | --- | --- | --- | --- | --- |
| Your Cards | | | | | | | | | | |
| A,8–A,9 | S | S | S | S | S | S | S | S | S | S |
| A,7 | S | Ds | Ds | Ds | Ds | S | S | H | H | H |
| A,6 | H | Dh | Dh | Dh | Dh | H | H | H | H | H |
| A,4–A,5 | H | H | Dh | Dh | Dh | H | H | H | H | H |
| A,2–A,3 | H | H | H | Dh | Dh | Dh | H | H | H | H |
Pairs
| Dealer's card | 2 | 3 | 4 | 5 | 6 | 7 | 8 | 9 | 10 | A |
| --- | --- | --- | --- | --- | --- | --- | --- | --- | --- | --- |
| Your Cards | | | | | | | | | | |
| A,A | SP | SP | SP | SP | SP | SP | SP | SP | SP | SP |
| 10,10 | S | S | S | S | S | S | S | S | S | S |
| 9,9 | SP | SP | SP | SP | SP | S | SP | SP | S | S |
| 8,8 | SP | SP | SP | SP | SP | SP | SP | SP | SP | SP |
| 7,7 | SP | SP | SP | SP | SP | SP | H | H | H | H |
| 6,6 | SP | SP | SP | SP | SP | H | H | H | H | H |
| 5,5 | Dh | Dh | Dh | Dh | Dh | Dh | Dh | Dh | H | H |
| 4,4 | H | H | H | SP | SP | H | H | H | H | H |
| 2,2–3,3 | | SP | SP | SP | SP | SP | SP | H | H | H |
Key:
S = Stand
H = Hit
Dh = Double (if not allowed, then hit)
Ds = Double (if not allowed, then stand)
SP = Split
SU = Surrender (if not allowed, then hit)