Million of players compete for jackpots online
Not everyone knows the best Keno strategy
It's no secret that winning at Keno has very little to do with playing smart and an awful lot to do with luck.
While this is not one of the Casino games with the best odds, the right Keno strategy help you improve your chances.
In this article, you discover some useful Keno secrets that show you the best way to play Keno.
If you always wanted to know how to improve your winning chances at Keno, here you find the best strategies.
Keno Tips
Like in all gambling games, it's not easy to win the jackpot in Keno. That's why you shouldn't play if your only goal is to win the jackpot and become rich quickly.
That's not how Keno works.
Looking for shortcuts to win at Keno will not bring you very far; more often than not, the alleged winning systems you find online will only make you leave your money at the Casino.
The Keno strategy tips in this article help you play this game in a smarter way.
Some are Keno secrets only the pros know while others are just bits of common sense that - if applied correctly - can help you win at Keno and in a lot of other games.
I hope you are ready because your journey to becoming a winning Keno players pass by the five proven and practical Keno strategy tips that you are about to discover.
Get a Free Keno Account to Practice
Practice, practice, practice.
You need to practice and play free games online to hone your skills, get better winning odds, and ultimately improve your chances to win money at Keno.
To do this, you need a free practice account
Going forward, you will use the account to access free demo games and try all the strategy tips you find in this article.
It's important you don't jump onto real money Keno games right away because you are just not ready for that.
Playing real money games when you don't know how Keno works is a recipe for disaster. And you don't want that.
That's why you need to start with easy free games. This allows you to check first-hand if your approach works and more importantly pays off.
All without the stress of losing your money.
Every time you stumble upon a website that sells a system on how to win at Keno or a strategy PDF e-book that promises you quick wins - put it to the test with some free games.
If they work, you'll know that you use those tips in the real money games. If they don't (and they won't)- you'll have saved your hard-earned cash.
House Edge and Payouts
Most of the times, online Keno sites are a lot better than brick-and-mortar Keno rooms. And I am not talking only about the pleasure of playing Keno from your mobile or your couch.
Those who know how to play Keno, know already that online sites tend to offer better payouts.
That's why you need to do your research before you pick the site where to play Keno.
Although it might not seem like a real Keno strategy, you need to know how to find a good site to play games where you stand a chance to win.
More often than not, the site where you play table games and Slots is not the best choice to play Keno, too.
If you are open to trying a new Keno site, check out this page. That's where you find the best Keno games and where you can also play for the best payouts.
How to Pick the Right Numbers
If you like to play your lucky numbers, stick to them.
The nature of the game makes it so that it's impossible for any combination to be more likely to win than any other. So - choose what you love and what makes the game fun for you.
There are no lucky numbers in Keno, so you shouldn't stress too much about it. There isn't a right or a wrong choice: there are only numbers and luck.
So - if you have any lucky numbers you want to pick, go for them.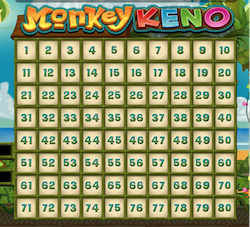 Play the Best Keno Games Online!
From Monkey Keno to Tutan Keno discover all the best Keno games online!
Sign up now to activate a free demo account and receive a bonus to play real money games! (T&Cs apply)
Read More
When I play, I like to pick those numbers that have not come up for quite some time -
but that's just a personal choice
.
I like the idea to use the underdogs to win at Keno, but there's no evidence this has ever helped me to make any cash online. It's a random choice that does not affect your odds to win at Keno.
Multi-Race Keno Cards
Here's a Keno strategy secret you need to remember every time you play: use the multi-race cards.
If you are going to play the same numbers over and over again, the multi-race cards will save you a lot of time and annoying clicks.
Also, online Keno sites usually apply discounts or bonuses to the multi-race cards, so your decision to play the same numbers for several games could automatically increase your winning odds…by increasing the number of games you can play with the same money!
How Much Should You Bet
Keno isn't one of the Casino games with the best odds, and you need to factor this information when you decide how much to bet in a game.
The fact Keno is based entirely on luck, combined with its high house edge, should be enough to convince you that you should play with small bets.
Depending on how you play, the house edge in Keno ranges between 25% and 40%, meaning you will lose more than you will win.
The best strategy to win at Keno and not go in the red after the second or third game is to place small bets. This way your money lasts longer and you have more chances to find a win.
Remember: on most Keno sites, the small bets don't qualify for the jackpot. But then, again, the odds to win the Jackpot in Keno are so slim that it shouldn't be your primary goal.
The Odds in Keno
In a Keno game, you can bet on up to 20 numbers. While the enormous payout the 20-number bet comes with might make it tempting - don't bet on 20 numbers.
As the Keno odds show, you have more chances to walk to the Moon and back then to win a 20-number game of Keno.
It's not impossible - but I am not so sure you should count on that.
The table below illustrates the different Keno odds, depending on the amount of numbers you decide to bet.
| Numbers Picked | Odds |
| --- | --- |
| 0 | 1 in 843.380 (0.11857057%) |
| 1 | 1 in 86.446 (1.15678605%) |
| 2 | 1 in 20.115 (4.97142576%) |
| 3 | 1 in 8.009 (12.48637168%) |
| 4 | 1 in 4.877 (20.50318987%) |
| 5 | 1 in 4.287 (23.32807380%) |
| 6 | 1 in 5.258 (19.01745147%) |
| 7 | 1 in 8.826 (11.32954556%) |
| 8 | 1 in 20.055 (4.98618021%) |
| 9 | 1 in 61.420 (1.62814048%) |
| 10 | 1 in 253.801 (0.39401000%) |
| 11 | 1 in 1,423.822 (0.07023351%) |
| 12 | 1 in 10,968.701 (0.00911685%) |
| 13 | 1 in 118,084.920 (0.00084685%) |
| 14 | 1 in 1,821,881.628 (0.00005489%) |
| 15 | 1 in 41,751,453.986 (0.00000240%) |
| 16 | 1 in 1,496,372,110.872 (0.00000007%) |
| 17 | 1 in 90,624,035,964.712 |
| 18 | 1 in 10,512,388,171,906.553 |
| 19 | 1 in 2,946,096,785,176,811.500 |
| 20 | 1 in 3,535,316,142,212,173,800.000 |
The 'Round Robin' Keno Strategy
This Keno strategy is best used in 20-card Keno or even live Keno games and involves rotating sets of numbers to create a new winning combination on each card.
Select six sets of numbers, each consisting of 2 or 3 numbers and then label each set ( i.e. set 1, set 2).
Each card you play consists of 3 sets of numbers created by you.
Using the Round Robin (RR) Keno strategy, you then start to create each card by taking all six sets of numbers and grouping them.
This can be achieved by generating every combination of 3 out of 6 possible.
Keno F.A.Q.
What is the best strategy to use playing multi-card video keno?[

Keno is a lottery-based game, so the outcome of the game is decided entirely by luck. If you know how to play Keno, however, you can increase your chances to win money. To do so, check out "How to Pick the Right Numbers" and "the Odds in Keno".
How many numbers should I play in Keno?

Although some games allow you to pick up to 20 numbers, the majority of online Keno games have a cap set on 15. As the Keno odds table shows, you shouldn't go for the maximum. Picking 5-6 numbers is a better choice.
How can I win at Keno every time?

There is no surefire way to win at Keno. The best way to win at Keno is to play more cards simultaneously, as that increases your chances automatically. Obviously, that also increases the cost of the game - to the point that a win might not make you recover your bet.
Can you hack Keno machines in Vegas?

No. There are no cheats to win at Keno machines, and you should not try any of the systems you find online on rogue websites. If the Casinos understand that you are trying to hack the Keno machines to win money, they will ban you from their establishment and sue you.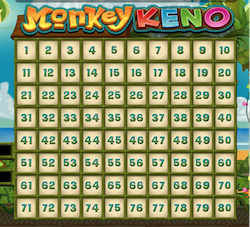 Play the Best Keno Games Online!
From Monkey Keno to Tutan Keno discover all the best Keno games online!
Sign up now to activate a free demo account and receive a bonus to play real money games! (T&Cs apply)
Read More