Superstitions, lucky numbers, and fate are what draws players from around the world to Keno.
As an incredibly simple, lottery-style game, Keno has all the correct elements needed to stand out as a game of probability. Unlike other casino games that can make you 'think' you are winning, Keno players realise from the start that their game session is purely luck-based.
The extension of Keno games to online casinos and computer-based systems like in video Keno makes any rigging of the game impossible to accomplish. Players are firmly confident that luck is the only factor that can influence the system to draw the numbers that they want.
However, what if we told you that some of the best Keno patterns and strategies can in some way influence your Keno odds? While there is no guarantee that these strategies and patterns have worked, your own luck in Keno remains to tell a story of winning.
For starters, let's set a couple of things straight. This game is slow and simple to play. However, to make the best choices of numbers for the next round, make sure you are quick to get ready with your best Keno bets before the next round begins.
If you like the buzz around the casino lounge as a part of Keno's charm, using online forums and chat rooms is a great way to feel connected to other Keno online players.
Our Keno strategy guide is based on information and research from thousands of Keno players around the world. The strategies listed here are great for free keno games and some casino games at a land-based casino or an online casino. However, it helps to remember that lady luck has a huge part to play in predicting the outcome when you play the game.
Best Keno Strategies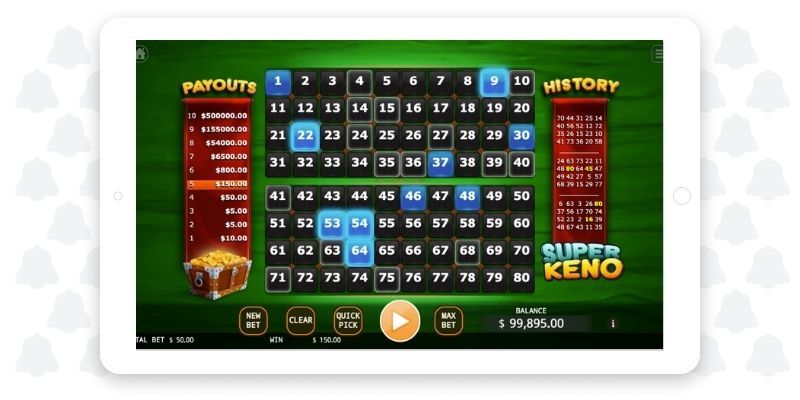 As a fan and someone who knows how to play keno, you have probably connected with someone who has mentioned that a particular strategy or lucky charm gave them a large payout.
We know that there are several strategies that float around Keno circles claiming to be the best keno strategy for the best odds of winning.
However, only a handful of these have shown results. While the trick to matching numbers in Keno every single time remains a mystery, knowing some of our tried and tested real money strategies could be that secret card up your sleeve.
Remember, that all the strategies listed in our guide are based on probability and the Random Number Generator built into all casino software. The best thing about these strategies is that players have tried to use it on other casino games with real money and found success too.
The Round Robin Keno Strategy
Any great Keno strategy involves picking multiple cards to play at the same time. The Round Robin Keno strategy is the perfect strategy for multiple card players. Players can use this strategy on 6 sets of cards with 3 cards in each set.
Player Type: Long term strategy for patient players
Best Budget: Medium to large budget
How Does It Work:
The players select three sets of the same numbers on every card.
The sets are rotated to find a winning combination of keno numbers.
Pros: The player can play for a long time. The strategy takes a while but pays off eventually.
Cons: The number of wagers required to use this strategy can be costly. This strategy is not suited for progressive jackpot players with a small budget.
Martingale Keno Strategy
The Martingale strategy is unique and offers higher payouts when you match the numbers drawn. Here the previous losing bet place is doubled in every new round.
The strategy has shown success for large bankroll players who understand the art of reading patterns. The strategy focuses on making money on the second round to make up for the previous bet lost.
Player Type: Progressive jackpot and high-risk players who want to make a big win at Keno.
Best Budget: High budget players
How Does It Work:
The Martingale strategy is a short term strategy for big money betters
Players start by betting a set amount on a series of numbers.
If they lose the bet, the value lost is doubled in the next round.
Pros: Since this strategy is best suited for high bankrollers, the outcome can be very favourable when you hit land on winning numbers. When combined with a good pattern, your potential winnings could be 3x your original bet.
Cons: The strategy is highly risky and not suited for those with a small budget. Due to the doubling highlight of this strategy, it tends to eat into budgets very quickly. The Martingale strategy may not be a possible option for playing with multiple cards.
For more info about this Keno strategy, you can refer to this Martingale betting calculator.
Four Card Keno Strategy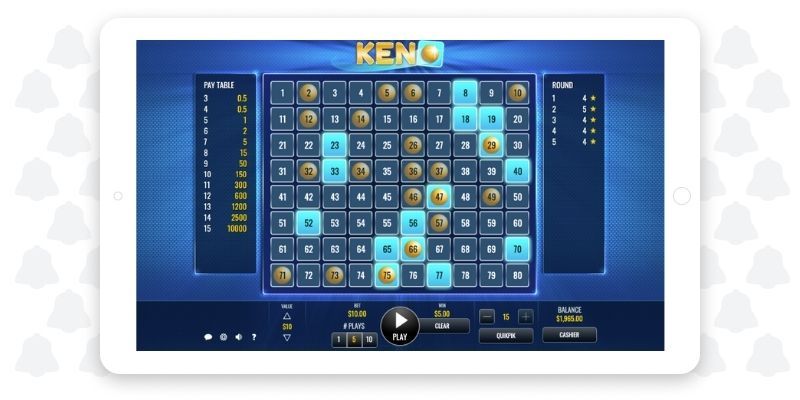 The Four Card strategy is the most popular gameplay adopted by real money Keno players both on land-based casinos and online casinos.
Keno fans don't just use it to win at Keno every time they can, but also improvise on its basics by drawing more cards to come up with their own versions of best Keno strategies.
We feel this is by far the safest and best approach to follow for any type of player. With the right combinations and Keno tips, the Four Card strategy can truly tap into the essence of playing Keno.
Player Type: Any type of player hoping to land on winning Keno numbers can benefit from this strategy. The Four Card strategy is a low-medium risk.
Best Budget: Suited for any budget.
How Does It Work:
Players select four cards and choose to play all four cards on the same round or in different rounds
For best results, you can choose any numbers between four and eight numbers; the more numbers, the better. Some believe picking 10 numbers is better than fewer numbers.
Once you have picked the cards and numbers, the game starts and if your numbers match you win at Keno.
Pros: This Keno strategy tells a tale of success for different types of players. Video poker players who move to Keno find that this is the best Keno strategy for better payouts. Players have an increased winning percentage with the Four Card strategy.
Cons: The only con with using this strategy is you can effectively deplete your bankroll if you are not careful. Players who have a gambling problem can get too comfortable with this strategy without effective budget management skills.
Winning Keno Patterns
One of the most sought after information for online gambling games is the sweet spot that determines the jackpot. In a Keno game, players around the world have their own theories on the winning numbers.
In reality, the chances that these hot numbers are drawn every time is possible even at the best Las Vegas casino. The concept of hot and cold numbers is as old as the game itself, however, they are good guides from players who have experience in the game.
Some of the best winning card patterns below are from reliable casino players and claim to be the best Keno number combinations you can try.
When you try this on a Keno card, you can use the patterns as they are or use your own twist to predict that lucky outcome. These popular patterns when coupled with some good old-fashioned luck could be the beginning of your winning steak.
3, 16, 44, 58, 61, 66, 67, 74, 78
61, 66, 67, 74, 3, 16, 44, 58, 78
23, 34, 72, 1, 4
1, 4, 23, 34, 72
Best Numbers to Play in Keno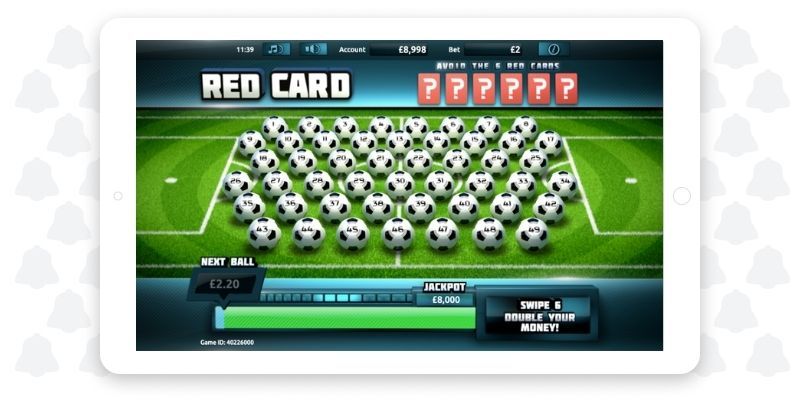 If you notice the patterns that we have listed above, there are a few numbers that do not figure in any of the patterns described.
These 'cold numbers' have been on the naughty list from when the game was played at physical casinos with Keno balls. However, remember that while a cold number is not the best bet you can make, they do have potential with the right patterns.
The Cold Keno Numbers are: 12, 7 and 23.
On the flip side, some numbers are very popular and can even be used in any other casino game for luck. These 'hot numbers' are the best numbers for Keno and can be combined to make your own Keno patterns.
The Hot Keno Numbers are: 1, 4, 34 and 72.
How many numbers you pick has a big part to play in your win. You can choose to pick the same number of cards but change your choice of drawn numbers on each or use the same numbers across different cards for separate rounds.
Top Tips to Win at Keno
The game works in your favour when you use a few strategies and patterns to make a calculated guess.
Some players also feel that making even money bets or choosing consecutive numbers to the previous numbers selected, is their Keno winning "numbers" strategy.
Choosing 5 to 6 numbers on most keno games is a popular tip according to veteran players.
Every Keno card has 80 numbers. However, how many numbers you choose and the size of the Keno bets made can substantially increase your wins.
Other tips include paying for several cards and how many numbers you want to pick in advance so you have your cards ready before playing. This works best when you don't change your chosen numbers often.
Playing Keno Online
Whether you play Keno online or at a casino, the rules of the game are the same. However, there are a lot of benefits and profits to be made with online Keno. Some think that playing online is the best way to play Keno.
Many Keno games at physical casinos have a very high house edge of around 30%. Online games have a house edge of only about 12%. The low house edge means that you win more money.
The Keno game choices at a land casino are limited. However, every Keno variant you can think of is available at most online casinos.
Deposit bonus money, welcome bonus cards and games are given to players on online casino platforms.
Those who like to change their lucky numbers after making a selection, find that it is much easier to change online.
There is no rush when playing online and players can calculate their next move effectively.
It is cheaper for those who wish to make small bets to play online than offline.
How many numbers to bet in Keno?

You can bet anywhere between 4-20 numbers. However, the best numbers and strategy to choose will largely depend on the bankroll and your strategy.
What are the best spots for using with winning keno patterns?

When you first learn how to play keno, the best spots you can choose with the best patterns are the 4,5 or 6 spot games.
What are the best Keno strategies that work?

While there are many strategies that players claim to work, this game is based on luck. That said, the most popular Keno strategy is the multi-card strategy that involves choosing 4 cards or over, per round.
What are the best numbers to play in Keno?

The hot numbers you can choose are 1,4, 32 and 72. However, this is not set in stone and you may find luck with choosing other numbers too.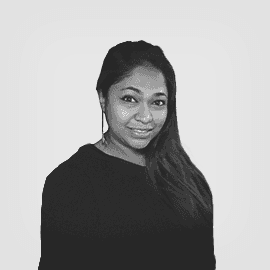 Bio
When I am not writing or designing, I'm playing at the local VIP casino lounge. I have worked with the online gambling industry as a content creator for 4 years now, and I have managed to use my insights to win the jackpot 8 times. Yes! 8 times. When I write, I do so with passion to share my knowledge with those who can benefit from it.