Top Football Slots to Play Ahead of the Champions League Final

Important Notice: This is not our latest article about the promotions at this online Casino. You might no longer be able to claim this offer. To know what bonuses are available right now, have a look at our Casino bonus page.
The final chapter of the 2019 Champions League kicks off on June 1 in Madrid, Spain
This year, the competition is an all-English affair, with Tottenham Hotspur and Liverpool fighting for the title
To help you wait, we prepared a list of the best Football Slots you can play in 2019.
Who will lift the cup with the big ears this year?
Will Mohammed Salah and Roberto Firmino carry it back to Liverpool or will Mauricio Pochettino's dream team use it to show who really express the finest football in London?
The hottest 90 minutes of the season are right around the corner and the next days are going to be all about football.
And it doesn't matter that Cristiano Ronaldo and Lionel Messi won't be on the pitch at the Wanda Metropolitano.
The quality of the 22 that will battle to win the most intense match of the year is just so spectacular to guarantee we are up for a tremendous show.
To help you get ready for that, we prepared a comprehensive list of the best Football Slots you can play ahead of the Champions League final.
Instant Football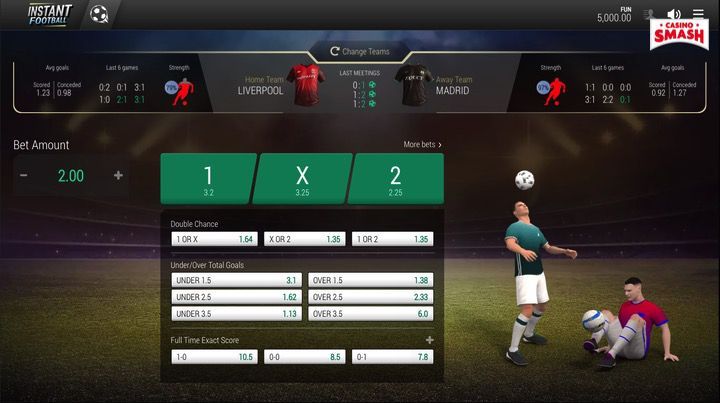 How would you like to create your own personal Champions League final...and bet on it?
Instant Football is an amazing football simulation that every football fan will love. The gaming of this engine is truly impressive — and the action it creates, well, it's still unmatched in the gambling industry.
If you frequent Sports Bars, you are probably familiar with football simulation games as they are always somewhere on the screen.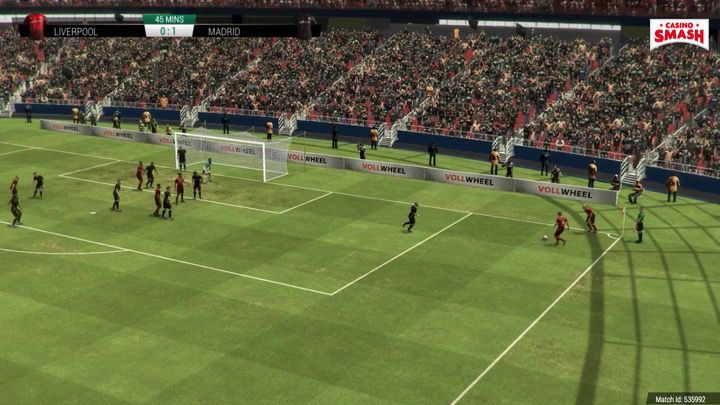 If you are not, listen to this. Instant Football lets you recreate the most epic football matches in history and have Artificial Intelligence play them for you.
All you need to do is to place your bet, keep your fingers crossed, and watch the game as the computer plays it for you.
---
Bicicleta Slot Machine
Ronaldo might not gift us with yet another impressive bicycle kick this year, but that doesn't mean he can't find other ways to make us jump on our seat.
This 2016-born football Slot machine by Yggdrasil is a modern video slot machine that plays on 25 fixed paylines with bets that range from a minimum of €0.25 to a maximum of €10.
Entirely dedicated to the bicycle kick, the game features a Ronaldo-like hero that can help you trigger some beautiful winning combinations.
If you are a Juventus fan and you still have the match against Ajax in your head, a game of Bicicleta might be all you need to feel better.
---
Bench Warmer Football Game
Probably the cheekiest game on this lost of football Slots.
Pick your favourite gir…erm…team, hit the spin button, and keep your fingers crossed!
Benchwarmer Football Girls is a classic five-reel Slot with 30 paylines and bets ranging from a minimum of 0.01 up to a maximum of 150.
While this might not be the most exciting football Slot machine game out there (and it sure isn't the most innovative either) Football Girls is a sweet treat to kill time and enjoy some beautiful girls.
What makes this football Slot machine special is the so-called Bench Warmer feature, a special one that triggers when you get three or more Bench Warmer symbols anywhere on the screen.
When this happens, you are requested to pick your favourite team and then play a round of 10 free spins with your Bench Warmer girl covering the entirety of the first reel.
---
Football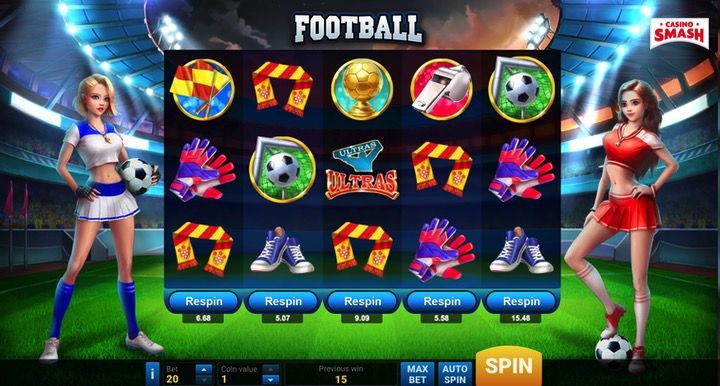 This game by EvoPlay is another nice Football Slot machine where sounds, animations, and symbols do exactly what they have to create the right atmosphere.
Released in November 2016, Football is a fun game with a below-average Return to Player, as it features an RTP of 'only' 94%.
Nevertheless, the bonus features are great and I find the animation of the two beauties kicking the ball on the background one of the best ones in the realm of football Slots.
My favourite part of the game is the 'individual re-spin' feature that lets you pay to spin even just one of the reels — almost like shooting a penalty!
---
Football Mania Deluxe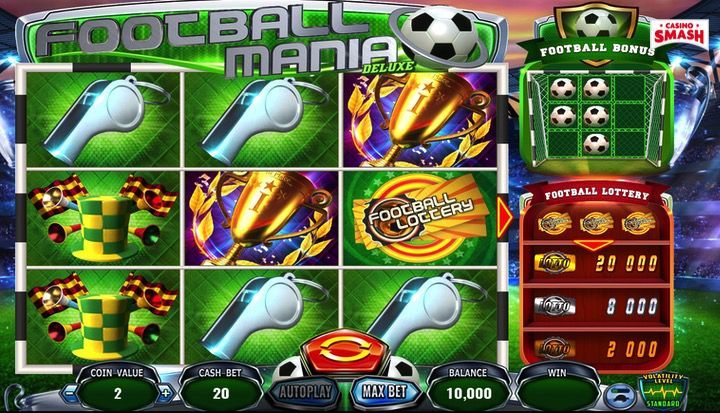 Pick your favourite volatility level, turn up the volume, and let this exciting three-reel football Slot machine do the rest.
Developed by Wazdan and released in late 2018, Football Mania Deluxe is a 3x3 Slot with an RTP of 96.59%.
This game is packed with extra feature, including a special lottery where you get the opportunity to win the top prize.
Also, don't miss the gamble feature. This time you won't have to pick a card to 2x your winnings...but to score a penalty kick!
---
Football: Champions Cup
Not a Liverpool nor a Tottenham supporter? Football: Champions has got you covered!
With 24 national teams to choose from, Netent's game is a true gem in the world of football Slots to play online.
This modern five-reel slot machine comes with 20 bet lines and bets ranging between 20 and 200 credits (or £0.20 and £100). While the number of bet lines is fixed, you can adjust the size of your bets through the Coin Values and the Levels.
What sets Football Champions Cup apart from the competition is that this is a feature-packed football slot machine where something new keeps happening all the time.
Not only you get to choose the theme based on 24 national teams - you also get to play (highly rewarding) penalty shootouts, to witness crazy overlay wilds and join a Knockout Free Spins Tournament that imitate the early stages of the football World Championship.
In other words, if you are looking for football Slots to play, Netent's Football: Champions Cup is one you should have on your list.
---
Football Rules Slot
Although this is one of the worst-looking Slot machine games I had the chance to play and review in a very long time, there's something so pop in Football Rules that made it almost impossible to stop spinning the reels.
This old-fashioned football Slot machine by Playtech features five-reels, 25 paylines, and bets that range from a minimum of 0.01 to a maximum of 18.75.
With the green grass of a football stadium to act as the game's background, Football Rules is an easy football Slot to play with a fun bonus game that when the Bonus symbol lands simultaneously on the reels 1 and 5.
As soon as this happens, you need to pick a lucky ball and score a penalty to start a round of free spins.
---
Football Fans
The Football Fans Slots game features some clever graphic representations of the types of people you will find at the Wanda Metropolitano on June 1, 2019.
What makes this football Slot special is that you can personalise the game's graphics to give it a look-and-feel that support your favourite national football team…provided you support Brazil, Italy, England, Spain, Argentina, or the Dutch team.
A click on the 'Change Color' icon on the top left corner of the screen is sufficient to change the colour-scheme and turn the default Carioca theme into anything you like.
Given my personal preferences, as you can see in the screenshot below, I played all my games with the German one on.
Much like the Bench Warmer Football Girls one, Football Fans is a five-reel slot with 20 paylines. The bets go from a minimum of £0.01 (lines: 1; line bet: 0,01) up to a much more exciting maximum of £100 (lines: 20; line bet: £5).
Besides the supersized…attributes… of some of the ladies featured in this game, what makes the Football Fan Slot stand out from the crowd is that this football Slot machine game comes with a Football Fans scatter, a crazy wild and an exclusive Grab a Beer feature where you need to place a circle over a beer to win up to 3x your total bet.
---
Disclaimer: Gambling is a game of chance and there's no sure-fire formula that guarantee winnings. You can improve your winning chances by using the right in-game strategies but there is no way to predict when a machine or a Casino game is going to pay. Also, this page contains affiliate links. If you click through and play, we might earn a commission. That's what allow us to keep CasinoSmash free and bring you the best online Casino bonuses!