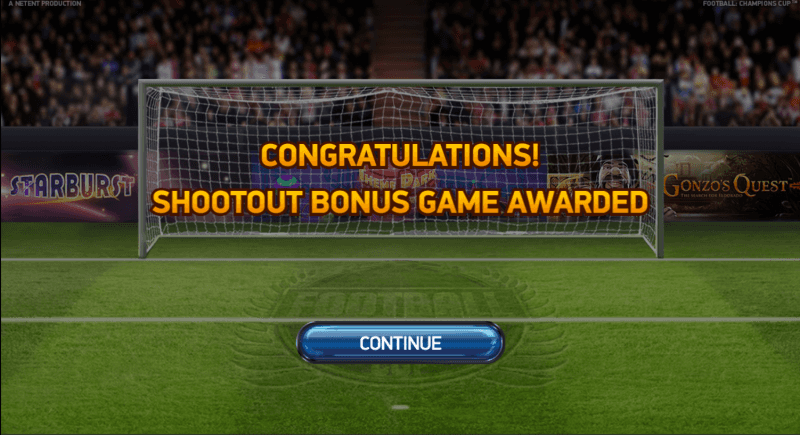 The Best Football Slots to Play Ahead of the 2018 World Cup
If you love football, make sure you keep these games open while you follow the World Cup 2018. Fun and BIG wins - GUARANTEED!
To celebrate the beginning of the World Cup 2018 season several online casinos are adding new football slots to their platforms.

However, let's face it:
Most football slot machines suck.
Somehow, it seems like football is one of those themes slots developers just can't get right. Most games are dull, feature terrible graphics, and come with little to no extra features.
I know that football is not everyone's favorite theme for online slots, but every time I review football slots I can't help to think that it shouldn't be too hard to come up with something that is fun.
Modern video slots can be crazy exciting. All the new titles by the world's top developers are just a pleasure for the eyes as much as they are for the ears and the brain.
Football slots, on the other hand, are almost always a big disappointing meh.
But, there's hope.
If you plan to combine the football fever that will follow the World Cup with some good slots action, get your bankroll ready - because I prepare the list of the best football slots games you can play online in 2018.
Top Football Slot Games to Play During the 2018 World Cup
The list that follows gives you access to all the top football slots games around.
As usual, I added also links to the best offers I could find so - if you want to play slots with up to 50 free spins with no wagering requirements and no cap on winnings, just click on the buttons below to get started!
Football: Champions Cup
Welcome to the definitive football slot machine game to play during Russia's 2018 Fifa World Cup!
With 24 national teams to choose from, Netent's Football: Champions Cup is a true gem in the world of football slots to play online.
This modern five-reel slot machine comes with 20 bet lines and bets ranging between 20 and 200 credits (or £0.20 and £100). While the number of bet lines is fixed, you can adjust the size of your bets through the Coin Values and the Levels.
What sets Football Champions Cup apart from the competition is that this is a feature-packed football slot machine where something new keeps happening all the time.
Not only you get to choose the theme based on 24 national teams - you also get to play (highly rewarding) penalty shootouts, to witness crazy overlay wilds and join a Knockout Free Spins Tournament that imitate the early stages of the football World Championship.
In other words, if you are looking for football slots to play, Netent's Football: Champions Cup is the one you should start from.
Bench Warmer Football Girls
Pick your favorite girl…erm…team, hit the spin button, and keep your fingers crossed!
This game might be your only chance to see Italy's jersey on the screen this year since the beauties featured in the Bench Warmer Football Girls slot machine succeeded where the Azzurri's football team failed: earning a free ticket to Russia.
Benchwarmer Football Girls is a classic five-reel slot with 30 paylines and bets ranging from a minimum of £0.01 up to a maximum of £150.
While this might not be the most exciting football slot out there and it sure isn't the most innovative either, Football Girls is a sweet treat to kill time enjoying some truly beautiful girls.
What makes this football slots game special is the so-called Bench Warmer feature, a special treat that triggers when you get three or more Bench Warmer symbols anywhere on the screen.
When this happens, you are requested to pick your favorite team and then play a round of 10 free spins with your Bench Warmer girl covering the entirety of the first reel.
Football Rules Slot
Although this is one of the worst-looking slot machine games I had the chance to play and review in a very long time, there's something so pop in Football Rules that made it almost impossible to stop spinning the reels.
This old-fashioned football slot machine by Playtech features five-reels, 25 paylines, and bets that range from a minimum of £0.01 to a maximum of £18.75.
Yes, it's quite possibly the most random max. bet I have ever seen.
With the green grass of a football stadium to act as the game's background, Football Rules is an easy football slot to play with a fun bonus game that when the Bonus symbol lands simultaneously on the reels 1 and 5.
As soon as this happens, you need to pick a lucky ball and score a penalty to start a round of free spins.
Bicicleta Slot Machine
Another good football-themed slot you can play is Bicicleta, a football slot machine dedicated to everyone's favorite flashy move, the bicycle kick.
Pro-tip: Put Queen's 'Bicycle Race' on the stereo and have a go! You win either way when listening to Freddy Mercury singing about his favorite types of girls!
Launched in 2016 by Yggdrasil, Bicicleta is a modern video slot machine that plays on 25 fixed paylines with bets that range from a minimum of €0.25 to a maximum of €100.
Football Carnival

If you are excited for the upcoming 2018 World Cup in Russia, don't miss the Football Carnival slots game!
This fun-packed Brasil-inspired slot machine by Playtech lets you play on fifty paylines and bets that go from 0.50 all the way up to 500.
You got it right: if you were looking for football slots to play and win big, this is the one.
However, keep in mind that this slots' Return to Player (RTP) is of 91.3%, meaning it is not the most generous one out there.
Football Carnival features a Free Spins round where you get to play 10 free spins with random multiplying wilds - the yellow and green football.
Football Fans
The Football Fans slots game features some clever graphic representations of the types of people one may find in Russia during this year's World Cup.
What makes this football slot special is that you can personalise the game's graphics to give it a look-and-feel that support your favorite national football team…provided you support Brazil, Italy, England, Spain, Argentina, or the Dutch team.
A click on the "Change Color" icon on the top left corner of the screen is sufficient to change the color-scheme and turn the default Carioca theme into anything you like.
Given my personal preferences, as you can see in the screenshot below, I played all my games with the German one on.
Much like the Bench Warmer Football Girls one, Football Fans is a five-reel slot with 20 paylines. The bets go from a minimum of £0.01 (lines: 1; line bet: 0,01) up to a much more exciting maximum of £100 (lines: 20; line bet: £5).
Besides the supersized…attributes… of some of the ladies featured in this game, what makes the Football Fan slot stand out from the crowd is that this football slot machine game comes with a Football Fans scatter, a crazy wild, and an exclusive Grab a Beer feature where you need to place a circle over a beer to win up to 3x your total bet.
Disclaimer: Gambling is a game of chance and there's no sure-fire formula that guarantee winnings. You can improve your winning chances by using the right in-game strategies but there is no way to predict when a machine or a Casino game is going to pay. Also, this page contains affiliate links. If you click through and play, we might earn a commission. That's what allow us to keep CasinoSmash free and bring you the best online Casino bonuses!
Bonus info: terms and conditions apply to the offer. If something isn't clear, have a look at our review of PowerSpins for the T&Cs in full. The offer on this article might have expired by the time you read it. Please refer to the review pages for the latest bonuses and promotions available.