It has probably been your lifelong goal to be able to sit at home playing slots all day while getting paid for it. Well, since the arrival of Twitch, there are now plenty of people who do pursue it as a career.

With their reactions to huge jackpots and even just exploring different easy casino games gaining certain Twitch streamers hundreds of thousands of subscribers and watchers, gambling has quickly become a phenomenon on the live streaming platform.
Producing live casino streams can be seen as a simple avenue to make big money, but a lot of it is down to the intriguing personalities of the most popular casino streamers and the hard work they put in, sometimes spending over half a day on a single stream.
The extra hours they will then spend editing their content to add highlights to their YouTube gambling channels has to be applauded, and it shouldn't be assumed they have an easy ride to earn the living that they do.
If you are interested in finding out more about gambling on Twitch, this article will tell you who the best online casino streamers are, the safety and regulations around streams that promote gambling related content on the website and more.
What is Twitch?
An Amazon-owned company, Twitch is a live streaming platform that enables content creators to connect and build communities with their fan base.
How it works is online streamers will share their screen and show what they're playing. In this case, players show their adventures (and reactions) as they enjoy online casino games as viewers watch them do that. The service is completely free of charge.
If you want, however, you can support a Twitch streamer by subscribing for a small fee or by making donations as the show plays on.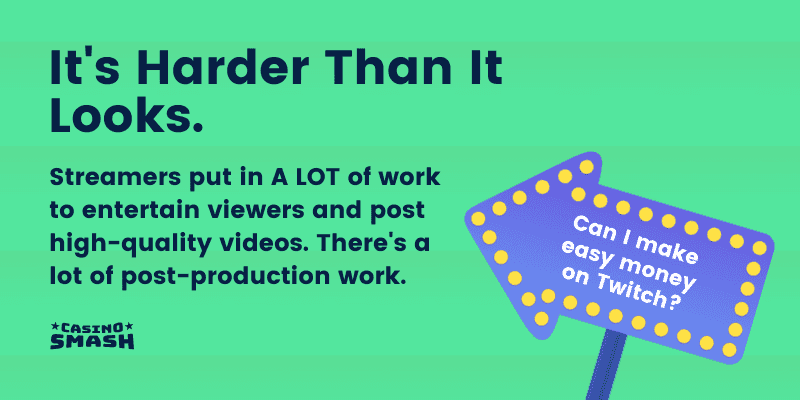 You might find that lots of people whose videos you have watched or you may have subscribed on YouTube will now have a Twitch channel, where they are able to live stream some of their content. The reason that content creators both in online casino gambling and mostly in gaming have now decided to use a different platform alongside YouTube is due to the fast-growing nature of Twitch and its users.
Digital games have been the main driver in the explosion of Twitch, with them also holding e-sports tournaments over the years. However, it's now become a way for people to live stream about anything that they like (provided it's not illegal content, of course). Over the years, some people have been able to gain a significant following even just by playing music and chatting with new friends around the world.
If you find a streamer you enjoy, a free subscription will send you notifications as soon as they go live. Some of the most popular casino streamers even publish a 'full schedule' of their activities — so you will always know when to tune in for the next online slots show.
Most gambling Twitch streamers split their work across different platforms and are equally active on YouTube as well. The main difference between Twitch and YouTube for casino streamers seems to be that while the former is the preferred avenue for live streams, the latter is more popular for posting highlights and edited portions of the streams.
Twitch is available both o desktop or as a mobile app and there are both free and paid versions, with the paid versions removing ads and giving you access to other features, similarly to YouTube.
Who are the Most Popular Online Casino Streamers?
Casino streamers play games such as online slots, roulette, blackjack and even wheel of fortune options like Crazy Time and Monopoly Live.
The slots section where all of the streamers playing those games funnel into has 956,000 followers at the time of writing, compared to just 245,000 for the virtual casino streamers section currently.
Top Casino Streamers on Twitch
| Usernames | Followers |
| --- | --- |
| ROSHTEIN | 875K |
| ClassyBeef | 225K |
| DeuceAce | 203K |
| Bidule | 171K |
| VonDice | 189K |
| CasinoDaddy | 165K |
| AyeZee | 130K |
Here are some of the most followed and subscribed to Twitch streamers on the platform:
ROSHTEIN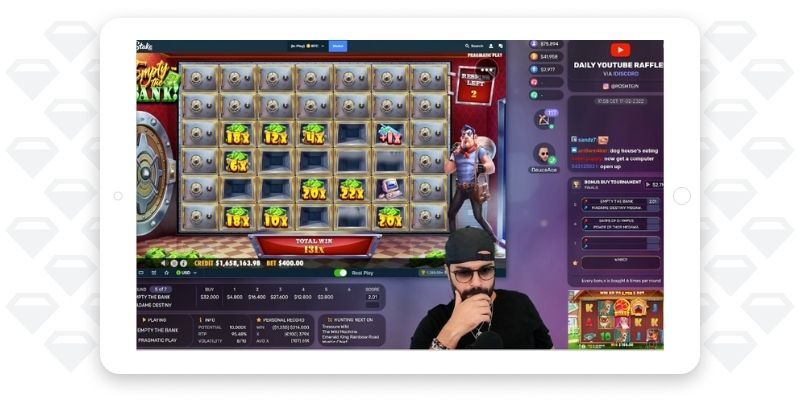 ROSHTEIN is the most famous slots Twitch streamer by quite some distance. Not only in the number of followers he has which currently stands at 875,000, but with his likeable personality and the engagement he has with his fans.
Having been around since back in 2014 and live streaming on Twitch since 2016, he is an experienced slots player in front of the camera and will have won and lost plenty of cash in that time frame. However, not much has changed since six years ago, with his popular streams remaining as fun and exciting as ever.
If you haven't done already, it's recommended you start watching ROSHTEIN, as his energy on camera is amazing and it's easy to see why he has been so successful on both Twitch and YouTube. He has had some enormous jackpot wins on gambling streams that are well worth a watch, including an emphatic $9 million win on Dead or a Wild recently which sent him into a frenzy on his Twitch stream.
DeuceAce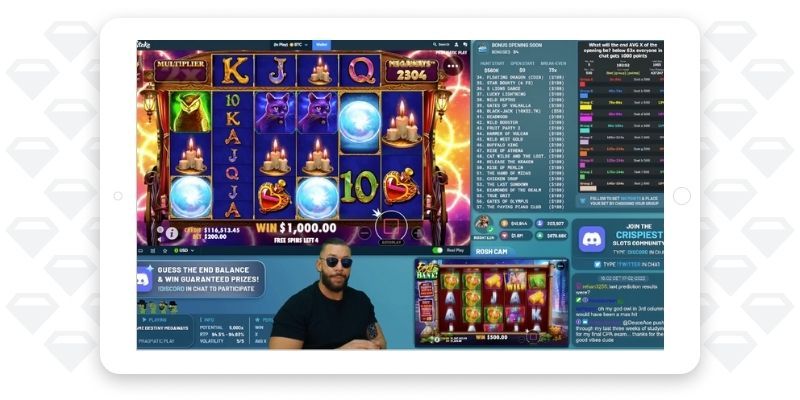 DeuceAce, who mentions in his Twitch bio that "he and ROSHTEIN have been in friendly rivalry since grade school", is another online casino streamer who places big stakes and loves providing enjoyment for his viewers who watch him play lots of different casino games.
His live casino streaming on Twitch, which he sometimes does alongside friends to increase the entertainment value of his channel, has earned him 203,000 followers so far.
Although he's not made such a name for himself on YouTube yet with only 1.51K subscribers, he's undoubtedly made a loyal fan base who watch his casino streams on Twitch from all over the world.
ClassyBeef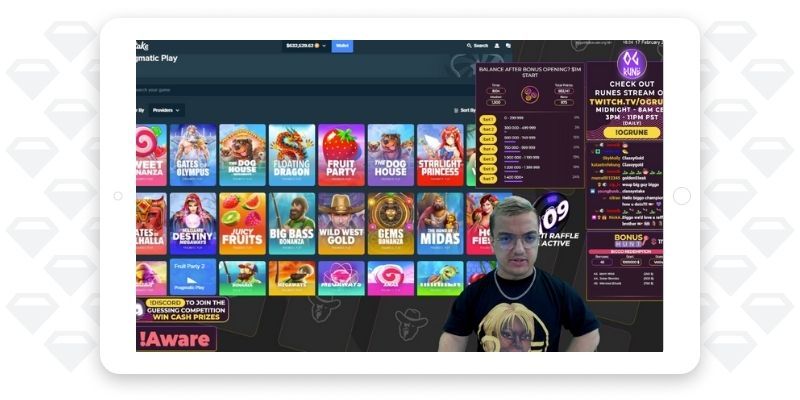 ClassyBeef is not actually an individual but a group, which includes Espen, Joe, Biggo, Jonte, Georgi, Lamar, Nando, and Freddie.
Their Twitch channel has 225,000 followers currently, and they've quickly made a name for themselves in only a short period of time. Often getting around 70,000 views per video, which is an impressive amount in proportion to the amount of people who follow them, ClassyBeef provide their fans with regular content and incredible entertainment playing gambling games.
Other Streamers to Follow
Special mentions go to other streamers such as CasinoDaddy, AyeZee, VonDice and Bidule too. These are just a few more of the channels that produce gambling streams with very high follower counts and go live with some amazing content as they play various different games.
Top Casino Streamers on YouTube
| Usernames | Subscribers |
| --- | --- |
| AyeZee | 84.4K |
| CasinoDaddy | 78.1K |
| ROSHTEIN | 76K |
| Bidule - Twitch Highlights | 72.4K |
| AyeZee - Twitch Highlights | 42.2K |
| ClassyBeef | 24.3K |
| ROSHTEIN BIG WINS | 8.24K |
| DeuceAce TV | 1.51K |
Gambling Safety and Regulation on Twitch
To make sure that they tackle problem gambling and to avoid harm and scams created by questionable gambling services, Twitch introduced some new rules and restrictions in August 2021. These anti-gambling restrictions [I]forbid casino streamers from sharing links to promotions, [URL="https://www.casinosmash.com/free-spins"]free spins offers[/URL], and/or referral codes to gambling sites that offer slots, roulette, or dice games.
[IMG storage="620e85380ef65.png" alt="how to make money streaming casino games on twitch" align="center" wh="800x400"][/IMG]
For all slots section viewers of Twitch streams and gamblers, it's important to remember that although these popular streamers on Twitch are wagering high stakes and sometimes hitting the jackpot, the RTP (Return to Player) percentage of games at gambling sites still [B]always benefit the house[/B], and any strategies you decide to use are not fool-proof.
[B]Real money gambling can become dangerous,[/B] and it's crucial that viewers only bet what they can afford and aren't encouraged to place high stakes just because a casino streamer has.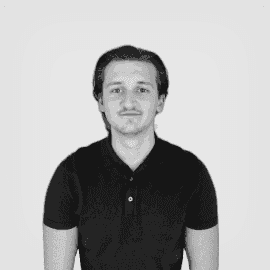 Bio
Gambling enthusiast and sport fanatic, I have a wealth of knowledge when it comes to casino and gambling. I've written for magazines, newspapers and other gambling websites which include the Daily Mail, Golf Monthly and Sporting Index, all contributing to over 3 years in the content industry.