Dino Might Slot Review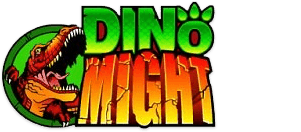 You don't even need to see this slot to work out what the theme will be. Yes, that's right, this is a slot featuring loads of dinosaurs, ranging from the ferocious T-Rex through to the more sedate diplodocus.
These are combined with symbols showing many prehistoric plants and flowers, leading to a theme that really takes you back 60,000,000 years. At first glance though, you'll notice that the graphics aren't the crispest, and this might put some players off.
Try to stick with this game though, as there are plenty of features and prizes to ensure this is a slot nearly all players will enjoy playing.
It has to be said though that dinosaurs are a pretty well-worn theme in the world of online slots, having been used by nearly all the different game manufacturers. Therefore, a slot really has to be special to stand out from the crowd. The theme, especially the graphics, don't allow this game to stand out though – however luckily it is saved by the features, which are described in the next section.
If they'd worked a bit more on the graphics though, this would have to be considered one of the best – if not the best – dinosaur-themed online slot out there.