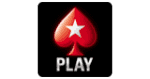 PokerStars Play Review
Not available in your country
PokerStars Play Review: Bonuses and Games
You most probably live under a rock if you've never heard of PokerStars, one of the leading giants of the online gambling industry. But… did you know that they also offer PokerStars Play: Free Texas Holdem Poker Game, a poker app for smartphone users?
Developed by Stars Mobile Limited, PokerStars Play app offers free games for Android, iPhone, iPod Touch, and iPad users.
This is the perfect mobile application if you're in love with the WSOP (World Series of Poker) tournaments… or are just crazy about poker in general.
There is no real-money gambling involved, and that's why PokerStars Play is legal in the United States of America.
The best part? The app is completely free to download!
Games Available
I was pleasantly surprised at how well-made PokerStars Play was.
The user-interface is quite intuitive. I had no problems navigating the lobby and browsing through the games of PokerStars Play.
I also want to praise the design for a bit. The black background and the colorful images flawlessly complement each other. As a result, the poker application is easy on the eyes and has no distractions that would otherwise make gaming difficult.
The Poker Games of PokerStars Play
As the app's name suggests, the majority of games at PokerStars play are comprised of poker.
Live poker tournaments online, to be precise.
There are two kinds of poker to choose from:
Both of these variations are available in eight modes that have different stakes, buy-ins, and jackpots. The background image of each variation also differs.
| Tournament | Stakes | Buy-in | Jackpot |
| --- | --- | --- | --- |
| Paris | $50/$100 | $10k | $20M |
| London | $250/$500 | $25K | $50M |
| Atlantis | $1K/$2K | $100K | $100M |
| Rio de Janeiro | $5K/$10K | $500K | $500M |
| Macau | $25K/$50K | $2.5M | $1B |
| Moscow | $100K/$500K | $10M | $1B |
| Las Vegas | $500K/$2M | $50M | 5B |
| New York | $2.5M$/20M | $100M-$2B | ? |
Once you enter the tournament of your choice, you are seated with other players. Even though you play online with real people, you don't have to wait for any longer than a few seconds before the poker game begins.
That has something to do with the fact that PokerStars Play in an insanely popular app in the USA. The community of PokerStars has recently reached 450,000 members.
Every moment, there are thousands of people who use the PokerStars app. This is what makes PokerStars Play better than the majority of other American online poker applications.
Now, here's one thing I really liked about the game:
While you compete with other players, you can chat with them. You can either click on a phrase from a list (these are all related to poker!) or type in the message yourself.
However, if you don't want to compete against total strangers, you can simply play with your friends. Just schedule a poker night and invite your Facebook friends to play together.
Live Games at PokerStars Play App
The poker tournaments are not the only thing that the PokerStars application offers to Android and iPhone users in the USA.
I'm talking about the card games with a live dealer.
There are two live card games available:
Each of them has three stake modes to choose from:
Beginner ($10k/$1M)
High limit ($50k/$5M)
High roller ($250k/$50M)
I have one more thing to say about the live games of PokerStars Play: the female dealers are truly beautiful!
Compete in Poker Challenges!
The challenges at PokerStars Play are yet another way to earn some free chips.
To see the challenge list, click on the PokerStars logo at the top-right corner of the screen.
You will get three different challenges every day. Here are a few examples:
Wager on 65 hands
Win $80K in cash games
Raise 20 times
Each challenge carries a reward of a few thousands of free chips. If you complete all three of them, you unlock a surprise bonus.
There are also weekly challenges that are a bit more difficult to complete.
Slots at PokerStars Play Mobile
Aside from poker tournaments, PokerStars Play offers some quality Slots for American players.
Currently, there are 11 different Slot machines available.
These include some of the most popular Slots on the internet like Gonzo's Quest, Jack and the Beanstalk, and Twin Spin.
However, Slots are the only casino games at PokerStars Play at the moment. Let's hope they include some blackjack and roulette games in the future.
Some Final Thoughts on PokerStars Play
Overall, I have no major complaints about PokerStars Play.
I like the fact that you can really play poker for free without spending a single dollar.
However, this is only true if you're content with low-roller poker tournaments (like me). In case you want to play in Moscow or Las Vegas tournaments, you'll have to buy chips. Otherwise, it is almost impossible to collect the fee required to join these tournament online.
The addition of Slot games is also a nice touch, as it is quite difficult to find good free Slots to play in the USA.
Games & Networks
If you know a thing or two about online gambling and you are looking for specific games, check out the list of games and networks before you sign up for a free gaming account.
Available games:
Need to know more about the games available at this online Casino? Don't miss the list below then!
Casino Hold'em
Slots
Video Poker
Available networks:
Here's where you find everything to know. From the most popular table and live games, to all the networks you can access once you log in.





Customer Support
In case you encounter any problems, you can contact the customer support of the PokerStars Play app at [email protected]
Your questions will be answered quickly and professionally by a dedicated support team.