Based on the game of five-card poker, Caribbean stud poker is one of the most popular live online poker variants, and as a more straightforward game, is one that anyone can play.
If your plan is to play to win and hit the biggest payouts, then you'll want to learn some Caribbean poker strategy and increase your odds of winning live online poker
On this Caribbean stud poker strategy guide will cover:
The best strategies and tips for how to win Caribbean stud poker.
The official Caribbean stud poker payouts.
And the most common FAQs players have about this game.
The Best Strategies for Caribbean Stud Poker
Caribbean stud poker is one of the more accessible variants of poker to start playing, but as a game of skill, you can't dive right in and expect to start winning. First, you'll need to know how to play and some Caribbean poker strategies to help you succeed.
In this article, you find a collection of the top Caribbean Poker strategy tips prepared for you by the CasinoSmash editorial team. These will help you get started and understand what is the optimal play to get the best odds to win.
1. Learn the Rules and Hands Before Playing
This one seems pretty basic, but there are many players out there who don't take this step before laying a bet. As a game of skill, this isn't a good idea as you're likely to lose if you don't know what you're doing.
We have prepared a page with the basic Caribbean poker rules[/URL] that shows you how the game works. Then, if you need more help to understand the winning hands and payouts, there's a table right on this guide that features all the info you need.
2. Join the Online Casinos Loyalty Club
Joining your online casino's loyalty club is a great way to earn more rewards for the money you spend gambling. Most US online gambling sites offer clubs where you can collect points and exchange them for game credits, cashback, extra bonuses, or gifts, which means you can play more poker online.
3. Manage Your Bankroll
Caribbean Stud Poker has a house edge of 5.22-5.7%. While this is an average and theoretical percentage, you can use it to calculate your bankroll over time and to set a playing budget. When your budget finishes, stop playing.
4.Use Bonuses for Freeplay
If you're a new player at an online casino, make sure you claim one of these casino signup offers so you can play more Caribbean stud poker games on the house while winning real money prizes.
5. Pick a Licensed Online Casino
The best way to ensure that you get a payout from a Poker game is to play at a licensed online casino. If you don't pick a licensed site, the game may not be fair, and the casino may not payout wins. Licensed US casinos offer audited and tested games and are bound by local consumer laws to payout, providing fair gambling.
If you don't know where to start, check out this comparison the best live online casinos in the United States to find a complete breakdown of licenses, games, and bonuses available.
Advanced Tips on How to Win Caribbean Stud Poker
Now, let's move onto something more specific about this game and examine some math-based strategy that can help you find out how to win Caribbean stud poker.
Don't fold too quickly: The dealer's hand must qualify by getting Ace-King or higher to play. This means they fail almost half of the time as there's only a 56% chance that the dealer will get an Ace/King.
This puts you in a pretty good position, even before the cards are drawn, so the first thing to remember is not to fold too quickly, as this will mean you lose your ante bet. Whereas, if the dealer doesn't qualify, you get even money and lose nothing.
Never take the side bet: The house edge on side bets is usually around 25%, and that's huge. Rather than spend a dollar on a jackpot side bet with bad odds, keep it and play another round.
Always raise with a pair or higher and always fold if you have less than a pair: Following these two simple Caribbean Poker Strategy rules will keep the house edge near 5.22% - the optimum level - and help you play a quick and decisive game.
Try following these Caribbean Poker strategy tips for more complex rules on when to fold and when to raise.
When to Fold:
If you have a hand less than an Ace/King, and raise if you have better.
When to Raise:
If the dealer's visible card is 2-Q and equals one of your cards.
If the dealer's upcard is a King or Ace, and you've got a Queen or Jack.
If you have Ace-King-Jack-8-3 or better.
Payouts For Caribbean Stud Poker Hands
| Hands | Caribbean Stud Poker Payouts | Odds of Making the Hand |
| --- | --- | --- |
| Royal flush | 100:1 | 1 in 649,351 |
| Straight flush | 50:1 | 1 in 72,202 |
| Four of a kind | 20:1 | 1 in 4,167 |
| Full house | 7:1 | 1 in 694 |
| Flush | 5:1 | 1 in 526 |
| Straight | 4:1 | 1 in 246 |
| Three of a kind | 3:1 | 1 in 47 |
| Two pair | 2:1 | 1 in 21 |
| Pair | 1:1 | 1 in 2 |
Frequently Asked Questions about Different Caribbean Poker Strategies
What strategies can increase your chances of winning at Caribbean stud poker?

Since Caribbean poker is a game of skill, the moves you make influence the outcomes. Therefore, you can employ strategies based on calculating the odds of each outcome, like those we've laid out above. While no strategy guarantees a win, they increase the likelihood of it.
What betting types are there when playing Caribbean stud poker?

Caribbean stud involves an ante bet, the forced bet paid to have the cards dealt, and a raise bet, which is if you want to increase the bet, after seeing your cards because you have a strong hand.

Most games also come with a jackpot side bet, too. Although, as this offers a high house edge and a low chance of winning, we don't recommend taking it.
What does it mean that 'the dealer qualifies' in Caribbean poker?

If the dealer qualifies, they already have AK of better.
Is Caribbean stud a good poker game for beginners?

The simple gameplay and basic rules make Caribbean poker an easy casino game for beginners, although there are some strategy elements that may require some practice. In general, this game is easier to play than Texas hold'em and Omaha poker.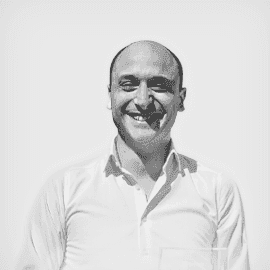 Bio
Political scientist, and gambling expert, I have spent the most part of the last ten years writing about the casino and poker industry. As a professional journalist, I work with FOX News, La Repubblica, the Economist, Politico, and PokerNews. As a gambler, I won money pretty much anywhere in Europe. As a gambling editor, I'll help you do the same.