Playing video poker games online can get frustrating very quickly for new players, as the promise of 'frequent wins' suggested by the game's high return-to-player (RTP) percentage often clash with seemingly unstoppable losing streaks.

The best way for new players to understand how to approach the game and find the best play and video poker strategy to maximise their chances to win is to use a free video poker trainer and use it to learn how to play particular hands in specific games.
This is a guide for serious players who want to master the best games of video poker. We will look at the best software and apps to experiment with different tips and strategies.
Some are paid products that 'teach' you how to reach optimal play by choosing always the right cards to keep and discard, while some are free.
Our recommended choices are the free games at BetMGM Casino. Click here to discover why.
Our favourite video poker tools are the free ones. Unless you are on the lookout for more casino training tools, we believe the demo games available at most online casinos are a great start for new players.
Playing games for credits rather than real money is a great way to identify the wrong play of a specific hand and focus on ways to improve your results every time you hit the deal buttons.
The deposit bonuses and free money bonuses that often come with new casino accounts are a great way to practice video poker games like Deuces Wild, Aces or Better, Joker Poker, Bonus Poker, Jacks or Better, and more.
Why Use a Video Poker Trainer

A regular video poker trainer looks and plays just like a regular game. You have the same card slots, the same buttons to hold the cards you want to keep, and identical payout structures.
There is no difference between real money games and those you play on a free video poker trainer. Select the stake of your bet, ask the machine to deal a five-card poker hand for you, and look at the cards to decide how to continue.
Depending on the software you pick, the trainer will 'judge' your decisions and show you how much your play differs from the game's optimal strategy.
Understanding the concept of Expected Value (EV) is key. This is the only way for you to increase your chances to win at video poker and get the best odds.
Using a video poker trainer is your best bet to learn the game and find out how to use the nuances of different variants to your advantage.
Paid vs Free Video Poker Trainers
There are three types of video poker training tools online:
Free practice games listed at online casinos. When you join these games you get a limited amount of free credits to spend on games that are exactly the same you'd play for real money.
Free apps for Android and iOS. After downloading these apps on your mobile devices you can practice video poker for free and learn how to play.
Paid software to install on your computer. These tools teach you how to play different games and give you tips on how to improve your chances to win.
Responsible Gambling and Free Video Poker Practice
Before we go deeper into this topic and we discuss what are the best video poker trainer solutions to try, read these lines about responsible gambling.
Best Free Video Poker Trainer Online: BetMGM Casino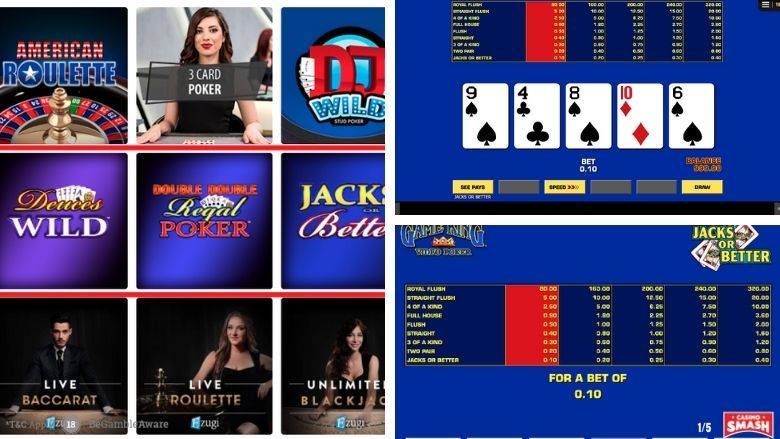 $25 Free Video Poker Bonus to Practice Online
Use the demo games to practice and then try to win real money for free with the $25 bonus on registration.
☑ Open to players in NJ, PA, MI, WV
☑ Free $25 to play, no deposit required
☑ 15+ Video poker variations
☑ Bonus playthrough requirement:1x
There's a number of reasons that make BetMGM Casino the best website to find a video poker trainer online.
BetMGM accepts players from New Jersey, Pennsylvania, West Virginia, Michigan, and Colorado. If you are not located in one of these five states, you need to pick a different option.
BetMGM lists 15+ video poker variants. All the games are available for real money play and for free. You can use the unlimited credits included in the demo versions to practice games of Jacks or Better, Deuces Wild, Game King, 10's or Better, and more.
While here you don't get any feedback to compare the way you play with the way you should play, BetMGM Casino is the only site that gives you a free $25 bonus to try the real money games.
Register an account, practice video poker for free with the demo games, and use the free $25 bonus to try some real money games risk-free as soon as you are ready.
The $25 free bonus is for new customers only and is yours upon account activation with no deposit needed. See our BetMGM Casino review for additional info about this and other offers.
Finding the video poker games on BetMGM is not super intuitive though. To find the demo trainer games, you need to visit the site's Table Games section and then scroll to the 'All Table Games' selection at the bottom of the page.
If you need some help to get started and learn the basics of the game, check out the rules of video poker to learn how the game develops and why the correct strategy can help you win more.
Best Free Apps: Two Winners
The two best training apps you can bring on your Android and iOS devices are VP Tutor and Practice Video Poker.
VP Tutor (iOS, Android)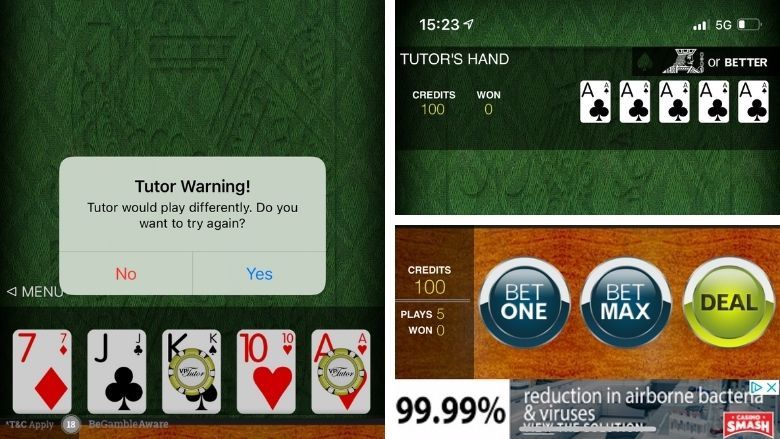 This pocket-size tutor will show you the best way to play hands of Jacks or Better, Double Double Bonus Poker, Deuces Wild 44, and Double Double Bonus.
The app does a great job in keeping track of your stats and offers a handy video poker analysis table that helps you navigate through your options and choice.
While the UI could be improved and the tutor's suggestions could be shared before you make your selection and not necessarily after, we found this app to be a great option to learn the ins and outs of the four games included.
If you want, you can use VP Tutor as a free video poker app, as well. To do so, simply go to the app's settings and turn off the three features listed under 'Tutor Assistance.'
This app comes with limited free credits. If you need additional ones, 1,000 training credits go for $0.89. Removing the banner at the bottom of the video poker screen costs $1.79.
Practice Video Poker (iOS, Android)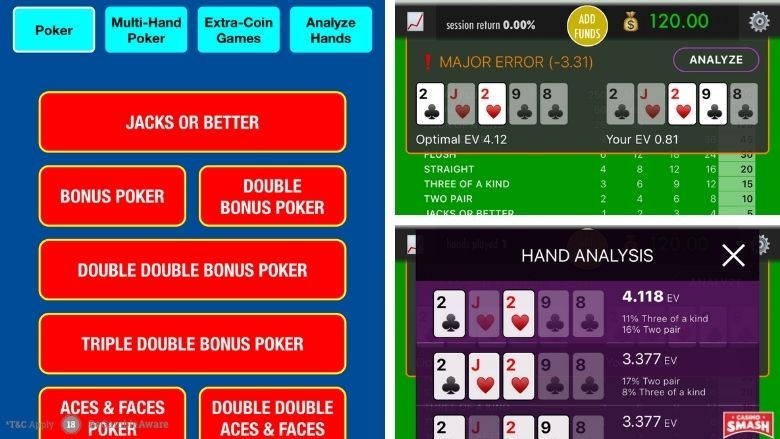 Sometimes the ugliest-looking apps are the ones that get the job done. And Practice Video Poker is as an app can get.
From the flat blue background to the light blue and red buttons and the supersized sticky menu placed right at the top of the home screen, everything about this app seems to be built to fail. But then...
There are 12 video poker games to play right at the start, with this collection including Deuces Wild, Joker Poker, and Aces & Eights.
On top of that, there are 42 additional multi-hand games to bring your training to a whole different level. The multi-hand games are locked in the app until you play some single-hand games and learn the video poker basic strategy.
The developer claims they decided to do so because "basic strategy is critical in multi-hand [games]: the more time you draw, the more impact your decision has."
Based on what we wrote on the Jacks or Better video poker strategy this is ever so important when you play some of the potentially most lucrative game variations available online.
The Practice Video Poker app features also a section dedicated to 'Extra Coin Games' to learn how to bet extra coins to earn multipliers.
There's also a spectacular 'Analyze Hands' section where the app suggests the best way to play any combination of cards. Just pick the five that compose your hand and let the algorithm suggest the optimal play.
The only downside is the credit system. You start with a $100 bankroll and you have a few options to grow it. You can play and win extra credits (duh!), you can complete tasks (e.g. allowing notifications will earn you $30, watching a promotional video $125), or you can buy them outright. In this case, $1,000 virtual dollars cost $2.
Best Paid Training Software: Win Poker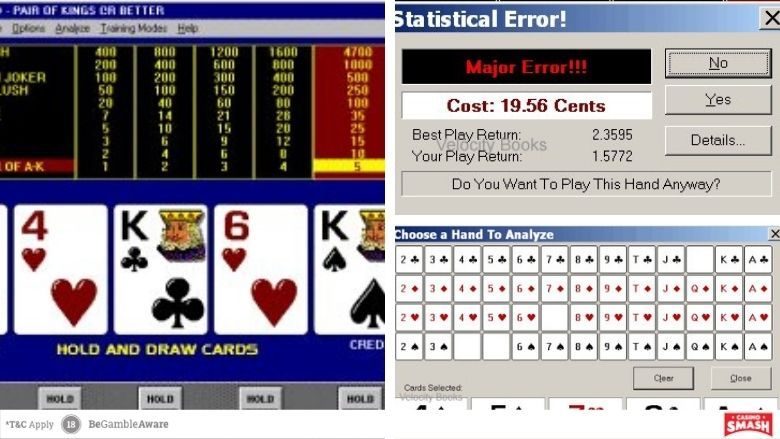 To compile this article, the CasinoSmash editorial team tried 15 paid video poker trainers, including popular options like Bob Dancer's Video Poker for Winners and Optimum Video Poker.
Most trainers available for download online share some similarities. You will either be presented with an interface that looks like real video poker machines, or a simple but elegant interface that includes all the commands you'd expect to find in a game. It all depends on which poker trainer you choose.
Then, you will need to choose the cards you want to hold from the five dealt cards. The trainer will inform you if you made an error and which cards you should hold on to. Each wrong move will be recorded so that you can track your progress.
Win Poker is our recommended choice when it comes to the best paid training software to learn optimal play. For $39.99 you get software that includes 23 games, real-time feedback on your play, and a log that collect the history of your mistakes and signs of progress.
You have also the option to customise the paytable and add any other video poker variant you like, getting immediate feedback on the dos and don'ts of every possible hand.
Optimum Video Poker, Advantage Play Trainer is an excellent alternative. Available for Windows and Mac, this video poker software includes a 70-page manual that can turn any beginner into a pro.
The downside, however, is the price tag - as Optimum Video Poker costs $59.95. Given the few extra features, we believe Win Poker to be the most EV pick in 2021.
Training Resources and Responsible Gambling
The fact the products on this page give you the opportunity to play video poker games for free does not mean you should behave as if the free credits meant nothing to you.
Gambling is addictive and it can cause harmful and negative consequences if you play for the wrong reasons or with the wrong mindset. We ask all our readers to proceed with caution and use the free credits included in video poker trainers as they would use their own money.
Learn to manage your bankroll playing for free and limiting your losses will become much easier for you also when you move onto real money play.
One of the most underrated benefits of video poker trainers is the impact these tools have on money management.
These apps and software will show you how to get the best chances to win at video poker as well as how to manage your gambling money in the best possible way.
If you have doubts about what responsible gambling is and what tools can help you to keep your gambling experience fun and under control, please visit our guide to safer gambling.
Frequently Asked Questions about Video Poker Training Tools
What do video poker training tools do?

These tools analyse the way you play video poker games and give you real-time feedback on how your actions impact your chances to win a hand.

Training tools compare your play to optimal strategy and suggest what cards you should keep/discard to maximise your winning chances and help you try and beat video poker.
Will I be sure to win if I follow the training advice when I play video poker?

Video poker is a gambling game with a house edge that changes depending on the variant you choose. While optimal strategy helps you get the best possible chances to win, you can never be certain to win at video poker every time you play.
Can I use a training tool while I play a real money online video poker game?

Yes. In this case, we recommend downloading a video poker training app to your phone and use the second screen to support the games you play on the desktop.
Are video poker training tools legal?

Video poker training tools are educational resources created to help players reach optimal play and get the best winning odds allowed in the games. These software and apps are legal and can be used to learn the game or to help players make better choices during real money hands.
What video poker variations are included in these casino training tools?

All the most common video poker online variations are included in all the apps and software recommended on this page. The paid programs allow you to edit the payout table to add more games, including other variations you might find at brick-and-mortar casinos
How good is Dan Paymar's video poker trainer?

Dan Paymar is an icon in the world of video poker and one of the game's most respected experts and lovers. Paymar's Optimum Video Poker launched in 2004 and, at that time, was considered to be the best training tool ever created.

The tool, however, appears to be discontinued and some of the old versions we have been able to test showed massive compatibility issues with the latest macOS and Windows operating systems.
Are there any good books to learn video poker?

Books can be a good way to learn the best strategy to win at video poker, especially when supported by a training tool. The best guides in the market are Dan Paymar's Video Poker Optimum Play and Bob Dancer's Video Poker for the Intelligent Beginner. Both books are available online on Amazon.
Where can I buy video poker training software?

The trainer at BetMGM Casino is free and available on the BetMGM Casino website in New Jersey, Pennsylvania, Michigan, and West Virginia. To use the demo games, you need to register on this page. The two apps recommended on this page are available on the PlayStore and AppStore.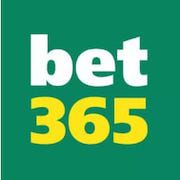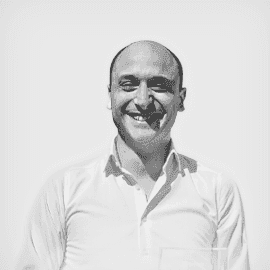 Bio
Political scientist, and gambling expert, I have spent the most part of the last ten years writing about the casino and poker industry. As a professional journalist, I work with FOX News, La Repubblica, the Economist, Politico, and PokerNews. As a gambler, I won money pretty much anywhere in Europe. As a gambling editor, I'll help you do the same.