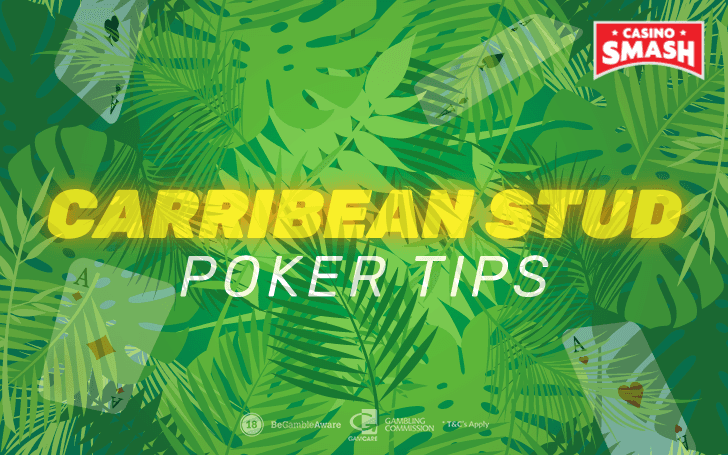 Caribbean Stud Poker Tips: Mistakes Everyone Makes
Check out our tips to win at Caribbean Stud Poker and discover all the most common mistakes beginners make.
Caribbean Stud Poker is one of the most fun Casino games to play at online or land-based Casinos.
But there's more to it. It can also prove to be one of the most profitable ones.
When you play with optimal strategy, the house edge is approximately five percent. Yet, one should consider that the element of risk is only around 2.5 percent.
Blackjack or Craps with the basic strategy can have a lower house edge. But Caribbean Stud Poker awards players with a higher payout. At the same time providing more excitement.
To increase your chances to win, it is important to learn Caribbean Stud strategy. And avoid the most common mistakes many players make.

Obviously, the fewer mistakes you make, the better chances you have to come out a winner in this game.
But before we get into what mistakes to avoid and share Caribbean Stud Poker tips, there's something else you should know.
The rules.
How to Play Caribbean Stud Poker
Unlike in some other forms of Poker, players play against the bank - and not against other players at the table. Plus, while the usual Poker rules and hand ranking apply, there are no community cards in Caribbean Stud Poker.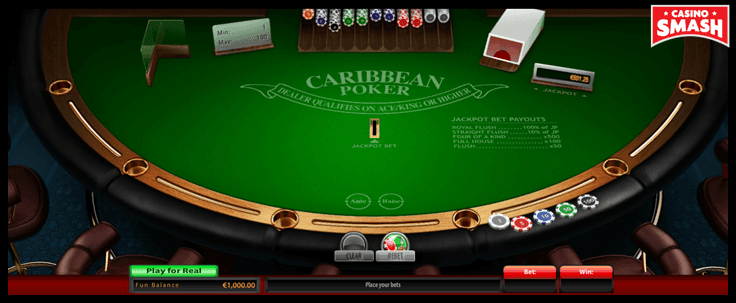 In Caribbean Stud, players begin a hand by placing an ante bet.
Once the ante bet is set, they are dealt five cards face down each. The dealers are also dealt five cards with one of them being face up for everyone to see.
Then, the players have a decision to make:
a) either to fold their hand and lose their ante bet, or
b) to call and continue with their hand by doubling their ante bet.
If you go with the option b), you believe (and hope) that your hand beats the dealer or the dealer's hand does not qualify.
A qualifying hand for the dealer is an ace-king or better.
What goes next?
The dealer qualifies and your hand beats theirs? You get a payout based on the strength of your hand according to the payout table posted at the Casino.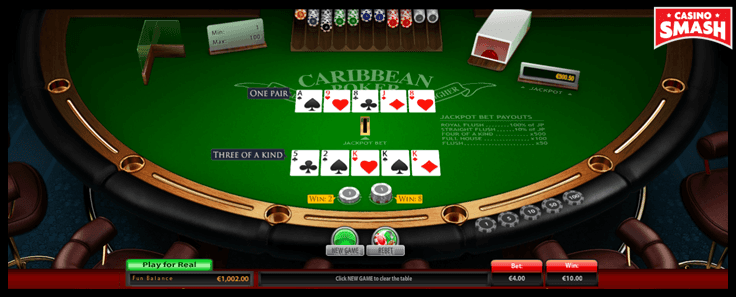 If the dealer does not qualify, the remaining players get double their ante back.
Also, sometimes the game allows players to play for a progressive jackpot. If you're in, you need to bet an extra dollar (or other currency). But we will talk about it a little bit later.
The rules of Caribbean Stud Poker sound easy, right?
Yes, they are. And that's why players don't do so well in Caribbean Stud Poker. Players learn the rules and ignore the Caribbean Stud strategy.
Avoid this common mistake.
Don't fool yourself thinking that the game is easy because the rules are. Learn the basics and optimize your gameplay. It will also increase the likelihood of you winning at Caribbean Stud Poker.
Plus, you have nothing to lose. All the common mistakes are right here in front of you.
Caribbean Stud Poker Tips: Common Mistakes Beginners Make
If you know other Poker variants, you may feel as if you have enough knowledge to play any kind of Poker.
That's what I thought, too.
But learn from my mistakes, Texas Hold'em Poker is far from enough to play other variants well. That's where many mistakes come from.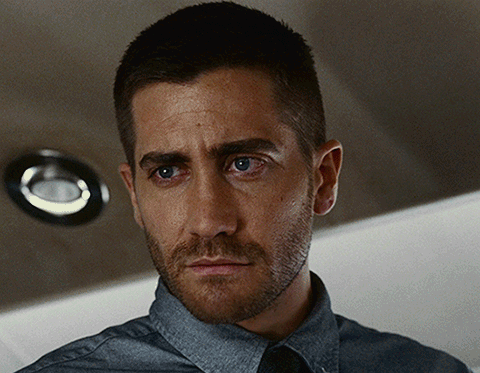 What common mistakes are there? Let's see.
1. Thinking that the hand is not worthy enough to continue
Imagine this.
You're playing Poker and you get a low pair, let's say a pair of deuces. It might be a good choice to fold in Texas Hold'em or Poker variants where you play against other players.
But remember, in Caribbean Stud Poker, or any Casino Stud Poker, you play against the dealer. And they won't necessarily have that good of a hand to beat you.
Even if they do, that hand might not qualify. And that's not that rare either. The dealer will not make a qualifying hand 44 percent of the time.
Thus, it's a huge mistake to fold these hands.
A good tip for Caribbean Stud Poker: even a pair of two's has more than a 50 percent chance of beating the dealer. Regardless of their hole card face up.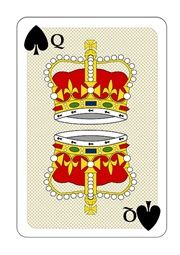 2. Not understanding how to play ace-queen and ace-king combinations
Yet again, the confusion with other Poker variants causes another mistake.
During a game of Caribbean Stud Poker, many players instinctively feel that ace-queen is a decent hand.
It is, in some variants of Poker, definitely. But Caribbean Stud?
Not so much.
Remember, if the dealer qualifies, they already have ace-king of better.
So, your hand will lose to the dealer any time they qualify.
Thus, ace-queen should be an instant muck without putting much thought into it.
Ace-king combinations are a bit trickier.
Whether you should fold or call depends not only on what your other three cards are but also what the dealer is exposing. Folding ace-king at the wrong time will cost you money, as will playing it when the odds say you should fold.
3. Betting on the jackpot
With the rules mentioned above, you know what mistakes to avoid in Caribbean Stud Poker. So now let's focus a little on the progressive jackpot.
The thing with the jackpot is obvious.
The Casinos make a killing on jackpot bets. Because the potential of striking it huge makes players forget the odds.
So, should you avoid the jackpot completely? While getting a hand of the royal flush is not easy, don't ignore the jackpot if:
you are playing for fun,
you will get upset that you didn't score big when hitting the top hand regardless of how big the jackpot was.
You see, some players can get frustrated for not taking such chances. If that's you, bet on the jackpot.
But if you are a more rational player who tries to maximize your odds, think twice before betting.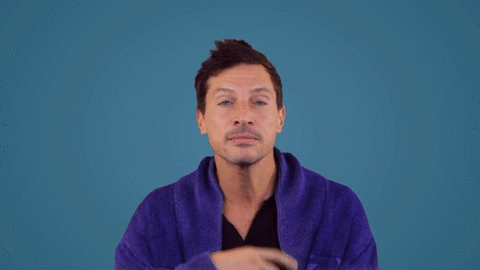 Is that jackpot worth it?
If the sum is reeeealy huge, it might be.
At most Casinos, the break-even point is around $250,000 for the jackpot. Due to different payout structures, at some Casinos, the break-even point is around $150,000.
And then there is this.
To win the progressive jackpot in Caribbean Stud Poker you need to be as close to the dealer as possible.
What does it mean? If more than one person wins the jackpot or a part thereof, it is first paid out to the person closest to the dealer.
For example, if the jackpot is at $250,000 and the first player hits a royal flush he or she wins the entire jackpot.
If the second player happens to have a straight flush, he/she will only get 10 percent of the reset jackpot. In case of $10,000 as reset amount, it would be $1,000 in total.
Quite a frustration, isn't it?
And it actually happened to some players. The difference between $25,000 (or 10 percent of $250,000 in this example) and $1,000 is very significant.
Luckily, you can avoid this if you play Caribbean Poker at an online Casino. Because you play against the dealer alone.
4. Playing at second-rate Casinos
Paytables.
That's the last but not least thing you should consider before hitting the Caribbean Stud Poker tables. Both online and at brick-and-mortar Casinos.
If you are planning to play Caribbean Stud online, play at good gambling rooms with decent payouts. Like NordiCasino.
That's a relatively new Casino inspired by the Vikings and Nordic culture. The Casino has 850+ games to choose from, including Caribbean Poker and Caribbean Poker Micro.
Plus, at NordiCasino you practice Caribbean Stud for free. It's the best way to try different Caribbean Stud Poker strategies and find the optimal way to play. Once you feel good enough about your skills, you can invest real money.
NordiCasino makes it easy - you get 20 wager-free spins and 200 percent bonus up to €1,000 once you deposit as a new player.
Plus, Caribbean Stud Poker Paytable there is as good as it can get when playing the game online. The payouts are as follows:
| Hand | Payout |
| --- | --- |
| Royal Flush | 100:1 |
| Straight Flush | 50:1 |
| Four of a Kind | 20:1 |
| Full House | 7:1 |
| Flush | 5:1 |
| Straight | 4:1 |
| Three of a Kind | 3:1 |
| Two pair | 2:1 |
| One pair | 1:1 |
| Ace/King | 1:1 |
Now that you understand how to play, where to play, and what mistakes to avoid, why not give Caribbean Stud a chance?
Join NordiCasino and start playing Caribbean Stud Poker now!