James Bond is one of the most famous characters that's also often associated with Casino gambling
In one of the books, Bond is using a Roulette strategy to win his games
What is James Bond Roulette strategy and whether it works in real life explained in this article
If you had to name a book or movie related to Casinos, what would it be?
21? The Gambler? Ocean's 11?
I'm sure Casino Royale would be close to the top of that list.
In the movies, James Bond usually plays Casino card games. But in Casino Royale book he also takes Roulette for a spin.
And very successfully so.
What Roulette strategy is Agent 007 using? Does it help to win in real life? It's high time you found out.
What is the James Bond Roulette Strategy?
James Bond Roulette strategy is fairly easy.
You can use it to play classic Roulette games both at brick-and-mortar and online Casinos.
You only need a European-type Roulette wheel and a bankroll of £20 or more.
The Original James Bond Roulette Strategy
The original James Bond Roulette strategy includes only three bets. But they cover more than half of the pockets on the Roulette wheel.
Originally, James Bond wagers £200 per spin. But you can change the bets, and, let's say, bet £20 every round.
It all depends on your bankroll and Roulette table limits.
Following James Bond, you'd bet:
£140 (or £14) on High numbers (19-36)
£50 (or £5) on the Six-line (numbers 13-18)
£10 (or £1) Straight-up on zero (0)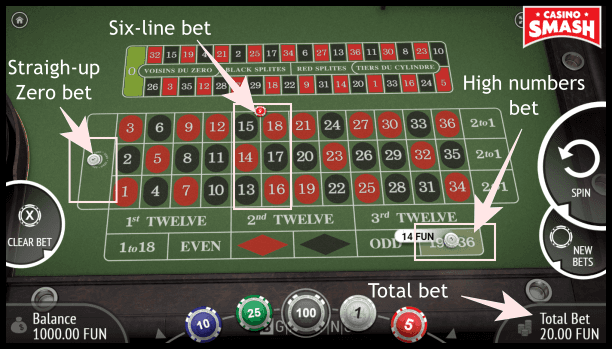 It leaves only numbers from 1 to 12 not covered. Thus, only if the ball stops on those numbers you'd come out empty-handed.
More than two-thirds of other numbers (0 and 13-36) are covered and would bring you profit.
James Bond Roulette Strategy Modifications
You can find online sources suggesting that you can replace the High numbers bet with other even money bets. For example, Black/Red or Even/Odd numbers bets.
In theory, you can.
But then you'd need to replace the Six-line bet accordingly, to cover as many numbers as the original bet.
And that's where it gets complicated.
The Line bets don't cover only odd/even or red/black numbers - they cover a mix of them.
You may end up making six Straight-up bets instead. While they pay a lot more, they would also require more than a £50 (or £5) wager.
The easier option would be to replacing the High bet with Low bet (1 to 18). And then to move the Six-line bet to numbers from 19: 19-20-21 & 22-23-24 lines.
Straight-up bet on zero wouldn't change.
Main Idea Behind the James Bond Roulette Strategy
If you've played a fair share of Roulette games, you can see why James Bond Roulette strategy has its appeal.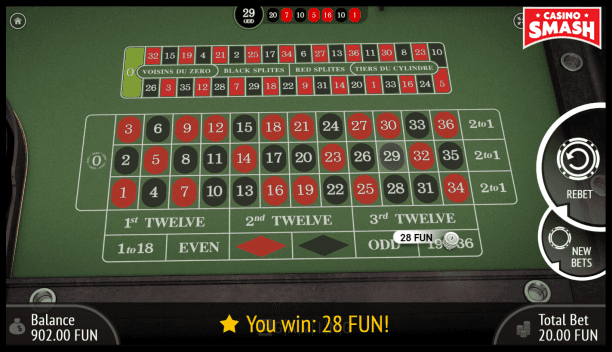 It covers 25 numbers out of 37, thus, the chances to win every spin are quite good.
Landing High number has a 48.6 percent chance, Six-line number 16.2 percent, and Straight-up zero - 2.7 percent.
It leaves only a 32.5 percent chance that ball lands at any other pocket.
Of course, the bets are not all equal and some numbers will pay out more than others:
High numbers wins pays 1 to 1, so with 18 to 36 you'd win £280 (or £28)
Six-line win pays 5 to 1, so with 13 to 18 you'd win £300 (or £30).
Straight-up zero bet pays 35 to 1, so with 0 you'd win £360 (or £36).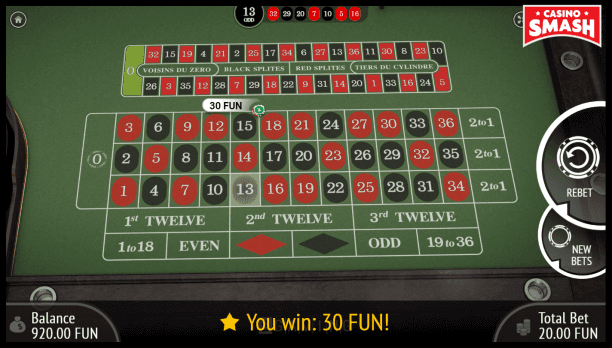 Win - Original Wager = Profit
In the end, either of these wins covers the original wager (£200 or £20), plus adds a little bit extra: from £80 (£8) to £160 (or £16).
That's all you can want from Casino gaming.
Or is it?
Does James Bond Roulette System Really Work?
As good as it looks, using James Bond Roulette strategy won't necessarily bring you millions.
Unless you're that lucky, of course. But then you wouldn't need any strategy anyway.
This strategy does cover many numbers and has good chances. But there is still that 2.70 percent of house edge that makes it difficult to win more in the long run.
James Bond simply didn't stay at the Roulette table long enough to feel it.
But the same goes for any other Roulette strategy.
It is always better to use some strategy, just to have some system for your wagering. It makes playing for real money less chaotic. But there's no strategy that can help you win every time.
Roulette is a game of chance and there is no way to force the ball land in your favor.
If there was, all the Casinos would have gone bankrupt decades ago. Sin City wouldn't exist. At least not the way we know it.
But there are some Roulette tips that can help you in the long run...
What Roulette Strategy to Use Instead
There are a couple of things you can try to improve your odds at the Roulette table.
First, use some strategy.
Not the kind of BS that tells you you'll win every single spin. All that by using some combinations of keys while making Roulette bets online.
Yeah, right.
Professional Roulette betting systems often explain how much to bet on each spin based on the previous outcome.
For example, the Martingale strategy tells you to double your bet every time you lose. And then to go back to your original wager when you win.
This way, when the bigger wager brings a big win, it covers the previous smaller losses.
But if you lose many times in a row, the Martingale system needs a sufficient bankroll to go on with it.
Thus, if you don't want to follow a strict strategy like that, pay attention to some Roulette tips instead.
Ask any advanced Roulette player out there. One of the biggest mistakes beginners make is choosing Roulette games with worse odds.
American Roulette, for example.
It has an extra double zero pocket on the wheel. And that minor difference turns a 2.70 percent house edge into a 5.26 percent one.
Oouch.
Another piece of advice would be to use combination bets.
Like James Bond Roulette strategy combines a High bet with Six-line and Straight-up zero bets, you can make a combination of bets that should bring you profit on most of the spins. And leaves little chance for losses.
James Bond would approve of it.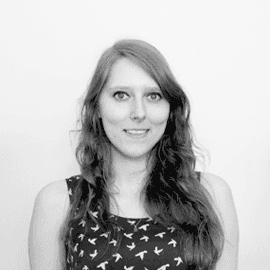 Bio
Marketer, linguist, writer - I enjoy a lot of different things. Writing for CasinoSmash includes two of them - writing and playing games online.