European Blackjack is a variation of the classic Blackjack game
It follows similar rules, but the card-dealing is different
Here you can find everything you need to know about European Blackjack
There's an enormous number of Blackjack variants available. Especially when you play online. One of the most popular of these is European Blackjack.
How does it differ from other Blackjack variants? How do you play, and more importantly, how do you win at European Blackjack?
Let's find out.
European Blackjack 101
When you start playing any kind of game, gambling one or not, you have two options:
dive in without finding anything about it and learn as you play
find out all you can to increase your chances of succeeding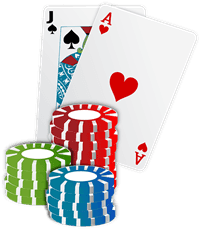 When it's a simple online game, the first option is easy. And often fun.
But you don't want to lose your hard-earned money going with this option when it comes to Casino games. Or do you?
Since you're here, I doubt it.
So, instead of just going with it, let's see the most important things you need to know about European Blackjack.
European Blackjack House Edge and Return to the Player
When you play European Blackjack, the House has a 0.39 percent edge.
If you played other Casino games before, you know:
Online Blackjack has a lower house edge among most Casino games.
It beats Roulette, Craps, Video Slots, and many other games.
At the same time, European Blackjack beats some otherBlackjack variants including Pontoon and Double Exposure Blackjack.
However, some other variants with player-favoured rules can have a House edge as low as 0.17 percent!
But the house edge is still there. Meaning, the Casino will always have an advantage over the players. No matter what you do or what strategy you use.
What about the return to the player percentage, you may ask? European Blackjack pays out 99.60 percent of all wagered money back to the players.
European Blackjack Terms to Know
Unlike Pontoon, European Blackjack doesn't go out of its way to create a new vocabulary for the game.
If you have played any other Blackjack game before, you won't learn any new words here:
| Term | Definition |
| --- | --- |
| Blackjack | A winning two-card hand, consisting of an Ace and a 10-value card (a face card or a 10) |
| Natural | The same as Blackjack |
| Hit | To ask for another card to add to your hand |
| Stand | To be okay with the hand you have and stop asking for more cards |
| Split | When you get a pair of cards (e.g. two Aces), you can split your hand into two separate hands. You'll need an extra wager but will have two hands instead of one |
| Double (Down) | To double the bet and hit for one last time in the round |
| Bust | To lose the round by having a hand with the value going over 21 |
| Soft hand | A hand involving an Ace which can still change its value from 11 to 1 |
European Blackjack vs American Blackjack
Finally, how does European Blackjack differ from the American Blackjack?
It's all in the cards and dealing.
In American Blackjack, the dealer deals two cards for both the player(s) and themselves.
One of the dealer's card is face up, another one is face down (called the hole card).
If the first card is an Ace, the dealer peaks at their second card before you can make any move. If it's a face card or a 10, they win. You don't even have a chance to make a move.
It may seem frustrating, but it saves you from wagering more if, in the end, the dealer has a Natural anyway.
In European Blackjack, this way out is not available.
The dealer gets only one card, face up. Another comes out of the deck only after you make your moves.
This small but significant difference gives European Blackjack a higher house edge.
Single-Hand vs Multi-Hand Play
You can place bets on a single hand or, in some European Blackjack variants, on multiple hands.
Multi-hand European Blackjack platforms enable playing with up to five hands at the same time.
Keep in mind, the dealer uses more decks of cards when you enter a multi-hand platform.
Number of 52-Card Decks Used
How many decks of cards the dealer uses depends on the European Blackjack platform.
For example, Microgaming's High Limit European Blackjack and European Blackjack Gold series use only two decks.
On some other European Blackjack platforms, especially multi-hand ones, the dealer can be shuffling up to eight decks.
You can always check how many decks involved in the Rules (?) section of the game.
How to Play European Blackjack in 2 Minutes or Less
Speaking of the rules, it's time to find out how to play European Blackjack.
European Blackjack Rules
You win European Blackjack game if you have a hand which value is higher than the dealer's hand but lower or equal to 21.
Need a refresher of card values? Here it comes!
| Cards | Value |
| --- | --- |
| 2, 3, 4, 5, 6, 7, 8, 9, and 10 of all suits | Their numeric value |
| Face cards (K, Q, J) of all suits | 10 |
| All Aces (A) | 1 or 11 |
The best possible hand to get is called a blackjack. It's a two-card hand having a value of 21: Ace with 11 points + Face card/Ten with 10 points.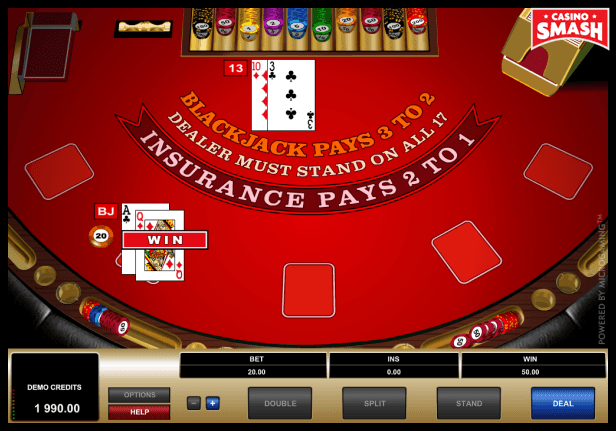 Didn't land a Blackjack?
No worries. You can still win by getting the value of your cards to 21 or as close to 21 as possible.
How to do so?
Keep the value of your hand in mind
Accordingly hit (ask for an additional card) or stand (stop taking extra cards) during the gameplay
It's also possible to double your bet if you think that the next card you get will be the last you need to win. Or to split your hand into two if you land a pair of the same cards (e.g. a pair of Kings).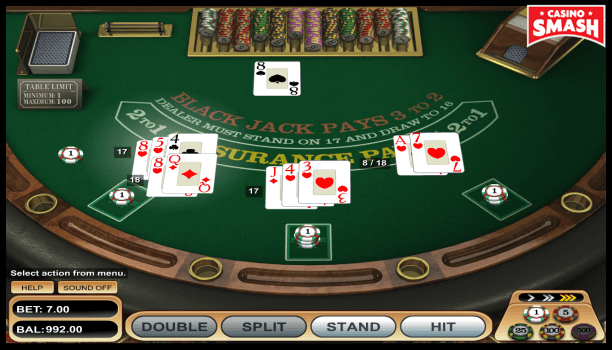 How does the game end?
If you go over 21, you lose right away.
If your hand is complete with standing or doubling down, the dealer reveals their second card and completes their hand: sometimes hits, sometimes stands - you know the drill.
Your hand is higher than the dealer's one? Congrats - you win.
If it's not, you lose.
It's common that European Blackjack games also have an Insurance option.
It's an extra bet you can place when the dealer's first card is an Ace. You win this extra wager only if the dealer gets a Natural. You won't get originally wagered money back because with dealer's Blackjack - you lose.
European Blackjack Payouts
Interested in the payouts?
It's important to know yet very little to remember:
| Win | Payout |
| --- | --- |
| Blackjack | 3 to 2 |
| Insurance | 2 to 1 |
| Other Win | 1 to 1 |
Basic Strategy for European Blackjack
Okay, now comes the fun part.
How does one win at European Blackjack?
Any Blackjack player will tell you - by using a strategy.
Though they won't tell you what strategy they use.
But I will.
Print this out, have in a separate browser window, or memorize it. This will help you to avoid many mistakes beginners make.
Plus, once you use it in a game, it will be easy to remember.
After you play using basic European Blackjack strategy, it will be nothing more than an automatic habit triggered by specific cards you or the dealer gets.
Important: As I've mentioned above, using basic strategy doesn't beat the House edge.
The House will always have an advantage over players - that's the only way Casinos make sure they don't get bankrupt.
When to Hit and When to Stand
Hit and stand are the only two moves that you'll definitely end up making. You can easily play European Blackjack while ignoring all the other moves except these two.
So when to hit or stand? Let's see.
If dealer's face up card is a 3, 4, 5, or 6:
hit when you have 11-value and lower hand
stand when you have a 12-value and higher hand
BUT if dealer's face up card is 3, 4, 5, or 6 while you have an Ace in your hand:
hit when you have a soft 17 and lower hand
stand when you have a soft 18 and lower hand
If dealer's face up card is a 7, 8, 9, 10, a face card, or an Ace:
hit when you have 16-value hand and lower or a soft 17 and lower
stand when you have 17-value and higher or a soft 18 and higher
When to Split Your Hand
While you don't have to split your hand, it may come in handy in some cases.
And it's only a few things to remember to use the split option in European Blackjack.
If the dealer's face up card is a 2, 3, 4, 5, 6 or 7:
split 2s, 3s, 8s, and Aces
don't split all the other pairs
If the dealer's face up card is an 8, 9, 10, a face card, or an Ace:
split 8s and Aces
don't split all the other pairs
When to Double Down
Doubling down is one of the riskiest moves you can make during European Blackjack game.
It both makes your bet double and gives you one (but last) card to complete the hand.
Thus, you shouldn't double down whenever you feel like it.
Keep the move for the moments when:
you have a 7 or 8-value hand and dealer's face up card is from 3 to 6
you have a 9-value hand and dealer's face up card is from 2 to 8
you have a 10-value hand and dealer's face up card is not a 10-value card (face cards and a 10) or an Ace
you have an 11-value hand and dealer's face up card is not an Ace
When to Take Insurance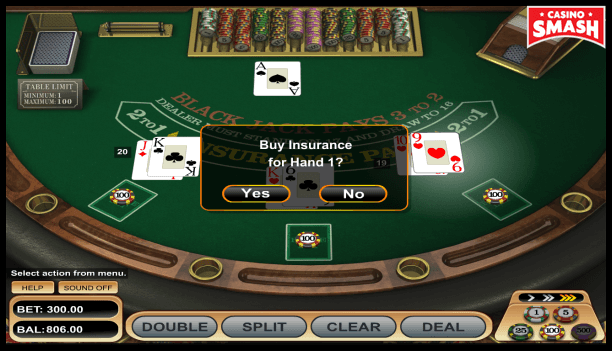 This is going to be a quick tip. The answer to the question 'When to take insurance?' is 'Never'.
I could go into details but Giovanni Angioni has already covered it in his article on What is the Insurance in Blackjack and why it is a scam.
Here let's just say, insurance is a move invented by Casinos to increase the House edge and make you lose more money.
So, avoid it. Seriously.
Other than that, you can find and download a Blackjack Cheat Sheet. All the other moves - hit, split, double down - explained in one A4 paper.
Practice Playing European Blackjack Online
Now you know the rules, payouts, basic strategy, and other European Blackjack facts.
It's time to practice.
To master the game, there is no better saying than the cliche 'Practise makes perfect'.
Do you play at land-based Casinos? Then the only way to practice European Blackjack is wagering real money. And visiting a Casino, of course.
When you play online, you have more options.
Three, to be exact:
European Blackjack Free Play
European Blackjack free play is what it sounds like. It's a demo mode or version of the game where you can play completely for free.
You get free credits and you can use them to play. Only sign-up at online Casino is needed. Sometimes not even that much.
However, you won't be able to win any real money either. Plus, some games are not available for free play. Including all European Blackjack games with a live dealer.
Click here to open the suggested Casino for European Blackjack free play.
European Blackjack for Real Money
Playing for real money is like playing at brick-and-mortar Casinos.
You enter the Casino, make a deposit to your account, and play the games using that money (or the chips that money turned into).
You can play European Blackjack for real money at this online Casino.
European Blackjack with a Bonus
Playing with bonus money is the perfect balance between free and real money play. You get extra money for playing as a welcome bonus or some other promotion from the Casino.
But you can still win real money.
To activate such bonus offers, you need to sign-up and to make your first deposit at online Casino.
Terms and conditions always apply, makes sure to read them before playing.
You can get a superb online Casino bonus here.
Different European Blackjack Variants Online
While we're at the practice part of this article, you should try different European Blackjack variants to get a taste of the game.
The variants differ in how they look like and the bet sizes. Also, whether it is a multi-hand or single-hand game and thus, how many decks are used.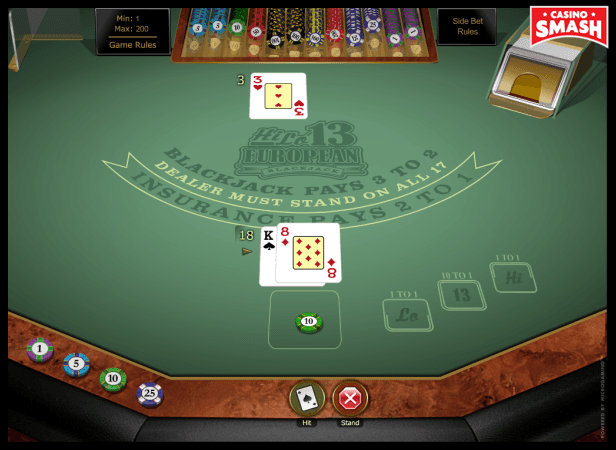 Rules and strategy stay the same but some extra bets involved can modify it.
Live dealer version has an obvious difference. You don't get random computer-generated outcomes but an actual dealer deals you the cards.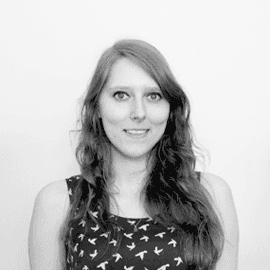 Bio
Marketer, linguist, writer - I enjoy a lot of different things. Writing for CasinoSmash includes two of them - writing and playing games online.