Roulette optimal play includes betting systems, bankroll management, and good use of the bonuses you get online.
Use this guide to know the five fundamental tips to increase your chances to win on Roulette.
This is the ultimate guide to learn how to get better chances to win at Roulette in 2020.
And let me be clear about something:
This is NOT a "get rich quick" scheme where I tell you that the secret to winning at Roulette every time you play is to do x, y, and z.
It really isn't.
Yes, I will cover all the most successful strategy tips that help you get more chances to place a good bet when you play Roulette.
But you are also going to see new strategies to play like an expert and generally increase your chances.
So if you are looking to play roulette with the best odds and you are not just looking for a sci-fi guide on how to win at Roulette every time, you'll love this new guide.

Play Roulette Online!
Test your roulette strategy and play at one of the top online casinos!
Chapter 1. A Realistic Approach to the Game
Luck has nothing to do with your poor results at the Roulette table.
Although Roulette is a gambling game, and as such one where the house has an advantage over you and luck plays a major role, there's only one case when you are entitled to blame your bad luck for your losses.
That's when:
You know the rules of the game to perfection
You play with the best Roulette strategy
You can calculate the odds of each bet within seconds
You are a bankroll management pro
In all the other cases, the main obstacle that separates you from good Roulette wins isn't only your lousy luck…
…it's also your approach to the game.

Play Roulette Online!
Test your roulette strategy and play at one of the top online casinos!
The key to getting more winning chances on the Roulette wheel is to know your limits and work to fill your gaps.
You can't win at Roulette if you don't know the rules of the game and you will never end a session in the black if you don't use the right in-game and bankroll management strategies.
Understanding the essentials is the best way to be successful at gambling and have even the tiniest hope to win at Roulette.
"Rules are boring", I hear you.
We are all in it for the thrill and the excitement of the game. After all, isn't playing Roulette so much fun that we enjoy our games even when we lose?
But give the Roulette rules a good look. It will be time well spent.
When you know how the roulette wheel works, move to the most important part of the game: how the roulette wheel looks.
Chapter 2. Roulette Wheel Layout
While all Roulette wheels might look the same at first, you need to know how to spot the right game if you want get more chances.
If you don't know the differences between American and European Roulette, this tip alone will change your game forever.
In short:
The American Wheel feature one additional green slot, the '00'
This slot increases the game's house edge and reduces your chances to win
Only play games of European Roulette.
If you play at a Casino where European Roulette is not available, your choice is even easier: do not play Roulette at all.
Because if you play American Roulette, luck will not be able to help. You will lose your money.
The American Roulette
I'll cover this first - so you can understand why you should never play the American roulette wheel.
This has nothing to do with the strategies on how to win at the roulette wheel. This is all about the one thing you should never forget to use when you play Casino games:
common sense.
The American Roulette wheel features two zeroes - the green slots on the wheel -, and that increases the advantage of the casino (aka. house edge).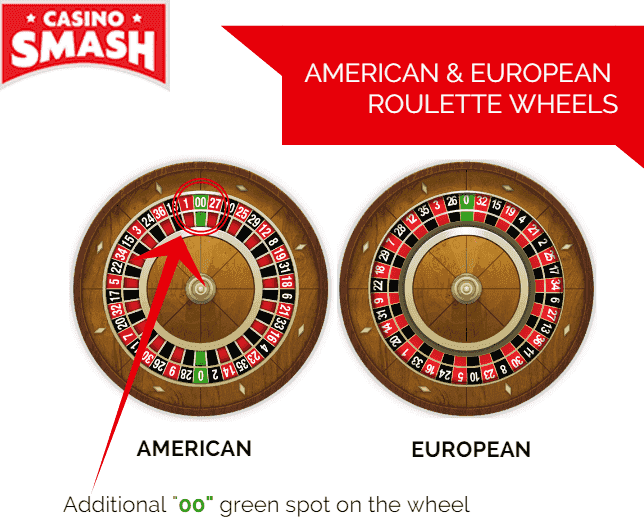 Unfortunately for you, the American Roulette is one of the most popular variants of the game.
And now that you know it's a game that features a higher-than-usual house edge, you won't be surprised to notice that many brick-and-mortar casinos place these games right in the most visible areas of 'the pit,' the Casino floor.
Casinos hope players will pick these Roulette games over what would be a much smarter choice:the European roulette.
The European Roulette
When the game was first introduced in France, back in late 1700, the Roulette wheel had two zeroes.
That's when the Germans came about.
When German casinos started to compete against those in France, they decided to launch a new version of the game.
To be more competitive and give their players more chances to win at Roulette, they lost a zero and changed the wheel's layout.
Their new variant (today's European Roulette) became popular right away as it came with a much more favourable house advantage.
| Game | House Edge | Good Choice? |
| --- | --- | --- |
| European Roulette | 2.7% | Yes |
| American Roulette | 5.3% | No |
Chapter 3. Online Practice
Did you know the article that explains how to practice Roulette online is one of the most popular guides ever published here on CasinoSmash.com?
The only way to get an advantage and win at Roulette is to practice the game online and learn how to handle all the situations that can happen at the table.
Some losses can be nerve-wracking and hit you at a psychological level. Big wins can be equally hard to survive.
And with so many bets available on the Roulette table, how can you be sure what is the right one to win some money?
You need practice, and you need to take real money out of the equation.
Most online sites offer free Roulette games to play for fun. Those are your best chance to learn how to get more chances to win at Roulette by placing the bets with the best odds.
Step 1: Start with 'Play Money'
Online Casinos offer free roulette games with 'fun money.' These are the best sites to start your journey.
Room
Bonus
Rating
Get the Offer
Get 100% up to $300
8/10
Play
Must be 21 or older to gamble. Valid within the State of New Jersey only.
Get $100
8/10
Play
*Rules apply. Must be 21+ located in NJ. Minimum Deposit: $10. Minimum Wager: USD 0.01 (one cent). Any withdrawals during the 7 days, or before depositing, would automatically exclude the player from taking part in this promotion.
Get 100% up to $500

Valid on ALL the games on the site!

9/10
Play
Your largest deposit/transfer (minimum $10) in the seven days prior to claiming the offer will qualify for a 100% matched bonus, up to a maximum of $500.
Get $10

FREE No Deposit Bonus

8/10
Play
This promotion is available to individuals aged 21 years and over who have registered as customers on nj.unibet.com and are physically located within the state of New Jersey. Enter the bonus code UBCASINO10 when you register. Deposit and enter code UBCASINO500. In the occasion that the event on which the bet is placed is canceled, any bonus and associated winnings will be forfeited. Unibet reserves the right to change or cancel this promotion or part of this promotion at any time without notice. General T&C apply.
100% up to $600 + $25

A Value-Packed Offer for New Players

9/10
Play
21+. New players only. New Jersey only. This offer is valid until December 31, 2020. Minimum deposit $ 20. Maximum deposit is $600. T&C apply.
Open a free account on at least one of the sites in the list and use your free, unlimited bankroll to play Roulette online.
Once you start to get good results consistently, you can consider moving to the next step.
Step 2: Activate Your Bonus
All the Roulette sites on the list offer a welcome bonus you can use on European Roulette.
How you activate the bonus depends on the site, so check on their page whether you need a deposit or not. Also, each site applies specific terms and conditions to the bonus. Make sure you read them in full.
Playing with the bonus is easy — but you need to be very careful. While the bonus lets you win real money on Roulette, the funds are limited.
This is the first time when you need to be careful and focus on Roulette optimal play. You don't want to finish the bonus too soon, and you want to use it to win money on Roulette — not to lose it.
While it's impossible to win money on Roulette every time you play, you might get lucky and hit a good win while you play with the bonus.
If that happens, move onto stage three.
Step 3: Meet the Wagering Requirements
Before you can take your hands on the money you won on Roulette online, you need to meet the requirements set by the Casino site (see: step 2).
These will most likely require you to play the bonus amount a given amount of times,
Remember: you need to 'play' that money, not to deposit it.
As soon as you complete the requirements, you can withdraw your Roulette wins and use the money as you please.
Chapter 4. Betting Strategies to Get More Chances to Win
If you want to know how to improve your chances to win money playing Roulette, don't skip this chapter.
Looking for a way to pick the right number at every spin at the roulette wheel isn't a strategy - it's a stupid move.
If anyone promised you that, you've been sold a lie.
Don't buy into that type of thinking. Learn the best-proven strategies for winning at roulette and not how to cheat at the game.
The only real strategies to win at Roulette are 'the usual' betting systems that apply to most other betting games.
All betting strategies require you to follow precise patterns and increase/decrease the size of your bets on the Roulette wheel based on your results.
In a nutshell, these are the top strategies / betting system to win on Roulette you need to know:
None of these systems gives you the mathematical certitude to win at Roulette every time you play. If they did, they would not be allowed.
What these systems do is increase your winning odds and give you more chances to win your bet.
Find your favourite and move to the fifth and last chapter of this guide because the key to long-term success at the Roulette wheel is a correct approach to money management.
Chapter 5. Bankroll Management
If your strategy to play Roulette is beginning to unfold now, you need to make one more step to be successful:
You need to make the game worth being played.
Here's one rule to keep in mind every time you play:
The amount of money you bet has to be small enough that you can lose it and big enough for you not to want to lose it.
Why is this important?
Because if you care, you won't make as many mistakes. And the only way to win at Roulette is to be serious about the game.
Caring about the game means that you will think twice before placing any bets — and this alone will help you make fewer mistakes.
And once you do that, you need to learn how to manage your winnings.
Be sure to save your profits every time the roulette wheel gives you a winning spin.
If you win a bet of $10, save $5 for the next time.
Don't invest the whole win on your next bet.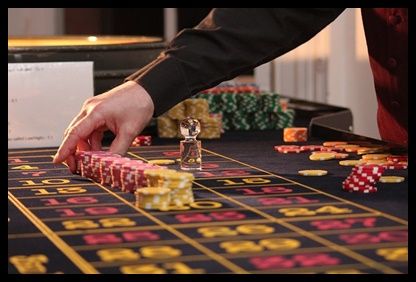 This way, you can end your online session in the back more often and enjoy the game while you make money at roulette.
Also, but this is a general rule in gambling, don't bring to the table more cash that you can afford to lose. This way you'll play with a clear head and make fewer mistakes.
How I do it
Every time I play, I have a specific prepaid credit card just for my Casino games. This way I will never leave the table putting myself in a bad situation.
You can do the same. Start with a small amount like $50 and bring only that to the table - no reloads allowed during a session.
This will help you to calculate the bets and to focus more on your game!
How to Size Your Bets
Another crucial part of any winning systems is to have a bankroll that is built to last.
Don't bring $150 to the roulette table if you plan to bet $50 each time.
If you don't know how to manage your bankroll, here's what most people do:
Divide your bankroll by 20 - the amount you get is going to be standard bet size for consistent wins.
---
This article was first published on January 2, 2018. Last updated in January 2020.