In this article, I am going to show you how to get unlimited Hit It Rich! free coins.

Read it carefully to get free coins on Hit It Rich! and learn how to pick a winning Slot machine on one of the most popular Casino apps on the planet.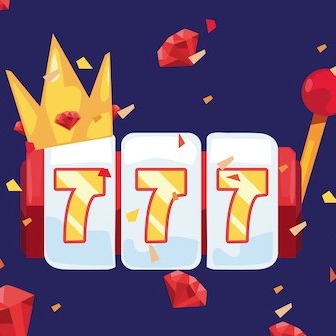 Get 20,000 Free Coins!
Play the best slot machine games with 20,000 free coins!
Download the app and register a free account to begin.
Hit It Rich Casino App
There are a lot of free casino apps on the AppStore and GooglePlay.
When you download one, you never know what you're getting yourself into.
Some welcome bonuses look huge. And big no deposit offers like 50,000 or 100,000 free coins to play real money Slots sound tempting.
But those coins might be worth a lot less than you think – as there are games where you need to invest 10,000 coins on each spin.
On other games, the free coins bonus lasts only for 24 hours (or less). Then, if you want to continue, you need to buy coins with your hard-earned cash.
No one likes that.
That's how the process of installing and removing apps one by one begins. Because it's very easy to download something disappointing these days.
Misleading free coins bonuses, bad games, time-limited offers, absurdly expensive in-app purchases.
One day, I should work on an article about the worst mobile Casino apps – the ones to avoid because they just want to suck your bank account dry.
That would be a fun one to write.
But – let's stay positive.
A few months back, while I was testing some sites for an article about the best new casinos, I found a great one:
Hit It Rich! Casino Slots.
And since I'm not a selfish person, I'll share my findings with you.
Slots Games on Hit It Rich! Casino
Well, it's all about the games.
If you're looking for high quality, classic slot games online, then you don't need to look any further.
Sure, many apps say they offer "a real Vegas experience," but most of the time they are as far from it as it gets.
Hit It Rich!, though, delivers what it promises.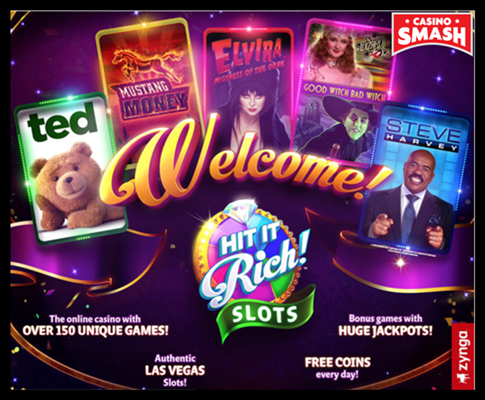 No deposit and no credit card are needed to play. Real Vegas casino slots are right where you need them – be that Facebook or the screen of your smartphone.
Get your Witches of Oz experience with the Slot Wicked.
Or adopt a magical alcohol-fueled Teddy bear with the slot Ted.
If you don't want to forget you're on Facebook, the FarmVille slots can help.
Yes, Hit It Rich! features a FarmVille slots.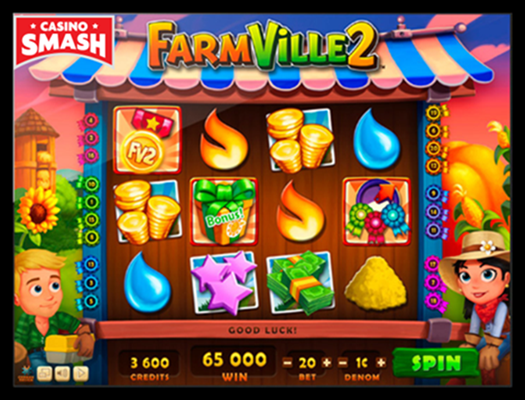 Terminator, Elvis, Marilyn Monroe, Aerosmith, Downton Abbey, Superman, Elvira Mistress of The Dark, Sex and The City, Star Trek, I love Lucy, Willy Wonka & the Chocolate Factory, Bridesmaids.
Those are only a few of the slots you can play on Hit It Rich! and, again, with NO deposit needed.
They have 150 great Slots games that are all available to US players.
Many Slots come with huge progressive jackpots, too. And when I say huge, I mean it.
Extreme Dragon, for example, is a game that had almost 75,000,000,000 coins up for grabs at the time of writing this article.
And the prize increased by tens of thousands of coins every half a second.
I got dizzy just typing all those zeros.
And that's not all.
Most of the jackpots on Hit It Rich! have a similar number of digits.
I guess that's where the app name comes from, huh.
You'll unlock some of these legendary slots after reaching higher levels.
But there are definitely more than enough games to play even right after you open an account there.
Classic Casino-Style Games
Slots are good. But a complete Casino experience needs other games, too.
And Hit It Rich! has them.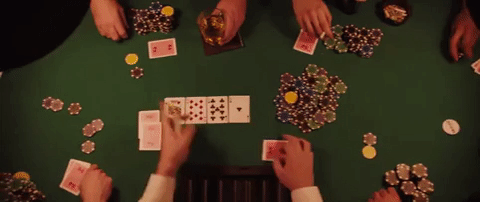 Jacks or Better, Plus Poker, Double Plus Poker, and Super Plus Poker are the top variants of the game features on the Hit It Rich! Casino app.
You might want to check the minimum bets though.
They're not very small. But when the payouts are good, it's more than worth it.
Another game you can play is Blackjack.
This classic game comes with its own jackpot. And it also surpasses 10 digits.
Maybe it's your lucky day and it will fall to your Hit It Rich! account. You definitely need to try to see if I'm right or not.
If not, no worries. There're many ways to ensure you always have enough free coins to play on Hit It Rich!.
So, if you are looking for free coins to play on Hit It Rich! – let's get to it.
Hit It Rich! Casino Slots: Free Coins
So, we discussed the games a bit. But the best thing about Hit It Rich! is not (only) the games.
It's the fact that you can play them for FREE. Always and forever.
If you have a few tricks up your sleeve, that is.
And once again, after reading this, you will.
If you have a Facebook acc
ount (and let's assume you do), you're in luck already.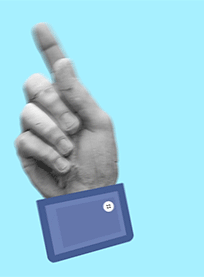 And not because Facebook is a good place to be (Cambridge Analytica, anyone?) but because your profile on the world's largest social network can give you a lot of free coins for Hit It Rich! Casino Slots.
So - how to get the most of it?
Let me explain the process to getting unlimited Hit It Rich! free coins one step after the other.
STEP 1. Sign up through Facebook
Open the Hit It Rich Casino Slots official page on Facebook.
The app will ask your permission to connect with your account. Don't rush to accept this offer just yet.
You don't want it to abuse your private info, such as friends list or e-mail address, do you?
Click on Edit This and uncheck the field with the info you don't want to provide.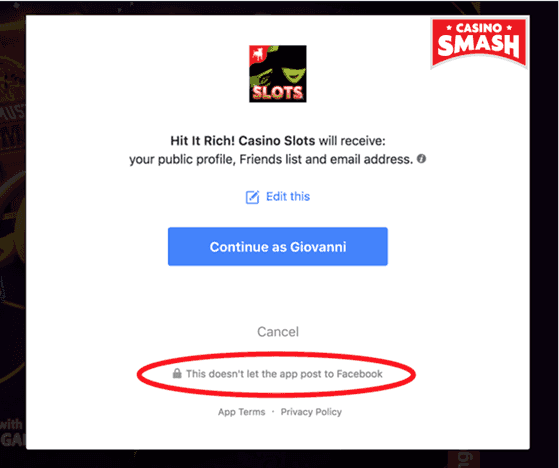 I'd suggest unchecking all the fields that are not required.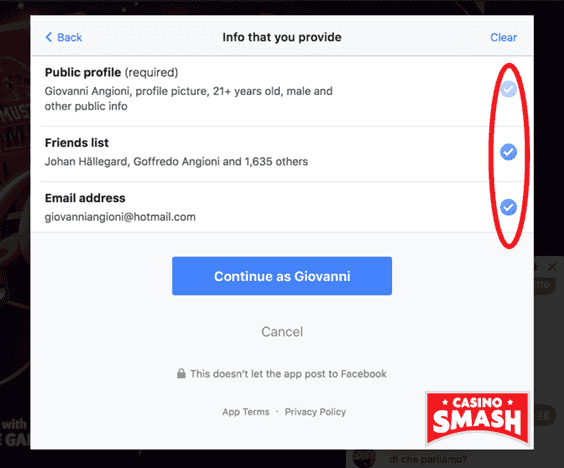 Yet, if you know your Facebook friends are already playing Hit It Rich!, you might want to allow the app to read your friend's list.
Then you'll see which friends need more coins and they will see when you need some.
Then you can continue.
Next thing you see on your screen will be Hit it Rich! asking for permission to post as you on Facebook.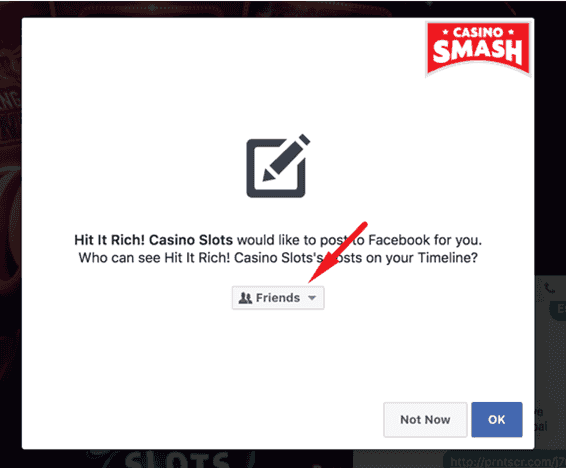 Ha ha. No.
Choose the Only Me option if you don't want your friends' timelines to be spammed with posts about your winnings and achievements.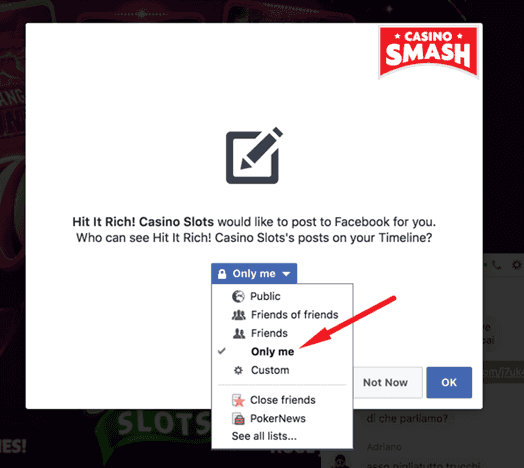 I mean, you do plan to win a lot, right? But why to brag about it?
Anyway, of course, it's up to you.
Whatever you choose, press OK and let's continue.
The only thing left to do is to accept the terms & conditions.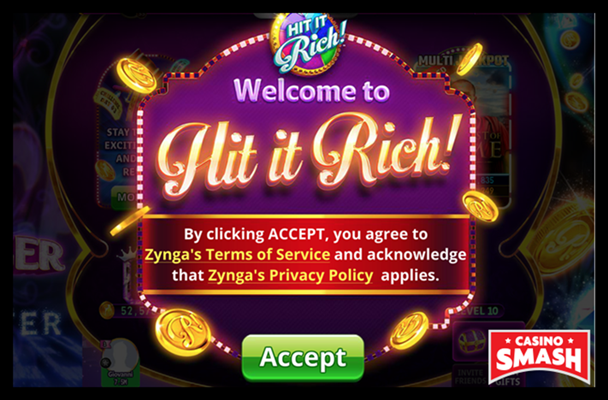 One click and you get 7,500,000 free coins to your account.
Wasn't that difficult, was it?
STEP 2. Install Hit It Rich! Beacon on Chrome
Another neat trick you can do to get free coins will require you to use Google Chrome.
Even if it's not your favourite browser, it might be good to use it for a few minutes.
You'll get 10,000,000 free coins for Hit It Rich! with this hack.
Yep, 10M.
How? It's simple:
Install the Hit It Rich! Beacon from the Chrome Store

Refresh the page

Press Hit It Rich! icon button on your Chrome window
That's all.
Three simple steps and 10,000,000 Hit It Rich! free coins are yours.
Plus, you hit two birds with one stone. You get free spins to play Slots on Hit It Rich! and an easy way to access the game from the browser.
STEP 3. Pin Hit It Rich! on Facebook
This step might sound complicated but it's not:
Locate the game to your Facebook shortcuts menu on the left to your timeline
Press the three dots that follow the app title

Choose the Pin To Top option
Now what?
Make sure to click on this shortcut every day.
Because every day it will award you with 100,000 free coins!
STEP 4. Connect your app to your Facebook account
In this case, you'll need to have an app. You can download one from the AppStore, Google Play, or even Amazon. The choice is yours.
When you set up the app, open it, and it will ask you to connect to your Facebook.
Click on OK and you'll receive 10,000,000 no deposit free coins!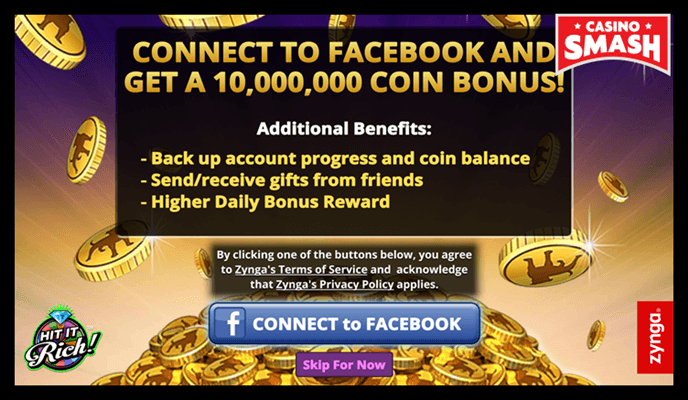 Bonus. When you connect to Facebook, it helps to protect your coin balance and works as a backup for your progress.
Hence, you won't lose any of your coins or experience points if you played only on Facebook before.
All the data will be synched, and you'll have your favourite games on your browser and app.
STEP 5. Check the Gift Chest
Another way to get more free coins is…to be social!
That's all Facebook is about, right?
Well, if you have any friends playing Hit It Rich!, they will appear in your Gift Chest.
This way, by one click, you can help your friends out and send them some free coins to play on Hit It Rich!.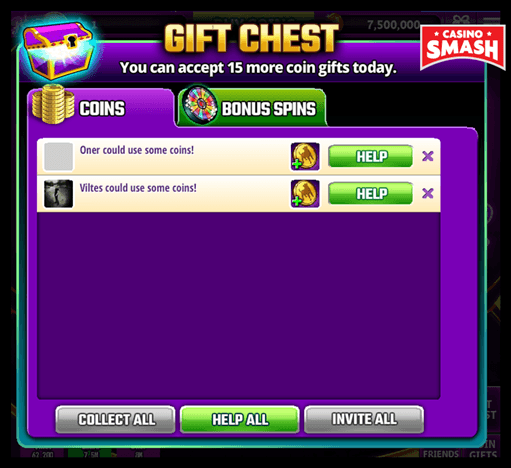 No worries, you won't be sending your own coins. Why should you be punished for being generous?
Plus, the same way, your friends will be able to send you gifts in the form of coins. You can receive 15 such gifts per day!
Be social and you'll never be short of coins again.
If you don't have that many friends playing Hit It Rich! yet – not a problem.
In the same Gift Chest, you'll find a link to invite your friends. Plus, that's the ONLY WAY to get Free Spin Gifts!
STEP 6. Collect Free Bonus every Two Hours
Yep, you read that right.
Free Bonus is waiting for you every two hours.
You can collect it with a simple click on Free Bonus icon.
It's located right under the selection of games.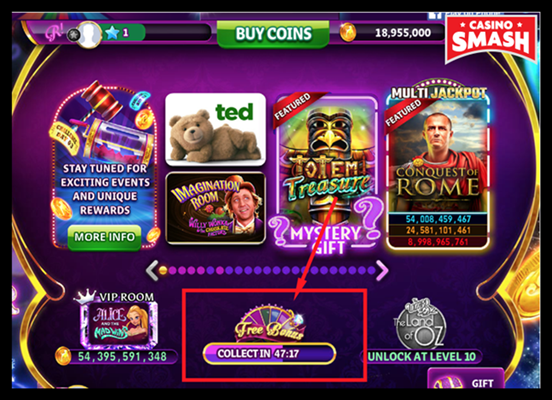 When you claim your free coins, you spin your lucky wheel and it awards you with lots of coins. The possibilities vary from 400K to tens of millions of coins.
And if you don't forget to spin your wheel every day, the daily streak will add to it with 100,000 or more coins as well!
STEP 7. Join the Facebook Community
As a player, you're a part of this community already.
But the only way to make it official and get all the perks is to follow the updates.
Again, it's simple.
And the awards are really good.
Like Hit It Rich! Casino Slots Facebook page.
Press the Following button and change your news feed settings so that you'd see the posts from this page first.
Change your notifications settings so that you'd get notifications from this page, up to 5 per day.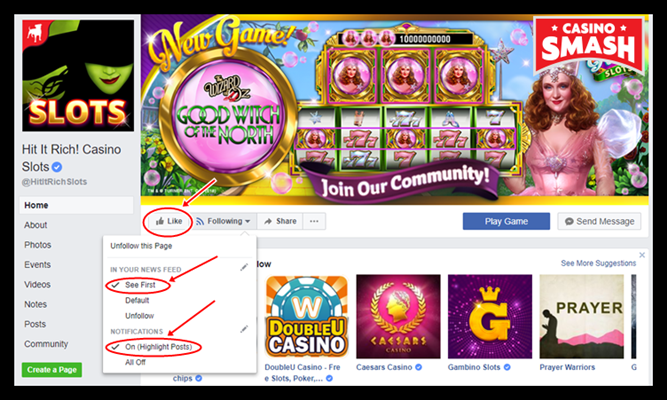 Why is it worth to do so?
Bonus Coins.
Hit It Rich! not only posts updates about new games or features. It also shares links that can bring you thousands of free coins.
And they post them multiple times per day!
If that's not a good chance to fill up your account with free coins, I don't know what is.
STEP 8. Keep spinning
Playing games and winning will help you get more coins.
Obviously.
But not only.
Last but not least of today's tricks is one of the newest features on Hit It Rich!.
It's called Charms. And it functions as a thermometer.
Except it goes up every time you spin!
Fill the Charm Meter and you'll get more bonuses, such as double experience points, faster free coin bonuses, and more.
See?
Ways to get free coins on Hit It Rich! Casino Slots never end.
And if you want even more coins, subscribe to our newsletter and we'll update you with the newest tricks how to get free coins and links to claim some!
---
This article was first published in February 2019. Last update: May 2022.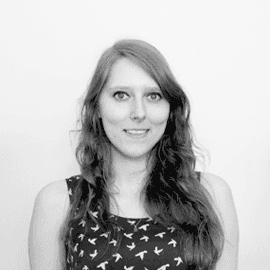 Bio
Marketer, linguist, writer - I enjoy a lot of different things. Writing for CasinoSmash includes two of them - writing and playing games online.