Scatter Slots is one of the most popular apps by Murka Games Limited
It offers a huge bonus of 12,000,000 free coins, daily bonuses, and fun challenges
Here, you can play 111+ slot machines and complete 2,525+ levels for free
If you're looking for a brand new social casino application to try out, Scatter Slots is an excellent choice.
It's a free slots app by Murka with more than a million downloads on Google Play alone.
After hearing lots of positive feedback on it, I decided to download Scatter Slots and explore it on my own.
And here is my first impression:
This app has an insane number of ways to get free coins.
So many, actually, that I decided to write this guide for those who want to skip the hassle and have all the necessary info on a single page.

Want to Play Scatter Slots?
Wait no longer! Head straight to Scatter Slots Vegas and start spinning with 12,000,000 free coin welcome bonus!
How to Get Scatter Slots Free Coins: My Strategy
Let's start this article with all the fun ways you can get Scatter Slots free coins.
Use them all and get millions of extra coins to use on the exciting slots by Murka.
Trust me, this game app is really generous - I have barely reached level six and I have over 25,000,000 coins, most of them from bonuses.
Scatter Slots Welcome Bonus: 12,000,000 Free Coins
Hear this -
Everyone who downloads Scatter Slots to their Android or iOS device gets an instant bonus of 12 million Scatter coins.
This bonus truly puts many other social casino applications to shame.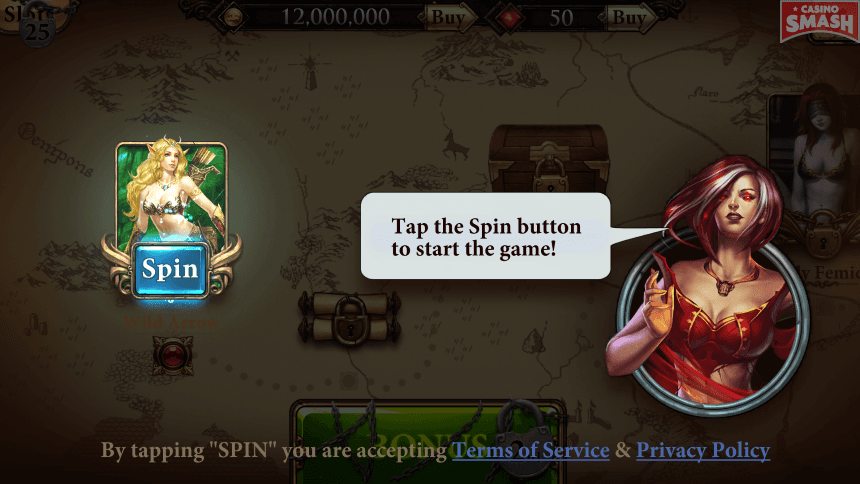 Get Free Coins with the Hourly Bonus
Another fun way to earn extra currency of Scatter Slots is the Hourly Bonus.
As the name suggests, you can claim one bonus every hour - just don't forget to open the app in time for extra efficiency.
In this way, you can claim 24 Hourly Bonuses a day!
Now, there's something you should know.
Every Hourly Bonus is a challenge of some sort - which means that you'll have to do a fun little task to get your free coins.
On my first challenge, I needed to spin the reels as fast as I could - and I won 757,000 coins.
By the way, you can repeat the same challenge many times in a row if you liked it a lot. Just pay the required amount of diamonds, and win free coins for Scatter Slots all over again.
In case you don't want to spend your diamonds, just wait an hour and indulge in yet another batch of Murka's free coins.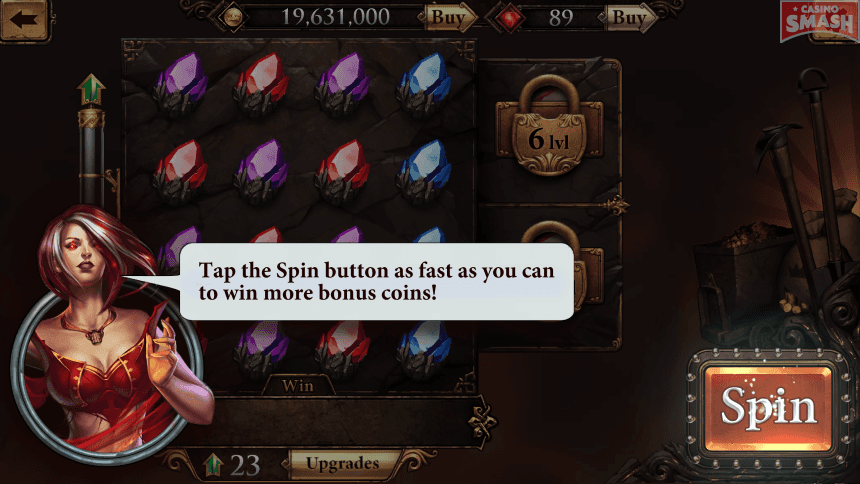 How many levels in Scatter Slots can you play? Currently, there are 2,525 different levels, and the number is constantly growing.
Daily Challenge: Claim Your Daily Dose of Free Coins
Now, Daily Challenge is a bit more complicated than the Hourly Bonus.
Here, you get a long list of tasks. You must complete at least five of them to get a generous reward.
As you can see, today the Scatter Slots app offers me a not-so-small reward of 2,500,000 free coins, five free diamonds, and a level-up.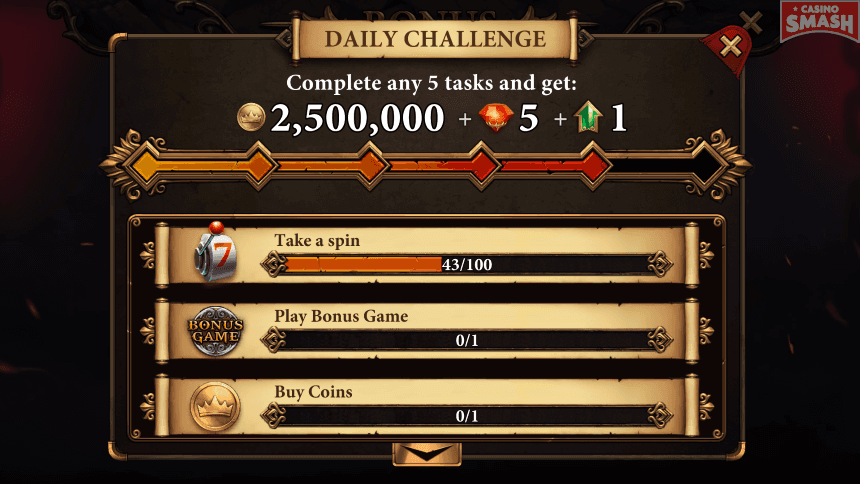 Is this free stuff worth the challenge?
Hell yeah!
Especially when you keep in mind that the tasks are far from tedious. Quite the contrary - they are fun.
Some of them are:
Take a spin
Play bonus game
Complete mission
Get free spins
Play scatter slot
Play with max bet
See? Nothing difficult. And the Scatter Slots free coins prize Murka gives you is just too good to miss out on.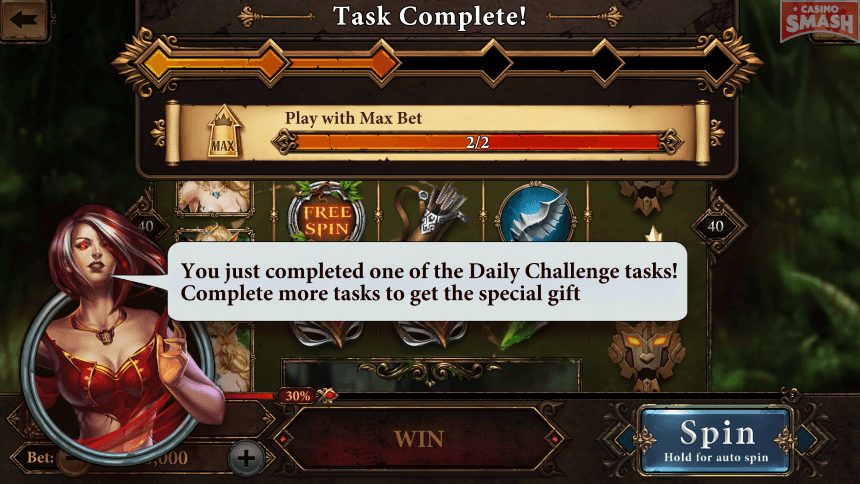 Read the Daily Review for More Scatter Slots Free Coins
Once you reach level six of Scatter Slots mobile app on your Android or iPhone, something extra fun starts happening -
You unlock the Daily Review feature, which gives you a free coins reward once a day.
All you have to do is click a button.
Then, the game takes you to read a random Scatter Slots review posted by a fan. At the same time, a generous free coins reward appears. Click on Collect and hoard the coins as soon as you read the review.
My first reward consisted of 420,000 free coins.
I can only imagine that the prize gets bigger every day, as it is multiplied by your current level and the day of playing.
Talk about generosity.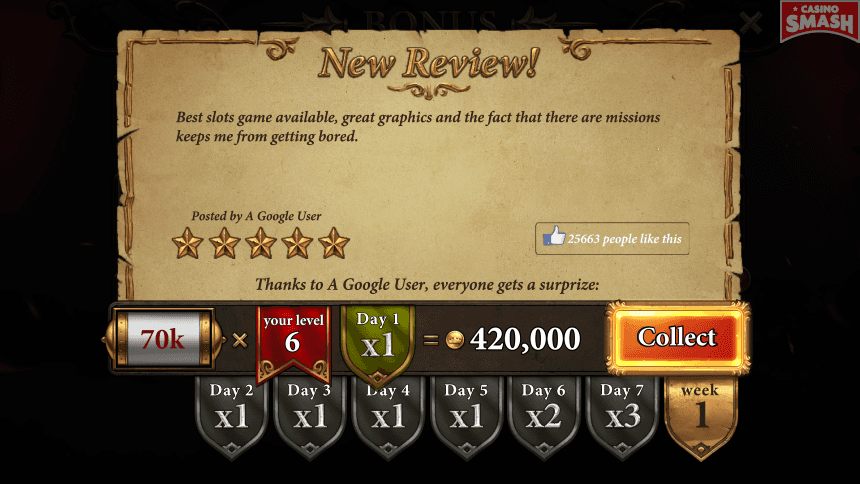 Chest Room: More Generous Free Coins Rewards
Just like the most social casino apps, Scatter Slots by Murka gives you the possibility to buy your own coins.
And when you make a purchase, you receive a treasure chest as a bonus.
Each chest contains a trading card that falls into one of the game's themed sets.
Assemble a full set (which consists of 10 cards) and get a huge free coins bonus, free gems, and other prizes.
To my surprise, Scatter Slots gave me my first chest for free (you'll get one, too!).
It contained a card from a set called Fifty Shades of Beauty. I hope to complete it one day, as the reward is amazing - 2,500,000,000 free coins + a bonus of 1 billion coins if I do it in the next 90 days.
Just...wow.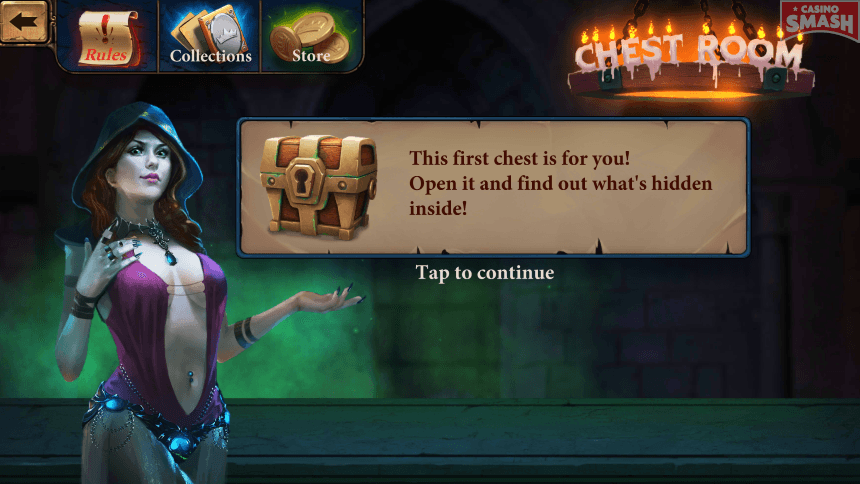 Connect with Facebook for 6,000,000 Free Coins
Lastly, I'd like to tell you about a way to get:
6,000,000 extra coins
10 diamonds
the feature to save your progress
the possibility to see your friends' in-game progress.
All at once? Yes!
You simply need to connect your Scatter Slots app account to your Facebook page.
It's as easy as clicking a button - and it's totally worth it.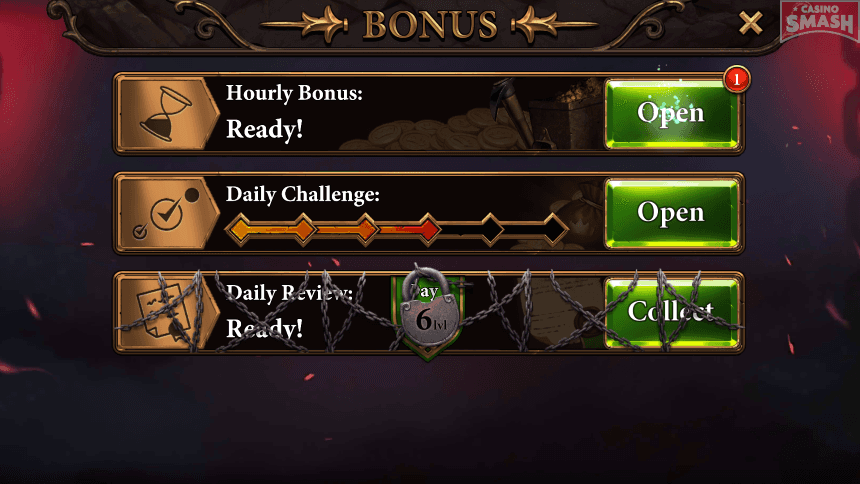 How to Play Scatter Slots by Murka: App Review
So, we've discussed all the ways to collect as many Scatter Slots free coins as possible.
Which only means one thing -
It's time to get down to business.
I'm going to tell you the things you should know about the application if you want to use it to the fullest.
Scatter Slots App: What to Expect
I'd like you to know from the get-go that this is a mission-based slots application.
What does it mean?
It means that you have to complete missions, level up, and unlock new slot machines to play.

Play Scatter Slots Vegas!
Go straight to Scatter Slots and grab 12,000,000 coins to start your missions!
No shortcuts.
Be prepared for a lot of activities, as you won't complete all the levels that quickly.
There are 2,525 of them, after all.
Luckily, you won't need to use any complicated slot strategies to have fun.
Simply follow the instructions on each level and complete the missions.
How many slots are there? Scatter Slots features 111 slots, including Wild Arrow, Lady Femida, Frozen Flame, Dancing Blade, Hot Witches, Vampire Hunter, Ice Baby, Genie Money, Fifty Shades of Beauty, Femida's Sister, Thief, and Spirits of Nature.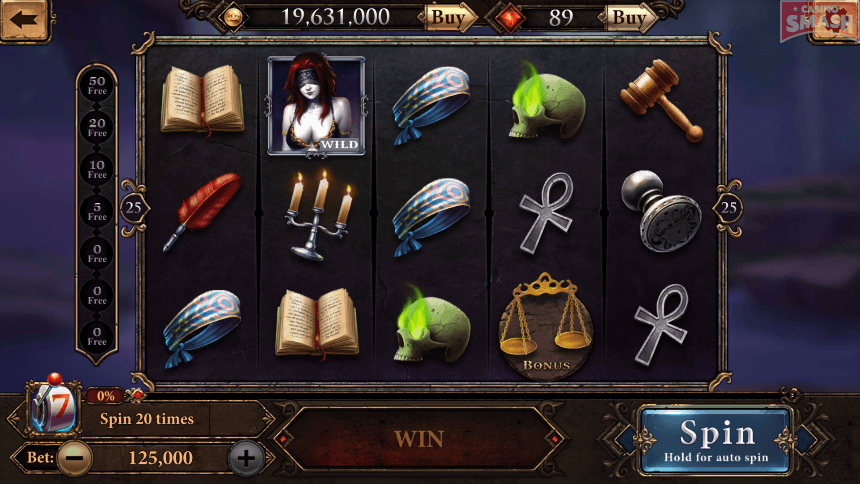 The Types of Levels to Play
Not all levels of Scatter Slots are the same.
In fact, there are three types of levels with different approaches to gaming:
General levels - practice your slot and complete missions
Shield levels - levels with the most challenging missions
Chest levels - allows you to play with the maximum bet for free
Also, you'll have the Battle Mode available at level 45.
It allows you to compete with other players - and win more free coins.
So Many Different Missions!
Every level of Scatter Slots has a different mission you have to complete to move on.
Here are the types of missions you should expect to play with your free coins:
| Mission | Description |
| --- | --- |
| Melt the ice | Win more to complete the current level |
| Cut the ropes | The more winning lines you hit, the faster you'll cut the ropes |
| Win on free spins | Complete the mission by collecting coins from free spins |
| Win on the bonus game | Win a specific number of coins during the bonus game |
| Collect icons | Collect a specific number of symbols anywhere on the reels |
| Win icons | Collect a specific number of icons - but only the winning lines count |
| Win in a row | Win as many times in a row as required |
| Do spins | Simply click the Spin button a required number of times |
| Free coins | Complete as many spins as possible in a specific time period |
| Win coins | Win a specified amount of coins |
| Do max bets | Set the bet to the max and spin the reels as many times as necessary |
Complete these missions and you'll unlock new slots in no time.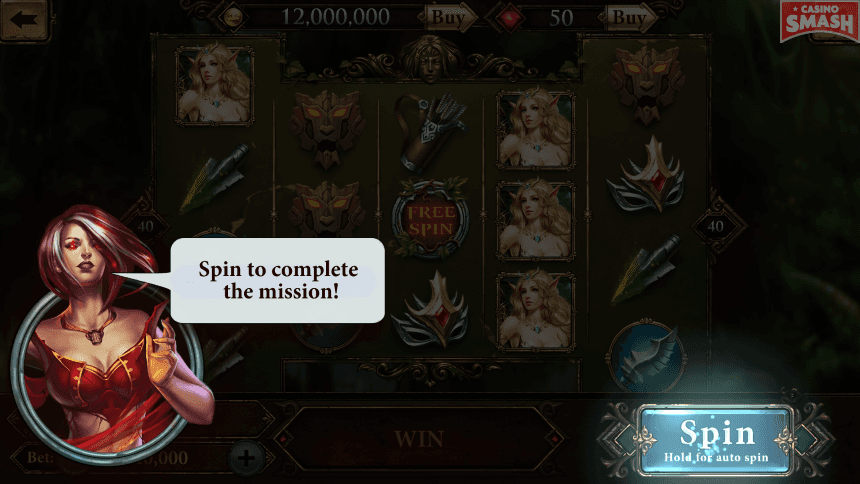 Passion Slot: Higher Bets, Higher Rewards
When you complete all the levels on the map, you unlock a special feature called Passion Slot.
Keep in mind that you'll need to make much higher bets, so make sure you have plenty of coins beforehand.
On the bright side, the winnings here are much more generous than before.
Also, let's not forget the jackpots themselves. There are three jackpots in total - which, with enough luck on the Scatter Slots app, you can win anytime:
Minor Jackpot
Mega Jackpot
Grand Jackpot
There's something you should know about the Grand Jackpot, though.
It's nothing to worry about - simply keep in mind that you can only win it if you're playing online.
So, make sure you turn on your internet connection before opening the Passion Slot by Murka's Scatter Slots.
Can't wait to start playing? Just click the Scatter Slots download button on this page and get the app instantly.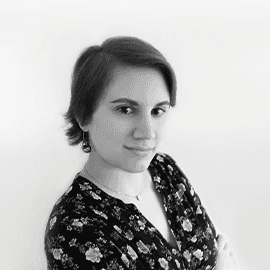 Bio
Editor, linguist, translator...and a Slot enthusiast. I am passionate about everything I do, and right now, I'm in love with all things Casino.