In this article:
A short introduction to Casino War
5 tips for Casino War strategy
Casino War is one of the easiest card games to play online for real money.
However, even the simplest Casino games need a strategy to help you minimize the house edge.
I know, I know -
Even though it sounds much more fun to leave everything to luck, it's not a smart move if you play Casino War for real cash.
Luckily, my Casino War strategy is not complicated. Memorize them and you will start making the right decisions automatically.
Casino War Rules: What You Need to Know Before Using a Strategy
Before you use any of our Casino War strategy tips, you must understand the basics of the game itself.
The player and the dealer each get a card that goes face up.
Then, what follows are these three possible outcomes:
You win if your card has a higher face value than the dealer's
You lose if your card has a lower face value than the dealer's
A tie occurs when the two cards are equal. Then, you can go to war or surrender
[promo=82][/promo]
5 Casino War Strategy Tips You Should Always Use
Now, as you have the gist of how to play Casino War, it's time to become better at it.
My first advice is to practice Casino War for free on this website.
That's the only way to find out, whether this simple game suits your taste.
And while you play for free, make sure to use these Casino War strategy tips for the best results.
1. Avoid the Side Bet
Aside from the original Ante bet, the game lets you make an additional bet on a tie.
At first, this bet seems quite a good one, as it pays you 10:1.
However, it's worthless.
Because the chances of hitting a tie are simply too low.
Now, here's why.
As the Casino War game requires six decks that give the player and the dealer equal chances to win a game, from a mathematical standpoint they both have 46.3 per cent chances of victory.
This leaves us with only a 7.40 per cent chance to hit a tie.
Even worse:
As soon as you make the side bet, the Casino house edge skyrockets to more than 18.5 per cent.
It's simply too big of a risk.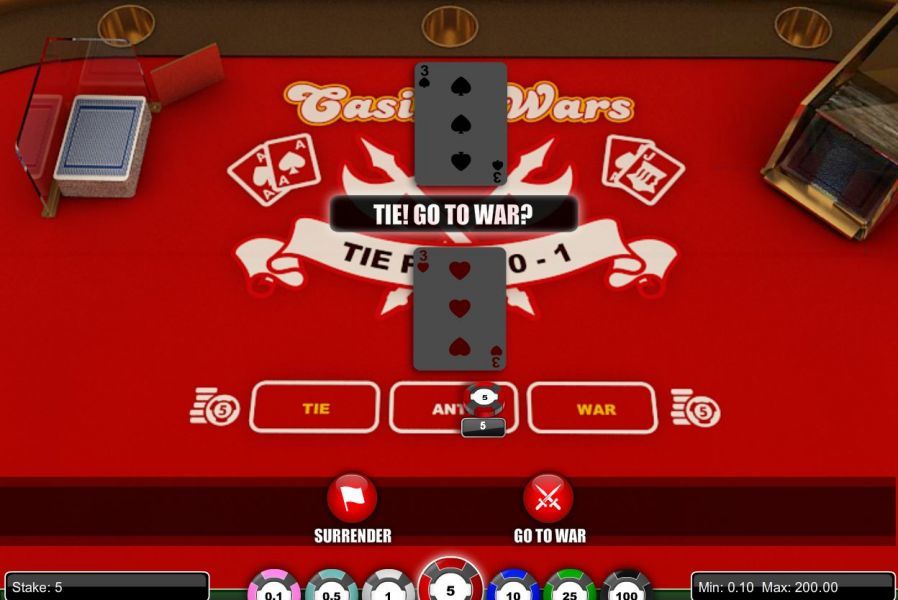 2. Do Not Surrender
When there is a tie, you have two options: surrender or go to war.
And your chances to win at Casino war are higher if you ditch the idea to surrender altogether.
That's because quitting a hand results in a loss of half of your wager.
And if you surrender when there is a tie, the house has a 3.7 per cent edge.
When you go to war, this edge reduces tremendously to a meagre 2.8 per cent.
This means that if you hang on, you have a 50-50 chance to win even though you must make another wager equivalent to your first bet to continue.
3. Look Out for the Aces
The Ace is the highest denomination card in Casino War.
The Casino War strategy here is to consider the intervals at which the dealer is laying out Aces. If you have not seen an Ace in a while, it will show up soon, and once you get it, you are at a win or a tie.
Of course, you can never be certain when the Ace will appear.
However, the knowledge that it soon will raises your edge at the table.
So, the best strategy for Casino War is to be alert and pay close attention to the cards that have already shown up.
4. Place Small Wagers
Like any other real money game, Casino War always puts the house at an advantage.
Often it is a question of cutting back on your losses, but lose you will. Knowing this, as you ride on the adrenaline rush of waiting for the Ace, remember to never go over your budget - even if you have a hunch that the next hand will be your lucky one.
And even if you win, you only win what you bet.
Which means that there is no advantage of betting big - there is no Jackpot or bonus to be won.
So, one of the better Casino War strategies is to always go with the minimum bet.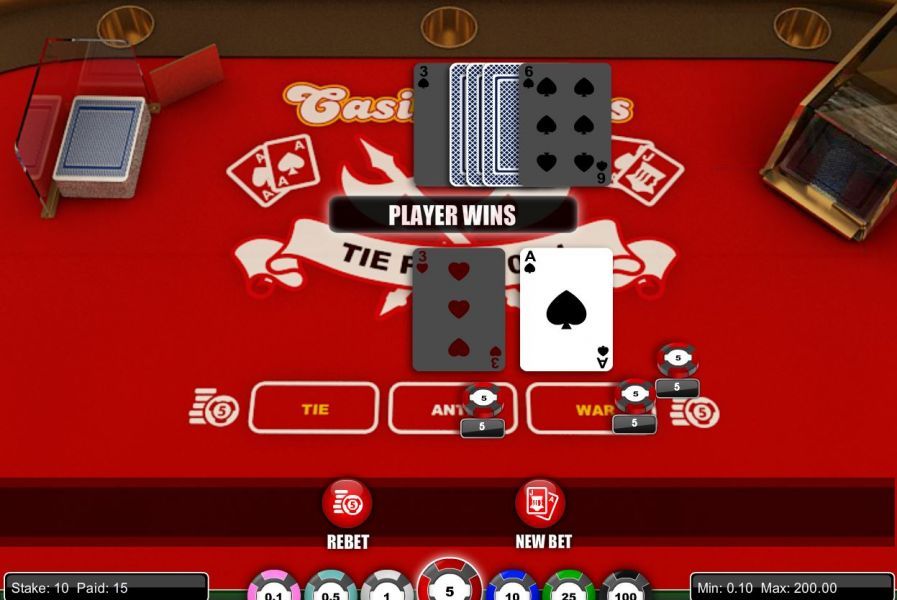 5. Know When to Walk Away
Knowing that the house always has the advantage, decide at which point you will throw in the towel.
Set a time when you will cash in your chips - while you still have money in your pockets.
And when you get to the predetermined walk-away time, walk away regardless of whether you are in the black or in the red.
Also, play moderately - do not gamble with money that you can't afford to lose.
[promo=82][/promo]