For some, the dream of going to Vegas and playing the slots stays exactly that - a dream.
What if you had the opportunity to enjoy a piece of Vegas right in the palm of your hand?
Viva Slots Vegas is one of the most popular social casino apps you can find on your PlayStore or AppStore, and it brings the Las Vegas casino experience to you in the form of free mobile casino slot games.
Developed by The Best for Your Best Experience
With a proud rating of 4.7 on the PlayStore, this app stands to testify that online social casinos rock! Developed and owned by online social casino veterans, Viva Slots Vegas ticks all the boxes when providing great experiences.
Rocket Speed developed Viva Slots Vegas to provide you with a one of a kind Vegas experience that borders on simplicity and thrives on entertainment that comes from slot machines.

12,000,000 Free Coins to Start Your Journey!
Kick off your spinning spree with 12,000,000 free coins welcome bonus at one of the best social casinos out there!
Tips For Choosing The Best Viva Slots Vegas Casino Game for Android Users
The Viva Slots Vegas app on your android device has an excellent ranking, which means that there are many casino games offered on the app for you to choose from.
Want to know how to choose the right one?
Here are a couple of tips for the best android experience:
You need an app that takes up little space on your device.
Choose a game that offers fair playing reels.
Pick slots games that provide great bonuses while keeping things simple.
Finding The Best Viva Slots Vegas Slot Machine For Social Gaming Fun
Have you developed a new interest in free mobile casino slots games?
Choosing the right one can be like picking a needle in a haystack.
Here are your options from the most popular games on Viva Slots Vegas:
Enjoy single-line free slots games with bars, triple sevens, diamonds and cherries.
Slot tournaments like 777 wins, jackpot spinning wins, diamonds, Amazon, dice deluxe and other classic Las Vegas casino slots.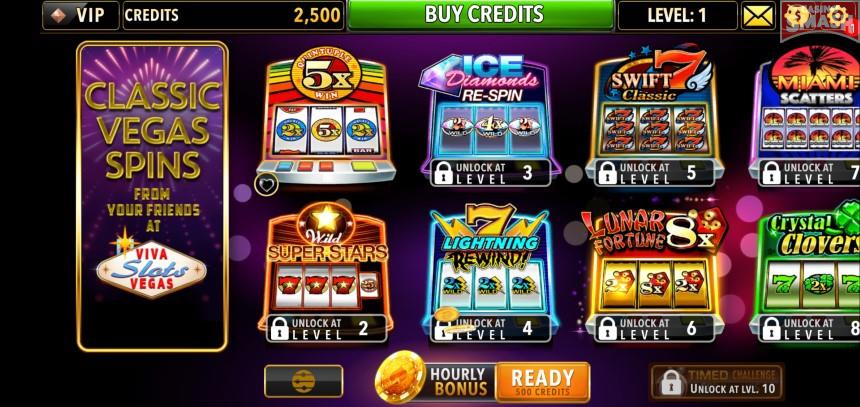 Starting to Play on Viva Slots Vegas
Downloading and installing the Viva Slots Vegas app from your application store is the first step towards your gaming journey. You are greeted right at the start with amazing reviews and a rating to make you go 'wow'.
Hang on!
There is more to this 'wow' factor. The app is only 150MB, making it an application to run on your Android or Apple device without compromising the overall speed.
Tempted to jump into the app and look at the performance for yourself?
Here is what you can expect when you open Viva Slots Vegas casino and play:
Once you open the app, you first need to agree to the terms and privacy policy of the app.
Before you are taken to the home screen with the new and classic slots to choose from, you are given a daily bonus of 500 coins with a multiplier of 1x that increases by 1x every day.
As a new player, you have 2000 credits to start
With the bonus offerings, you get up to 1000 credits more.
Click on the mail icon on the top right side, and you will get the latest reward of up to 60,000 or more credits.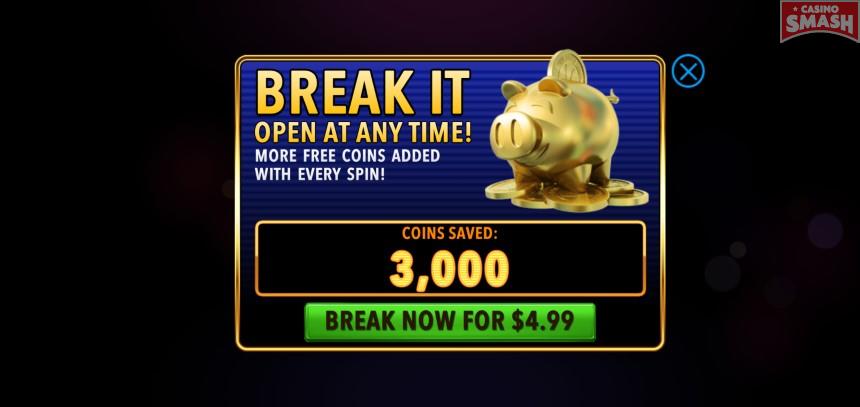 All of these credits are yours before you even start playing any of the slots of Viva Slots Vegas.

12,000,000 Coin Welcome Bonus for a Great Start!
Head to the social casino app of our choice and grab your welcome basket overflowing with 12,000,000 coins!
While the credits are important to get you started on a social casino, there are other aspects you need to get familiar with before you begin spinning those reels and landing that jackpot.
Care to skim through the other parts of the screen before you understand the gaming experience?
Here is what you need to know:
When you enter the app as a new player, you won't find many free Viva Slots - only the first casino slot is available for immediate play.
All other slots stay locked till you reach a minimum of level 2 and above. But worry not! That's not a day long mission.
The VIP badge at the top indicates the level of membership you are at.
When you reach level 10, you get to unlock the challenge feature at the bottom that gives your free coins.
Clicking on the Settings icon will show you a range of other essential elements you will require to enjoy Viva Slots casino and play free slots.
Connecting to Facebook can be done at any time through the settings menu
The battery saver button in settings can also help your phone's performance
Remember that when you get any new Viva Slots Vegas promo codes, they need to be entered in the promo code section under settings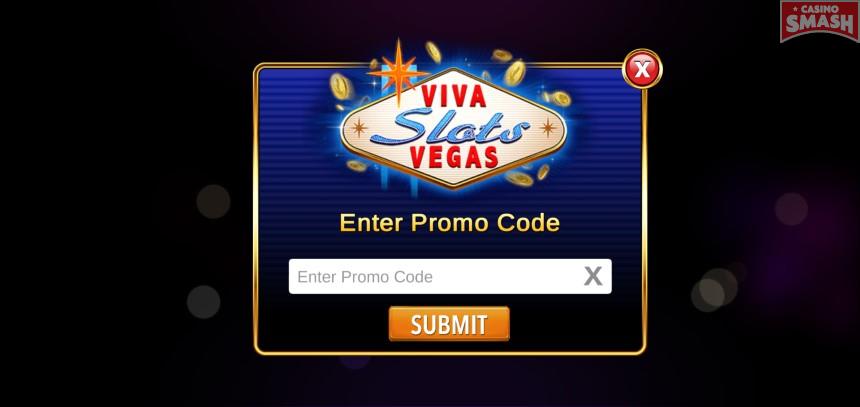 No-internet and no-wifi required to play? Count me in!
Does thinking about the good ol' times, when you could simply download an app and play at your convenience without having to make a long-term commitment or think about internet connection, make you bitter with nostalgia?
I have good news for you.
The best thing about Viva Slots Vegas is that the app has a 'no-wifi required to play' feature. If you love popular casino games featured on Viva Slots like Seven Diamonds or Double Cherries, no-internet and no-wifi feature makes it easy for you to simply download the mobile version of a Vegas casino and play, no data-related headache involved.
Gameplay on Viva Slots
Have you turned off your mobile data? No problem.
Are you in a no-wifi zone? No problem.
Viva Slots has been downloaded on over a million devices for one reason among many - their previously mentioned no-internet and no-wifi required feature is THE BEST.
A social casino slot that is capable of running without the internet to perform at its best is very rare today.
Once you start playing your first Vegas slot, the experience gets interesting, to say the least.
The gameplay is simple, and you just need to land on matches in a sequence of bars, triple sevens, diamonds, and the bonus symbol.
A few minutes of spinning the reels and your credits are at a healthy high and your level increases; giving you the option to unlock other slots games on the main menu.
Once you have unlocked a few slot machines, you can click on the heart icon near the game and put them in your favourite games section.
Membership Rewards and Buying Credits
Running low on credits?
You can always use the in-app purchase feature to buy more coins and get VIP points to level up in your tier. Every purchase you make gives you points along with credits.
Hot prices on purchases and rewards are displayed in the store. Choose to become an instant VIP member and get 175,000 credits as a bonus, 25% hourly bonus, 10% on purchases and access to exclusive VIP member slot machines.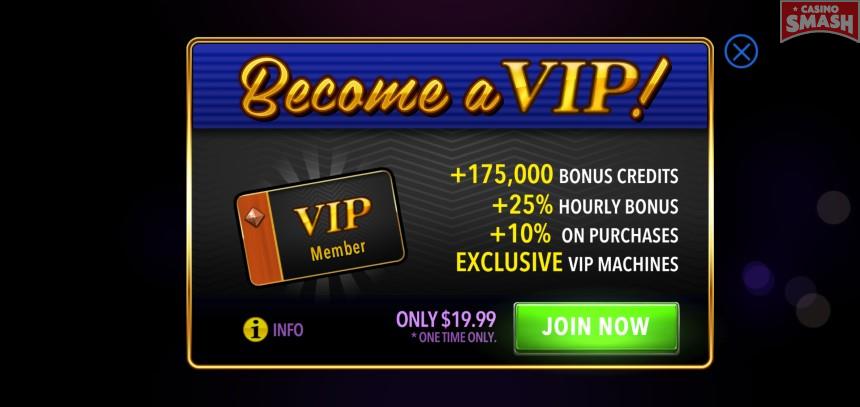 The VIP benefits on Viva Slots Vegas are great achievable milestones. You won't even require to make any purchases to get VIP increments.
Want to know your VIP levels?
At Viva Slots Vegas, your loyalty is rewarded as follows:
Black - 1,000,000 VIP Points to achieve with +150% credits and +500% daily bonus
Diamond - 500,000 VIP Points to achieve with +100% credits and +400% daily bonus
Emerald - 100,000 VIP Points to achieve with +75% credits and +300% daily bonus
Ruby - 50,000 VIP Points to achieve with +60% credits and +200% daily bonus
Sapphire - 15,000 VIP Points to achieve with +50% credits and +100% daily bonus
Gold - 6,000 VIP Points to achieve with +30% credits and +50% daily bonus
Silver - 2,000 VIP Points to achieve with +10% credits and +25% daily bonus
Bronze - Starting Level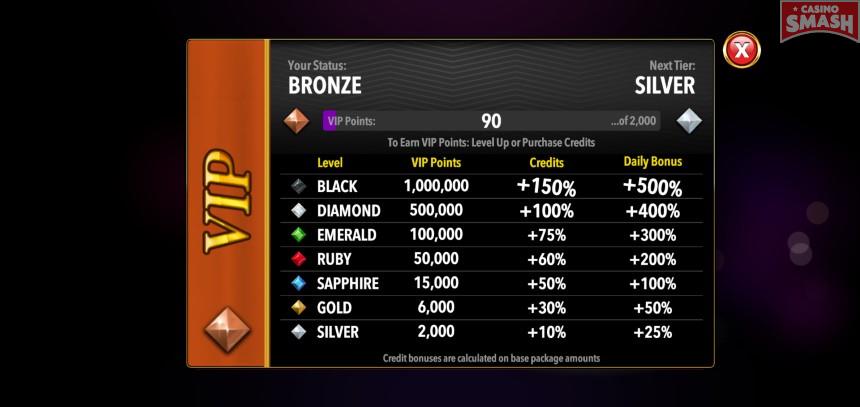 Getting Free Coins on Viva Slots Vegas
You can get free coins to play the slot machines on Viva Slots Vegas from different venues.
And I bet you want to find out how.
Sign up for the newsletter by clicking on the free credits link on the settings menu

The Facebook page has promotional offers released by the team for loyal members

Remember to like and share the Viva Slots Vegas Facebook page, as the more fans collected gives everyone free credits in their Viva Slots Vegas inbox

The hourly bonus, the daily multiplier bonus and the challenges are all great ways to get free coins often
The Facebook Connection
Want to get a new opportunity for coins when you log in every day?
Probably yes.
You can now connect to Facebook from your settings menu and have access to more Viva Slots free coins every day.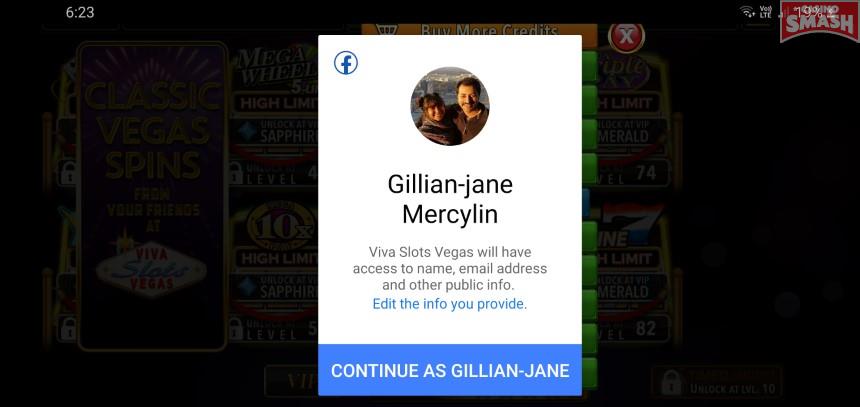 The community of the Viva Slots page on Facebook is always buzzing with activity. The Facebook page is a great way to connect with other like-minded players and get any Viva Slots Vegas free coins as well.
All information about promotional codes and offers on in-app purchases is provided on the Facebook Viva Slots Vegas community page.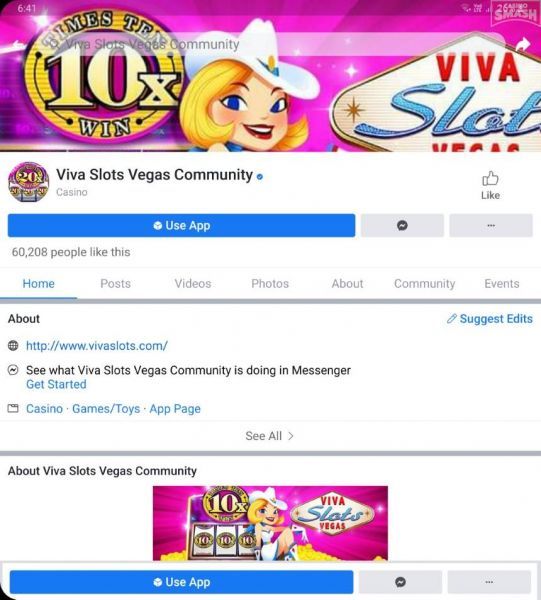 Frequently Asked Questions
How do the slot machines work?

All slot machines work on a reel system where a set of symbols is displayed in a matching or unmatched sequence. When you spin the reels, a replacement set of symbols appear. When you land on a match, you are awarded winning credit values.
Can you play Viva Slots Vegas for real money?

Online casinos where no money can be redeemed or used to place the bets are often referred to as social online casinos, which is what Viva Slots Vegas is. Credits in the form of coins are used that cannot be transferred or redeemed for cash.
How do you get help and customer support on Viva Slots Vegas?

The customer support link on the settings menu has different FAQs that you might have regarding your gaming experience.

If you still want to get in touch with the team, you can fill the form and submit. Alternatively, if you really love the game, make sure you click the 'leave us a 5-star' review button at the bottom of the page.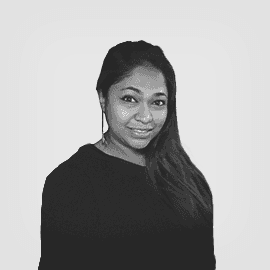 Bio
When I am not writing or designing, I'm playing at the local VIP casino lounge. I have worked with the online gambling industry as a content creator for 4 years now, and I have managed to use my insights to win the jackpot 8 times. Yes! 8 times. When I write, I do so with passion to share my knowledge with those who can benefit from it.