This article doesn't list all the strategies to beat online slots you find online.
Instead, it focuses on the most effective online slots tips to understand how to play slots online and, potentially, avoid some common mistakes.
In other words, it shows you how to play slots the right way.
Continue reading to learn:
1. What is a Good Slots Strategy?
For most players, the idea of a 'slots strategy' is borderline absurd.
With slot machines being, by definition, a game of luck, the idea that strategic thinking could help you win more money feels completely off. And understandably so.
Everything about online slots is against the player — you.
The games are designed to help the 'house' (aka. the casino) win money in the long term. From the Return to Player to the progressive jackpots, all you see in a slot machine is there to take your money.
That's how slots work. But that's not a good reason to leave everything to chance and waste money on games that give you very little winning chances.
A GOOD slot strategy is one that helps you find the right games to play and save you from the mistake of picking the wrong ones.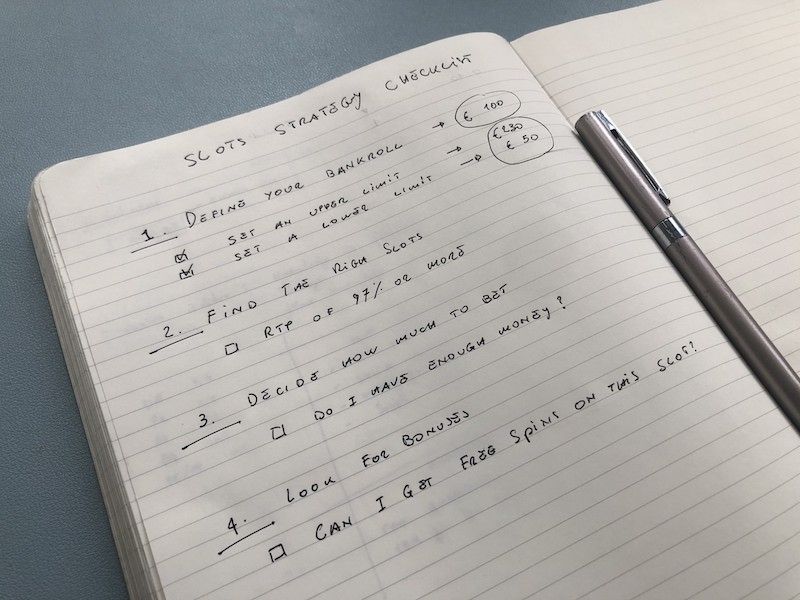 While this probably is not the right place to discuss 'chaos theory' and see how science could one day help you win at online slots, you must understand that slots are random and you shouldn't play with the hope to scoring a good payday.
In the slots tips that follow, you will find a series of advice that will put you on a path to avoid some of the most common mistakes slot players make.
2. Slots Tips
Quit looking for a strategy to learn how to win at slots every time you play.
A simple Google search is enough to see that while a good number of sites offer you subscription-based strategies to win money on slots…at least twice the number carries posts of known scams and utterly useless strategy advice.
All the tips in this article are a mix of common sense and experience. Because when you can't rely on math and probability theory, the only way to learn how to win at slots more often is to use the most precious resource you have left: your brain.
The Bankroll
Learning to manage your bankroll correctly is a tactic that will bring you very far, regardless of the type of casino games you play and your winning odds.
Most professional players consider managing the bankroll 'an art' and the only way to stay in the gambling world for the long run. In other words, you shouldn't play if you don't know how to do it.
If you are completely new to gambling and you don't know what a 'casino bankroll' is, you should stop right here. This No-Nonsense Guide to Bankroll Management is a much better-suited resource for you right now.
There, you'll find useful information to understand the concept of 'scared money' and 'extreme bets.' It also features the answer to the question "how much money should I bring to the casino" - which seems to be something all players ask themselves at some point.
The main point about bankroll management is this one: you need to set clear upper and lower limits to the amount of money you intend to invest in your slots session.
The Lower Limit is your 'losing goal,' the amount you can afford to lose.
The Upper Limit is your 'winning goal.' Once you win at slots enough money to reach your upper limit — you stop.
If you learn to be realistic when you set these limits and to follow them - you are guaranteed to get a much better and positive experience when you play slots. And if experience tells me something, to win a lot more money on slots, too.
By setting an 'Upper Limit,' you identify an amount you are happy with. By ending your session when you reach it, you make sure all your profits don't go to waste for one bet too many. This is the only way to keep what you win on slots.
Need Help? Use Excel!
An easy way to keep tabs on your game is to run everything through an Excel file. This basic accounting measure is amazingly effective and can save you from spending more than you should.
The screenshot below is an extract of my personal Excel budget file. That's a comprehensive resource I use to calculate my profits and losses and to keep track of my gambling spent.

If you don't want to pay for an Excel license, Google Spreadsheet is a great free alternative.
The Paylines
All slot machines include paylines. Whether you play online, on your phone, or at a casino in Las Vegas or Atlantic City, paylines are what distribute rewards and despair.
Hit the right combination on active paylines, and you'll be shouting from the top of your lungs how happy you are for the win.
Do it on an 'inactive' payline and you'll end up staring at the screen to wonder why you did not invest those extra few cents on the right spot.
The majority of the newest slot machine games online feature fixed paylines. These are the games where you always play all paylines at the same time.
Quite a few games, however, let you bet on single paylines, allowing you to decide how many to activate (and put your money on) during each spin of the reels.
The more paylines you activate = the more chances to win you get.
Does it mean that playing all paylines is always the best strategy to win at slots?
Hold your horses, champ. We are not done yet.
Betting on Slots
The only way to find a proper answer to that question and to come up with a slots strategy that works is to solve the last piece of this puzzle and find the answer to another important question: "how much should you bet?"
Most slots players do not know how to do this and that's unfortunate.
Knowing how much you can spend (the Lower Limit) and how much you would be satisfied with (the Upper Limit) is only part of your slots strategy. It's the big picture.
To be successful for real, you need to move to the nitty-gritty of slots playing and understand how to size your bets correctly.
In layman's terms, the size of your bet depends on:
Your bankroll
Your limits
The bets allowed in the game
The 'coin value'
The Rounds per Minute (RPM)
Let's use an example to understand the concept of bet sizing and see how these tips to win on slot machines applies to a popular game like Starburst.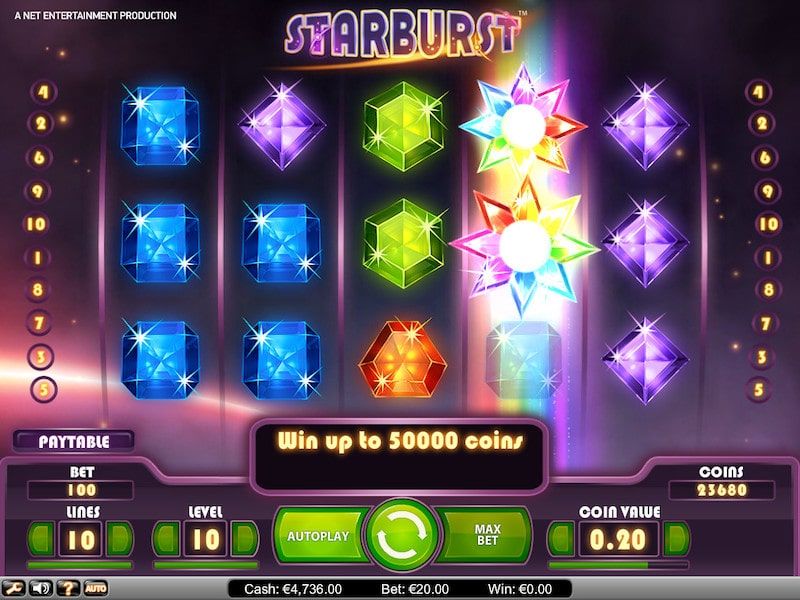 This popular game is part of the NetEnt slots collection and is one of the most played slot machine games on the internet.
Bets on Starburst begin at 0.10 (level 1, coin value 0.01) and go all the way up to 100 (level 10, coin value 1.00).
To size your bets, you can act on both the levels and the coin values. Each of these influences the payout of the game - but not your winning chances.
During our tests, Starburst tracked at 40 Rounds per Minute (RPM). To be on the safe side, in the calculation that follows we will assume all our spins are losing ones. While this is statistically impossible, it helps us create a slot strategy model that considers the worst-case scenario.
With a bankroll of 20 credits, you should expect to be able to play for five full minutes at 0.10.
The time becomes 2,5 minutes as soon as the stakes raise to 0.20
With the RPM staying the same, your playing time is always inversely proportional to the size of your bet.
So, ask yourself: how long do you want to play for?
Small bets are the best strategy to engage in long gaming sessions and beat variance 'grinding' your cash wins.
Bigger bets are more like 'blind lucky shots.' If they work, they can help you reach your upper limit with one spin. But if they don't, they may dry out your bankroll before you can count to ten.
Using Casino Bonuses
To end this collection of tips to beat online slots, let's look at casino bonuses. Used wisely, these can be a terrific resource.
The smartest way to look at casino bonuses to win at slots is to forget about the raw numbers and concentrate on the actual terms and conditions.
By picking the best offer, you get to add several free games to your session.
As a slot player, these are the best type of bonuses for you (in order of importance):
Free spins with no wagering requirements and no cap on winnings
Free spins with no wagering requirements
Free spins with wagering requirements of 30x or less
All other bonuses (incl. free money ones)
If you don't know where to start, the five offers below are probably the best ones to play slot machines right now:
Oops. No rooms were found..
3. A Quick Formula to Play Online Slots
Knowing how to set the right limits is key in a slot strategy. And so is betting the right amount of money.
While limits and bet sizes are subjective and connected with your disposable income, here's a starting point. A formula to try to win at online slots.
Deposit of EUR / USD / GBP 60 into your gaming account.
Split the money into three parts and use only 1/3 of the total on your slots session.
With a Lower Limit of 20 (60/3), go for the games with the best Return to Player
Set a realistic Upper Limit based on your total bankroll. Then set the bet size accordingly.
In this case, a good slots strategy is to set the upper limit to 40 (twice the total bankroll) and my max bet at .50.
Spin the reels and stop as soon as you reach the 40 limit.
Doubling your bankroll on 0.50 bets is a very good result and you should be proud of your wins if you hit that.
Should you want to continue playing, restart the process from zero.
Move all the money (initial 20 + your winnings) back to your account.
Set a new bankroll.
Restart with the same slots strategy illustrate above until a) you win enough again or b) you reach your Lower Limit.
4. What Slots Give You the Best RTP?
Now that you know how to use the right strategy to try to win at slots, it's time to look at the games themselves.
Because knowing how to pick the right ones can help your winning odds.
The games in the list below offer some of the best combinations of RTP and volatility you'll find in the industry.
If you are serious about getting more chances to win money on slots and you want tips on the best games to play, start from the ten listed below. Then, if you want more, we have an entire page dedicated to how to pick a winning slot machine.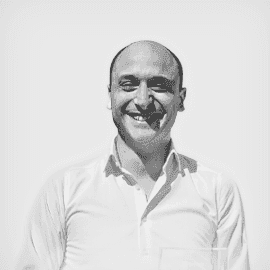 Bio
Political scientist, and gambling expert, I have spent the most part of the last ten years writing about the casino and poker industry. As a professional journalist, I work with FOX News, La Repubblica, the Economist, Politico, and PokerNews. As a gambler, I won money pretty much anywhere in Europe. As a gambling editor, I'll help you do the same.