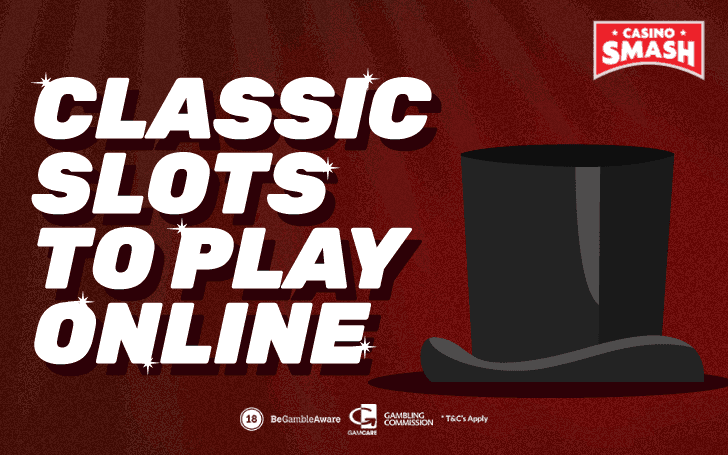 25 Classic Slots to Play Online for Real Money
Want something new... but with a hint of nostalgia? Check out our list of THE BEST CLASSIC SLOTS TO PLAY FOR REAL MONEY!
Classic slots will never go out of fashion.
Even though the casino market is filled with flashy modern video slots, the demand for classic Vegas slot machines is still high.
High enough for online casinos to include a whole separate section in their lobby.
So, if you love these games, you have nothing to worry about - they are not going away anytime soon!
Have Fun with the Best Classic Slots to Play in 2019
It may be hard to believe, but there are hundreds of different classic slot machines.
It's easy to get lost in such an abundance of games - and that's why we've compiled a list of the best ones. Just pick the classic slot according to the description you like.
The slots featured on this list are all available at React Casino.
If you think that one casino can't have everything you need, hear me out: React Casino features more than 1,600 games from such gaming giants like Microgaming, NetEnt, and Evolution Gaming.
But enough with this ramble - just read the full review here.
And now, it's time to play some good ol' classic slots and have fun!
1. Wild Wizards
For those who crave a little bit of magic in their lives and declare themselves as classic slots game lovers, Wild Wizard is a perfect way to earn real money.
Among its best features are the whopping six bonus rounds, all equally exciting, eye-pleasing, and tuneful. This 25-payline, five-reel game comes with a treasure trove of scatters and substitutes.
It guarantees a shot at the RTG maximum win of 50,000x per paid betline. Progressive jackpots are triggered randomly at the end of a round, so take your chance now.
2. The Purse of the Mummy
The Purse of the Mummy has managed to do the undoable – without any effort at all, it combines your childhood dreams of becoming the next Indiana Jones with your adult passion for classing Vegas slots. Oh, and it gives you an opportunity to profit from your dreams and passions too!
Being a low-variance slot with ancient tunnels full of wilds and multipliers, the Purse of the Mummy hides the next big win around every corner. Bonus points go out to nice graphics, an extra called Scarab sprint, and free spins.
3. Twin Joker
Speaking of classic slots, we cannot do without mentioning Twin Joker. As a true vintage piece, it fuses the old school arcade atmosphere with an ever-expanding gameplay with countless special features.
Each of the two separate slots comes with five paylines and three reels, which means that playing safe might not be the shortcut to the biggest win. Since rewards are triggered by specific combinations of symbols on paylines, your best chance of taking home the bacon is the risky move of going all in on each next spin.
4. Flying Ace
Flying Ace will take you as high as to collect a 6,000x jackpot prize, but it does come with a minor requirement. You must not be afraid to experience a major adrenaline boost. In terms of bonus features, this five-payline, three-reel game is not particularly daring, though.
Most of the spinning happens in its base game, from where lucky players are skyrocketed towards the big win with a little help from the wild symbol. Just dust off your old aviator glasses and keep your eyes locked on the pilot character.
5. Random Runner 7
No list of classic slot machines would ever be complete without at least one fruity slot. But Random Runner 7 is not just about any fruit slot. Thanks to its twin action with synchronized spinning, this one provides a lot of variety in the gameplay from the very start.
There are no special features, extras, or bonus rounds, but chances for winning are still deliciously high. And, if you're brave enough to play both reels with the highest stake, your chances are doubled. Free classic slots have never been juicier.
6. Diamond Dare
White diamonds against a purple background, clattering coins, and beeping of machines singing a soft cacophony. How could anything be more Vegas than this?
The three-reel Diamond Dare adds some glitz and glam to classic slots by introducing the sparkly diamond as the game's wild, but still eludes the original charm of casino games with a single payline. If you want to see your win multiplied by four, use two diamonds. The game also boasts a bonus round with random cash wins.
7. Triple Magic
In all fairytales, three is the magical number that endows a suffering hero with some good luck. Quite appropriately, Triple Magic classic slots offer three reels and a single payline.
If you're into clean and simple games that don't overcomplicate things with extras, this one will be right down your alley. Look for the blue star with electrifying lightning bolts – it acts as a wild.
A winning combination with one of them multiplies your winnings by three, while two stars multiply them by nine. The jackpot is worth 8,000 credits.
8. Jurassic Jackpot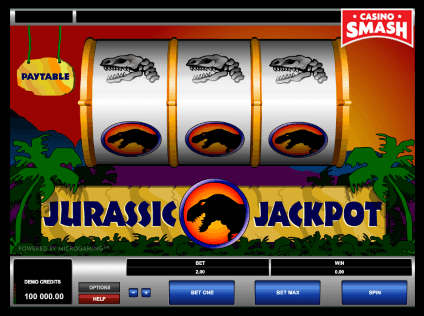 If not for the dinosaurs roaming the world freely, take a chance with this classic slots game for the dinosaur icons that substitute all others as the wild card. In a perfect combination, it pays up to 1600x your initial bet line, and that's only in the base game.
Jurassic Jackpot also includes special features that are as thrilling as the real dinosaur hunt (we presume), and that can make your winnings grow exponentially. The flower is another icon to watch for since it makes combinations worth 10x your bet.
9. Royal Banquet
To all history buffs, this classic slot offers a chance to dine with the King Eric Eat-A-Lot, his princess, and the jester.
Royal Banquet is a 20-payline, five-reel game with a lot of quirky features that will take you straight back to Tudor England – the Test the Broth extra that awards you a random prize amount for licking the soup bowl takes the quirkiness crown.
Three or more jester symbols activate free spins, the chicken symbol triggers the bonus round, while five princesses in a row are worth 5,000x coin amount.
10. Super Nudge 6000
The American dream is still strong in this one, and it promises a top win of 6,000 coins for just one coin that covers all five paylines.
At the first look, Super Nudge 6000 seems like yet another attempt at classic slot games with melons, lemons, cherries, and 7's, but spinning reveals a revamped trip down the Memory Lane.
If you pay the full price for the ticket, which is 10 coins, three dollar signs will win you a jackpot. Super Bet Board is another great feature, and you can access it with any win of at least 20 coins.
11. Couch Potato
The title of this slot may invoke lazy Sunday nights and TV dinners, but it sure puts in work when it comes to rewarding the player.
Couch Potato is a single payline, three-reel game with all the traditional symbols from classic slot games, with the titular character acting as the wild card. This symbol pays five times the winning combination, while two of them are worth 25x.
As expected, the third reel pays off the most, but it does require all three coins – like in all the other classic slots, the max bet promises max winnings.
12. Book of Dead
If Book of Dead feels awfully familiar, it's only because it pays homage to the beloved classic called Book of Ra. The apparent similarity notwithstanding, this ancient Egypt-themed slot delivers the best commentary on its predecessor's success in terms of both the base game and the bonus features.
Free spins are triggered by the book of dead symbol, acting as the slot's wild and the scatter at the same time. In combination with the highest bet, its five reels and 10 paylines guarantee a 250,000 coin jackpot.
13. Gonzo's Quest
If you don't find the lost city of gold on Gonzo's Quest's five reels and 20 paylines, it's a thin chance you will find it anywhere else. Most players find it to be a high variance game, though, but its lack of frequent big wins is certainly proportional to the seriousness of its epic quest.
After all, the entire point of this kind of classic slots is to either win big or go home. That's quite apparent in this game's Free Falls bonus feature, for instance, where you can earn up to 15x multiplier on winning spins and up to 10 free shots.
14. Super Flip
The serious casino game players are considered regulars at the Super Flip slot club – nothing unusual, given the fact that this incredible game boasts a jackpot of a whopping million coins. But this doesn't mean that you won't be welcome there.
This slot offers no less than 800 different ways to stake each spin of the reels, giving you an opportunity to win a substantial amount regardless of your experience or budget. You'll definitely enjoy the Respin feature, though we love scatters and wilds too.
15. Fruit Shop
If your refined palate enjoys luscious delights, and your wallet craves for a 630% increase on what you would typically invest in a bowl of fruit, then we've got just the right shop for you.
The Fruit Shop is a 15-payline, five-reel slot that doesn't tend to overexcite its players, at least not when it comes to fancy extras. Keeping the things simple, this mid variance game packs a full basket of multipliers, doubling all wins that involve the wild, and quadrupling them if you manage to trigger the game's Free Spins feature.
16. Joker Pro
Free classic Vegas slots are taking a gritty twist in Joker Pro, a game that every prankster will find gorgeous and entertaining.
The graphics evoke the smell of cigarettes and smoke machines from the good old 80's disco scene, and the gameplay itself is just as sweaty and arousing. This slot comes with five reels, 10 paylines, and a Joker's own hat acting as a wild that can take you to the VIP room where winnings are multiplied up to 1000x. The main joke is that you need only one to enter the respin game.
17. Big Win Cat
The lucky Chinese cat can bring you anywhere between 160x and 800x your total stake, but only if you spin the reels on Big Win Cat. For the lower prize you'll need to land three wilds on the win line – not only will the cat wave to you from the wild's icon, but it will also mew as you take a spin.
For a 800x original win, however, you'll have to find your way to the Wheel of Fortune. Despite being a mid to high-variance game with 3x3 reels mechanism, Big Win Cat has a great RTP of 96% that would bring luck to any player.
18. Mad Mad Monkey
If all players were hungry for huge wins as much as this game's monkey is mad for bananas and coconuts, online casinos would shortly run out of their prizes. Anyhow, the jungle-themed Mad Mad Monkey has 350 paylines and 350 thrilling opportunities for winning the jackpot.
While the Wild Monkey icon substitutes other symbols and doubles the prize, the titular Mad Monkey acts as both a scatter and a multiplier, the highest reward being 400x your total bet. In Free Spins, stacked bananas triple the wins.
19. Medusa
Though a surprising number of gambling paths seem to lead to Ancient Greece, playing these games is nevertheless a pure delight.
Medusa might be just another one of many classic slots that glorify characters from this mythology, but this five-reel, 25-payline slot is certainly worth a trip back to the gold-studded Olympus.
Needless to say, you should watch out for the Medusa herself, as three of them will activate the Free Spins feature and double your win. Land three winged stallions for the Pegasus Bonus.
20. Deco Diamonds
One Deco Diamond might not be worth much, but five of them can earn you up to 2,323x your stake. Across this slot's five reels and nine paylines, the sparkling gemstone serves as a wild that first takes you to the Respin feature and then to the Bonus Wheel.
If you're lucky enough to score big wins on all respins and then land the maximum prize of 1,000x your stake in the Diamond Level, your payoff will be the equivalent of a bagful of diamonds. If not, Deco Diamonds will still reward you with some wild winnings.
21. Riches of Ra
Pyramids and Sphinxes have never looked more vivid than in a Riches of Ra slot adventure. Of course, the Egyptian god himself is a wild that opens the door to one of the two available bonus rounds – land stacked Ra symbols on reels one and five, and you'll be awarded free spins.
However, the main prize hides in the second bonus round, which is activated with three urns of any color. This five-reel slot has 15 paylines, but you only need to play one to enter bonuses. Max bets compete for 150x your stake.
22. MultiFruit 81
Finding classic slots that offer low variance game and real money can be a challenge, especially if you have the taste for fruity machines.
When it comes to low-stake slots, MultiFruit 81 is a great example of how minimum bets can win huge rewards at the average RTP of 96.50%. 81 stands for the game's 81 ways to win every spin, keeping this classic theme slot both traditional and exciting at the same time.
A joker symbol is a wild that gives you a chance of multiplying your stake up to 1000x in the mini-game.
23. Bikini Party
Who said that you can't win luscious cash prizes while casually basking in the sun? Tiny swimwear and sand volleyball create a bright-colored theme of the Bikini Party, a five-reel, three-row, and 243-payline slot dedicated to all macho gamblers who are looking for both wins and fun.
One could argue that the best part of this party is its respins feature that boosts the adrenaline and rewards up to 480x your bet.
24. Fortune Girl
With no specific theme and loads of colors in the backdrop, the Fortune Girl falls under the category of classic slots that prioritize pure fun above all else. Played on five reels and 15 paylines, this game becomes truly entertaining in its bonus features. Win big in all of them, and you can take up to 6,000x your bet.
25. Crazy Cows
Crazy Cows is a 15-payline slot that's nonsensical only in terms of its wacky story. If you've ever dreamed of chasing bulls and playing with dogs that wear hats, all while listening to the Bluegrass tunes, then go ahead and hop on this loony train.
Bulls and hatted dogs are the most valuable symbols of the lot, triggering two special bonus rounds and multiplying your total bet up to 50 times.
Disclaimer: Gambling is a game of chance and there's no sure-fire formula that guarantee winnings. You can improve your winning chances by using the right in-game strategies but there is no way to predict when a machine or a Casino game is going to pay. Also, this page contains affiliate links. If you click through and play, we might earn a commission. That's what allow us to keep CasinoSmash free and bring you the best online Casino bonuses!
Bonus info: terms and conditions apply to the offer. If something isn't clear, have a look at our review of React Casino for the T&Cs in full. The offer on this article might have expired by the time you read it. Please refer to the review pages for the latest bonuses and promotions available.