Play Gonzo's Treasure Hunt Live Online at US Casinos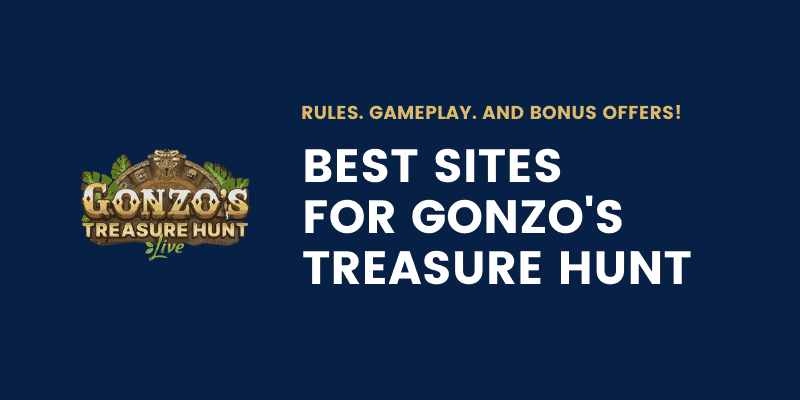 We've seen Evolution Gaming push the innovation envelope in terms of player immersion with its live game shows, but it has outdone itself with Gonzo's Treasure Hunt Live. The Evolution-NetEnt collaboration bore fruit as this live dealer/slot hybrid is a smash hit with US online casino players. 
As its title suggests, the game is based on Gonzo's Quest, one of the most successful online slot releases ever. This slot was a game-changer with its groundbreaking avalanche gameplay mechanics, which have since been adopted by IGT and other software providers.
Despite some visual similarities to the iconic NetEnt slot, Gonzo's Treasure Hunt has an entirely different gameplay model. In fact, it's unlike any slot or live game you've played before. The best way to describe it is to say that it's a live dealer game show with slots-style gameplay. It's packed with exciting features and has an RTP of 96.56% and a max payout of 20,000x. 
It might be challenging to get your head around this game at first, not because of any complex rules, but because of all the extras. In this guide, you'll find some pointers on how to play, a breakdown of the payouts, and some useful tips. We'll also present a list of the top live casino sites that offer this game in the US. 
Best US Casinos to Play Gonzo's Treasure Hunt Live
Evolution's Gonzo's Treasure Hunt isn't exactly a garden-variety live casino game. It hit the market in June 2021 as the first live casino game with a virtual reality (VR) mode. It's gaining traction in US online casinos, but it still hasn't reached the same level of acceptance as Evolution Gaming's other blockbusters. 
So, if you're struggling to find a US-friendly casino that offers the Treasure Hunt live game, you can rest easy. We'll point you towards regulated and trustworthy live dealer casinos with this exciting game in their portfolios and a hefty live casino bonus to start with. 
Oops. No rooms were found..
What Is Gonzo's Treasure Hunt Live?
It's a fusion between an online slot and an entertainment game show inspired by one of the world's most popular online slots, Gonzo's Quest. The game is set against a backdrop of Aztec-themed elements, featuring the animated conquistador Gonzo, a giant wall, and a live dealer host dressed up as an explorer. The goal is to find the prizes hidden behind the wall's stones. 
As well as having a unique concept, it provides the option to play in VR for players who have the virtual reality headset and controller.
How to Play Gonzo's Treasure Hunt Live
First up, find a live casino that offers Treasure Hunt. You don't have to look further than our list of the recommended live dealer casinos. 
Once you register and deposit using your preferred payment method, go to the casino's live dealer lobby and open the game. It might be listed under 'Game Shows' since this is the genre it fits in the most. 
Upon loading the game, you will be thrust into an augmented-reality version of the lost Golden City of Eldorado. Gonzo is shown standing as a co-host on the left side of the interface alongside the human presenter. The action centers around a giant wall, seven stones wide by ten stones high. The wall reveals prizes at random, and you have to predict the positions (stones) in which those prizes appear. The payout depends on how many prizes you hit.
One game round consists of four phases, as follows:
Betting stage 1: First, choose between six different-colored stones at the bottom of the screen. Each stone carries a multiplier - ranging from 1x to 65x. These stones will appear in various frequencies across the grid when the wall flips over. Stones with low value appear at a higher clip than those with a high value. It is possible to bet on all the stones.

Betting stage 2: You need to buy your picks on the wall -  the number of positions you want to have when the wall reveals the stones. You can choose between 1 and 20 tiles (searches). The picks you make will be presented on the screen with a golden handprint. 

Hint: If you want to calculate your stake amount, add up all the bets you placed on colored stones and multiply that total by the number of picks you selected. For example, if you bet $1 on four stones, that's $4. Choosing ten picks (tiles) in this scenario would amount to a total bet of $40. 

Prize Drop: As soon as the betting time is over, Gonzo will turn the giant golden key to start the Prize Drop feature. This will cause the reel at the top of the grid, bearing bonus prizes, multipliers, and re-drops, to spin. If there's an open space in the row underneath when the tiles stop moving, the bonus prizes and multipliers will fall from the top row to a random stone in the column. A new prize drop round is triggered if the re-drop symbol appears when the sequence stops. 
Showdown: Following the prize drop, the stones on the wall will flip over and reveal themselves. If the stones' positions match your picks at the beginning of the game round, you will win the payout associated with that position and stone color. The multipliers and the bonus prizes from the prize drop will also apply.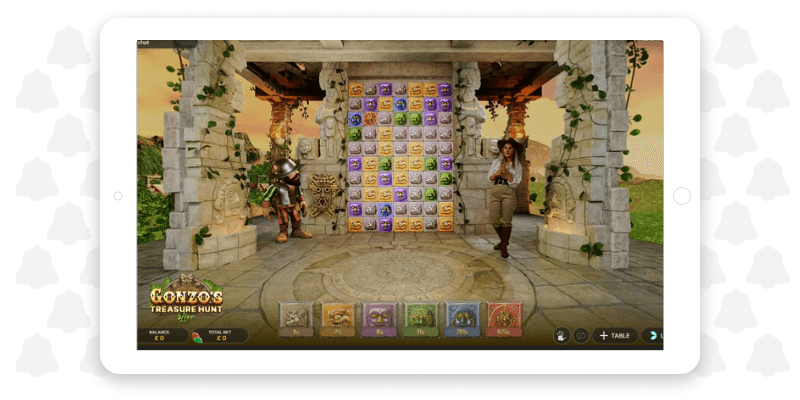 Gonzo's Treasure Hunt Live Rules and Features
You will get the hang of Treasure Hunt after a couple of rounds since it doesn't have any complicated rules. Players only have control over the game during the betting round. Ultimately, it boils down to whether the randomly selected stone matches your pick. 
Here's a quick refresher on the key features in Treasure Hunt and some technical details to help you learn the ropes:
Betting options range from $0.10 to $1,000
Bonus prizes from the prize drop can add value to a hidden stone, ranging from 3 to 100. For example, if a bonus prize of 5 is added to a blue stone, it will have a 25x multiplier. Up to seven prizes may appear in the prize drop round
Multipliers from the prize drop will multiply the hidden prizes from 2x to 10x
The maximum win amount is 20,000x the stake
A random number generator determines the outcomes
You can't play the game in demo mode
Gonzo's Treasure Hunt Live Strategy
In a similar fashion to other Evolution Gaming live game shows, Treasure Hunt relies entirely on luck. The RNG alone determines the positions of the colored stones and prize drops.
Even so, there are some tactics involved in how much you bet per stone and how many searches you make for them. In summary, there are three types of betting strategies you can try, depending on your budget level and risk tolerance: 
Play it safe: Place small bets on all the stones and choose a few tiles (picks). This will guarantee a win, but the payout value will be lower.
Medium risk/medium reward: Pick 12–20 tiles and fewer stones (preferably lower value ones).
Go for the big bucks: Select all six stones and a greater number of picks (15–20. This strategy can burn your bankroll quickly, but the payouts can be lucrative. 
Gonzo's Treasure Hunt Live Tips and Tricks
Here are a few tips that may increase your long-term win rate in Evolution Gonzo's Treasure Hunt:
Avoid betting the red stone only. It has a hit frequency of 1.42% and is generally considered a sucker bet. 
The more tiles (picks) you select, the greater your chance of winning. It's best to choose all six stones and fine-tune the number of tiles based on your bankroll. It is better to concentrate on covering all stone colors instead of having a large field of tiles.
You can win big even if you don't select the high-value stones.
How to Win at Gonzo's Treasure Hunt Live
You win if the colored stones match the position of the bets you made. The total payout value depends on the number of picks hit, the stones' values (inherent multipliers), the number of coins you've put on the matching stone, and the potential bonus prize drops applied to them. 
Betting Types and Payouts
The distribution of stones and their multipliers varies. Stones with high payouts appear less frequently on the grid and vice versa. Each stone has a pretty similar return to the player, so the game theoretically pays out the same regardless of the type of stone you choose. 
Brown: 1:1 payout; occupies 27 positions on the grid
Orange: 2:1 payout; occupies 20 positions on the grid
Purple: 4:1 payout; occupies 12 positions on the grid
Green: 8:1 payout; occupies seven positions on the grid
Blue: 20:1 payout; occupies three positions on the grid
Red: 65:1 payout; occupies one position on the grid
Other Popular Live Dealer Games
Treasure Hunt is hands down the most innovative live game produced so far. If you want to try out some other hits from this genre, we recommend Dream Catcher - the first-ever live game show produced and Monopoly Live, based on the popular board game.
If you're looking for traditional live dealer games there's the likes of live roulette, live blackjack, live baccarat, live craps and live poker. And, there are plenty of variants to those games like Lightning Roulette, Lightning Blackjack, Baccarat Squeeze, Infinite Blackjack, Instant Roulette, 3-Card Poker and many more.
Gonzo's Treasure Hunt Live FAQ
Where can I play Gonzo's Treasure Hunt Live?

You can play Gonzo's Treasure Hunt on any of our featured casino sites.
Is Gonzo's Treasure Hunt Live rigged?

No, it's produced by Evolution Gaming, one of the most renowned providers in the industry.
How does Gonzo's Treasure Hunt Live work?

In Gonzo's Treasure Hunt, you need to predict the position of each hidden stone on the wall. The payout depends on the matching stone's color and the re-drop prizes' potential bonus value.
What is the RTP?

Different stones on the wall have different RTPs. On average, Gonzo's Treasure Hunt has an RTP of 96.56%.