The Ultimate Social Gaming App - Big Fish Casino. Go Fish!
Big Fish Games has developed one of the best online social games ever created
Big Fish Casino offers a social gaming experience that allows players to play with and against each other
As of today, Big Fish Casino has 4.6 stars on Play Store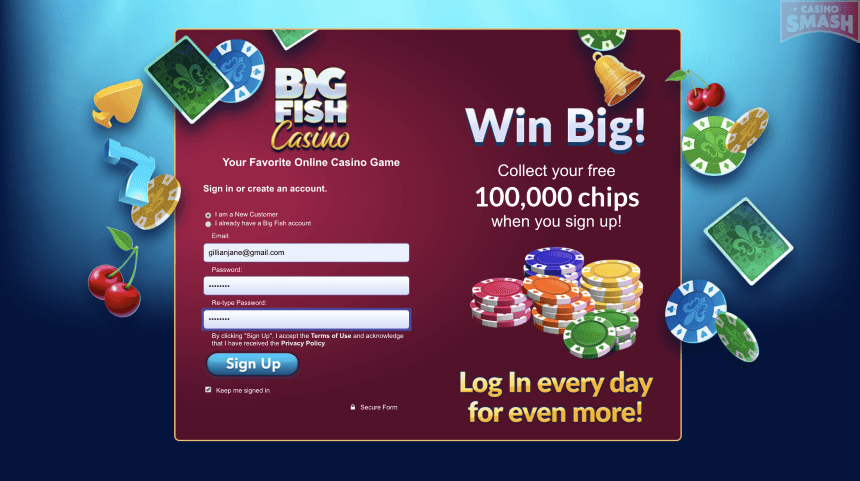 Big Fish Games did everything right with their Big Fish Casino app! The entire interface screams AWESOME.
And the gaming experience? Well, its nothing short of amazing.
A rating of 4.6 on the Google Play Store is an understatement for this app. Download and play it once, and you'll 100% give it 5 stars and two thumbs up too!
Want to know an honest opinion about the app?
Its graphics laden and are tastefully created. You'll never worry about spending hours on Big Fish Casino for its social aspect. In all honesty, Big Fish Casino really amps up the social aspect of social casinos.

12,000,000 Free Coins to Start Your Journey!
Kick off your spinning spree with 12,000,000 free coins welcome bonus at one of the best social casinos out there!
Hook, Line and Sinker - Big Fish Casino Keeps You Hooked
Once you have installed the app, opened it and agreed to all the terms, you're literally in the belly of the ocean!
Being greeted by a range of casino games is only the beginning of what you can expect from Big Fish Casino.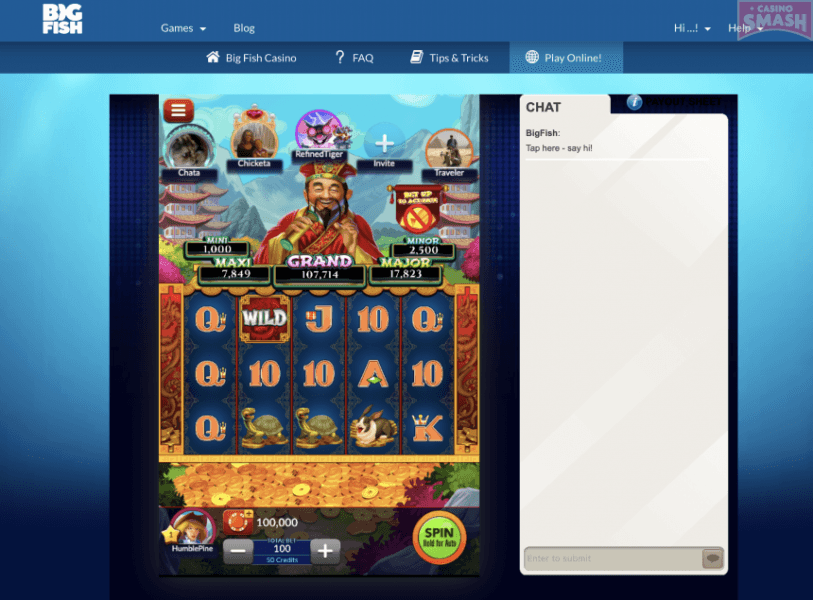 Like the slots? You've got it!
Like Roulette? You've got it too!
That's all on top of a host of other casino games where you can have a blast and win big.
Unlike at other social casinos, you won't have to worry about signing up with an email right at the start. The Big Fish Casino lets you look around and make your own decision if you want to stick around and have some fun.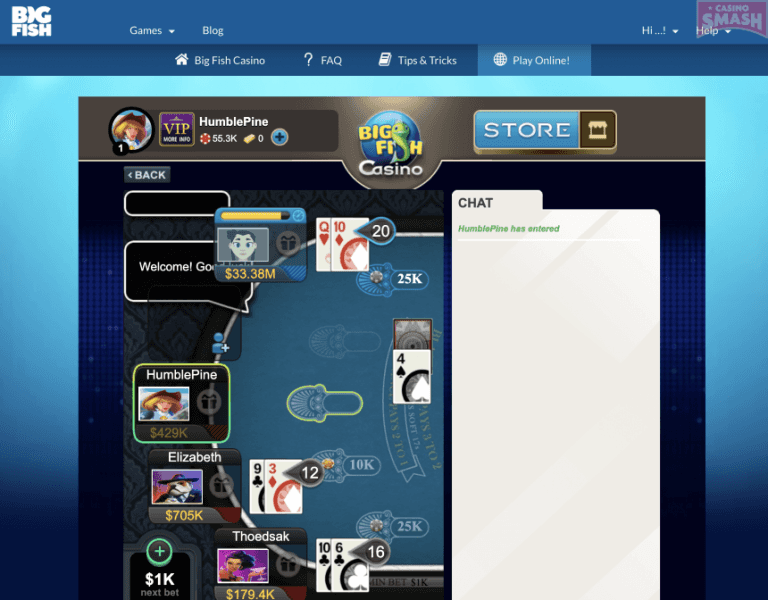 Free Coins to Start
Every player who downloads and opens the app is straight away greeted with the lobby and access to the Big Fish games.
But wait!
Get your welcome freebies to try the app before you get to play. There are several places on the app where you can get your free chips to begin playing.
Having trouble finding where you get the Big Fish Casino free chips for playing?
Look in your bank at the top of the screen, and you will see that you already have 100,000 in free chips.

Click on the chip button named "Ready" at the bottom. This opens the Big Fish Casino vault for you to raid.

Three vaults are features. However, only two are accessible to new players.
The Bronze vault will give you up to 2.8K in Big Fish Casino chips - open and claim your bounty.
The Silver vault will give you up to 3.3K in Big Fish Casino chips - open the vault to claim the chips.
Remember your vault refills every half hour, so you can always come back for more free chips.
The next set of free chips is only accessible after you have tried one of the games.

12,000,000 Coin Welcome Bonus for a Great Start!
Head to the social casino app of our choice and grab your welcome basket overflowing with 12,000,000 coins!
Getting Started on Big Fish
With a range of fantastic games to choose from, Big Fish Casino has you spoilt for options from the start.
Let's say you would like to try the Big Fish slots.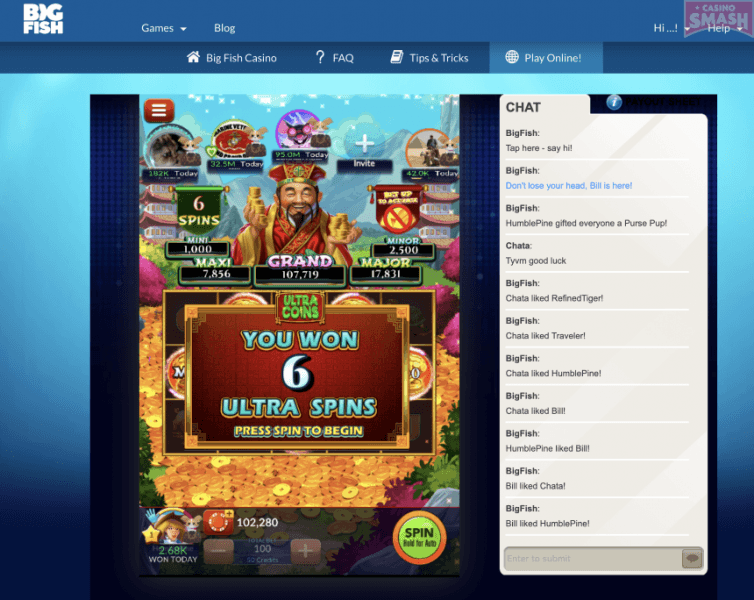 Want to know what you'll experience?
Spoiler alert! You're going get excited.
Choose to play the slots from the main lobby, and you will have only one or two slots that are unlocked for new players to try at the start using your free chips.
Your excitement will reach an all-time high when you realise that you are going to play alongside with others!
You have a choice to invite your own friends to play with.
A couple of spins on the reels later, you will immediately win big, level up to the next level which will give you more free chips.
Go to the lobby, and you will be greeted with the daily return bonus screen with a range of bonuses to collect for the day and the rest of the week.
Collecting your bonus involves spinning the wheel of fortune for big wins and free chips.
As you level up, your tier also increases giving you more benefits and multipliers for your loyalty.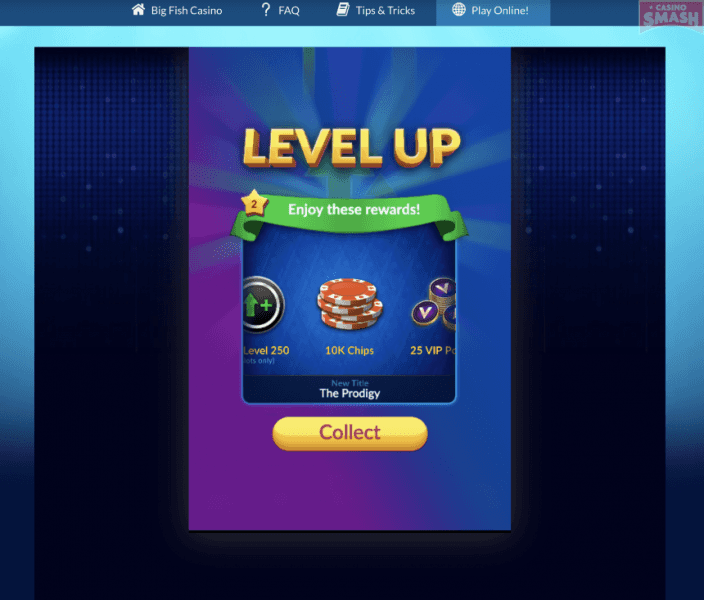 Now, take all your free chips and have a go at literally any of the casino games or slots you wish.
The Big Fish Casino VIP Program - Go Swimming in Rewards!
This awesome VIP program feature offers exclusive benefits for players who levelled up or made purchases on Big Fish Casino.
More levels - more tiers. More tiers - higher VIP status. It's as simple as that.
And you want those levels, because they will give you access to VIP-only slot machines, VIP lounge, chip bonus multipliers and other perks the other can only dream about!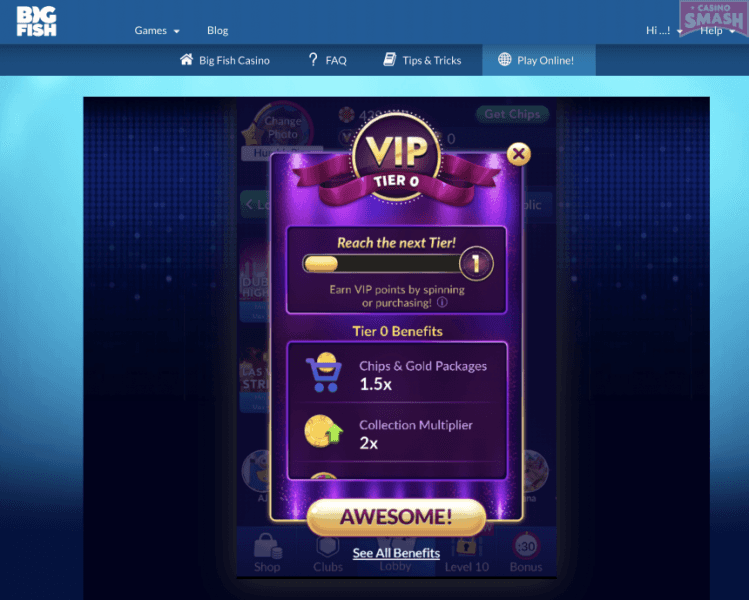 Connecting to Facebook Has Heaps of Benefits
There is no pressure to connect to Facebook from the Big Fish Casino app. New players are automatically drawn to connecting to Facebook for the incredible feature of being able to play with friends.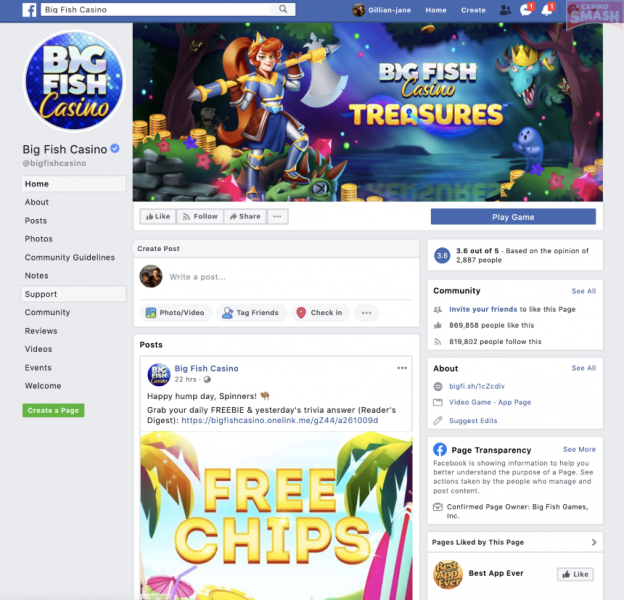 The lobby of the casino has a feature to invite friends. You can either choose to add random friends who are displayed on the screen or invite your own by connecting to Facebook. 99% of the time, people want to invite their own friends to play.
After all, what's a casino experience without playing with friends?
Once you invite friends to connect, you can choose and invite them to play with you. The kind of information you share by connecting to Facebook is also under your control.
Create, join and request club access once you have your own set of friends on Big Fish Casino. There is a separate section dedicated to clubs that you can be a part of to join like-minded people in a gaming experience.
Players who create or join a club get a one time bonus of 50,000 chips and also get to share the wins that other club members make. A great deal, isn't it?
Another exciting and glaringly obvious social aspect of this gaming app is the chat feature that is available in every game you choose. Players can share information and chat with each other while playing on Big Fish Casino.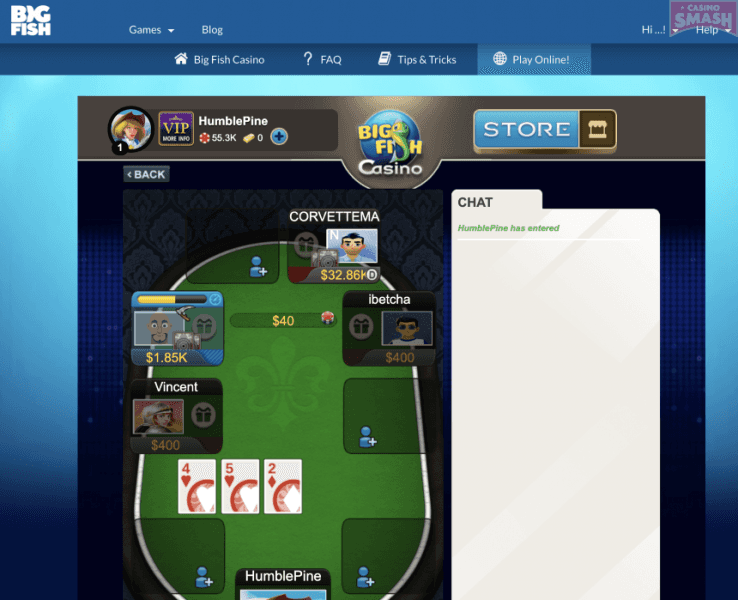 Look! Offers, Free Chips and an Amazing Community on Social Media
The entire social aspect has been pushed to its ultimate boundaries with Big Fish Casino.
The Big Fish casino Facebook community page is big! With over 869k fans on their page, there is a buzz of activity that all players can be a part of.
The Instagram page is nothing short of excellent too! With over 10.9K followers, there is a surge of followers every day for the milestone free chips they hand out.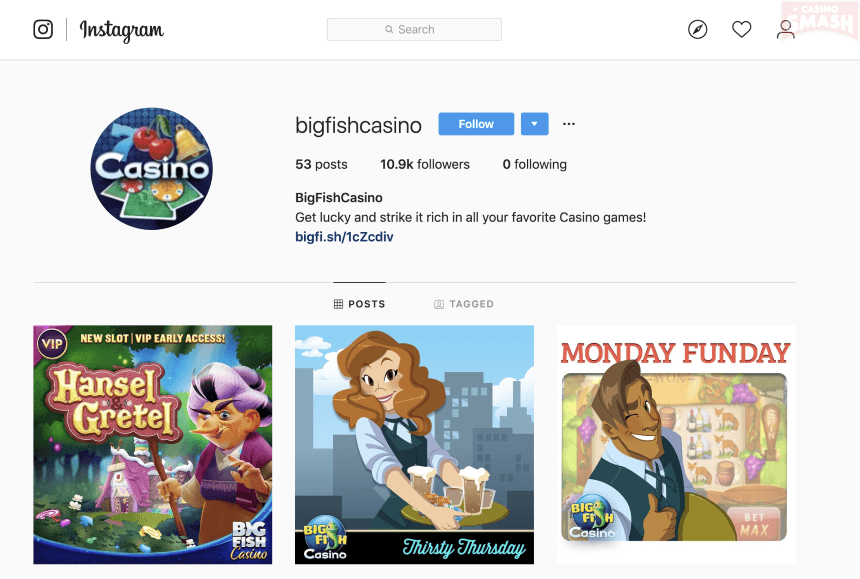 All offers and hot deals for players are available on the social media pages. However...
Players should take caution to watch for the fake accounts on social media that offer free Big Fish casino chips to anyone who clicks links. These are phishing websites that only exist to steal player information.
Big Fish free games and information about the games are only available through the Facebook community page. Any other accounts claiming to be associated without the stamp of Big Fish games are fake and should be avoided like the plague.
Frequently Asked Questions
✔️ Who Owns Big Fish Casino?

BigFishGames.com developed and owns Big Fish Casino. The app has been reeling in people since August 2011.
✔️ Is Big Fish casino Free?

Big Fish Casino is a free online social casino that can be played from any compatible mobile device and computer. All that is required is a compatible browser or mobile phone. Those who wish to buy coins can do so from the in-app store. The offers and deals on the chips are available through Facebook and the in-app messaging system.
✔️ Does Big Fish Casino use real money?

In an online social casino like Big Fish Casino, real money cannot be redeemed for the chips that are used to play. The chips cannot be transferred either.
✔️ How do you play classic slots on Big Fish Casino?

There is a range of Bigfish games that you can play on the app. Many of the classic slots are mixed in with newer and modern games, for you to choose. Every Big Fish game has its own twist in terms of interface of even classic slots.
✔️ What is the Big Fish app?

The Big Fish Casino is a downloadable app that you can get through the application store on your mobile device. Most often, it is referred to as the Big Fish app for ease of remembering.
✔️ How do you contact Big Fish Casino customer support?

If you have any questions at all, you can consult Big Fish Casino's help centre for information at bigfishcasino.zendesk.com

Alternatively, you can submit a request through their website. They want to make sure they can do their best in helping you, so you'll be asked to provide these details:

Your Friend Code.
The date and time when the issue arose.
Any relevant amounts or information.

You will then receive a confirmation email. If you feel like you've forgotten to add something, you can contact them again by replying to that email. Bottom line - Big Fish Casino will go above and beyond to see your issue through.
Disclaimer: Gambling is a game of chance and there's no sure-fire formula that guarantee winnings. You can improve your winning chances by using the right in-game strategies but there is no way to predict when a machine or a Casino game is going to pay. Also, this page contains affiliate links. If you click through and play, we might earn a commission. That's what allow us to keep CasinoSmash free and bring you the best online Casino bonuses!