Bingo Classic Game Review: A Fun Way to Learn Bingo

Important Notice: This is not our latest article about the promotions at this online Casino. You might no longer be able to claim this offer. To know what bonuses are available right now, have a look at our Casino bonus page.
Bingo Classic is a real money game by 1x2Gaming
Which lets you win up to 10,000 times your bet
We all want to play something simple once in a while.
And one of the best games for such an occasion is Bingo Classic by 1x2Gaming.
Soon enough, I'll explain why - but first, let's clear things up a bit with a short refresher on how to play Bingo.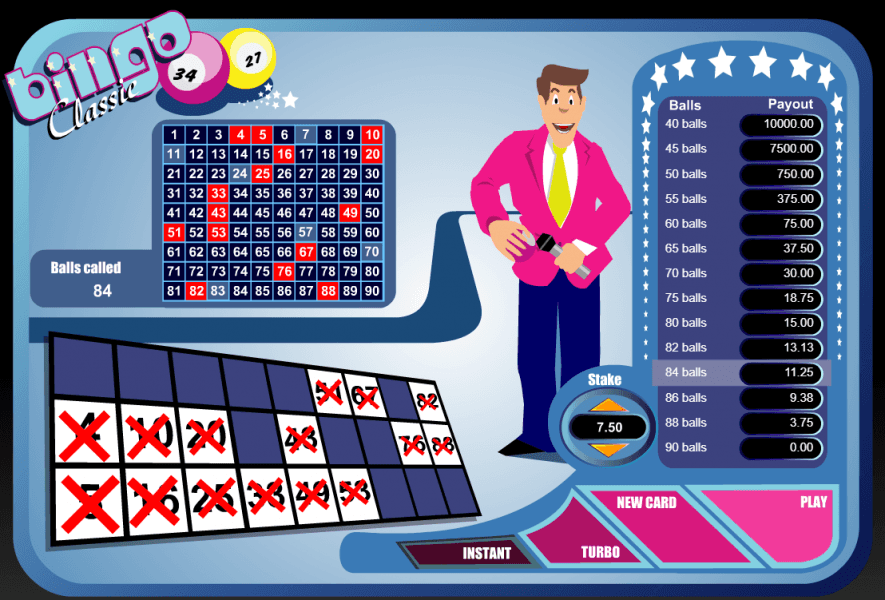 The Basic Premise of the Bingo Game
Bingo is one of the easiest Casino games to master, and here's why:
You don't need to choose your own numbers like in Keno, nor learn about all the different bets like in the case of Sic Bo.
You simply get a sheet with numbers and cross out the ones that roll out of the machine. A win occurs when a player crosses out at least one full line.
And online Bingo is even simpler, as the game does all the number-crossing work for you.
In my mind, Bingo is on the same difficulty level as Slots. However, I'm not sure it appeals to the same demographic, as Bingo is much less flashy, loud, or over-the-top.
You'll like this game if you're into Casino classics that tend to stay the same no matter the technology.
However, those who care more about pretty pictures rather than the gameplay might get a bit bored.
That's why you should try out Bingo Classic or other Bingo games for free before you bet real money - and see if the game goes hand in hand with your online gambling style.
How to Play Bingo Classic Online
When you open Bingo Classic and look around for a bit, you might notice something -
It's not actually the classic Bingo version I described above.
This sounds a bit ironic when you keep in mind the game's name.
Nevertheless, it's still a fun variation to play - let me explain how to do it.
Here, you get a sheet with 15 numbers.
If you don't like the numbers - feel free to change them for as many times as you want by clicking New Card.
Then, click Play and all the 90 balls will be announced one by one.
Your goal is to get your numbers crossed out as soon as possible. The sooner it happens, the bigger prize you receive.
If you happen to cross out all your numbers before 40 balls are announced, you win the Jackpot.
However, you get a prize even if this happens in under 88 balls, albeit much smaller.
The picture below displays the game's payouts for a bet of €1. No matter if you bet more or less - the proportion of the winnings remains the same.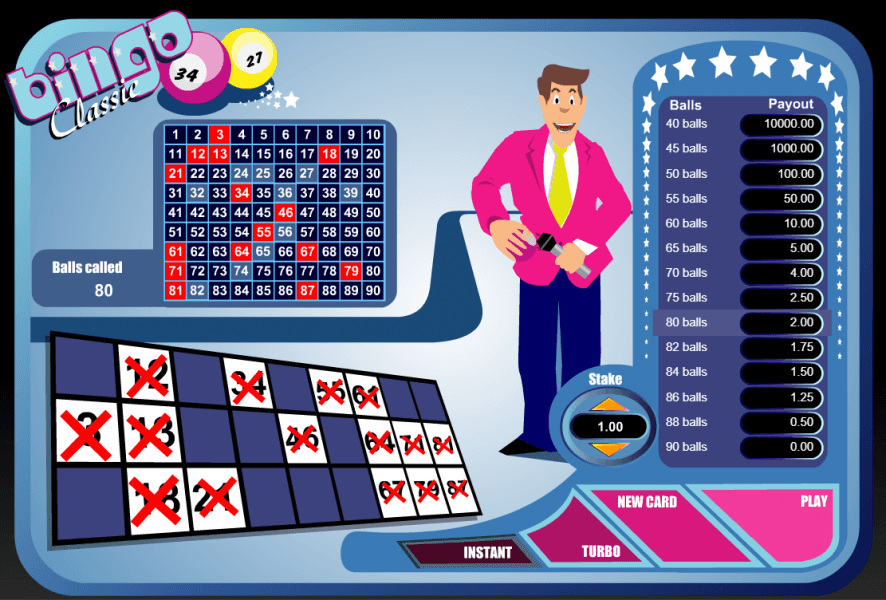 Of course, you don't need to follow the numbers announced and fill in your sheet yourself. Everything happens automatically.
You can even speed up the gameplay by clicking Instant or Turbo, as this will show the results instantly.
Important: Bingo Classic lets you bet from €0.20 to €50 per card.
Summary: Is Bingo Classic Worth Your Time?
As I don't play Bingo very often, this game served as a refreshing pause between my usual Blackjack and Slot machine sessions.
I like the versatile betting options (as the bets start from €0.20), the super-fast turbo mode, and the fact that you can play the game for free.
Even though the graphics could use a bit of improvement (the announcer simply looks...off), they won't distract you too much, and you'll have lots of fun learning this particular version of Bingo online.
Disclaimer: Gambling is a game of chance and there's no sure-fire formula that guarantee winnings. You can improve your winning chances by using the right in-game strategies but there is no way to predict when a machine or a Casino game is going to pay. Also, this page contains affiliate links. If you click through and play, we might earn a commission. That's what allow us to keep CasinoSmash free and bring you the best online Casino bonuses!
Bonus info: terms and conditions apply to the offer. If something isn't clear, have a look at our review of WildTornado Casino for the T&Cs in full. The offer on this article might have expired by the time you read it. Please refer to the review pages for the latest bonuses and promotions available.