5 Reasons to Download the MuchBetter e-Wallet App

This popular e-wallet lets you deposit and withdraw money for your online gaming needs.
We recommend MuchBetter to our gamers because it can help you get in the game faster.
The e-wallet offers fast transactions, added security, and the lowest fees in the business. The best part of it is you can create and manage your account directly from your smartphone.
We tested the MuchBetter e-wallet, and we're here to give you five firsthand reasons why you should use it too. It's time to get down to business!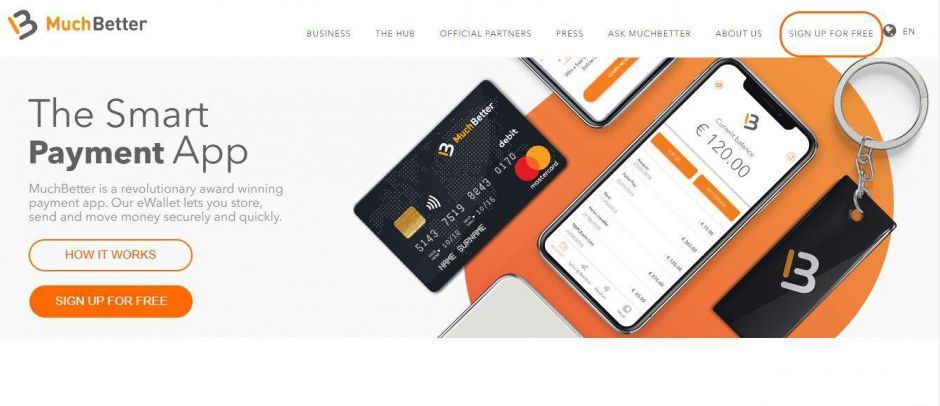 What is the MuchBetter e-Wallet?
Let's start by first explaining what the MuchBetter e-wallet is for those of you who don't know.
This award-winning payment app allows you to load, withdraw, and send money with limited fees and no concern over fraud and security.
You don't have any redirects, complicated login instructions, or other devices to make your money work on MuchBetter.
There are many bonuses of using MuchBetter, as well. Every time you put money in your account or move it around, you earn points that you can use to redeem rewards in your favorite online casinos.
To make things simple, MuchBetter is the ideal choice for an online wallet. It provides everything you need and then some.
Why You Should Use MuchBetter
Now let's talk about the details of why you should use the MuchBetter e-wallet. We provided a broad overview of what it is in the previous section, let's get down to the nitty-gritty details of what we discovered when we used MuchBetter.

1. Fast Registration
The first thing we noticed is how fast and easy it is to sign up. Some e-wallets require you to verify a million items and wait two weeks before you can access your money. You won't have that problem with MuchBetter.
We were able to download the app, create an account, and load money to the account in as little as 10 minutes.
The only step you have to get past is uploading an ID verification. You'll need to link a valid ID or passport to your account when you try to put money into the account.
While this might be the most time-consuming step, it's essential for keeping your money safe, so it's a necessary evil. Other than that, it takes less than 10 minutes to create the account and get it running.
2. Low Fees
Another thing that stands out immediately to us is the lack of fees associated with MuchBetter as well. Let's break it down into three sections here so we can make it as clear as possible.
For deposits, the fees vary based on what type of method you choose and where you live. Luckily, they're still really low across the board.
For example, if you use SEPA or bank transfer, there are no fees to top up your account.
If you choose a VISA or MasterCard, the fees are as low as 1.5%. These fees are incredibly low and compared to industry standards, almost unheard of.
To transfer money to friends or have someone transfer to you, it's also free. They do charge a 0.99% fee for most currency conversions where USD/EUR/GBP gets converted into another currency.
When you go to withdraw your money, you'll face limited fees, as well. SEPA bank transfers are only 2%, and Bitcoin is 2%, as well. We don't see many fees higher than 2-3% using MuchBetter.
3. Easy to Make Deposits/Withdrawals
In addition to quick and easy signup, it's also fast and straightforward to put money in your account and take it out. You can do everything directly from the app on your phone. If you want, you can even elect to get a MuchBetter Mastercard to make the process even easier.
You don't even have to withdraw the money at that point; you can swipe the Mastercard like you would with any other card.
In addition to their MasterCard, you can also get a cool wearable device that you can scan anywhere you see the "wi-fi" symbol. Now you don't even have to swipe a card, all you need to do is hold your wrist up to the device.
4. Advanced Safety and Security
So how do they keep your money safe? All your sensitive information stays safe in the cloud, and your account is twinned with your phone. You can even enable Touch ID for an added level of security.
Once you sign up, you'll have to link your smartphone to your account, and you'll create a four-digit pin. This pin is what you use to sign in every time after the first time you create the account.
Since your MuchBetter wallet is linked to your cell phone number, you'll receive a verification code to your phone if anything doesn't seem right with your MuchBetter account.
MuchBetter has won many awards in 2018 and 2019 regarding security and innovation.
They won the Card and Payments Award in 2019 for the 'Best Alternative or Digital Payments Program.' If you're concerned about keeping your money safe in your e-wallet, you'll consider checking this app out.
5. Great Rewards and Offers

If you're the kind of person who values perks and bonuses, you'll also enjoy MuchBetter. For example, in December 2019, they offered a free VIP trip to Las Vegas for the person who moves the most money around using the app.
This trip came with thousands of dollars, paid travel, five-star accommodations, and more. What more could you ask for? They did all of this for people who simply put money into their accounts.
In addition to this offer, they have cash rewards, more trips, and home items offered as incentives to use their service.
Final Thoughts
We think that MuchBetter is the best e-wallet app for online casino players. They offer some of the lowest fees on the planet, fast transactions, and plenty of rewards to incentivize you.
For more info about this excellent e-wallet, visit the MuchBetter official website.
Disclaimer: Gambling is a game of chance and there's no sure-fire formula that guarantee winnings. You can improve your winning chances by using the right in-game strategies but there is no way to predict when a machine or a Casino game is going to pay. Also, this page contains affiliate links. If you click through and play, we might earn a commission. That's what allow us to keep CasinoSmash free and bring you the best online Casino bonuses!