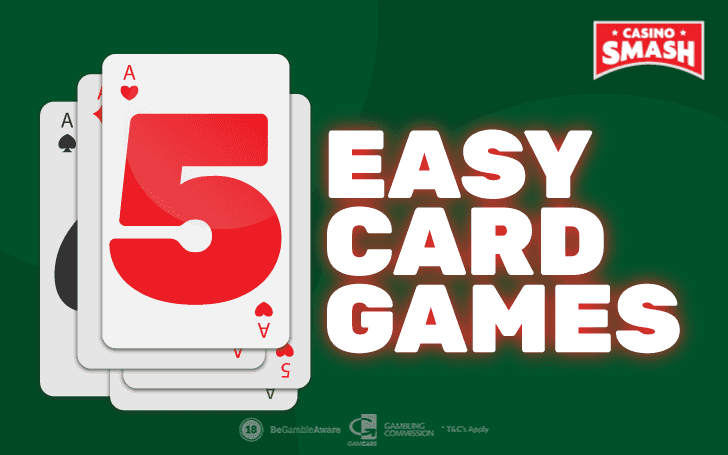 5 Easy Card Games Even Your Grandma Could Learn
Want to play some easy card games for real money? You've come to the right place!
In this guide, I am going to give you some tips about easy card games to play alone or with your friends.
While the pros out there might know their rules and strategies by heart already, I know the beginners will thank me for this.
Why?
Because it's not always easy to learn a new casino game, especially when that means you'll need to learn a lot of complicated and time-consuming rules.
Let me tell you how things work for me:
Sometimes, I get discouraged after a few paragraphs of a convoluted guide written by a casino expert that does not understand the struggles of a beginner.
Now, here's what I think:
Even though we are adults, it doesn't mean that we don't like to play some easy card games that are fun, thrilling, and wouldn't attempt to fry our brain after a few minutes of gameplay.
That's why I've collected five easy-to-learn card games that guarantee a fun evening online.
The best thing?
You can play all these games right away on this page.
There, you can play either for free or for real money and even pick the live dealer versions of some of the games featured on the list.
Have fun!
Texas Hold'Em
If you want to play an easy card game that is both simple and exciting, look no further than Texas Hold'em poker.
Texas Hold'em is one of those card games that are easy to learn and so popular that you'll always find someone to play with.
Even if you've never played any kind of poker in your life.
The first thing you should learn is the basic rules of Texas Hold'Em. Then, practice will be the best teacher of all.
So, here's how it goes:
The number of players varies from two to 10 (although it's very uncommon to see 10-handed action these days).
One of the players gets the dealer button, which means they get to be the dealer for the round. Each round, a different player acts as a dealer. Eventually, your turn will come!
Then, the betting takes place.
The player to the dealer's left has to make the first bet. Their bet is called the small blind.
Afterward, the next player doubles the bet, and we get the big blind.
Then, finally, the cards are dealt.
Each player gets two cards, and you can take a look at yours. Depending on how good your hand is, there are three different actions to take:
Fold. This is the action you want to take when your cards are not that strong. When you Fold, you make no bet and your cards get discarded.
Call. In this case, you make a bet that is equal to the big blind.
Raise. To raise your bet, you have to double the bet of the previous player. Sounds a bit extreme, but there's no other way!
Once the round of betting is made, the dealer draws three cards. This is called the Flop. The time comes for you to check how strong your hand is. Once again, you have the three options - fold, call, or raise - and you have to make a move depending on your cards.
Afterward, what happens is the Turn. This is when the dealer draws the fourth card and places it with the other three.
The players make one last bet, and the dealer places the fifth card, which is the last. This is called the River.
You win the round of Texas Hold'em if you have the best hand out of all the remaining players.
And that's about it.
If you want to put all this knowledge into action, you can play the live version of this easy card game at PWR.bet.
Believe me, once you play a few rounds, it might become one of your favorite casino games.
Oasis Poker
If you want to play a new easy card game for adults, Oasis Poker should be among your top choices. It is a variant of Caribbean Stud Poker, which you might already know how to play.
Oasis Poker is popular at online casinos because of its low house edge.
Let's take a quick look at how to play Oasis Poker, and then practice it at PWR.bet Casino for free.
The game is played with a single 52-card deck. There are only two participants - you and the dealer.
First of all, you have to make the ante bet. Then, both you and the dealer get five cards each. This is when your strategy comes into action.
In hopes to collect the best hand possible, you can choose which cards to discard. However, this comes with a price. The replacement of each card costs one value of your ante bet.
Since card replacement is quite costly, you should replace cards only in certain situations. For example, if you have four to a flush.
Otherwise, you should simply stick to your original cards.
Then, you have two options:
Fold. When you fold, you discard your cards and lose the original bet.
Call. In this case, you double your Ante bet. The dealer then reveals their cards and you finally see the outcome of the game.
The dealer qualifies only if they have an ace/king or higher. In this case, the outcome will depend on which side has a better hand. If the dealer does not qualify, you win a sum of money equal to your Ante bet.
Visit PWR.bet to practice your Oasis Poker skills both for fun and for real money.
When a card game is that easy, it would be a shame not to try it.
Pontoon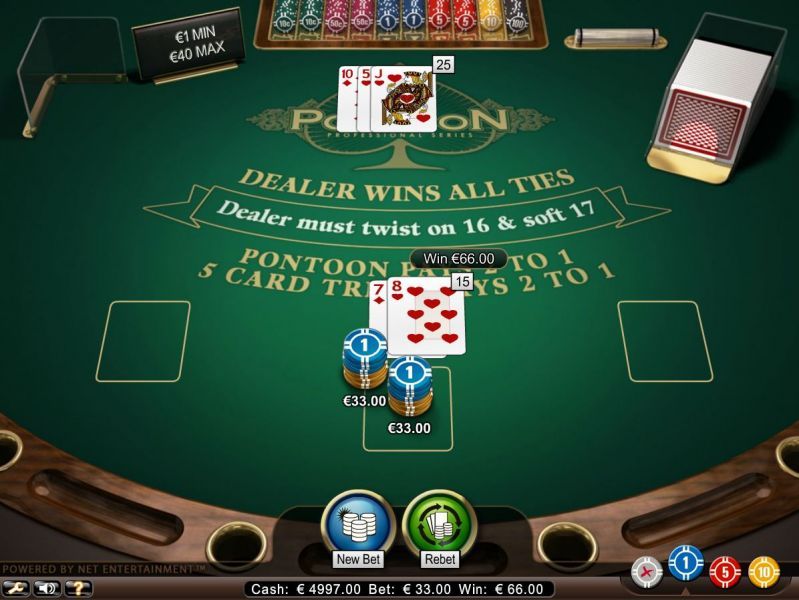 Pontoon is a close relative of blackjack. This makes it one of the easiest card games on this list.
If you know how to play blackjack, Pontoon will be a piece of cake!
However, keep in mind that the rules are not identical. Here, we'll take a look at how to play Pontoon so that you could practice it right away.
This game can be played by any number of players. However, when you play online, it will usually be only you and the dealer.
Like in blackjack, your aim at Pontoon is to collect 21 or a number as close to 21 as possible - without busting, of course!
So, this is how the game goes:
Both you and the dealer get two cards each. You can only see the cards that are yours. Now, you have a few options to determine the outcome:
Stick. When you stick, you don't want any more cards. However, you can't stick if you have 14 or less.
Twist. When you twist, you take one more card. You are allowed to twist up to three times - unless you bust.
Buy. You get one additional card and double your bet at the same time.
Note: in Pontoon, the dealer always wins in the case of a tie.
As easy games for adults go, this is one of the best ones in terms of simplicity and the amount of fun you get.
You can learn to play Pontoon at PWR.bet Casino where you can practice it as a demo version or bet real money on it.
Pai Gow Poker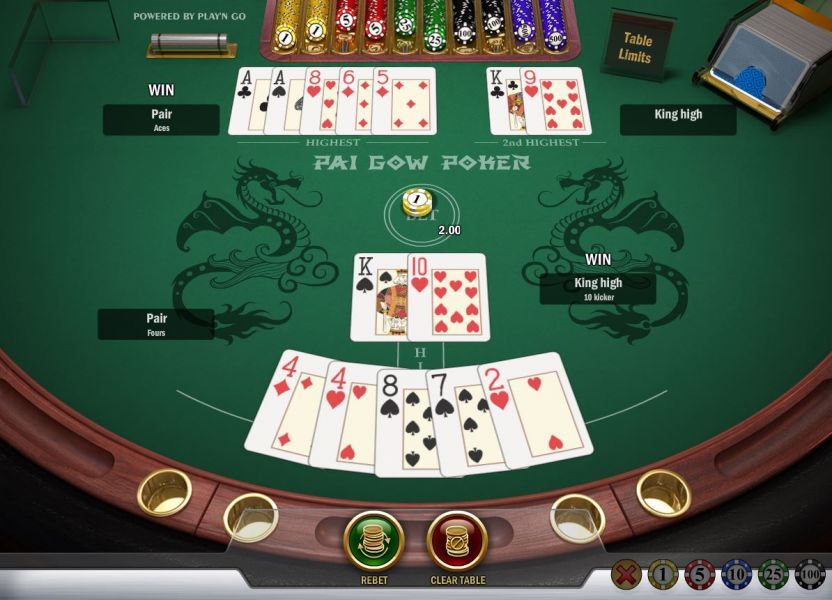 Now, here's an interesting card game to play. Pai Gow Poker is as easy as it is low-risk, which makes it a perfect choice for beginners and those who don't want to spend too much money on a gambling session.
Firstly, let's find out where this game comes from. Pai Gow Poker is a variation of one of the oldest gambling games, Chinese Pai Gow, a real money domino game.
The Western version is only 30 years old, but it has already gathered a lot of attention, especially with the birth of online casinos.
One of the reasons is its simplicity.
It is played with a single 52-card deck and one additional Joker.
Once the session starts, you receive seven cards.
The aim of Pai Gow Poker is to collect two hands:
Low hand that consists of two cards
High hand that consists of five cards.
Important: the card value of the low hand must not exceed the value of the high hand.
This is the basic premise of Pai Gow Poker. You can now practice the game for free or play it for real money.
Red Dog Progressive Poker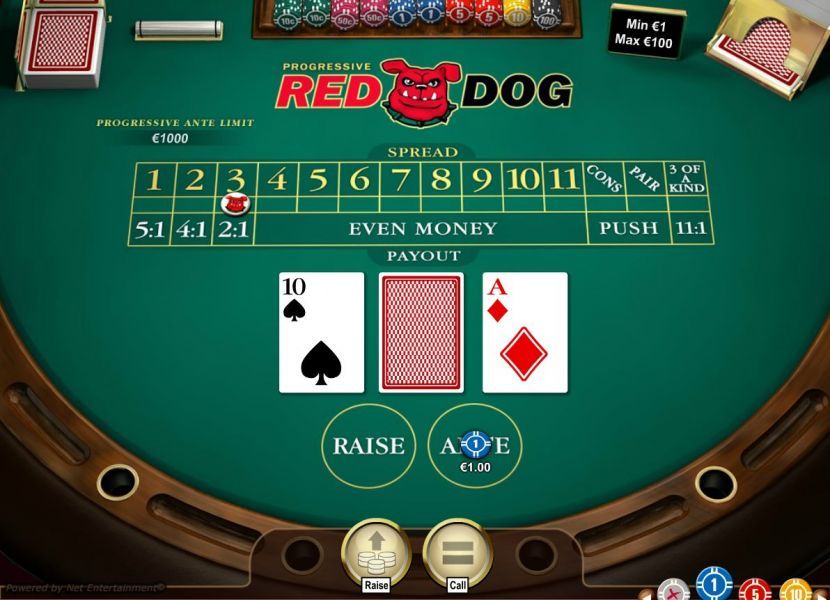 Red Dog Progressive Poker definitely deserves to be included on this list of easy card games to play for adults.
Although not as popular as the other games mentioned on this page, it is a fun addition to any gambler's game collection.
So, here are the basics:
The game uses a standard 52-card deck. Once the gameplay starts, you receive two cards. Here's what can happen next:
In case these two cards are consecutive (like an eight and a nine), you get your ante bet back.
If these two cards are of an equal value, you get a third card. Now, this is where things get interesting: if this cards is also equal, you win by 11:1. However, if the third card has a different value, you get your bet back.
In case your two cards are neither consecutive nor equal, the dealer announces a Spread. Then, you can make an additional bet. You win if the face value of your third card goes between the first two cards.
If you want to try out Red Dog Progressive Poker, click the button below and play it for free.
Disclaimer: Gambling is a game of chance and there's no sure-fire formula that guarantee winnings. You can improve your winning chances by using the right in-game strategies but there is no way to predict when a machine or a Casino game is going to pay. Also, this page contains affiliate links. If you click through and play, we might earn a commission. That's what allow us to keep CasinoSmash free and bring you the best online Casino bonuses!
Bonus info: terms and conditions apply to the offer. If something isn't clear, have a look at our review of PWR.bet Casino for the T&Cs in full. The offer on this article might have expired by the time you read it. Please refer to the review pages for the latest bonuses and promotions available.